Man slain in Las Vegas hookah lounge shooting identified
Updated March 1, 2022 - 7:09 am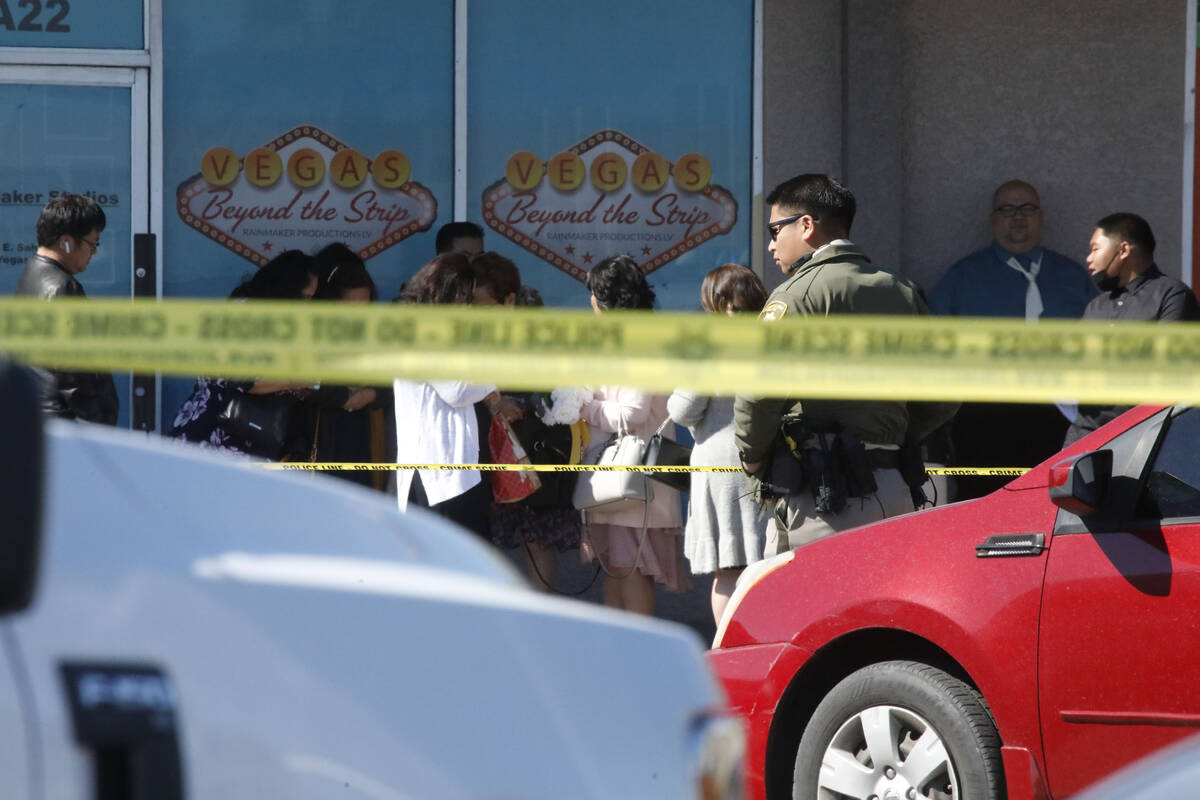 The Las Vegas hookah lounge where 14 people were shot, including one fatally, early Saturday has had its business license suspended by Clark County because it was not licensed to serve alcohol on the property, a county spokesman said Monday.
Clark County spokesman Dan Kulin confirmed the business license for Manny's Glow Ultra Lounge, 953 E. Sahara Ave., was listed in county records as a food services restaurant.
But, Kulin said, Las Vegas police told county officials after the Saturday morning shooting that alcohol was being served at Manny's at the time.
"We have received reports they were serving alcohol, and they don't have a liquor license," Kulin said.
Kulin also said the business needed a permit from the county to operate as a hookah lounge, but Manny's Glow didn't have one. As a result, the county suspended Manny's Glow's existing business license Saturday, Kulin said. Notices of suspension were observed on the business front door and window Monday afternoon.
A man who responded to inquiries seeking comment on behalf of Manny's canceled a planned interview with media Monday afternoon.
The Metropolitan Police Department said it received multiple 911 calls around 3:15 a.m. reporting a shooting at the business near South Maryland Parkway. Metro Capt. Dori Koren said detectives believe two men started arguing during a party at the lounge, which resulted in at least two guns being fired.
Las Vegas police spokesman Misael Parra said the shooting was the largest Las Vegas police have investigated since the Route 91 shooting on Oct. 1, 2017, when 60 people were killed. However, the two incidents are very different, he said.
"It is important to note that 1 October involved a lone gunman shooting into a crowd," Parra said. "In this incident, it is known parties shooting at each other."
The Clark County coroner's office, meanwhile, said the person fatally shot has been identified as Demetreus Beard, 33. The coroner's office said Beard died from multiple gunshot wounds and that his death has been classified as a homicide. The coroner's office said it was not immediately able to identify a place of residence for Beard.
Koren said previously that detectives believe two men started arguing during a party at the lounge, which resulted in at least two guns being fired.
The victims of the shooting were taken to University Medical Center and Sunrise Hospital and Medical Center. Two of the surviving victims were described by police as being in critical condition as of Saturday. Sunrise spokesman Dan McFadden said 12 patients were brought to the hospital. Danita Cohen, chief experience officer at UMC, said the hospital received two patients.
Abby LeDuff, a trauma program director at Sunrise, said Monday that staff at the hospital relied on their extensive training to treat all of the victims.
"Really it is just about everyone coming together in the moment and prioritizing what needs to be done first, really good patient triage, who needs to go to the operating room first if any," LeDuff said. "Who needs the blood right away who needs the most urgent care first."
"It's pretty natural," LeDuff added. "We do train for it and we do think about it all the time so when it actually happens, the team is able to kick in and really do what needs to be done for those patients."
Police provided no new information on the investigation into the shooting as of Monday afternoon. Parra said only that an investigation aimed at identifying those involved was ongoing.
Contact Glenn Puit by email at gpuit@reviewjournal.com. Follow @GlennatRJ on Twitter.