North Las Vegas family mourns mother, 2 siblings shot to death
Updated October 16, 2018 - 8:51 pm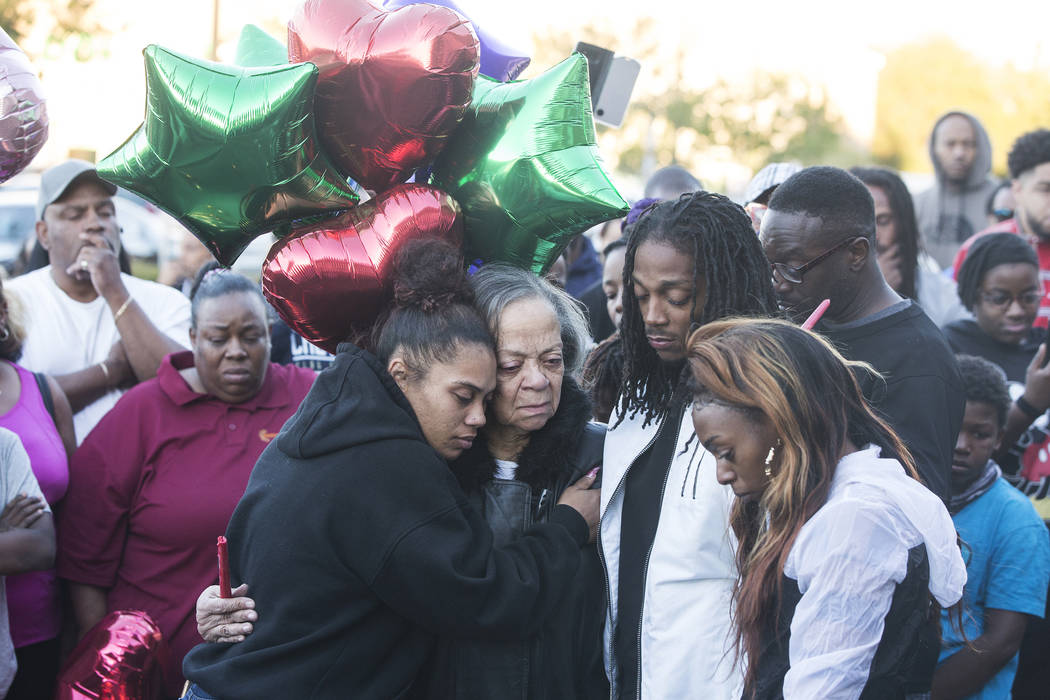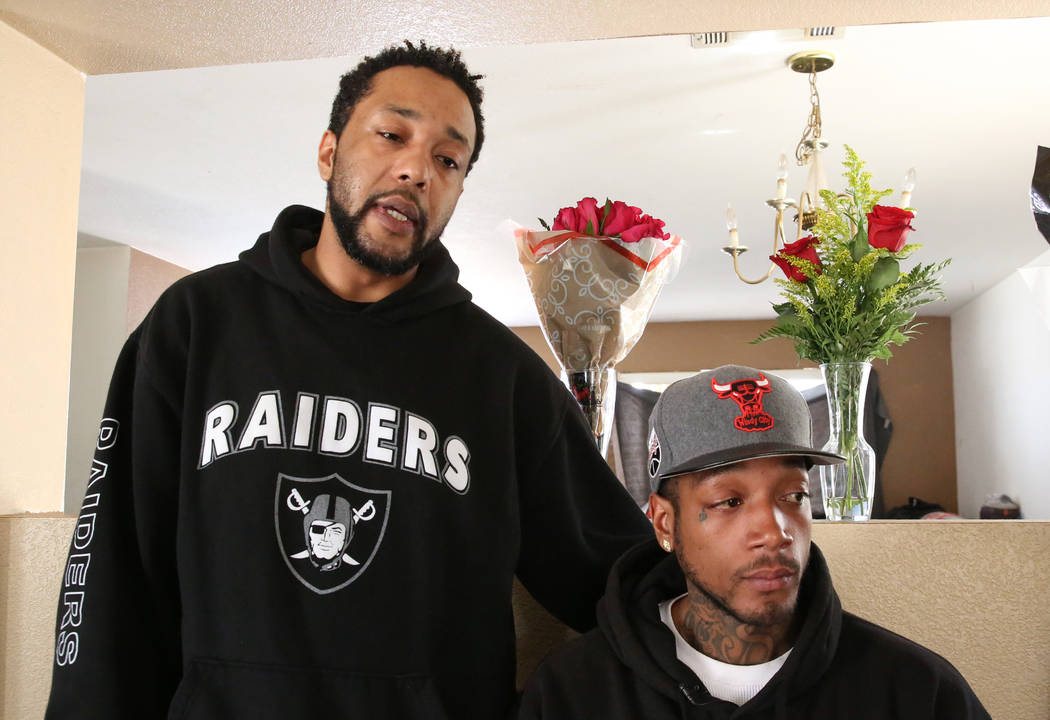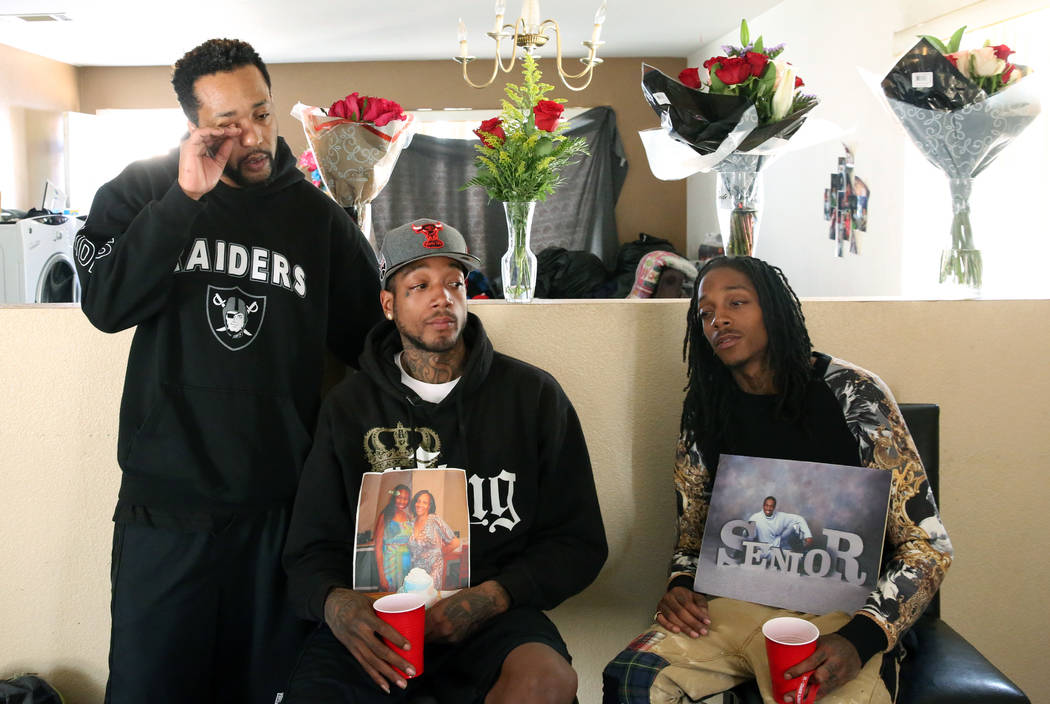 The single-story house sits in a neighborhood across the street from where three of its residents were killed this weekend.
It's a household where anyone was welcome, as long as the woman running the house — "everybody's mom," Susan Nash — trusted you, her son De'Angelo Nash said Tuesday.
The house near Simmons Street and West Lake Mead Boulevard had hosted hundreds of people in the roughly 20 years Nash's family has lived there, said her other son, De'Andre Nash. Growing up, the family often shared their rooms or their beds with those their mom would take in, he said.
But on Tuesday afternoon, the house hosted a handful of loved ones who gathered inside to support one another after Susan Nash and two of her adult children were killed in a shooting in a parking lot across the street from their neighborhood Sunday.
Nash, 52, was the mother to her four children as well as other family, her neighborhood and the students at Desert Pines High School, where she worked as a special education teacher's aide and was a recognizable face to many who worked there, loved ones said.
"Wherever she went, she was somebody's mom," De'Angelo Nash said.
The Clark County coroner's office identified the two other victims as Susan Nash's daughter Dejona'e Nash, 20, and her son Deonte' Nash, 31, of North Las Vegas.
Their deaths were ruled homicides.
Vases with flowers lined the interior of their house Tuesday afternoon, while mourning wreaths displayed at a vigil Monday evening sat in the corner of the living space by the back door.
The surviving Nash brothers sat in the living room along a low wall decorated with a few vases. They occasionally took sips from red plastic cups as they spoke about their family, remembering the loved ones whose lives were taken Sunday.
They asked people to donate to a GoFundMe page to support burial costs and help the family keep the house.
"My momma was a queen. My sister was a princess. They need to go out that way," De'Andre Nash said. "My big brother was a king."
His big brother, Deonte', would poke his siblings and do anything he could to make them laugh or smile, De'Andre Nash said. He would walk around the house with his ear buds in and sing along to a song that nobody else could hear. He was a much better dancer than a singer, but that wouldn't stop him from singing songs "word for word," De'Angelo Nash said.
And he loved animals, his brothers said, to the point where he'd had "over 200" animals — including dogs, fish, birds, lizards, a snake and a rabbit — during the years they lived on Rejoice Street. He wanted to get a crocodile, but his mom wouldn't let him, his brothers said.
"He was our Doctor Doolittle," De'Angelo Nash said.
De'Andre Nash's 8-year-old son, De'Anthony, said losing his grandmother has left him feeling "horribly sad." His grandma took them shopping for Halloween toys and candy last month, he said. And their uncle let them play with his many pets, including his dog Jamaica and his iguana.
His aunt took them to her job at a Burger King and let them have free chocolate and vanilla ice cream, De'Anthony recalled.
'My baby'
The brothers called their late sister "Nae Nae."
Tears ran down their cheeks when asked about her. They took a moment to collect themselves.
De'Angelo Nash spoke first.
"That was my baby," he said.
Their 20-year-old sister was raised with her three brothers and was a strong woman who stood up for herself and her family, De'Andre Nash said. She was raising a baby girl, Beautiful, that she gave birth to this year, family friend Phantasia Mack said.
She would often make breakfast for the family and anybody else under the roof, the brothers said. She'd try to cook "anything" and would keep trying until she got it right, they said.
"Even if she couldn't do it, she was trying," De'Andre Nash said.
The young mother had no problem telling her older brothers to "move, bro," he said while making a shoving motion with his arm. She got that from her mom, with whom she shared a birthday, De'Andre Nash said.
She would have turned 21 this December. De'Andre Nash and his mother were planning a party.
"My little sister was something else, man," he said, wiping an eye with his hand.
Little insight
The father of her child was also shot Sunday, but he was taken to University Medical Center with survivable injuries.
The family knows little of what happened that night other than what the detectives have told them, Mack said. Family members, who had been at a nearby Dotty's, were shot in the parking lot by a man who fled in a car, Mack said.
"We don't know him. We don't even know who it is," she said.
North Las Vegas police spokesman Aaron Patty said detectives had developed a few leads on a possible shooter but hadn't made any arrests as of Tuesday evening.
"We're just giving the detectives the chance to work that before they're ready to put something out to the public," Patty said.
In the meantime, he encouraged anybody with information to call North Las Vegas police at 702-633-9111.
Those wishing to remain anonymous can call Crime Stoppers at 702-385-5555.
Contact Mike Shoro at mshoro@reviewjournal.com or 702-387-5290. Follow @mike_shoro on Twitter.