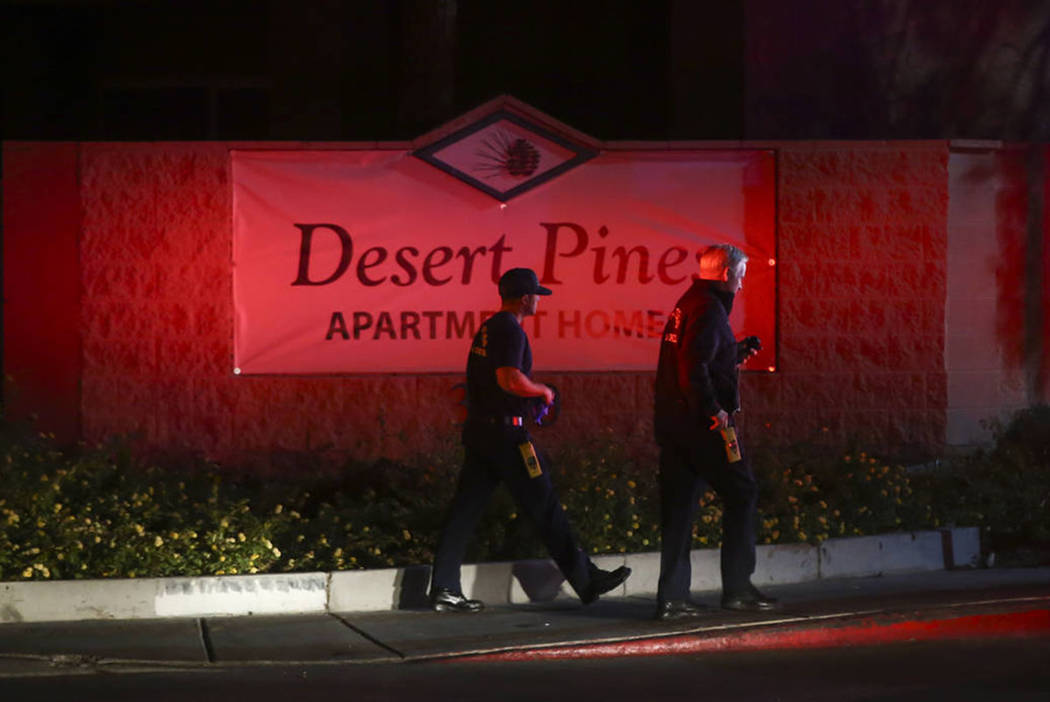 A suspect in a double homicide told police he shot toward an east-valley town house after somebody inside aimed a shotgun at him, according to police documents.
Police, however, doubt his account, saying they found no evidence of another gun.
Homicide detectives said in an arrest report that the suspect fired nine times at the residence, killing two and critically injuring another two.
Clarence Wilson, 46, said he and his fiancee, Juwanna Chapman-Doucett, were leaving a town house Wednesday night at 3750 E. Bonanza Road after a fight , police documents said. Wilson told police he grabbed Chapman-Doucett's handgun because his nephew and her daughter hadn't yet left the residence.
"When they did, Wilson said an occupant of the house produced a shotgun at the open door, pointed it at him and pulled the trigger, but nothing happened," Metropolitan Police Department wrote in Wilson's arrest report.
But the police report said evidence at the scene suggested Wilson fired through a closed door, and police never found additional guns. Instead, they found two people inside the town house dead with gunshot wounds.
The Clark County coroner's office identified one of the deceased as Mark A. Cooley, 50, of Las Vegas. He died of a gunshot wound to his side. The coroner's office hadn't yet identified the second person killed as of Friday afternoon.
Metro said first responders sent two more people with "potentially life-threatening injuries" to the hospital.
As a result, officers arrested Wilson on two murder counts and several shooting-related charges. Metro arrested Chapman-Doucett on a charge of giving Wilson, a convicted ex-felon, the gun. Both Wilson and Chapman-Doucett remained in Clark County Detention Center on Friday evening, jail records show.
Metro records spell her name as Chapman-Doucet, while jail and court records identify her as Chapman-Doucett.
The arrest report said Chapman-Doucett, Wilson and his nephew drove from Newport Beach, California, to pick up Chapman-Doucett's daughter from the Las Vegas town house. Police said the daughter called the family about 2 p.m. Wednesday to bring her to California because her boyfriend had abused her.
The three in the vehicle asked to use the bathroom after arriving at the town house about 8 p.m.
Multiple people were gathered inside for a get-together, and while inside, Wilson's nephew and the daughter's boyfriend fought, the report said.
This prompted Chapman-Doucett and Wilson to leave the apartment, the arrest report said. Chapman-Doucett told police she moved her vehicle to the front of the town house and pulled a .40 caliber semiautomatic handgun from her purse.
The nephew and daughter said they were momentarily blocked from leaving, but when they left, they climbed into the back of the vehicle and heard gunshots.
Chapman-Doucett's daughter told homicide detectives she then saw Wilson shooting at the front door.
The arrest report said evidence showed Wilson fired nine times: seven times through the door, one time through a window and another into an outside wall.
A check showed Wilson was convicted of manslaughter in 1998 in Los Angeles, according to the report.
Contact Mike Shoro at mshoro@reviewjournal.com or 702-387-5290. Follow @mike_shoro on Twitter.
3750 E. Bonanza Road, Las Vegas, NV