Police: Suspect shot Las Vegas teen in modified 'Russian roulette'
Updated June 13, 2018 - 7:50 pm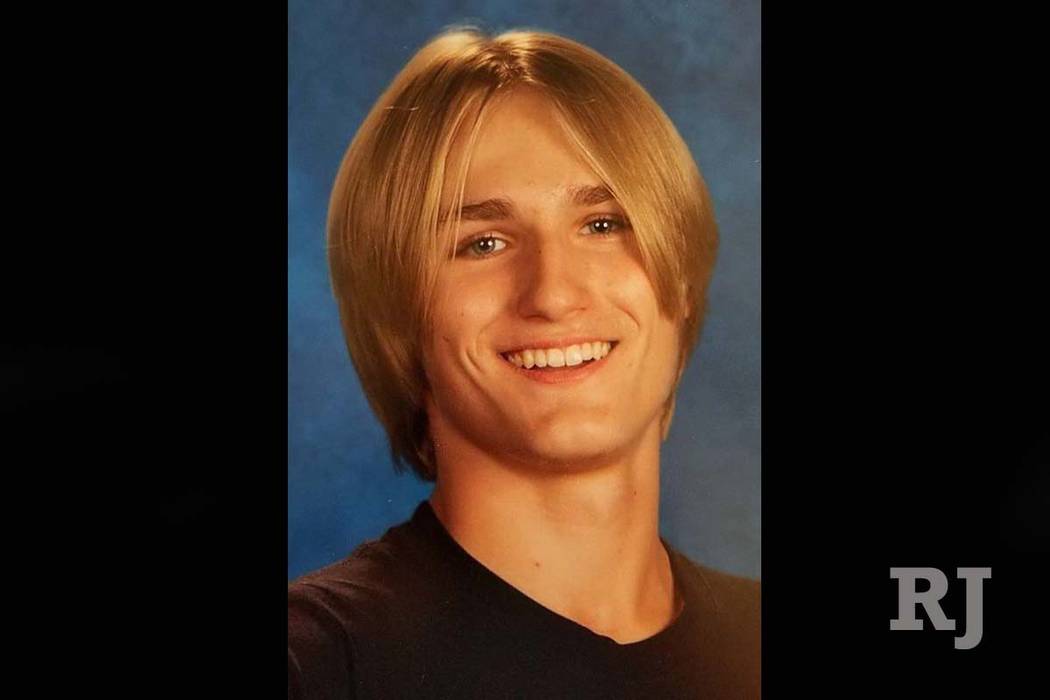 Matthew Minkler died surrounded by people he believed were his friends.
But after what suspects described as a modified game of Russian roulette turned deadly Friday morning, his friends ran, police said, leaving the Las Vegas teen to bleed out on the kitchen floor of an abandoned Henderson house at 2736 Cool Lilac Ave. He was 17.
Matthew's family does not believe that Russian roulette played a part in his death.
"We know this wasn't Russian roulette," his mother, Jamie Shanklin, told the Las Vegas Review-Journal on Wednesday. "My kid was shot in the chin, like they were shutting him up."
According to police documents, Jaiden Caruso, 16, and Kody Harlan, 17, returned to the house shortly afterward, but only to clean up the scene and hide the body inside a downstairs closet under a plastic sheet. Harlan is accused of dragging the body into the closet.
"They never called 911," detectives wrote in the pair's probable cause arrest report. "They never attempted to render aid."
Caruso and Harlan have been charged as adults in Matthew's death. Caruso is facing charges of murder with a deadly weapon and robbery, while Harlan faces charges of accessory to murder after the fact, destroying evidence and robbery. They are being held at the Clark County Detention Center.
Police on Tuesday identified Caruso's co-defendant as Kody Harlen, but court documents show that he has been booked under the last name "Harlan."
Deadly discovery
The suspects did not report the shooting to police. It was only after a short vehicle pursuit Friday evening near East Sunset Road and Green Valley Parkway that Henderson police learned of the shooting and later found Matthew's body.
Police said they tried to pull over a stolen Mercedes being driven recklessly by Harlan, but when the car blew through a red light and crashed into landscaping, several juveniles inside it got out and ran.
Once in custody, Harlan told police that "he had been present during a murder, which took place earlier in the day," his arrest report states. He then led officers to the abandoned 3,717-square-foot house on Cool Lilac Avenue, which sits on the edge of a well-kept neighborhood near South Eastern Avenue.
It remained unclear Wednesday how the teens knew the house was empty.
Harlan told police that Matthew was shot in the face by Caruso after he had pulled out a .375-caliber revolver for a game of Russian roulette, arrest documents say.
Russian roulette is known as a deadly game of loading a single bullet into a revolver, spinning the cylinder and then pulling the trigger while aiming the gun at yourself.
Friday's version was different, according to Harlan. He told police that Caruso "never allowed the other participants to handle the firearm or pull the trigger themselves," according to the documents.
But Matthew's mother believes there's another reason for her son's death.
"Jaiden had a 'beef' with my son. Jaiden never told him. He pretended they were friends," Shanklin said, raising her voice. "He would have never gotten into the car with them if he knew."
According to the report, the words "F—- Matt" had been spray-painted onto the closet door where Matthew was found. Detectives described that detail in the report as a "heinous" act.
Henderson officer Scott Williams reflected on the case Wednesday afternoon, telling the Review-Journal that Matthew's killing "shocked the conscience" of the entire Police Department.
"This one will stick with you," he said, "because it's so sinister."
'Caught a body'
In a warranted search of Caruso's cellphone, the report said, investigators found several "self-made videos" at the scene. In these videos, according to the reports, Caruso speaks into the camera, saying, "Bro, I just caught a body."
"We know about the Snapchats that Jaiden posted," Shanklin said Wednesday.
In one video, a voice can be heard in the background asking what to do with Matthew's body. Caruso said nothing, the report said, and "calmly walks to the kitchen sink, wets his hands and begins to clean his shoes."
After the shooting, Caruso replaced those shoes using about $300 taken from Matthew's wallet, according to the arresting documents. The rest of the cash was spent on drugs, police said.
"He cared more about his shoes," Shanklin said of Caruso, breathing heavily as she cried. The money the suspects had allegedly taken from Matthew was cash he had gotten for his birthday, she said.
Inside the stolen Mercedes, detectives found the wallet and the revolver they suspect was used in the shooting.
When presented with this evidence, Caruso "broke down and admitted his involvement," the report said. He claimed that the shooting was accidental and that he was high on Xanax at the time.
It is not clear how long the house has been abandoned, but county property records show that it was sold in January for $390,000 to a limited liability company. Shanklin said that in the days since Matthew's death, her son's other friends have shown her photos of Harlan in the backyard of the Cool Lilac house.
"We know the house has been empty since at least April," Shanklin said. "There's still furniture inside."
Williams confirmed that as of Wednesday, investigators were still working to identify and locate several other witnesses who fled the scene Friday.
"That's one of the most concerning things about this whole case. Why have these kids not told their parents?" he said. "Having them come forward is not only helpful for us, but these kids witnessed this traumatic event. They need counseling to get that off their chests."
He asks that anyone who witnessed the shooting call the Police Department at 702-267-4911 or Crime Stoppers at 702-385-5555 to remain anonymous.
A kind soul
While at a mortuary Wednesday afternoon, Shanklin told the Review-Journal, "I've been mourning for days, and now I feel my anger."
"My baby never came home," she said.
Shanklin said that on Matthew's way out of the house Friday, he told his family, 'Tell mom I love her."
Matthew had just finished his junior year at Silverado High School and was set to graduate next school year.
"He was a good kid and had a kind soul," Shanklin said. "He didn't even know how much he touched the world."
Matthew leaves behind his parents, four sisters and three nieces.
A GoFundMe account has been created to assist with his funeral costs.
Contact Rio Lacanlale at rlacanlale@reviewjournal.com or 702-383-0381. Follow @riolacanlale on Twitter.