Video shows violent police pursuit near downtown Las Vegas
Updated July 16, 2018 - 6:35 pm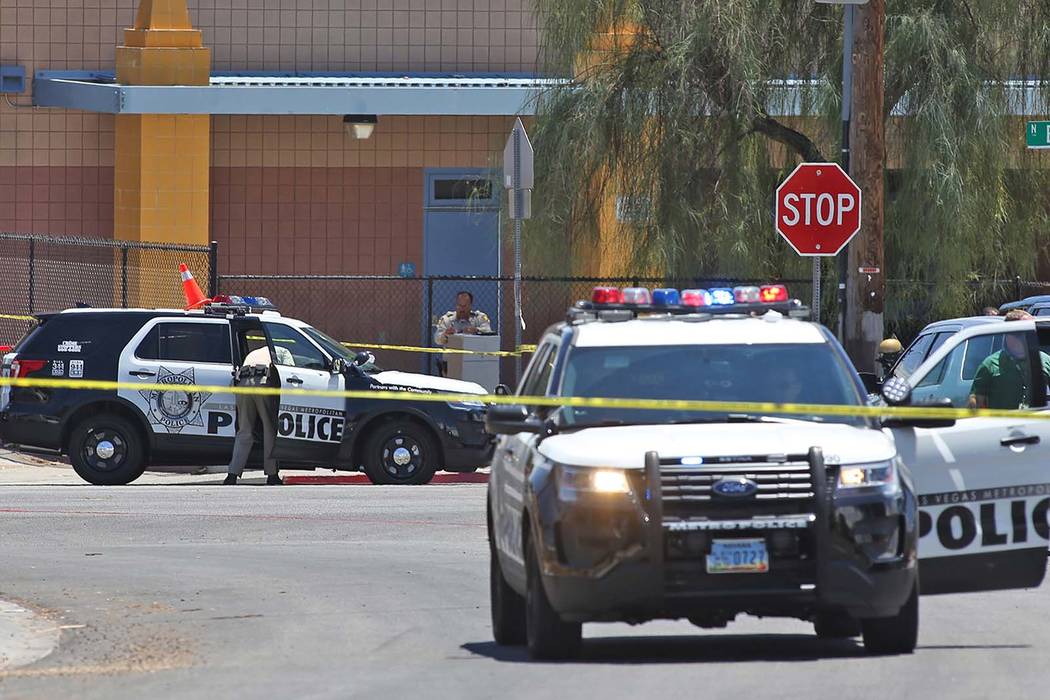 Las Vegas police on Monday released body camera footage of two men weaving through traffic in an SUV and shooting at officers during a chase near downtown that left one of the men dead and the other wounded.
The footage from Wednesday morning shows officer William Umana following Fidel Miranda, 22, and Rene Nunez, 30, and yelling "shots fired, shots fired" into his radio. When another police car joined the chase, Umana warned the officer to stay back. The second officer's car was hit by bullets at least twice, and the officer could not finish the chase, Metropolitan Police Department Assistant Sheriff Tim Kelly said at a briefing Monday.
As the chase neared its end, Umana, 43, pulled his car closer to the SUV and fired 11 shots through his windshield and seven shots through his open window.
Nunez exited the car as it was still moving near Hollingsworth Elementary School, 1776 E. Ogden Ave., and ran up steps outside of the school and attempted to enter, but the door was locked, Kelly said.
Miranda moved to the driver's seat and attempted to back up toward Umana, Kelly said. Umana left his car and continued to fire while plainclothes officer Paul Solomon, 46, approached the passenger-side door.
Solomon fired his shotgun once and hit Miranda. The SUV came to a stop at the north wall of the school, and Miranda was handcuffed while medical was called, Kelly said.
Miranda was pronounced dead at the scene. Officers Umana and Solomon were not injured.
Police arrested Nunez, who had gunshot wounds from the pursuit or from a shooting earlier that morning.
Miranda and Nunez are suspects in the death of 25-year-old Thomas Romero, who was shot multiple times in the chest Wednesday at a car wash at 1402 N. Eastern Ave., police said. Romero died that morning at University Medical Center.
While investigating that shooting, police spotted a 2000 Ford Expedition that matched the description of the suspects' car just after 9:30 a.m., near 29th Street and Constantine Avenue.
Then the SUV sped off. Miranda and Nunez raced through oncoming traffic — along Mojave Road, Eastern Avenue and Charleston Boulevard — while firing at police, Kelly said. They fired 34 rounds in five volleys during the pursuit, he said, while officers fired 31 shots.
One civilian's car was struck by gunfire, Kelly said.
Solomon, the plainclothes officer, was not wearing a body camera.
Kelly praised Umana and Solomon as heroic.
"The officer could have backed off, but he didn't," he said, referring to Umana.
Nunez is accused of stealing the SUV on May 20 in North Las Vegas, Kelly said, and one of the guns Nunez used during the chase had been reported stolen May 20.
Miranda and Nunez had aliases, "Cabezon" and "Kreeepper," respectively, which could be gang-related, he said.
Nunez faces multiple charges of murder with a deadly weapon and attempted murder with a deadly weapon. He remained in the Clark County Detention Center on Monday without bail.
Contact Katelyn Newberg at knewberg@reviewjournal.com or 702-383-0240. Follow @k_newberg on Twitter.