Bodycam video shows police shooting woman advancing with knife in hand
Updated May 26, 2023 - 9:06 am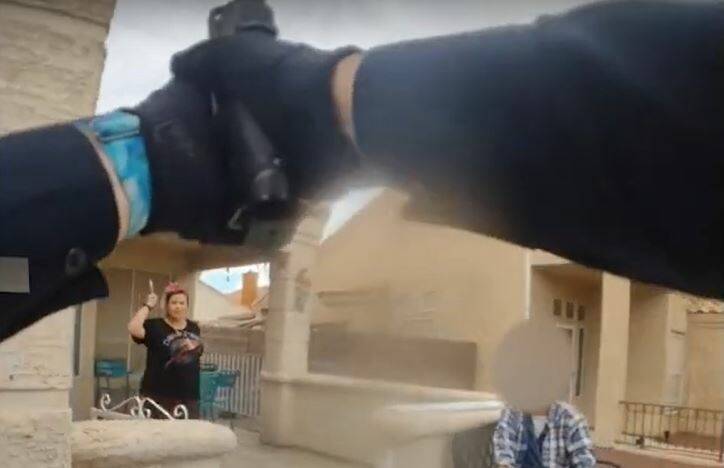 Two North Las Vegas police officers each fired three shots, killing a woman who walked toward them with a butcher knife in her hand, body-camera footage released Thursday showed.
Felicia Guzman, 43, of North Las Vegas, died at University Medical Center on May 16 after Sgt. Becky Salkoff and Officer Caitlyn Ebert fatally shot her outside a home in the 1400 block of Basin Brook Drive.
At around 4:30 p.m., officers responded to the home after a reported stabbing. They found a 75-year-old man suffering from a cut to his neck, police spokesman Brian Thomas said in a video briefing released Thursday.
While Salkoff and Ebert talked with the man outside, Guzman walked out the front door holding a butcher knife in her right hand up near her head.
"Put the knife down! Put the knife down!" both officers yelled as they backed down the driveway.
Guzman continued walking and both officers fired at her. She dropped the knife as she fell to the ground. Officers instructed Guzman to get on her stomach and then put her handcuffs.
Salkoff has worked for the department since 2004 and Ebert since 2017. Both have been placed on paid administrative leave.
Guzman would have faced charges of battery, assault with a deadly weapon and assault with a deadly weapon on a protected person, Thomas said.
Her death was the second fatal police shooting in North Las Vegas this year.
Contact David Wilson at dwilson@reviewjournal.com. Follow @davidwilson_RJ on Twitter.