Guard shot by police after shooting inside Las Vegas store
Updated August 12, 2018 - 12:09 am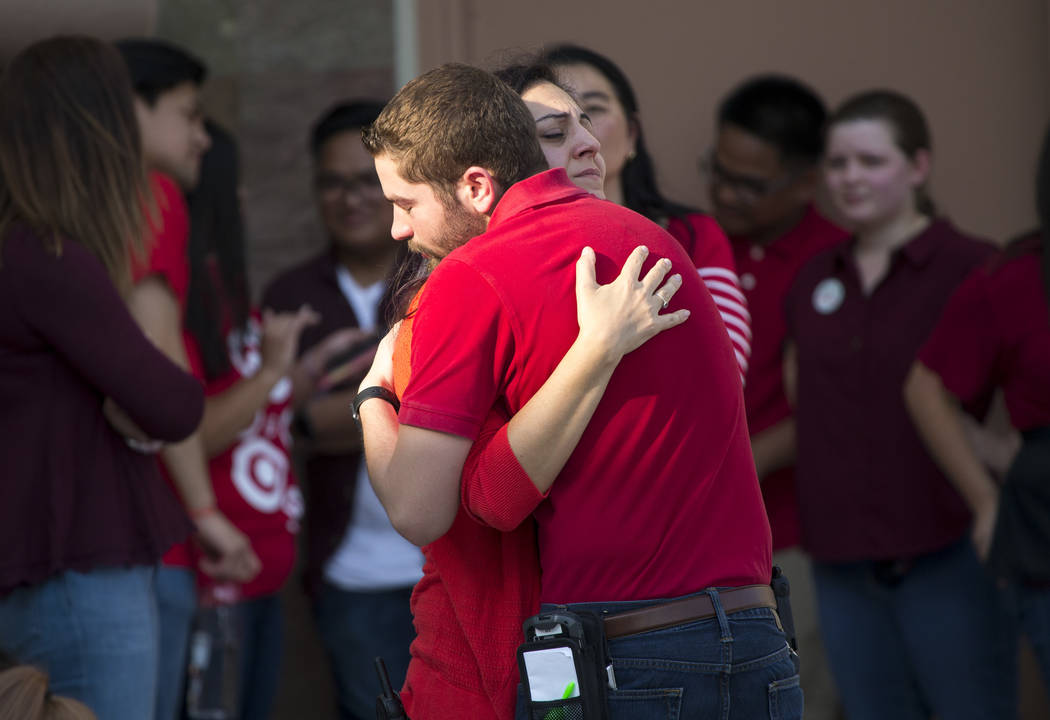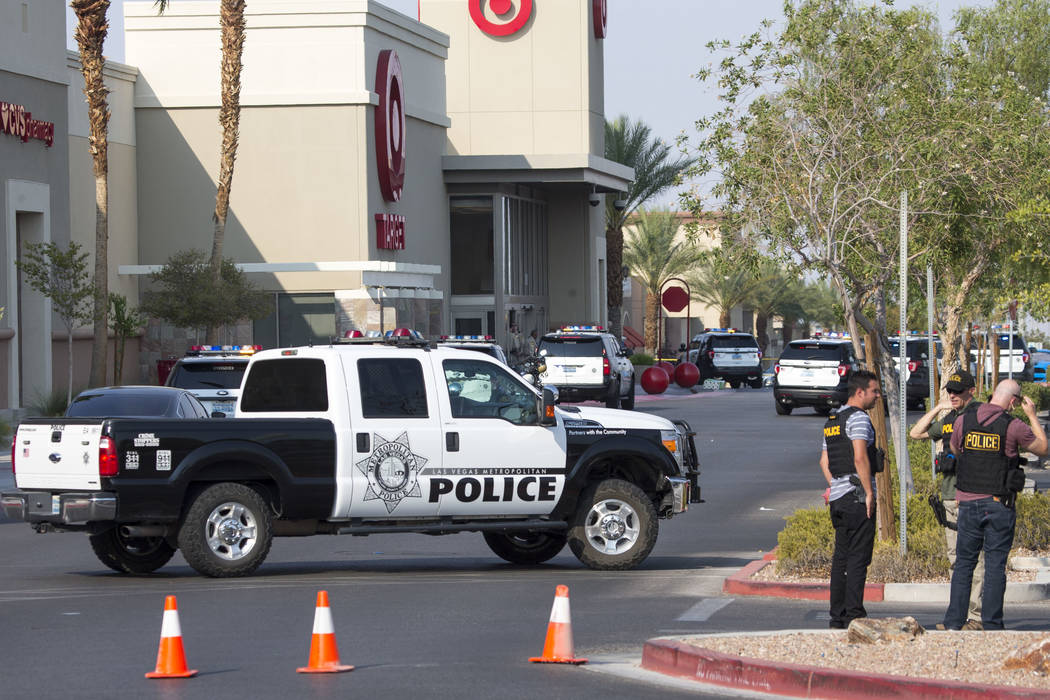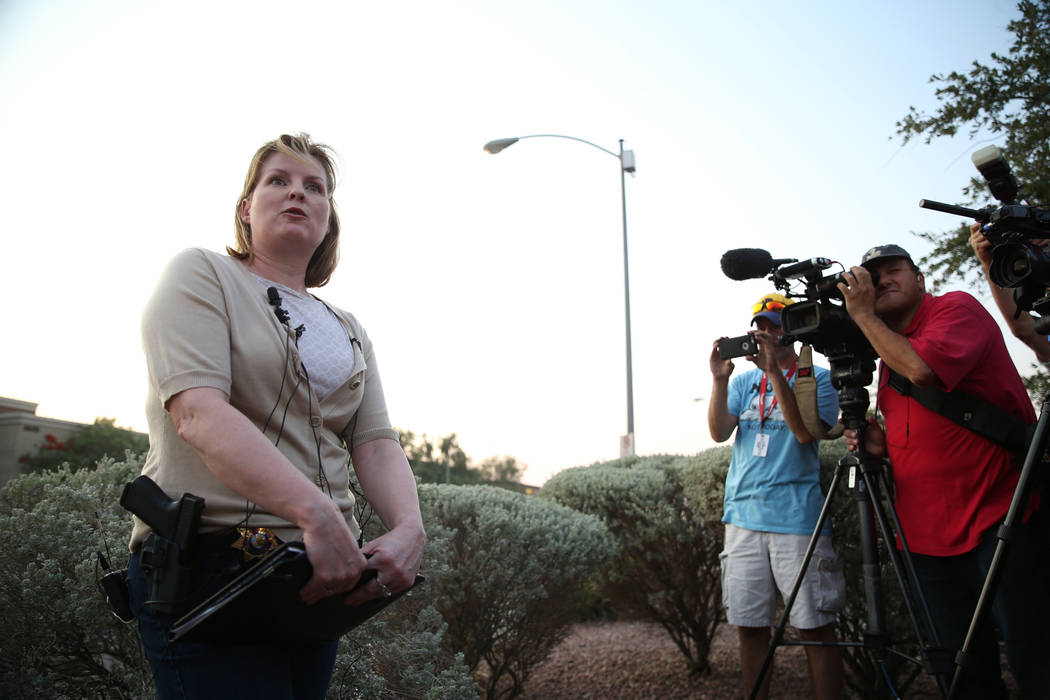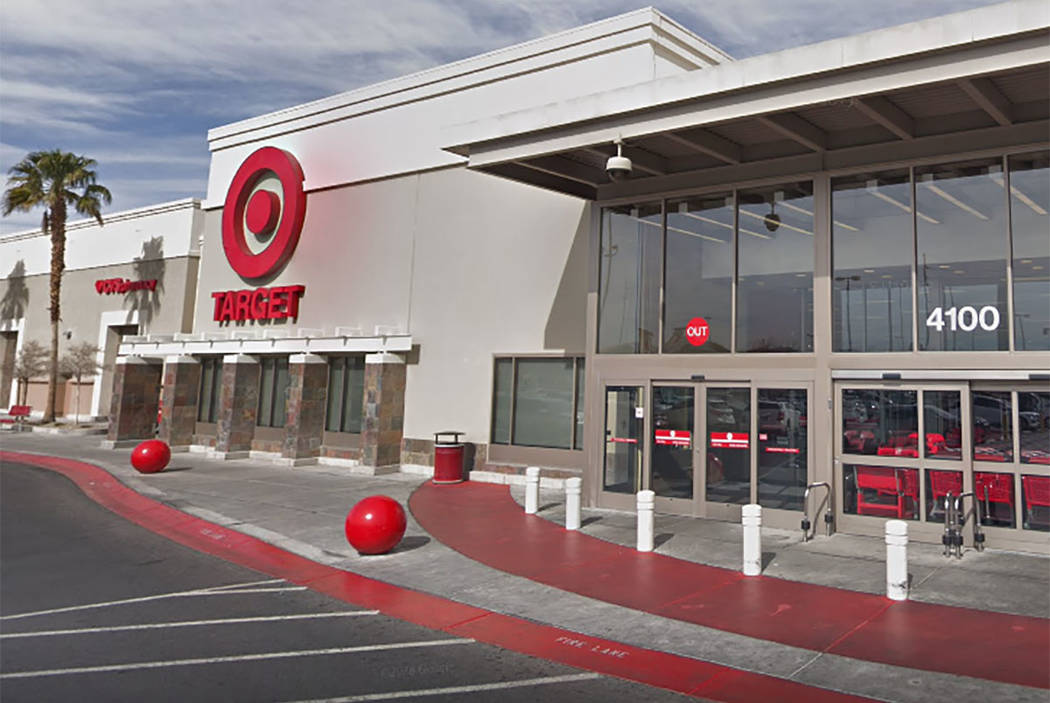 A Las Vegas police officer shot a security guard outside a south valley store Saturday afternoon after the man opened fire in the shop following an argument with his manager, law enforcement officials said.
Metropolitan Police Department Capt. Nichole Splinter called the 4:15 p.m. shooting in the Ross Dress for Less store, 4000 Blue Diamond Road, an isolated act of workplace violence.
The security guard argued with his manager, left the store and returned with a gun, Splinter said during a Saturday evening briefing. He fired the weapon at the manager, who wasn't hit, she said.
That's when the Police Department received calls of an active shooter.
"Mind you this is the weekend before school starts, so the store was filled with patrons shopping and doing what normal people do on a weekend," Splinter said.
Two officers arrived, and the man left the store and shot at them, she said. One officer returned fire and struck the man once. He was hospitalized at University Medical Center and was undergoing surgery Saturday evening, Splinter said.
No other injuries were reported.
The topic of the argument wasn't clear Saturday night, Splinter said.
A father who was in the store with his 9-year-old son at the time of the shooting told the Las Vegas Review-Journal that he saw a man arguing with a woman working at the store.
He said he then heard the man say, "I'm going to come back and get you."
The man left, returned a couple of minutes later and opened fire.
The father said he grabbed his son and they started running toward the back exit. Fearing that the man had begun to shoot in their direction, the father and son then ran toward the front exit. The father said the shooter was firing out the front door after he and his son exited.
The store is in the Blue Diamond Crossing shopping center, which contains several large stores, including Target, Big Lots and Kohl's, as well as many smaller shops.
An employee at a nail salon said she was walking toward the Ross Dress for Less when people at a nearby beauty store warned her not to go any farther.
"I said, 'What's going on?' They said there was a shooter," the employee said.
The employee walked back to the salon. A couple of minutes later, she heard about three gunshots. A few minutes later, she heard several more gunshots. The woman, who did not want her name used, said she poked her head out of the nail salon and saw police officers pointing guns at and standing over a man lying on the ground.
Around 4PM today there was a shooting in the 4000 block of Blue Diamond Rd. Arriving officers were fired upon by the suspect, and they returned fire. The suspect was hit and is at a local hospital. No citizens or officers were injured. This was isolated workplace violence. #OIS pic.twitter.com/vOw3JyIycD

— LVMPD (@LVMPD) August 12, 2018
'We got to get out of here'
Several people in Target ran after hearing reports of an active shooter. Cynthia Vizzo, 66, was checking out when people ran in the front door and yelled about an active shooter.
Shoppers dropped their goods and ran toward the back of the store, knocking over mannequins and gathering more shoppers and employees as they ran, Vizzo said.
"We got to get out of here," Vizzo recalled thinking.
Vizzo and others made it to the back driveway of the Target, where she stood for about 10 or 15 minutes. Another person warned her and others that a shooter was making his way toward them, she said.
Some ran toward a desert area. She and others went into a back room at the store for about 30 minutes, she said.
Vizzo estimated that about 100 others were with her in the back room, some hiding their children behind merchandise on shelves.
A Ross employee was in the crowd, and she said the man had fired toward her and another employee, Vizzo said.
Vizzo, who was shopping alone, said her thoughts were of her husband, who was at a nearby casino, and her family. She called her children as the events unfolded to say she loved them.
"When people started running in," Vizzo said, pausing. "Just scared 'cause you don't know is he right there."
Sheena Romandia, 32, told the Review-Journal that she was back-to-school shopping at Target when she noticed a bunch of people starting to run. Romandia said that she did not see or hear anybody shooting but that when she saw the crowd running, she and her two daughters joined them.
"All of a sudden, just like everybody dropped everything and just started like grabbing their kids and running as fast as they could," Romandia said.
She and the others ran toward the back of the store and exited through an employee entrance, Romandia said. It took a few minutes to fit so many people through one exit to the area behind the store, she said.
Police would not let them back into the parking lot, so she walked around the shopping center and made her way to the front of a business near a Verizon store.
Fifth officer-involved shooting
This is the fifth officer-involved shooting since Aug. 4. Per department policy, police will identify the officer who shot the man within 48 hours.
At a news conference discussing a Monday officer-involved shooting, Clark County Assistant Sheriff Tim Kelly discussed the recent spate.
"In my 28-plus years here, I don't recall us having this many in such a short period of time," Kelly told reporters Thursday. "It's unfortunate, but when you have individuals out there that are trying to cause harm, as a police agency it's our job to take action to mitigate that threat."
Contact Mike Shoro at mshoro@reviewjournal.com or 702-387-5290. Follow @mike_shoro on Twitter.
IM AT ROSS OM BLUE DIAMOND PLEASE THERE IS A LIVE GUNMAN IM AM IN DRESSINH ROOM WITH MY MOM

— Kallista (@Kallistaamaria) August 11, 2018
Active shooter a few minutes ago here off blue diamond in Las Vegas at Target and Ross. I was in store when it happen. Crazy #LasVegas #activeshooter pic.twitter.com/PcRUUl7MFf

— Will Harris (@TheeWillHarris) August 12, 2018
Related
Suspect firing rounds from Las Vegas apartment shot, killed by police
Man dies in 2nd officer-involved shooting in Las Vegas
Man killed, officer injured in Las Vegas police shooting
Stabbing suspect dead after officer-involved shooting in east Las Vegas