Las Vegas officer turns on body-worn camera after shooting at suspect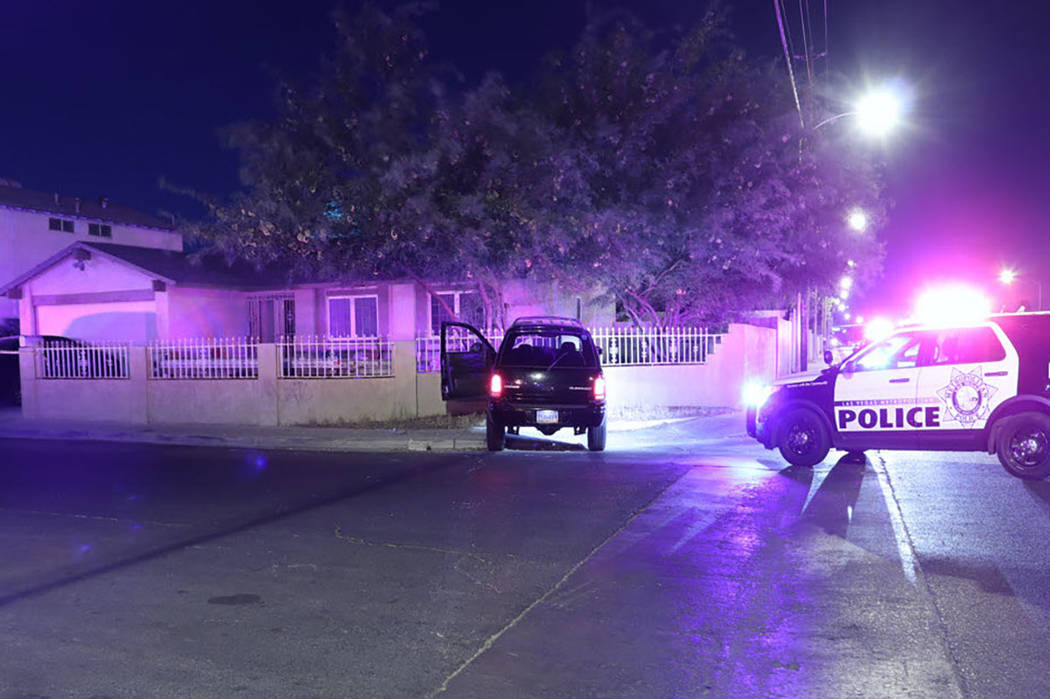 A Las Vegas officer activated his body-worn camera after shooting at a stolen car suspect Friday morning in the east valley.
Metropolitan Police Department announced Monday that officer Brent Horlacher, 28, didn't have his body-worn camera on when he fired a shot toward Jessie Murillo, 35, who had taken off on foot during a traffic stop early Friday.
Metro officials didn't mention at the news conference that the officer activated the camera after he shot at the suspect.
But an arrest report for Murillo released Tuesday said that Horlacher "viewed the BWC of (another officer) and his own" prior to a walk-through of the scene with Metro's Force Investigation Team detectives, crime scene analysts and police union representatives. Metro's body-worn camera policy permits officers who fire their weapons to view their camera's footage prior to completing a walk-through of the scene.
Metro spokeswoman Laura Meltzer confirmed Tuesday that Horlacher turned on his body-worn camera shortly after firing a shot at Murillo during a foot chase on the 4100 block of St. Louis Avenue. The shot missed and hit a block wall.
"He did apparently activate it after the incident," she said.
It wasn't clear Tuesday why the officer didn't have his body-worn camera on during the shooting. Meltzer said that information was part of an ongoing investigation, echoing Assistant Sheriff Charles Hank's comments from a Monday news conference about the shooting.
"We don't know if it was a malfunction, or he failed to activate the camera," Hank said Monday.
At the news conference, Metro showed security footage of Horlacher trying to stop a Dodge Durango with stolen plates, followed by another officer's body camera footage of the moments after the shooting.
Police didn't show Horlacher's body-worn camera footage at the press conference because the camera was activated after the shooting, Meltzer said.
"There wasn't anything that (the footage) would've been able to offer," Meltzer said.
Horlacher tried pulling over the Dodge Durango near Boulder Highway and Desert Inn Road. The driver, Murillo, refused to pull over, drove north on Lamb Boulevard, crossed into the southbound lanes and nearly crashed into other vehicles, police said.
The officer fired one round shortly after 12:35 a.m. Friday, after the vehicle chase turned into a foot pursuit near Lamb and St. Louis Avenue. Murillo was found uninjured about three blocks from the scene of the shooting about two hours later. He was booked into the Clark County Detention Center.
Police said Murillo pointed a gun at Horlacher, but investigators have not found a firearm.
Murillo faces charges of a driver disobeying an officer and possession of a stolen vehicle, according to court records. The Clark County district attorney's office declined to pursue a charge of assault of an officer with a deadly weapon, the records show.
Horlacher is on paid leave while the shooting is investigated.
This is the ninth police shooting this year for Metro and the fifth nonfatal shooting. At this time last year, five of the department's 10 police shootings were fatal.
Contact Mike Shoro at mshoro@reviewjournal.com or 702-387-5290. Follow @mike_shoro on Twitter.