Las Vegas shooting survivor, trooper reunite at healing garden
Updated April 8, 2018 - 11:43 pm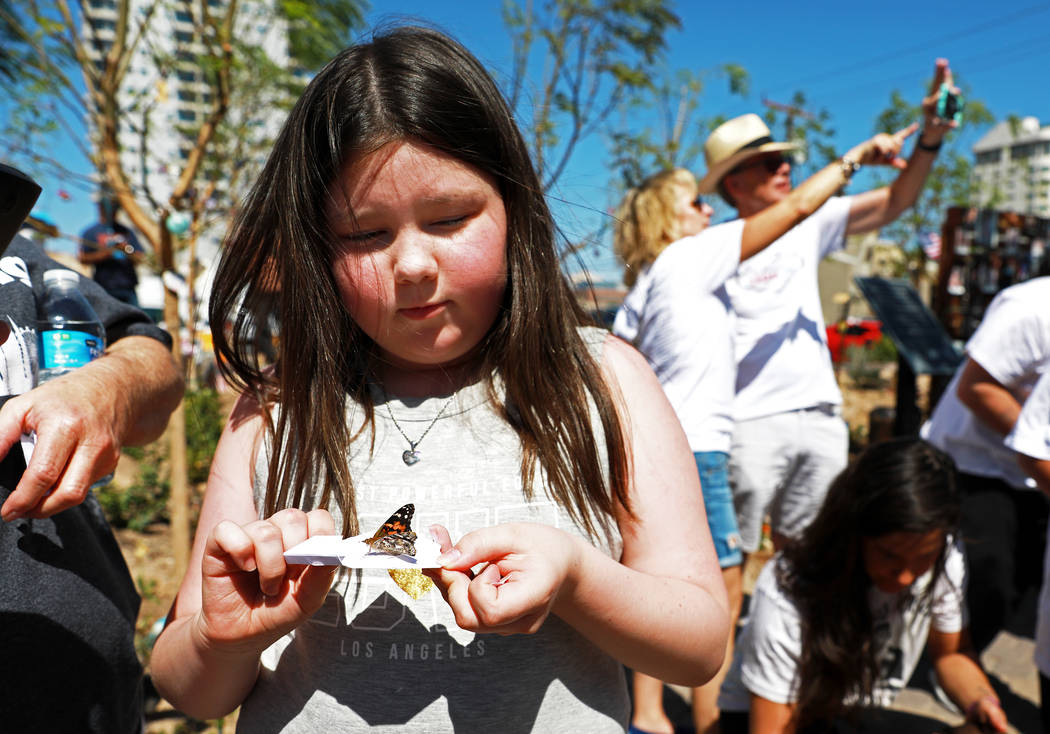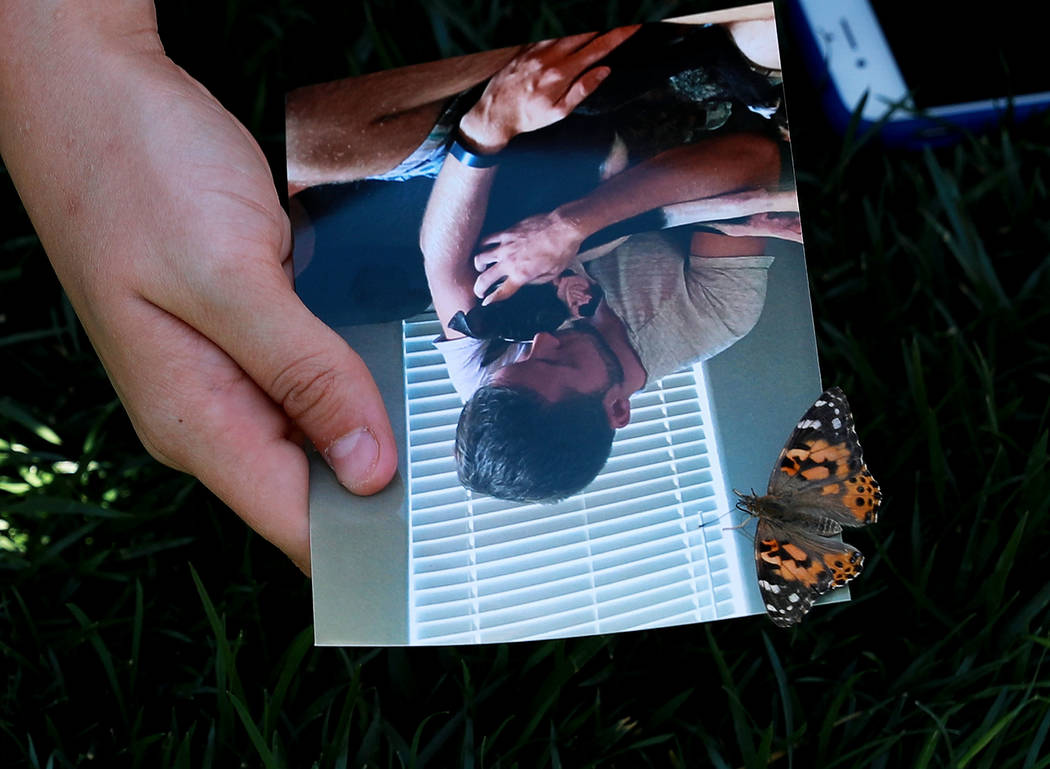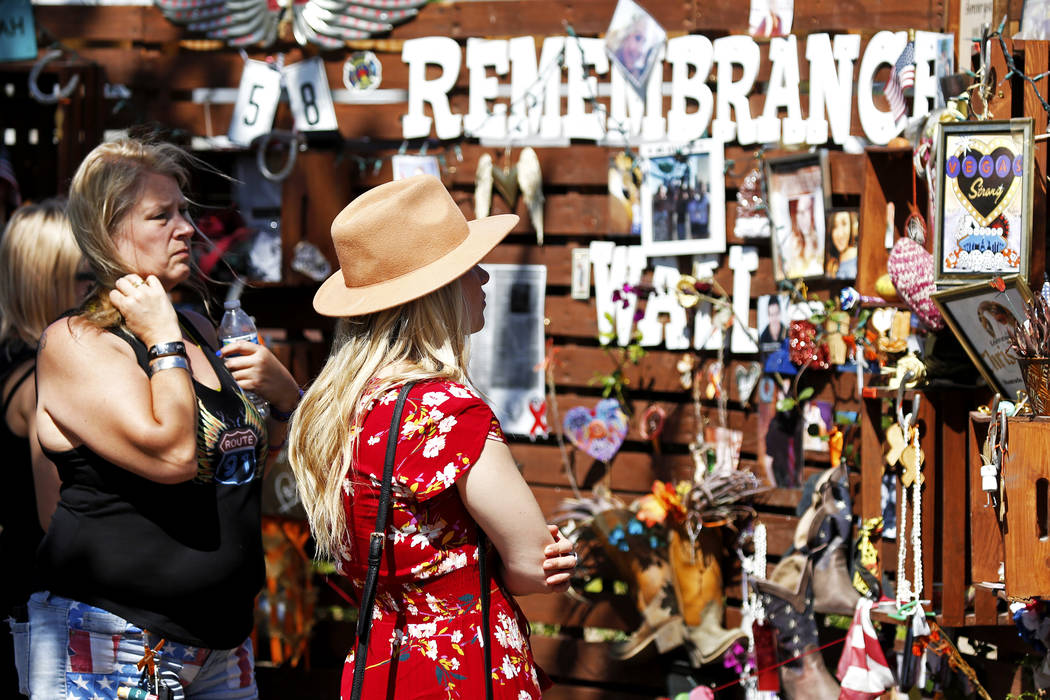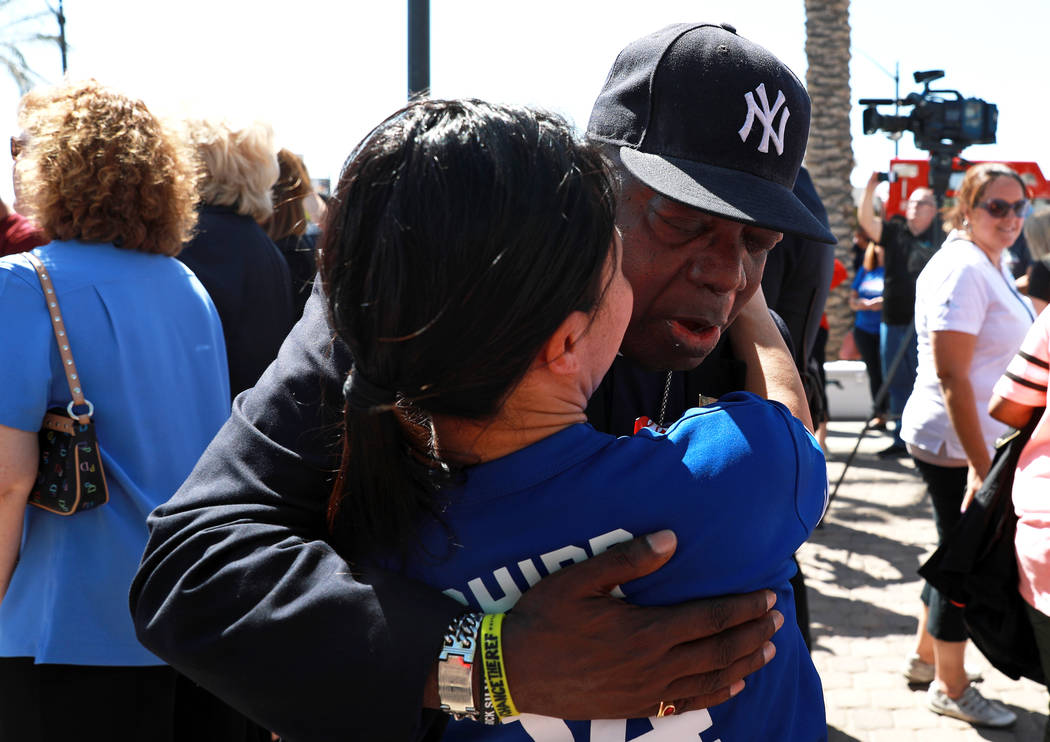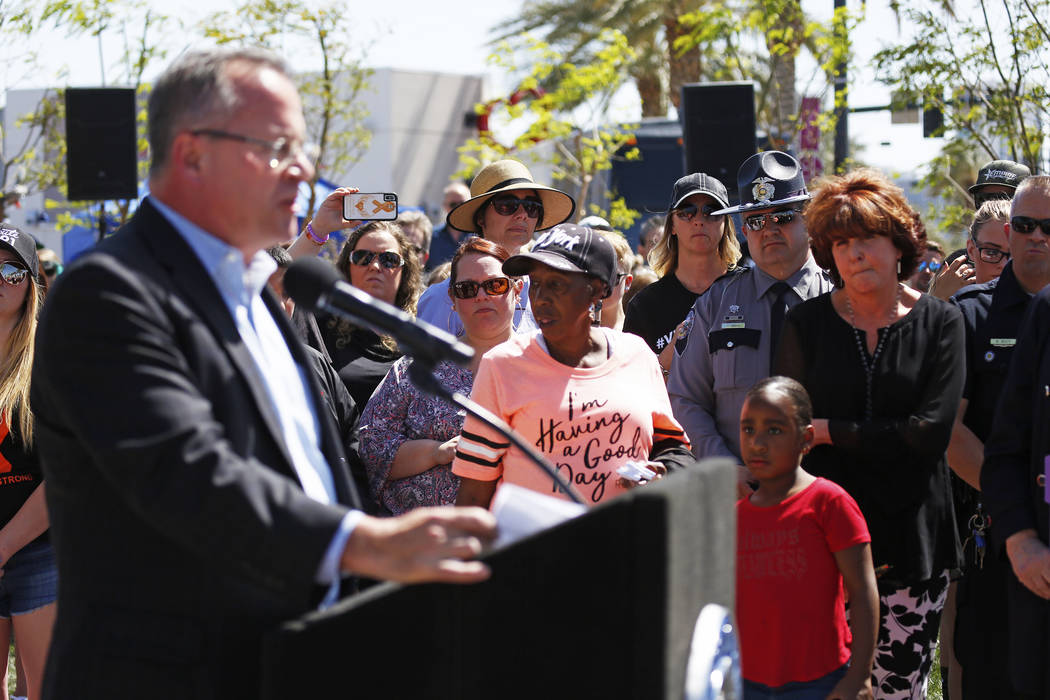 Nevada Highway Patrol trooper Travis Smaka met Leala Tyree on Oct. 1.
Her son was weaving through traffic in a pickup, taking a bloodied family of three to a hospital.
Six months passed before Smaka saw her again Sunday afternoon, and this time the two embraced.
"It's so good to see you," Tyree told him through tears.
They reconnected at a butterfly release event for shooting victims at the Las Vegas Community Healing Garden downtown.
Before the chaos that led to their introduction, Tyree's son, Devin Gray, was celebrating his 34th birthday with his family in the front row of the Route 91 Harvest festival. When the crackle of gunfire began, they ducked near the stage. Between volleys, the group moved toward Gray's truck.
On the way to the truck, a man flagged down Tyree and told her that his daughter had been shot and was going to die.
"If you're not a parent, you don't get it," said Tyree, a mother of four. "But if you are, trust me, that's right to your core."
Tyree's family helped the man, who also was shot, and his wife and daughter into the bed of the truck and headed south on Las Vegas Boulevard. Another of Tyree's sons, Christian Tyree, sat with them in the bed of the truck and used his shirt as a bandage for the injured woman.
Tyree recalled looking up at Mandalay Bay and seeing a flash from an upper-floor window.
"And I yelled at him (Gray), 'Go! Go! Go!'" Tyree said.
Gray honked the horn and flashed his lights as he drove through intersections and toward a south valley hospital.
Gray and Tyree encountered Smaka near Sunset Road.
"My first interaction with him was, 'Follow me,' Tyree said. "And then we passed him and then he yells at me, 'Stay behind me!'"
Smaka led the truck onto Interstate 15 and through a closure at Russell Road on their way to University Medical Center, Nevada's only Level 1 trauma center.
On Oct. 3, Smaka was told by someone at the Highway Patrol that one of the people in the bed of the truck died.
"It just kills me knowing that there's somebody on my watch, and they didn't make it," Smaka told the Las Vegas Review-Journal on Oct. 4.
But about two weeks later, Gray found Smaka through a Facebook group dedicated to reuniting victims and heroes. Smaka was able to contact the family of the injured woman and confirm that she survived.
"That made all the difference to me," he said. "I couldn't describe the feelings I had finding that out."
Tyree calls Smaka her hero.
"It's been six months since he's yelled at me, and it's OK," Tyree said, this time through laughter.
Contact Blake Apgar at bapgar@reviewjournal.com or 702-387-5298. Follow @blakeapgar on Twitter.
'Opportunity to heal'
Survivors of the Oct. 1 Las Vegas shooting, families of victims, first responders, supporters and community leaders released 900 butterflies at Sunday's event.
Country music singer Collin Raye performed two songs after the release, including "Amazing Grace."
"When you come together as a group, it's a very powerful opportunity to heal together," said Carole Fisher, president and CEO of Nathan Adelson Hospice, which hosted the event.
Butterflies are a Native American symbol for connecting with a loved one who has died, she said.