Las Vegas Strip shooting survivor urges Senate to ban bump stocks
December 6, 2017 - 5:50 pm
Updated December 6, 2017 - 7:45 pm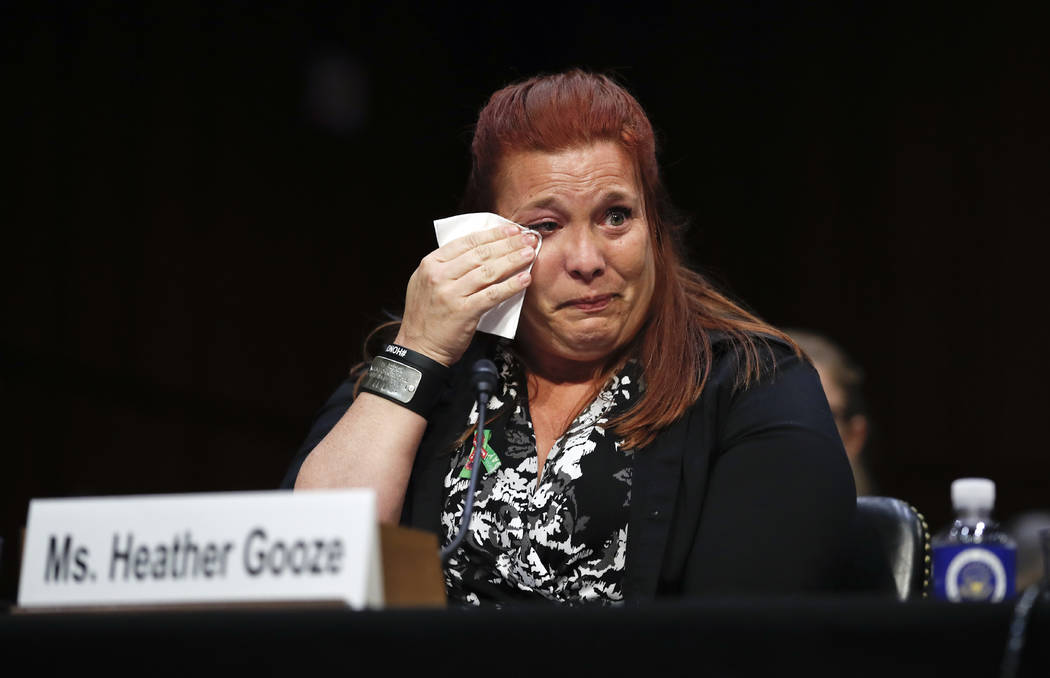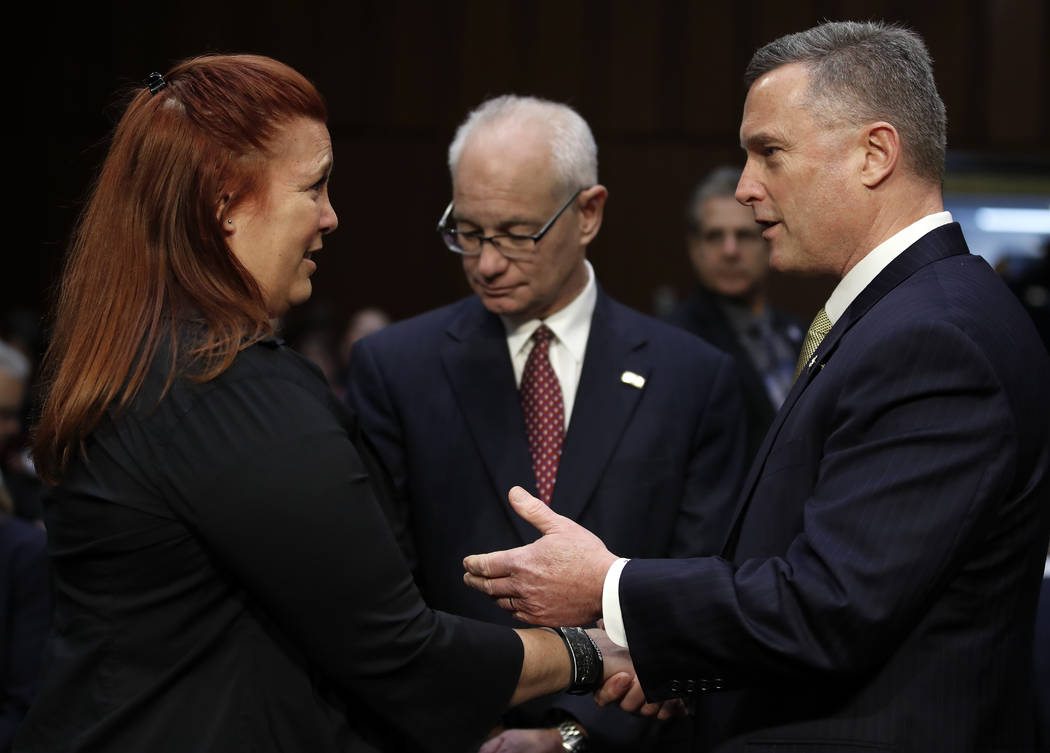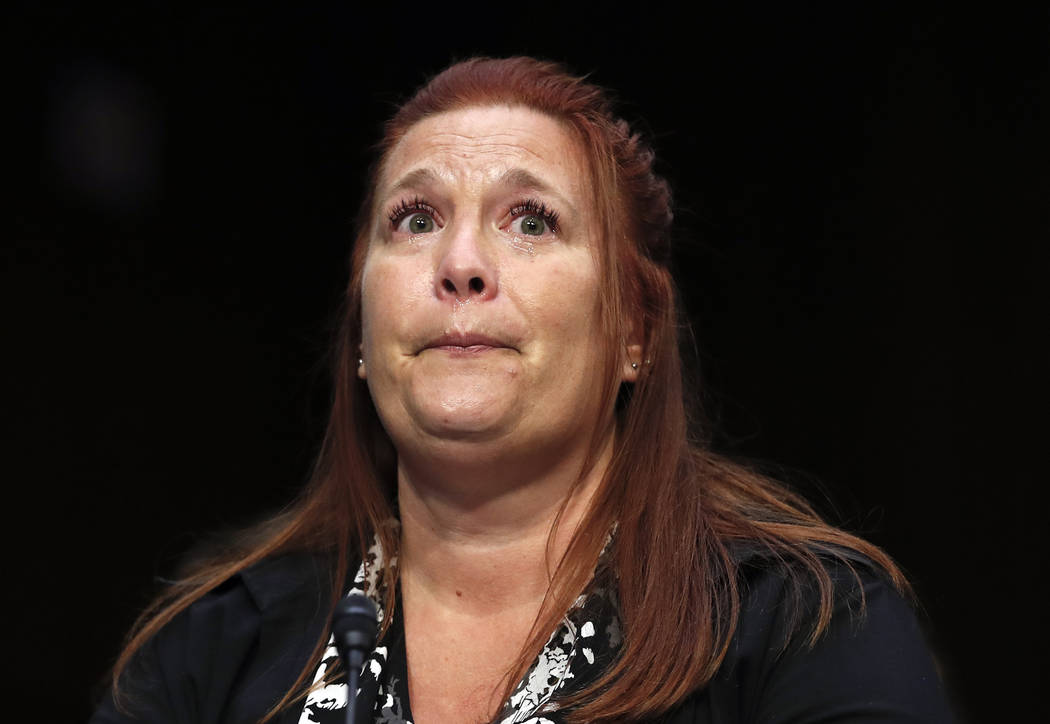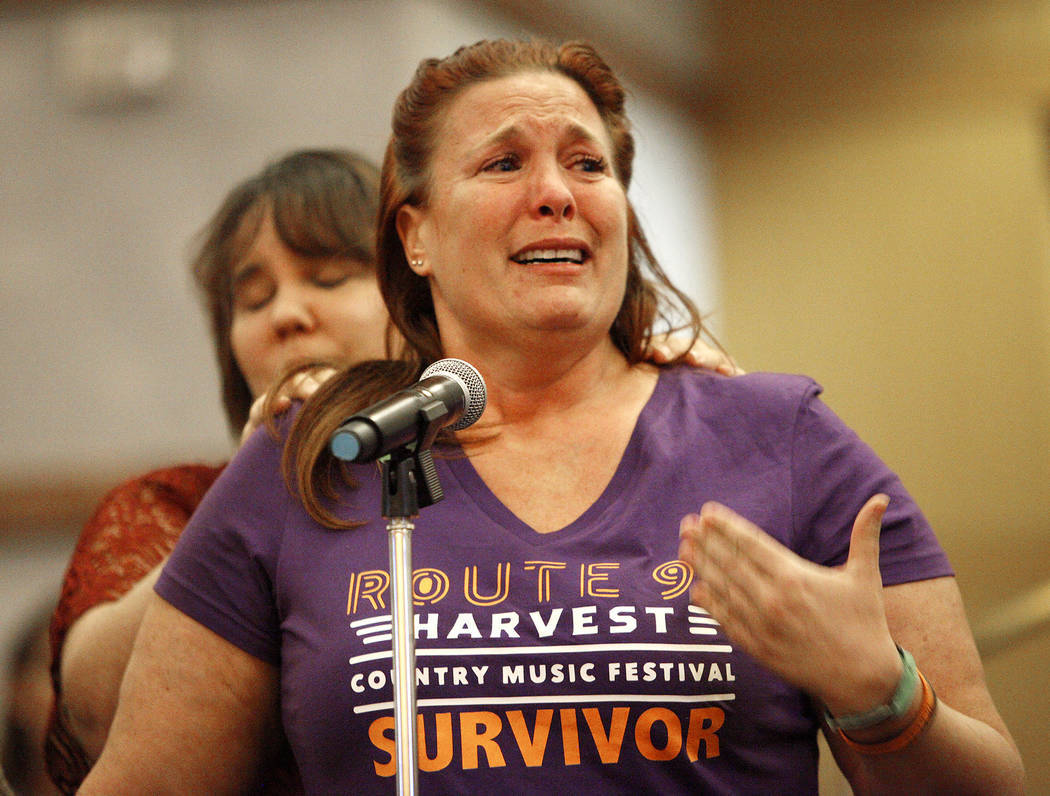 WASHINGTON — Three survivors of the Las Vegas shooting appeared Wednesday at the first congressional hearing on "bump stocks" as a federal agency announced it would review legal classification of the devices.
Heather Gooze, a bartender at the Route 91 Harvest concert, of Las Vegas, recalled her "own night of terror" as she testified before the Senate Judiciary Committee in support of a bill to ban bump stocks, which accelerate the rate of semiautomatic rifle fire to near that of automatic weapons. The Las Vegas shooter used bump stocks Oct. 1 while firing at concertgoers from a 32nd-floor suite at Mandalay Bay.
"Those devices are not for hunting. They are not for target practice. They are for hurting people. And they have no place in our general society,'' said Gooze, who traveled to Washington with two other survivors, Christine Caria of Las Vegas and Heather Sallan of Reno.
Her plea preceded a heartbreaking account of the night of the shooting, and how she helped a Canadian victim carried out on a ladder used as a makeshift stretcher.
Covered with blood, Gooze stayed with the man until he died, and then spoke on his cellphone to his family and friends, telling them the grim news. A stranger, helping a stranger.
Why did she stay with a deceased man until his body was taken away by authorities?
"I still don't know. I am not that strong. I am not that special. I am not that honorable. But something wouldn't let me run that night, and something compelled me to help," she said, breaking down in tears and sobs.
Thomas Brandon, acting director of the Bureau of Alcohol, Tobacco, Firearms and Explosives, said his agency began a review Monday of the classification of bump stocks to determine whether they should be regulated like machine guns.
The ATF decided to review the classification in the aftermath of the Las Vegas shooting, Brandon said.
"Those lives lost really hit everybody's heart," Brandon said.
A monthslong review would determine whether ATF has the authority to regulate bump stocks. The ATF determined during the Obama administration that it did not have the authority as the devices were determined to be legal accessories.
Republican and Democratic lawmakers have sought an ATF review.
Preventing mass shootings
Chairman Charles Grassley, R-Iowa, called the Judiciary hearing to examine legislative measures to prevent mass shootings like the Oct. 1 Las Vegas tragedy and the Nov. 5 killing of parishioners at a church in Sutherland Springs, Texas.
"Violent acts by evil men," Grassley said.
The committee is considering two bills, one that would outlaw bump stocks and one to strengthen reporting to the FBI database used in gun purchase background checks.
Sen. Dianne Feinstein, D-Calif., the ranking Democrat on the panel, has filed a bill that would outlaw bump stocks, trigger cranks and other devices with a classification similar to that of machine guns in the National Firearms Act.
Critics of the Feinstein bill say the legislation is too broad and would violate constitutional rights.
The firearms act outlawed machine guns following the St. Valentine's Day massacre in Chicago when mobsters used Thompson submachine guns, or "Tommy guns" to kill rivals in a gruesome mass killing.
Feinstein said bump stocks accelerate the rate of semiautomatic weapons to up to 700 rounds per minute. She said at least 12 of the devices were used in Las Vegas to fire 1,100 rounds in less than 10 minutes.
The burst of bullets fired from the 32nd floor at the Mandalay Bay and into the crowd of 22,000 concertgoers below left 58 dead and more than 500 people injured. It is the worst mass shooting in modern U.S. history.
Sen. Catherine Cortez Masto, D-Nev., a co-sponsor of the Feinstein bill, said the devices should be taken off the streets.
She said she hoped the committee hearing would be "an important first step toward meaningful change."
Cortez Masto, a gun owner, recalled the carnage at the hospitals and emergency rooms following the shooting, and the "mental scars" that remain from the tragedy that occurred in her hometown.
"Our wounds from Las Vegas had not yet healed when we learned of another terrible shooting, this time in Sutherland Springs, Texas," Cortez Masto said.
Background checks
In Sutherland Springs, a gunman walked through a rural Baptist church during a Sunday service and methodically shot those sitting in the pews and those trying to escape. He killed 26 people, the worst shooting a house of worship in the United States.
The Air Force failed to report the gunman's previous military conviction for domestic assault to an FBI database, the National Instant Criminal Background Check System, or NICS, which would have prevented him from legally purchasing the weapons used in the church attack.
Air Force Secretary Heather Wilson testified that a review found that the problem of nonreporting was widespread, and that measures have been implemented to submit criminal information to the NICS.
Sen. John Cornyn, R-Texas, has filed a bill that would strengthen reporting procedures for federal agencies, as well as improving the reporting of criminal convictions and domestic violence and assault by state and local entities. It is co-sponsored by Cortez Masto and Sen. Dean Heller, R-Nev.
"I think we need some way of enforcing this," Cornyn said.
Senators grilled Glenn Fine, the acting inspector general for the Department of Defense, for the repeated failure by the military to report criminal convictions to the FBI database. Fine said a lack of training, a lack priority and turnover led to the failures, but he said there is no excuse for the failures.
Gun rights supporters and groups representing victims of mass shootings, like Moms Demand Action, the Brady Campaign and others packed the hearing room. Many wore T-shirts emblazoned with their group's name, and most sat silent.
The most heart-wrenching testimony came from Gooze.
Gooze said people were dancing when the first shots were fired, around 10 p.m., "then everyone started to rush in all directions, trampling the bar and pushing through the back doors."
She said she heard screams: "Shooter," "Gun," "Help me!" "This was followed by a second round of gunshots. There were people covered with blood all over their bodies."
During the melee she began assisting victims, using her finger to plug a head wound on one man, Chris Hazencomb, who died the next day.
And she assisted with the ladder stretcher that held Jordan McIldoon of British Columbia, whose death she knew when he stopped gripping her hand.
"For some strange reason, I felt compelled to stay and sit with the body. I felt attached," she testified.
An hour later his phone rang. She answered it. Later she informed his family and friends of the death.
"When I asked myself in the days following why I had stayed with a stranger's body, I could only answer that I hoped someone would do the same for me," she said. "I didn't want Jordan to be a John Doe."
Contact Gary Martin at gmartin@reviewjournal.com or 202-662-7390. Follow @garymartindc on Twitter.
House passes NRA-backed gun bill
The House has approved a Republican bill making it easier for gun owners to legally carry concealed weapons across state lines. The bill is the first gun legislation passed in Congress since mass shootings in Nevada and Texas killed more than 80 people.
The House approved the bill Wednesday, 231-198.
The bill is a top priority of the National Rifle Association, which calls it an important step to allow gun owners to travel freely between states without worrying about conflicting state laws or civil suits.
Opponents, mostly Democrats, say the bill could endanger public safety by overriding state laws that place strict limits on guns.
Associated Press