Tears flow at hospital reunion of Las Vegas shooting survivors
Updated September 14, 2018 - 9:34 pm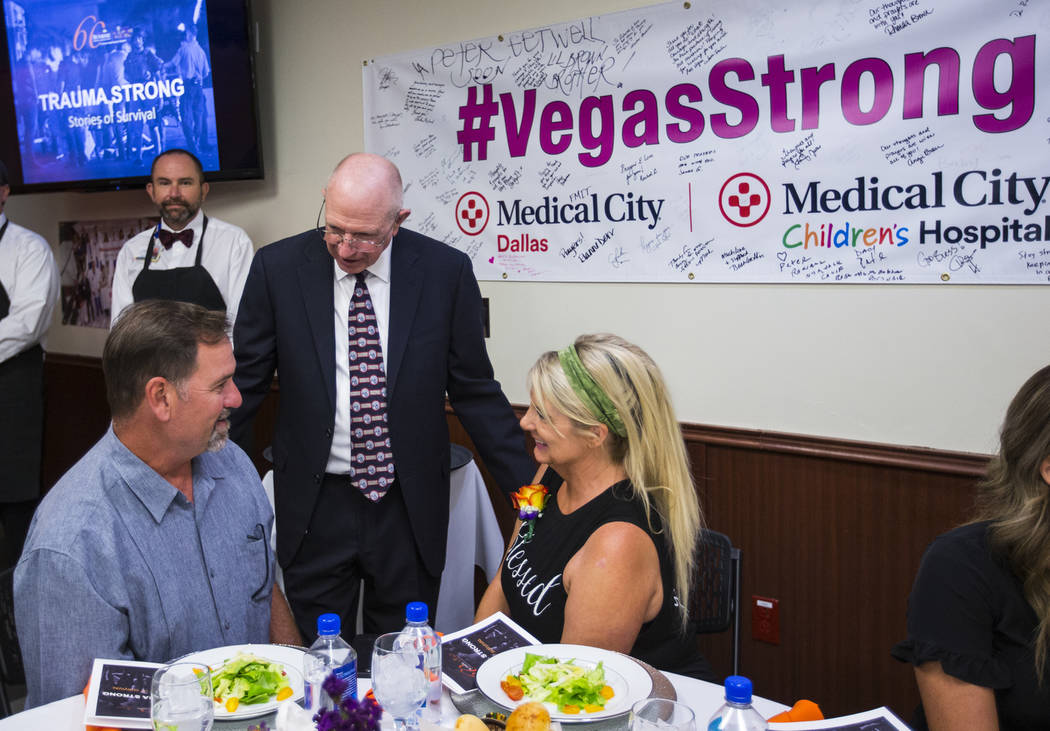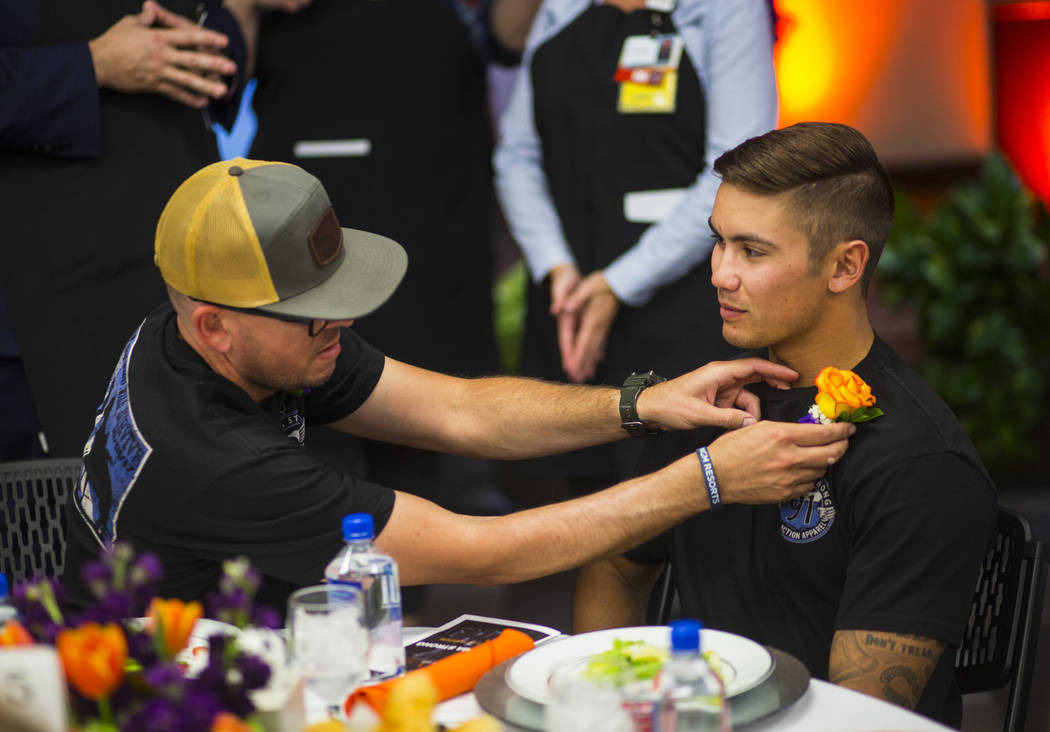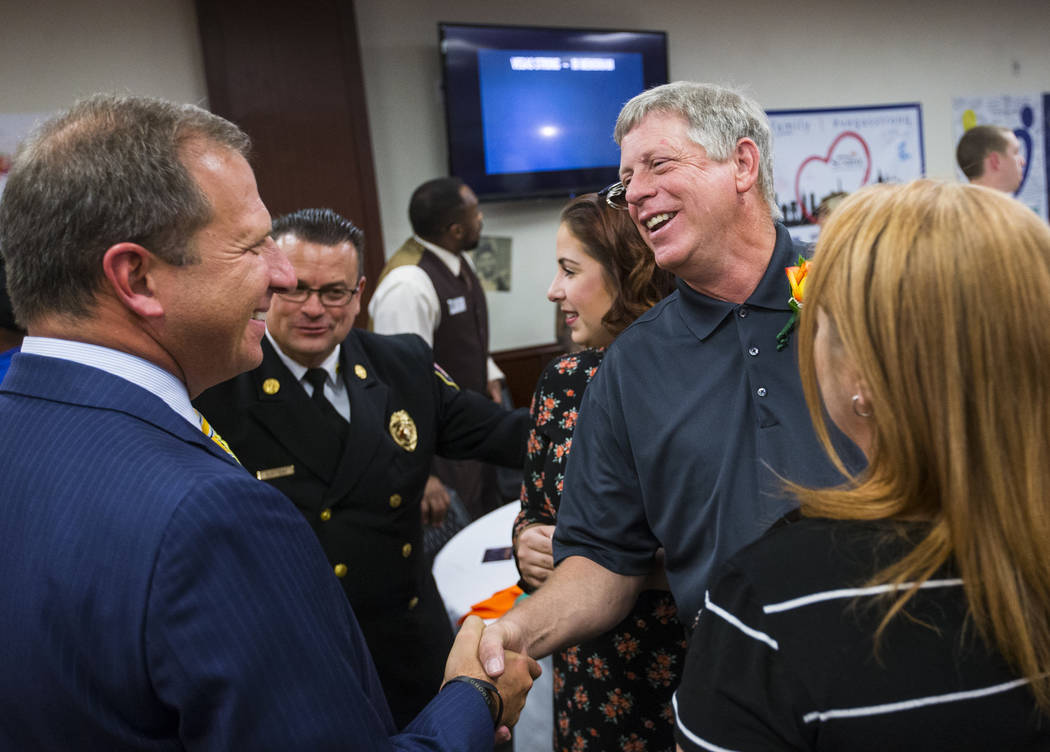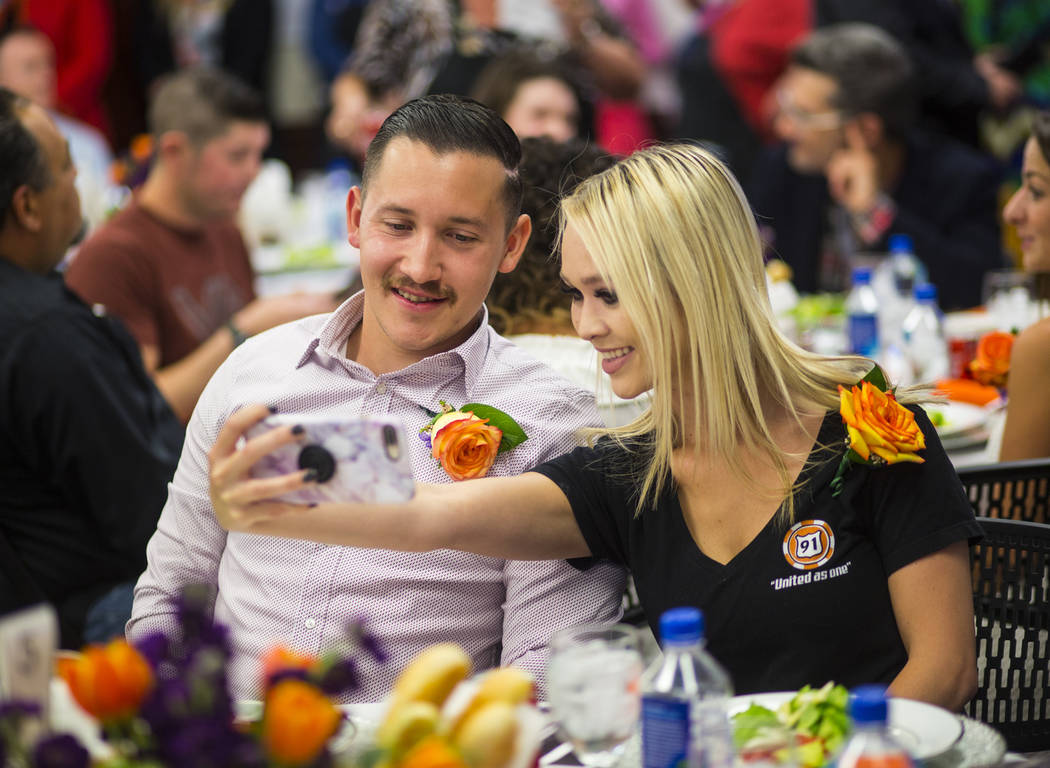 Boxes of tissues were hidden behind the floral arrangements in Sunrise Hospital and Medical Center's banquet hall Friday morning.
They came in handy.
Survivors of the Oct. 1 shooting on the Strip who were treated at Sunrise returned with their families for a tearful afternoon of thank-yous to the doctors and nurses who had patched their wounds and, in some cases, saved their lives.
"It's very emotional," Natalie Grumet, 38, an ultrasound technician in Orange County, California, said of the hospital-organized reunion. "I'm very grateful to be able to thank (my surgeon) in person."
She was one of 31 survivors attending the luncheon, which included a performance by the Musicians on Call band Ivy and the Wall, which first played for the survivors 10 days after the shooting.
Grumet has undergone nine surgeries since the Route 91 Harvest Festival shooting, which killed 58 and wounded hundreds of others.
The first occurred at Sunrise shortly after a bullet penetrated her face, shattering the left side of her jaw and splitting her chin in two.
Oral and maxillofacial surgeon Dr. Steven Saxe performed the operation, one of seven similar procedures he conducted that night.
"It's a wonderful feeling that you were able to help," Saxe said Friday. "I was just the first one to intervene."
Sunrise Hospital CEO Todd Sklamberg praised the survivors for their endurance and thanked the clinicians for their care.
"You are a testimony for what it means to be Vegas strong," Sklamberg told the audience. "It is my opinion that Vegas strong is not just a response to a tragic moment. It is a statement of survival that served us in the immediate aftermath of this tragedy in an everyday sense."
Special guests at the gathering included Sen. Catherine Cortez Masto; state Sen. Joe Hardy, himself a physician; state Sen. Joyce Woodhouse and representatives of the Las Vegas Metropolitan Police Department.
Cortez Masto spoke to the assembly, while Sen. Dean Heller and U.S. Rep. Dina Titus sent video statements.
"I know many of you are still healing, and it has been a difficult, difficult time, I think, for all of us," Cortez Masto said. "But please know not only do we continue to stand by your side and provide support, but we will always be there as part of your family."
For Steve Melanson, 60, whose daughter and wife were wounded at the concert, meeting other survivors provided an opportunity to share his family's story in hopes it might inspire others going through difficult recoveries. His wife, Rosemarie, was shot in the chest and remains hospitalized at Desert Springs Hospital Medical Center after having her 12th surgery last week. Since the shooting, the 54-year-old has spent only five weeks in her Las Vegas home.
"With our story, we just hope that people can take that and embrace it and take it in to give them the encouragement not to give up," Melanson said. "I think it's awesome that we all come together and share a common story. It gives hope and inspiration for other people, too."
Contact Jessie Bekker at jbekker@reviewjournal.com or 702-380-4563. Follow @jessiebekks on Twitter.