Intergalactic Art Car Festival lands in downtown Las Vegas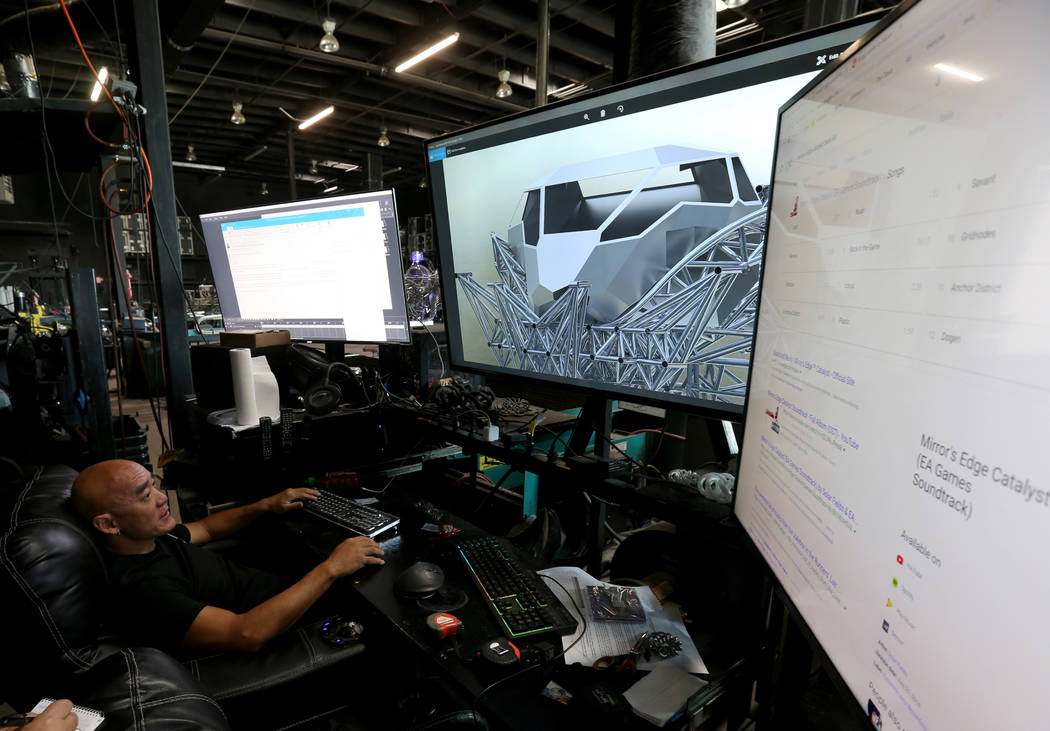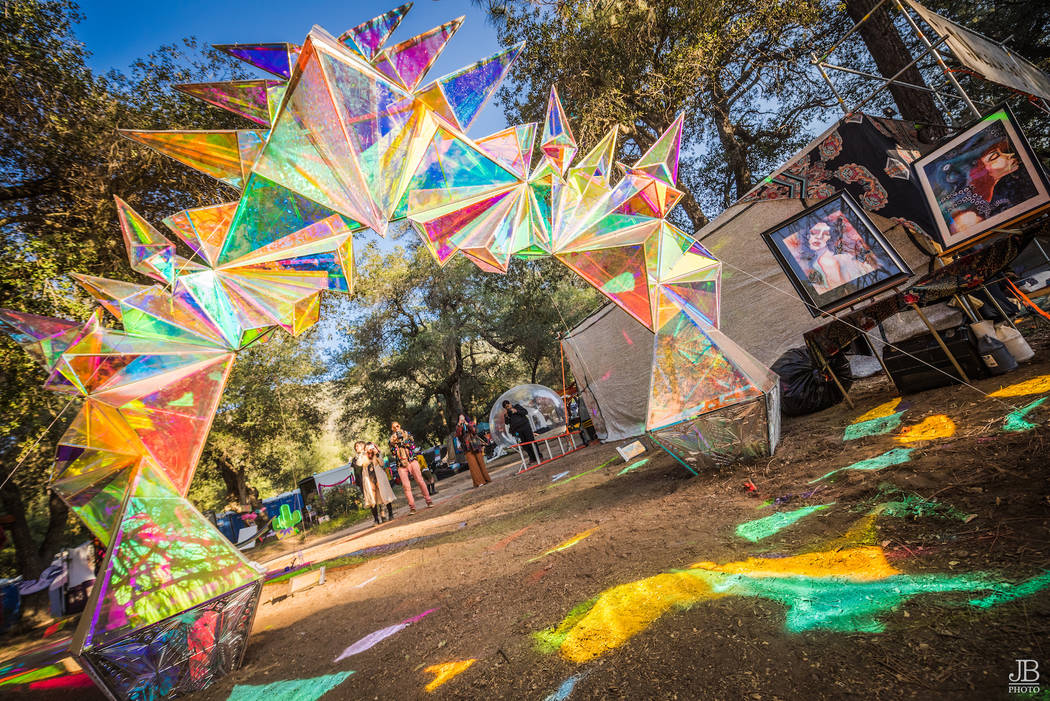 When he was a little boy, Henry Chang used to build "little plastic model cars."
"That was my first foray into trying to make things pretty," the artist says.
Chang is still building cars. These days, however, they're a lot bigger — and a lot more visually striking.
Take Valyrian Steel, which was inspired by Chang's favorite TV show, "Game of Thrones."
It's a gleaming, glowing (thanks to the color-changing LED lights) expanse of silvery metal, from the dragon-worthy scales covering the front fenders to the sword handles (including Night Watch commander Jon Snow's) topping the controls. To say nothing of the "GoT" phraseology, part of the Knight's Watch oath, beneath what would be the front bumper on a normal car.
Valyrian Steel is definitely not a normal car.
It's one of two Chang-designed art cars to be featured in the Intergalactic Art Car Festival, which begins at 7 p.m. Saturday with a procession of uniquely shaped vehicles — from rhinos to swans, aliens to staplers — rolling from downtown's Llama Lot to a portion of the Strip and back again.
The festival part of the event begins at 8 p.m., featuring live DJs, food trucks and a chance to check out artists' installations, automotive and otherwise.
Tickets are free (with an RSVP to artcarfestival.com), but the event is a benefit for local arts groups; those who donate at the website will be entered to win a chance to ride down the Strip in the participating art cars. Including Valyrian Steel, with Chang at the wheel.
It's hardly the first time Chang has constructed a mobile, metallic work of art.
Inspired by the creative vehicles he'd seen at Northern Nevada's annual Burning Man gathering, Chang started by bolting "some stuff to a golf cart, but a golf cart is not that attractive," Chang says. "I was not satisfied with that."
So he decided to start making each vehicle's chassis himself. Although "I didn't know anything about cars, I bought a stock car off Craigslist — just a chassis" and got to work.
Although Chang, 55, designs each of his vehicles on a computer, "it's still handmade," he says.
He's worked on Valyrian Steel — which he built for a New York-based client — "on and off over a couple of years" in his Las Vegas studio, located west of the Strip.
"It lives here," Chang says. "We're still working on it."
But every time it leaves his studio, it attracts attention, from an episode of the CNBC series "Jay Leno's Garage" to the annual Specialty Equipment Market Association convention, where it caught the eye of a representative for Shaquille O'Neal, who "wanted to buy it," the artist says.
During the "Jay Leno's Garage" shoot, "the combo of this car, with Jay Leno," definitely drew a crowd, Chang says.
He expects the same thing to happen Saturday when Valyrian Steel joins about a dozen art cars in the parade — and 13 more that will be parked at the Llama Lot for the post-procession festival.
"I think the public will really get into it," Chang predicts, in part because "we've just got such a car-crazy culture."
Even when the car happens to be made of swooping, curving, interlocking metal.
"Totally excessive, of course," the artist admits, surveying such distinctive Valyrian Steel features as the torpedo-shaped air intake valves, which were inspired by a design detail on a Harley-Davidson motorcycle.
"In art it's OK to be excessive," he says. "You don't have to be functional."
Crosstown traffic
As locals know, driving from downtown to the Strip on a Saturday night can be a traffic nightmare.
But not for the multiple art cars participating in Saturday's Intergalactic Art Car Festival, which benefits local arts groups through the First Friday Foundation.
The benefit features a parade of art cars created by a variety of installation artists, in shapes ranging from animals to aliens and sporting such monikers as "Mystic Flyer," "Rogue Scarab," "Funn Machine" and "One-Eyed Monster."
Along with the praying mantis (usually parked at Downtown Container Park), the mechanical menagerie features the Park on Fremont Street's resident swan, a rhinoceros and an alligator. There's even a car in the shape of a stapler.
At 7 p.m. Saturday, a dozen car stars will depart downtown's Llama Lot in a vehicle parade and head toward, then down, the Strip.
At Harmon Avenue, the procession will turn around and return to the Llama Lot, where an all-ages festival continues from 8 p.m. to 2 a.m., with live DJs, fire dancers, food trucks and artist demos — along with the chance to check out a total of 25 art cars, which feature everything from fire-belching displays to LED screens to monster sound systems.
The ride-sharing company Lyft came up with the festival concept, calling it "the perfect way to showcase innovative transportation," as well as help support local art programs, Lyft Nevada's Kris Cuaresma-Primm says.
It's the second time Lyft has partnered with Fired Up Management, which represents many of the art cars' creators, Cuaresma-Primm says. "We worked with them last year on a 'Nightcrawler' art car project that gave free rides for people to learn about the history of downtown's murals."
(Festival tickets are free, while supplies last, with an RSVP to artcarfestival.com; anyone who makes a donation at the site will be entered to win a chance to ride in one of the art cars. "Philanthropist" ticket packages start at $75 and allow express festival entry, access to an open bar at Atomic Liquors — and free credit with Lyft.)
Related
From art cars to music, private support powers Las Vegas arts
BalanceVille art car rides high above First Friday — VIDEO
Contact Carol Cling at ccling@reviewjournal.com or 702-383-0272. Follow @CarolSCling on Twitter.