Celine Dion's husband, René Angélil, dies after long battle with cancer
January 14, 2016 - 9:44 pm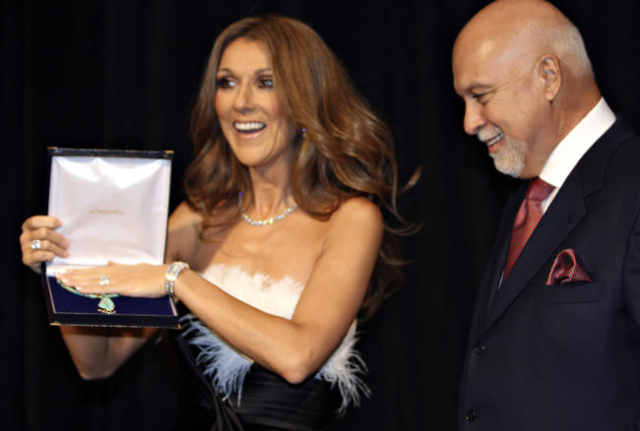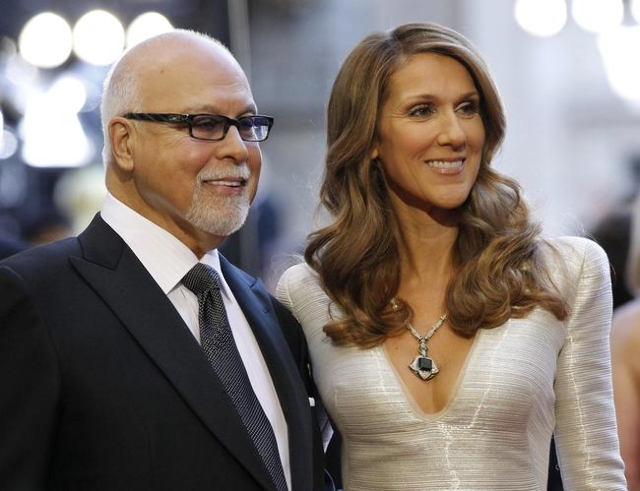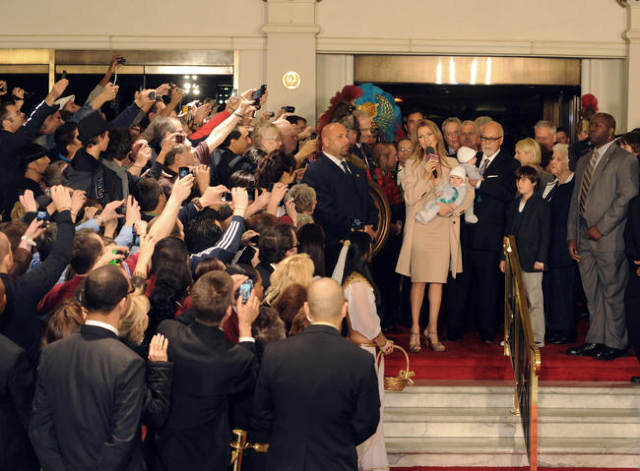 Manager-husband's lifelong love of casino gambling and Las Vegas led to milestone residency for Celine Dion.
Rene Angelil had at least two longtime loves in his life, his superstar spouse, Celine Dion, and the Strip. And he brought them together with astounding results for most of her career. The music producer and manager synonymous with Dion's career died Thursday after a long, public battle with throat cancer. He was 73.
Angelil already was a high-stakes player and a favored customer of Caesars Palace when he inked the deal for Dion's residency that launched in 2003, creating both the Colosseum at Caesars Palace and a new model to bring recurring concert-level headliners back to the Strip.
"We love it here," he said in 2003. "I've come here since 1967, three or four times a year."
"You have to love Las Vegas," Angelil said of the move, which included part-year residency in Henderson's Lake Las Vegas development. "You can't say, 'I'm coming here to do a show just to make money' if you don't love the environment."
"In 2002, Celine Dion and her family took a risk on Las Vegas. For a star of her caliber to commit to an extended show contract like she did was unprecedented for modern Las Vegas. At the time it was seen as a risk, but it has forever changed the Las Vegas entertainment model as we now know it," Sen. Harry Reid, D-Nev., said in a statement.
"As a result, we in Las Vegas feel Celine Dion is one of ours. She has brought so much positive attention to our city. Her love affair with Rene and her family was something that was so admirable. I have always appreciated Celine and Rene's support, and I express my sympathy to their family," Reid said.
"We are heartbroken to hear this news, not only because Rene was a great friend and mentor and an extraordinary partner with us in these shows at Caesars Palace for the last 13 years, but even more because he and Celine were so devoted to each other; their relationship has been a model for us all," said John Nelson, senior vice president of of AEG Live, which operates the Colosseum and co-produces Dion's show.
"Rene was the most brilliant, generous and loyal partner one could have in business. And after the work was done, Rene was such a fun and joyful friend who loved to entertain, eat amazing meals, and tell great stories. There will never be another one like Rene," Nelson added in a statement.
Angelil's legacy is entwined with the legend of the 47-year-old superstar Dion. The onetime pop singer was twice married before he invested all of his resources in the 12-year-old Dion, and it paid off to the point that he became synonymous with her by the time the two married in 1994.
Angelil was known in Quebec as a record producer and agent since his years of singing with a 1960s pop group called the Baronets. But he had just lost his main client, Canadian star Ginette Reno, and was "wounded and humiliated" (as Dion recalls in her autobiography) the day Dion's mother brought her in to sing for him.
Angelil was moved, literally, to tears, Dion recalled in her memoir "My Story, My Dream."
Angelil instructed the French-speaking singer to remake her image by changing her hair and capping her teeth and register in English school so she could record songs for the U.S. market.
Dion's U.S. breakthrough came with recording the "Beauty and the Beast" theme with Peabo Bryson in 1991. She made her Las Vegas debut in June 1994, as the opening act for Michael Bolton's Thomas & Mack Center concert. The singer dedicated her version of "Can't Help Falling in Love" to Elvis Presley's lifelong manager, "Colonel" Tom Parker, who was in the audience celebrating his 85th birthday.
"I was such a big fan of Elvis, still am," Angelil said in 2003. He recalled paying $5 for a tour of the Las Vegas Hilton's "Elvis suite" in 1987 and telling Parker about his young client.
(Perhaps not coincidentally, the current residency model for Dion and other Colosseum headliners mirrors Elvis Presley performing at the Las Vegas Hilton for three-week stints, three times a year during the 1970s.)
Seven years later, the Colonel was eager to sign Dion for the Hilton's showroom. "I couldn't," Angelil recalled. "I already had a relationship here (at Caesars Palace)."
Dion sang in the old Circus Maximus showroom in 1996 and 1997, a venue that was smaller than her level of stardom in those years. In October 1998, Caesars sponsored an arena tour stop at the Thomas & Mack Center, then hosted a private show at the hotel the next night.
The next step came after the couple's best friends, Pierre and Coco Lacroix, bought a lot at Lake Las Vegas. Lacroix was president and general manager of the Colorado Avalanche hockey team, which played at Denver's Pepsi Center, and was part of the Anschutz Entertainment Group that was getting into the concert business.
"You'd have to stay here," he remembers telling her. And she told him, "I wouldn't care; I love it here. It's the best place to shop."
Eventually, AEG Live struck a deal to build the 4,000-seat, $95 million Colosseum, with Dion singing a planned 180 shows a year there. AEG Live executive John Meglen recalled the deal was finalized at the couple's home, with Dion doing the cooking.
The couple's decision seemed to be confirmed from on high. "We didn't know we'd be pregnant five months later," Angelil said. "We had been trying to get pregnant for five years," and finally succeeded through a fertilization process in having their first son, Rene-Charles.
The show opening also was clouded by a Los Angeles woman Yun Kyeong Sung, lodging sexual assault allegations against Angelil. The woman and her husband were later arrested for attempting to extort Angelil, who had paid her $2 million as part of a confidential settlement in 2000.
Beyond Dion's residency, Angelil and his wife twice attempted to launch the careers of singing impressionists in Las Vegas: Andre-Phillipe Gagnon at The Venetian in 1999 and Veronic DiCaire in the summer of 2013.
Neither act caught fire as they had hoped, but Angelil was never afraid to take a gamble.
Angelil married Dion in 1994 at a lavish wedding in Montreal's Notre Dame Basilica. They have three sons.
His illness, first diagnosed in 1999, prompted Dion to put her career on hold in 2014, suspending her Caesars residency for a year. Dion told "Good Morning America" in early 2015 that Angelil had to eat with the help of a feeding tube three times a day and was not able to talk or swallow. But, she said, he supported her later return to the stage in August.
Angelil stepped down as Dion's manager in 2014, turning her career over to a friend of the couple, Aldo Giampaolo. The Caesars show returned with new content including Dion covering Roberta Flack's "First Time Ever I Saw Your Face," as she sat on a stool and watched, along with the audience, giant-screen home movies of the family.
Every very time Angelil appeared on the screen, the crowd responded with cheers. And during "I'm Alive," she declared "I love you, Rene!"
Dion has canceled previously scheduled Colosseum performances Saturday and Sunday. She is scheduled to return Feb. 23.
Reuters contributed to this report.
— Read more from Mike Weatherford at reviewjournal.com. Contact him at mweatherford@reviewjournal.com and follow @Mikeweatherford on Twitter.