Chumlee of 'Pawn Stars' talks 'awesome' jerky, road adventures
Updated April 10, 2023 - 7:02 pm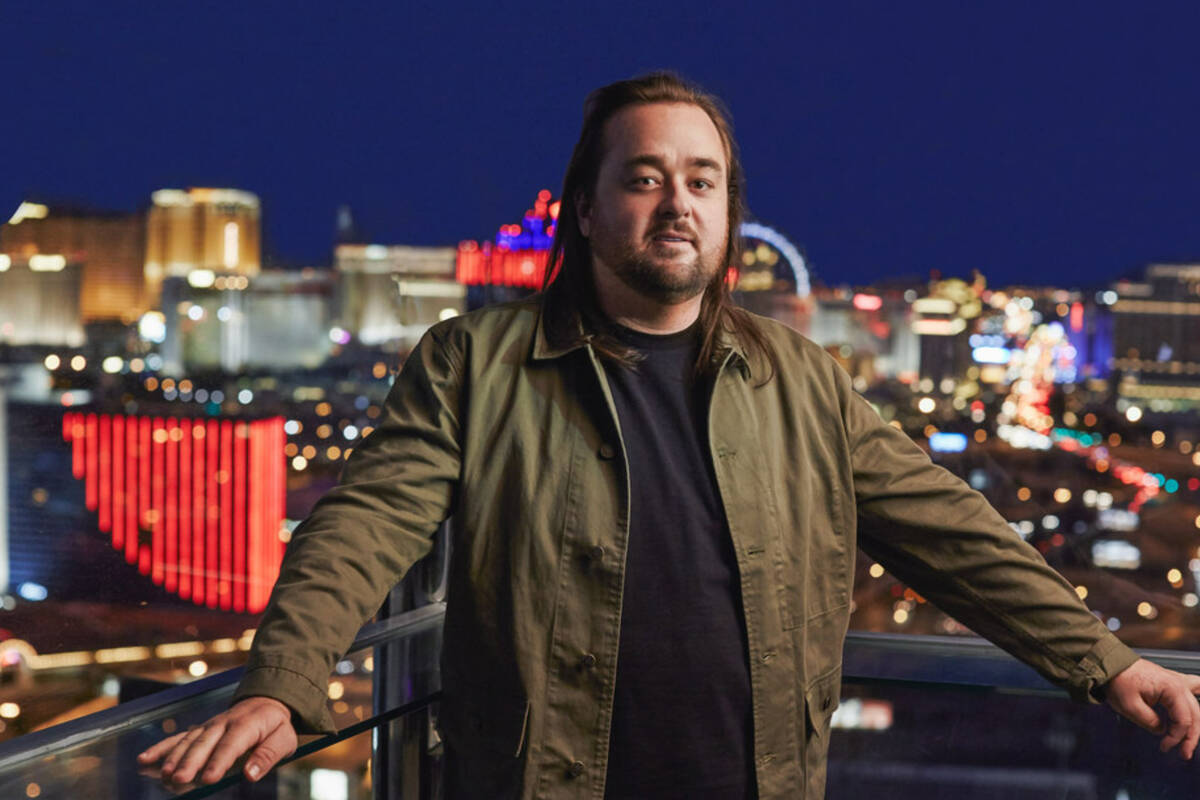 Austin "Chumlee" Russell is a man of the world. He is also a man of the house — his own.
"We're going to be traveling for seven months, doing a bunch of cities again, so we're along for the ride," the "Pawn Stars" co-star says. "I will say, I do miss working from home and sleeping in my bed every night."
The "Pawn Stars" crew can sleep later, and maybe one day put Chumlee's bedroom set up for sale at Gold & Silver Pawn. But today, the show is filming its second season of "Pawn Stars Do America." This is the spinoff of the (but not the replacement for) the original series. The show's 2024 premiere date is to be announced.
Once again, Chumlee and Rick and Corey Harrison are crisscrossing the country, visiting 15 cities, beginning with Albuquerque, N.M.; to Tampa, Fla. Las Vegas is one of the stops, sort of a recharging station for the cast and crew.
"For me, personally, the biggest challenge is not having the comfort of my home," the 40-year-old celeb says. "Last season, we did like 18 straight days on the road. So it was pretty brutal."
The series was a ratings and critical hit, the latest in a string of ventures for the "Pawn Stars" empire. Chumlee continues with his Chumlee's Candy on the Blvd. at Pawn Plaza, next door to Gold & Silver Pawn on Las Vegas Boulevard. Chumlee's brother, Sage, lords over the shop filled with such items as Pez, Charleston Chew bubble gum and Chumlee-branded root beer.
And, as we say, don't forget the jerky.
"I've tried many businesses, and I think I've got a good one going right now with the beef jerky," Chumlee says. "After six months, we finally nailed down all the packaging and found the people we want to produce the jerky for us."
Chumlee's Awesome Jerky is the brand, its website just launched last month. Even before that, Chumlee had arranged for the product to be sold in 70 Las Vegas-area stores. His candy shop is one of them.
The jerky comes in three flavors: Original Cut, Western Teriyaki Pepper and Whiskey BBQ Scorpion Pepper. Displayed on each package is a caricature of Chumlee, in a red hat with a black "C" and a matching gold necklace. The cartoon says, "It's awesome," which is usually how it is in Chumlee's world.
An F-1 good time
Thinking out of the box has led Impresario Extraordinaire Ross Mollison to "Box Box," the show being developed for the OPM-Superfrico space at the Cosmopolitan and to run during the F1 Las Vegas Grand Prix in November. The "Box" reference is to a racing pit crew, and Mollison gets all the terms as he's a huge F1 fan.
The first workshop of the show on Tuesday and Wednesday in the dusty, rustic burg of Nipton. The 80-acre parcel is Spiegelworld's "Circus Town," about an hour's drive from Las Vegas on the Nevada-California border along Route 164.
The show's format is four performers acting as a pit crew, with emcee Max Baumgarten (we remember him as Harry M. Howie and Rob The Robot from the original "Opium"). Bill O'Neill, Courtney Pauroso, Chad Damiani and Reshma Anna Meister all delivered masterfully.
In the show's pit-crew concept, cast members wear racing suit-inspired costumes, red and trimmed in checkered flags. They are a size too tight, yet somehow a perfect fit. A memorable bit is that the group performs such team tasks as peeling a banana, solving a Rubik's Cube and changing a baby (a doll, don't worry).
"Box Box" is a bold effort, like taking a splash of gas while still in high gear. Mollison is already piloting a new show and restaurant in Atlantic City, developing "DiscoShow" while building the Glitterloft theater at Linq Hotel, and also planning a new show and theater at Harrah's in New Orleans.
Mollison said after the 80-minute showcase that his Spiegelworld teammates told him "Box Box" would be impossible, that he shouldn't attempt the project.
Sensible advice. But Mollison doesn't do "sensible."
"We said, 'Let's do something fun, let's do something that should be in a Las Vegas Grand Prix,'" Mollison said Wednesday night. "Maybe this is it. Maybe it's not. But I hope you enjoy it."
Even in its practice lap, "Box Box" already roars at high performance. See you on race day.
Going full Cirque-al
In 2015, magician and prime-time mime Xavier Mortimer was the first Cirque du Soleil artist to break from the company to headline his own show on the Strip. Having shut down his show at The Strat Theater at the end of 2022, Mortimer is now back with Cirque, on tour and far from the Strip.
Mortimer heads up "The Illusionists" production, a Cirque acquisition from The Works production company, opening May 9 at Teatro Telcel in Mexico City. The show runs through June 25.
A former "Michael Jackson One" cast member, Mortimer has no apparent path back to a Strip headlining show; rare is the artist who tours Mexico to find a Vegas showroom.
But Mortimer says he's doing fine on tour, and is still rocking social media. He said in a text Friday, "I'm still posting my viral magic videos, starting a series on YouTube, working on new stuff for my live show and going on tour with my old pals from Cirque du Soleil."
As they say in Cirque, we'll catch him on the flip side.
Cool Hang Alert
The Chi-Lites featuring Marshall Thompson play a 2 p.m. Easter Sunday show at The Duomo at the Rio. The show is in the venue's "Champagne Sundays" series, with each guest treated to a complimentary glass of champagne. Or, if you will, FizzyWater. Tickets are $48.99 (and free parking!), with a separate brunch menu at the adjacent cafe. Go to TheDuomoLive.com for intel.
John Katsilometes' column runs daily in the A section. His "PodKats!" podcast can be found at reviewjournal.com/podcasts. Contact him at jkatsilometes@reviewjournal.com. Follow @johnnykats on Twitter, @JohnnyKats1 on Instagram.