Fido's next toys on display at SuperZoo pet products show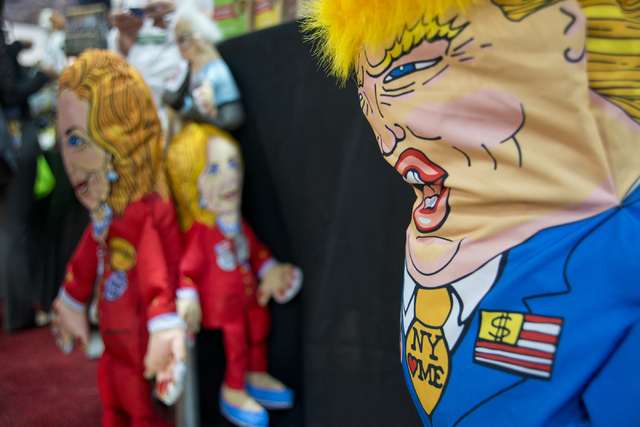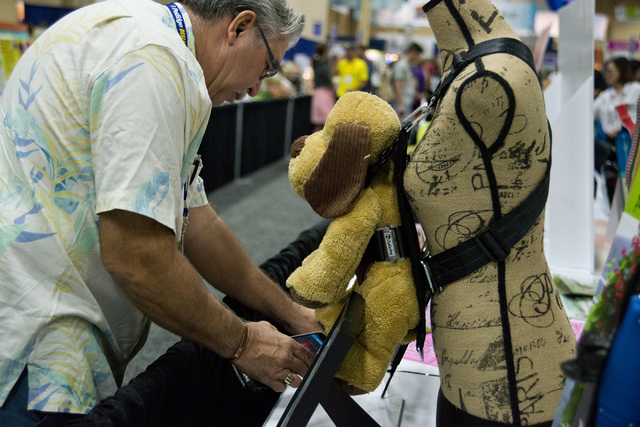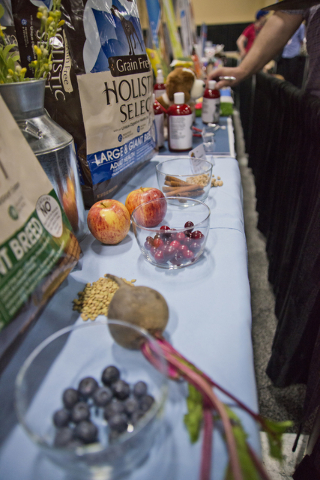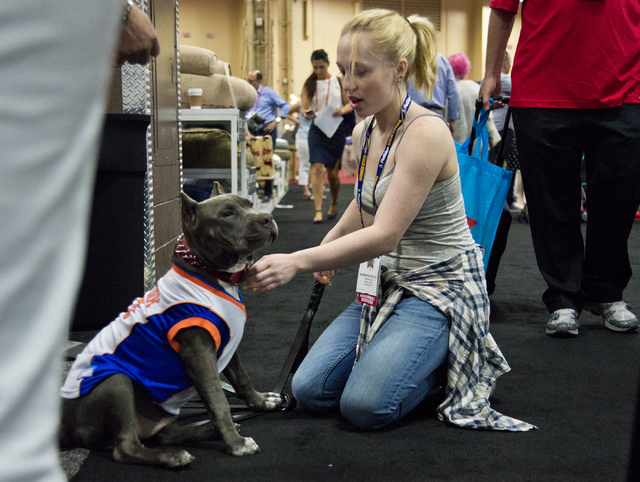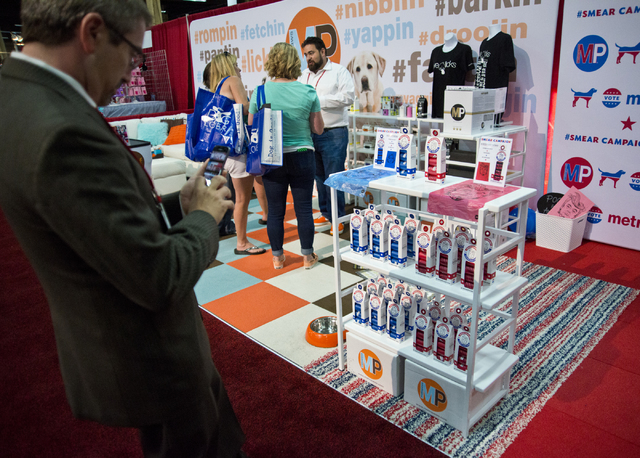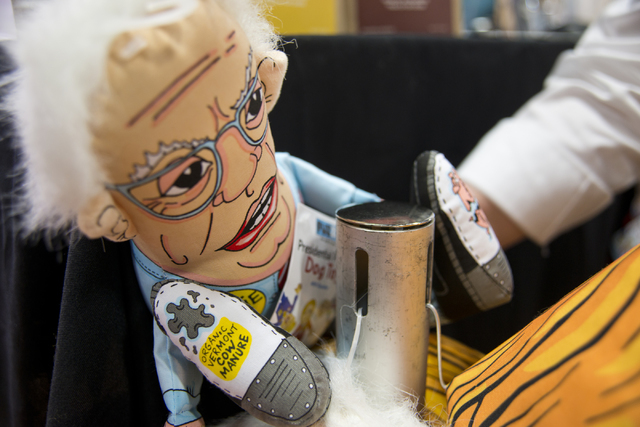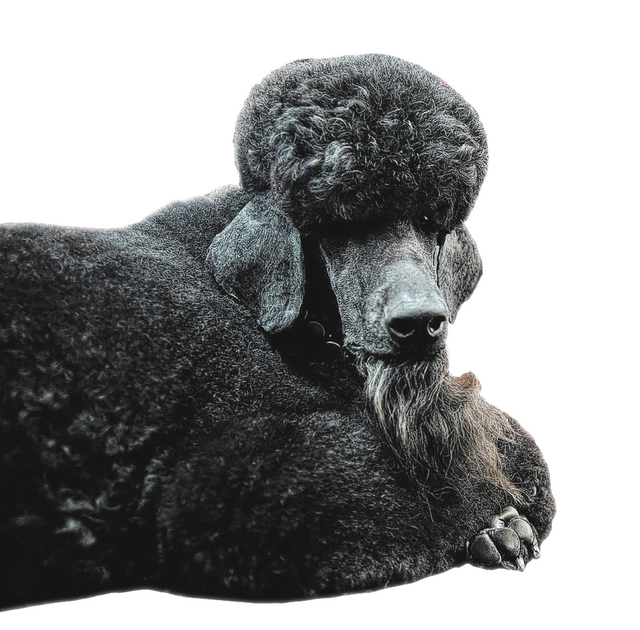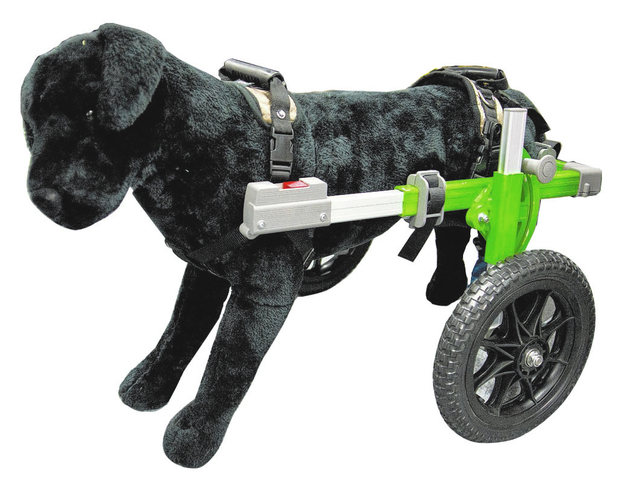 When the family pet is less of a pet and more of a family member, you want to do something nice once in a while.
Like treat the furred, feathered, finned, scaly or hard-shelled dude to some high-quality, organic food or a new chew toy, or offer a hand when an aging pet must climb the stairs or take a walk.
Or, even, just share a laugh this presidential campaign by breaking out dog poop bags emblazoned with a caricature of your least favorite candidate.
Last week's SuperZoo pet products show at Mandalay Bay offered a glimpse at the ways that Americans soon might be pampering their no-, two-, four- or, why not, eight-legged family members.
The trade show matches manufacturers and wholesalers of pet products with retailers, and Doug Poindexter, president of the World Pet Association, the show's producer, says consumers probably will see products at the show beginning to appear on retailers' shelves during the next several months.
And what consumers will see includes an expanding menu of organic and healthy pet foods, from such oddities as freeze-dried raw goat's milk to snacks and treats made with blueberries and other so-called super foods.
"The natural products section of our show has grown every year for the last 10 years," Poindexter says.
So has "Rodeo Drive," the show's high-end section, where never-ending variations on a clothing-and-accessories theme — for example, blingy dog collars, dog clothing and human jewelry featuring canine-centric themes — have remained, Poindexter says, popular even during more recessionary years.
The reality is that pet products is "a fairly recession-proof industry in that if people can't take a trip to Europe and stay home, they'll go out and buy a dog toy or get him a new leash and feel good about themselves," Poindexter says. "They don't stop spending on their pets."
"What drives this in so many ways is that these are now their kids, and if they get to feed themselves better, they feed their pets better, and if they spoil their kids, they spoil their pets."
Another related trend that marketers are noticing and accommodating: Pets are living longer because we're taking care of them better, Poindexter says. "I mean, it used to be when the barn cat or barn dog got old, it got old and you got a new cat or dog."
Today, pet owners don't blanch at spending thousands of dollars to take care of our aging and ailing pets, and that reality could be seen in the impressive array of products — for instance, a shampoo for "senior" dogs that contains a muscle-strengthening preparation — designed to help pets stay healthy and assist senior animals' mobility.
Denver-based GingerLead was demonstrating a harness that an owner can use to support an aging or recuperating dog during walks. Co-founder Barry Rubinstein says the product stems from the experience he and his wife had with their own dog, Ginger, a golden retriever that had hip surgery at six months.
The padded sling-and-leash device was first marketed to the veterinary market and, over the past several years, has been marketed to dog owners, too. By allowing aging or arthritic dogs to continue taking walks, their physical health is improved and the dogs benefit from the social interaction walks provide, Rubinstein says.
Rubinstein adds that some customers have said that, after using a harness for a while, they don't need it anymore because the dog is actually strong enough.
Also marketing in a mobility theme was Solvit Products of Arlington, Texas, which offers an array of ramps, stairs, trailers and strollers designed to assist dogs that don't get around as easily as they used to.
Such aids are necessary because owners today routinely spend thousands of dollars on surgeries and health-related expenses for dogs, notes Patrick Hoffman, the company's general manager.
Fans of cats, fish, birds, turtles and other pets were represented, too. Even fans of aquatic invertebrates, via Jellyfish Art of Coconut Creek, Florida, which was offering a jellyfish aquarium kit that includes a live Moon Jellyfish.
The most striking version of the product — which ranges in price from $330 to $399 at www.jellyfishart.com — is a cylindrical aquarium fitted with colored lights in its base. Purchasers prepare the aquarium at home, then redeem a code at the company website for their jellyfish.
"We aquaculture these jellyfish in South Florida," says Joleen Turner, the company's CFO. The jellyfish have a lifespan of about one year and replacement jellyfish can be ordered from the company website. They eat prepared food or baby brine shrimp and actually are a "resilient" pet, she says.
By the way: Those lights in the base? The newly minted jellyfish owner can use them to create a colored tube reminiscent of a Lava Lamp, but with a live jellyfish floating around instead of those globs of whatever-that-other-stuff-is.
Metro Paws of Los Angeles offered the most topical item at the show with its "Smear Campaign" collection of "presidential dog waste bags" bearing caricatures of Donald Trump and Hillary Clinton.
The bags — which were on sale at the show for $10 per 80-bag package — come with an abundance of poo-related puns in both "Democrap" and "Repooplican" editions. Ashley Wong, Metro Paws' integrated marketing and communications coordinator, says the bags are biodegradable and made in North America.
The company even is keeping track of whose bags are more popular on its website (www.metropaws.com) and Wong says that, as of last week, Trump bags were accounting for about 60 percent of sales.
Meanwhile, first-time exhibitor Pet Perennials of Pittsburgh offered pet owners a way to process the sad reality each will face by offering kits designed to remember a departed pet.
The company's Pet Perennials Kit contains a soil matrix that can be incorporated with a pet's cremains to create seed wafers that then can be planted to produce perennial wildflowers.
Founder Remy Bibaud says the product was created in 2014 after the death of her own pet. When she received the cremains of her dog "in a box, I thought, 'Is that it for this lovely life I had?' "
The flowers will thrive anywhere in North America, Bibaud says, and those who don't have their pets cremated "can still do it as a healing activity."
Read more from John Przybys at reviewjournal.com. Contact him at jprzybys@reviewjournal.com and follow @JJPrzybys on Twitter.