Get ready for your three-day weekend, Las Vegas.
If you've never tried Mexican ice cream, now's the perfect time. La Flor de Michoacan serves fruity Mexican ice cream in flavors like dragonfruit and rose petal.
The season's first batch of movies is being released this weekend. Check one out or preview all of fall's potential blockbusters.
Two Las Vegas Strip day clubs are hosting Labor Day parties at their pools.
Here are your top picks for what to see, eat and do in Las Vegas this weekend.
Grab a bite
At La Flor de Michoacan's four Southern Nevada ice cream shops, you can find flavors like dragonfruit (pitaya, in Spanish), pine nut (piñon) or rose petal (rosas). "We have our own flavors," owner Rosie Chavez said. "The ice cream is traditional."
These family-run businesses may date back generations and many still churn the ice cream by hand with wooden paddles in metal cylinders surrounded by barrels of ice and salt. Read more about La Flor de Michoacan here.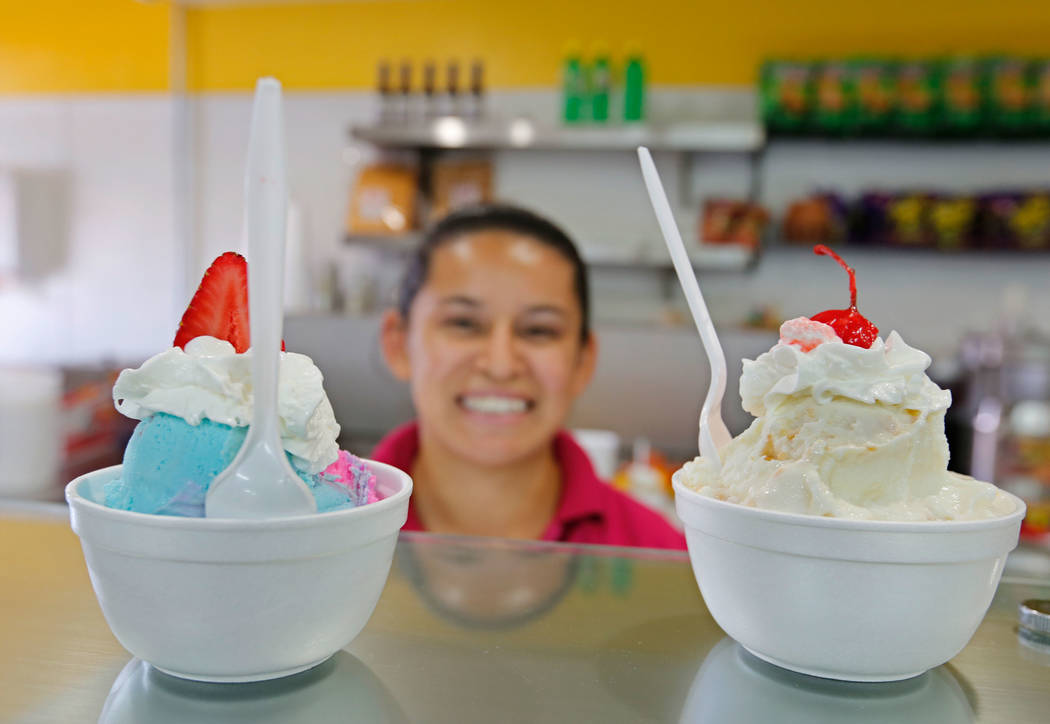 Staff member Nayeli Gonzalez shows cups of ice cream at La Flor de Michoacan. Chitose Suzuki Las Vegas Review-Journal
Are they churros? Or are they waffles? They're both — and even better, they're served with tres leches caramel sauce. Churro Waffles are baked and then quickly deep-fried for a crisper texture, then tossed in cinnamon-sugar for the perfect churro coating. They're one of the most popular brunch dishes at Craftkitchen. See more about CraftKitchen's dish here.
Churro waffles from Craftkitchen
Get a drink
While the preparation here is that of a cocktail topped with beer, the proportions make the X-Rated Passion at Green Valley Ranch's Lobby Bar closer to a beer with a kick of vodka and sugar. Wheat beers blend well with orange, which is why the liqueur base of blood orange-flavored X-Rated is a perfect choice. Learn how to make it yourself here.
See a show
For fans who bought tickets last November, the wait is almost over to see Bruno Mars this weekend. The "24K Magic" and "Uptown Funk" singer will light up the Park Theater at 9 p.m. Saturday and Sunday at Monte Carlo. Tickets are $99.50 to $500; call 800-745-3000.
Tony Award-winning singer and actress Idina Menzel will belt out "Let It Go" and other popular tunes at 8 p.m. Saturday in The Pearl at the Palms. This is the second-to-last stop on Menzel's world tour, which also features songs from her latest album, "idina." Tickets are $63.72 to $141.70.; call 702-944-3200.
Rock out
With choruses and chops equally outsized, this Seattle quintet Minus the Bear favors buoyancy and intricacy alike with tastefully noodly indie rock that even prog plebeians can dig. See them at 9 p.m. Sunday at The Bunkhouse Saloon. Tickets are $20 in advance, $22 day of show; call 702-982-1764.
Happy to have @thevelvetteen playing with us in Sacramento! On sale now at https://t.co/HSpU7bcHXu pic.twitter.com/5BeP7mEo14

— Minus the Bear (@minusthebear) June 6, 2017
"Confessions," "Raymond v. Raymond," "Looking 4 Myself," "Hard II Love": Liquid-hipped R&B superstar Usher's album titles alone betray both a man in need of a few couch trips and a remarkable aversion to prepositions. C'mon, buddy, no need to be so hard on yourself. Go ahead, look in the mirror and repeat after us: "I'm good enough, I'm smart enough, and doggone it, people like me." See him at 7 p.m. Friday at The Chelsea at The Cosmopolitan of Las Vegas. Tickets start at $49; call 702-698-7778.
Catch a movie
The arrival of fall means cooler weather is on the way — and so is a season's worth of potential blockbusters including "Justice League," "Thor: Ragnarok," "Blade Runner 2049," "Kingsman: The Golden Circle," "The LEGO Ninjago Movie" and next weekend's "IT."
Read about and preview the trailer for every movie coming out between now and November.
Stay in
100 ninjas, including Las Vegan Jelani Allen will attempt the final four-stage obstacle course of "American Ninja Warrior" on Monday. The finals were filmed in the lot across from the Luxor on the Las Vegas Strip during EDC weekend, but will air at 8 p.m. on Monday night on NBC.
Jelani Allen at the "Kansas City Qualifier"of "American Ninja Warrior." Fernando Leon NBC
Downtown
The Fremont Street Experience will offer a pair of free shows this weekend. Collective Soul will perform at 9 p.m. Friday on the 3rd Street stage, and Better Than Ezra will play at 9 p.m. Sunday on the Main Street stage. Banger Brewing Company will host its monthly bingo night on Wednesday. Players will have the chance to win beer and other swag. Games get underway at 5:30, and the last ball will be called around 8 p.m.
See more events happening downtown here.
First Friday
From artists to musicians to attendees, everyone's "Too Cool for School" — at least at September's throwback-themed First Friday.
The monthly downtown arts district happening — which runs from 5 to 11 p.m. — also has a new footprint. In the monthly featured artist spotlight: local Kurtis Rykovich, who received his master of fine arts degree from UNLV. He describes his paintings, which illustrate his love of fantasy, as "a collection of gorgeous creatures full of dangerous allure and intrigue."
Read more about First Friday here.
Happy First Friday! We can't wait to see our First Friday community from 5 to 11 tonight. #FirstFridayLV #FirstFridayBestFriday #Local #Art pic.twitter.com/O5dUsV2GgV

— First Friday LV (@FirstFridayLV) September 1, 2017
Cockroach Theatre
The central character of "Seven Deadly Sins" explores everything from pride to gluttony to lust on a seven-year, seven-city trek to earn enough money to buy a family home. "Seven Deadly Sins" is also the first half of a double bill, debuting this weekend, that marks the first collaboration between Sin City Opera and Cockroach Theatre. Rounding out the operatic double feature: "Erwartung (Expectation)," with music by modernist master Arnold Schoenberg.
Read more about the double feature here.
Labor Day weekend parties
Beats by identical twin DJs Deux will close out Labor Day weekend at Drai's Beachclub on Monday. Boombox Cartel, Adventure Club with Young Bombs and Rae Sremmurd will entertain dayclubbers from Friday through Sunday, respectively. Doors open at 11 a.m. at The Cromwell. Admission starts at $30 for men ($40 on Saturday), and $20 for women.
Labor Day Weekend at #Drais Beachclub is HERE!
Fri @BoomboxCartel
Sat @AdventureDub w/ @youngbombs
Sun @RaeSremmurd
Mon @deux_twins pic.twitter.com/88OYG6aidA

— DraisLV Beachclub (@DraisDayclub) August 31, 2017
Marquee Dayclub will celebrate the Labor Day holiday with sounds by Sunnery James and Ryan Marciano, and Michael Calfan. Doors open at 11 a.m. Monday at The Cosmopolitan of Las Vegas. Carnage will spin in the nightclub. Doors open at 10:30 p.m. Tickets start at $35 for men and $25 for women.