Adding local flavor to restaurant scene challenges Nicole Brisson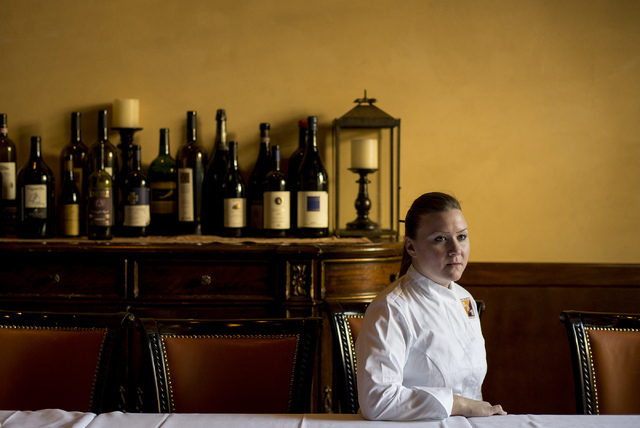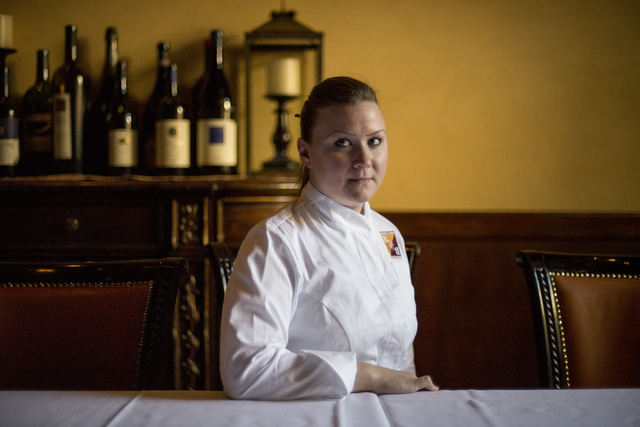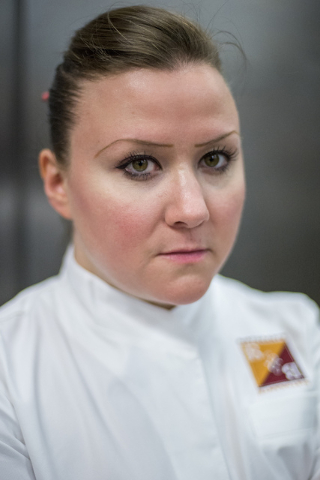 To those driving up Interstate 15 North into Las Vegas, the only possible local produce in a town surrounded by miles of dusty beige, with summers that feel like they aren't meant for living beings, would seem to be the squat shrubbery and cactuses. But there are so many more possibilities offered by small, local farmers, chef Nicole Brisson says, that local restaurants can and should take advantage of them.
"The quality of the product is so much better. And I think it ignites your passion and makes you excited to put on a plate instead of just opening packages and saying, 'Here's my standard five-by-two tomatoes,' " Brisson says.
She puts this philosophy into practice at Mario Batali and Joe Bastianich's restaurants. Although Brisson came to Las Vegas to work at chef Stephen Kalt's Corsa Cucina at Wynn Las Vegas 12 years ago, for much of her time here she's worked behind the line at the Batali and Bastianich joints, first as chef de cuisine at OTTO Enoteca Pizzeria and most recently as executive chef at the steakhouse Carnevino. Now, however, she is stepping into the role of culinary director at B&B Hospitality Group, the overarching company that encompasses Batali and Bastianich's four restaurants in Las Vegas.
We sat down with her at B&B Ristorante in The Venetian to talk about the restaurant business in Las Vegas, sourcing local ingredients and her new role.
Review-Journal: Prior to coming to Las Vegas, you'd gone to culinary school in Rhode Island and worked in upstate New York and in Italy. What made you interested in coming to Las Vegas to cook?
Brisson: Right before I decided to move to Vegas, I had kind of looked at the West Coast just because the idea of the weather appealed to me — not shoveling snow and chopping wood and all those things was definitely more appealable. Just the culture, too. The California cuisine interests me, and this was a lower cost of living, and it seemed like there was a lot of growing possibilities out here.
Then once I had spent a few years in Vegas I just realized how many people come through Vegas, and how many people you meet, and over the years that I've been here, I mean I've been here 12 years now, I've seen people from all over the United States that I've known over the years. The culinary industry is so small and whenever you're doing events or food trips, you're always constantly meeting people that you've come across throughout your career.
R-J: What is the restaurant environment like in Las Vegas? Is it competitive, or more collaborative?
Brisson: Compared to New York, I would say it's a little less competitive because New York is very go, go, go and a little bit more cutthroat, but that's also because it's such a tight-knit city and everything's free-standing and the rent's so high so if you don't hack it you're closed in a year or half a year.
Here, we do have a little bit of protection from the casinos and being in that environment. I would say we've built a good chef community here in the last five or six years that I've been here especially, especially when we started doing the Late Night Chef Fight competitions (on FYI network), that definitely brought out some of the competitive nature in the chefs. I competed probably three times, but it's healthy competition and it kind of gets us excited and wanting to be in the community a little more.
Now you see many competitions downtown and farmers markets popping up more and more because the chefs are advocating for them and they're getting involved. I would say it takes us kind of joining together to make all those things happen, because more and more chefs keep moving to Las Vegas and we want places to buy good products when we're on our days off, we want good restaurants to go to when we're actually outside of our restaurants and eating.
I would say it's a little harder (for restaurants) to survive off the Strip just because of the neighborhoods and how Las Vegas is laid out but I'm hoping to see in the next five to six years even more independent restaurants popping up. Already you start to see more and more downtown and up in Henderson and Summerlin and all those areas.
R-J: What are the pros and cons of running a restaurant not only in Las Vegas, but on the Strip?
Brisson: One of the pros is that you immediately get recognized when you're on the Strip. It's a constant social atmosphere, writers are coming in, you're getting publicity because naturally on that hopping, exciting part of Las Vegas. But, I would say one of the cons is just that you're in a casino, you're walking by slot machines every day, which gets kind of mind-numbing. It's not just the individual free-standing restaurant.
And then also that you're appealing to a huge caliber of guests. It can be people that know what you're doing and they're foodies and they recognize the Mario brand, or it can be people who are just walking by and think that you're Italian, so you have to have chicken Parmesan.
R-J: Does the location on the Strip influence how you develop a menu?
Brisson: It's great that we're independent because then we don't have stipulations from the casino that you have to have this on your menu or you don't have to have that on your menu, but when I did work in a union environment, you do have a lot more pressure to kind of appeal to everyone and make sure your menu is very approachable. If one of the directors walks into the door, you have their special tuna dish they've been eating for 10 years, it's that kind of mentality.
We're great because we're independent, and we're run really like a small business. That's how Mario runs all of his restaurants. If I want to change three items on the menu today based on what I pulled from the farmers market, I can do that, I have that luxury. I think he tries to keep his integrity regardless of where he is, if he's in Las Vegas, if he's in Singapore, if he's Hong Kong or if he's in New York, it's always about the food.
R-J: How will your position as culinary director be different from your previous role as executive chef at Carnevino?
Brisson: It's actually really different. Like I said I was at (Carnevino) for seven years, and I'm so hands on, on the menu, on the meat program, but here it's a little bit more of a director role, overseeing, organizing my chefs, organizing staff, functions, P&L meetings, budget meetings, financials.
When you get into the culinary field, it's such hard work and such long hours, and this will continue to be hard work and long hours but it's just kind of a different aspect. It's not as physical and behind the line and covering stations when people aren't around and sous chefs aren't around, it's more organizing and managing and making sure my staff is happy, and some HR issues and stuff like that.
It's still fun for me because I think women are naturally fixers so you want to fix and organize everything. I think being a woman, it will be kind of a natural kind of role, hopefully.
R-J: You got your start at a farm-to-table restaurant as a teenager, and still stress the use of local produce here. What does it mean in Las Vegas to use local ingredients?
Brisson: It's a lot harder. It's actually harder to do it the right way than the wrong way. Most of the hotels just pull from a warehouse and you just fill out a requisition form on a computer and all of a sudden all those things get thrown up into your restaurant on a palette. Here, sometimes we're even driving out to some of these individual farms and getting handwritten receipts and bringing the product to the restaurant ourselves, which, it takes time. But, to know that you're supporting some of these local farms and that if you weren't buying all that they had that they would probably go out of business, I think that's such a connection with the farmer.
R-J: What kind of local ingredients do you take advantage in a desert?
Brisson: You do see a lot of herb farmers out here, but you do see tomatoes, you see corn, you see squash, you see orchards with the apples and stone fruits, tons of greens. Vegas itself kind of looks dry and desolate, but as soon as you get outside the Strip and just the immediate Vegasland you'll see areas of Pahrump and Sandy Valley where you'll see just these mini oases where farmers are really using a lot of technology to get these irrigation systems working and getting their soil where it should be. It's just about finding it. It takes a lot of effort to reach out to them and find them.
R-J: Are there any places that you'd recommend a local Las Vegan go for really fresh, local ingredients?
Brisson: When we first started the market — we called it Molta Vegas Market — we collaborated with Kerry Clasby, and she still has her market, and did the Downtown 3rd market and the Summerlin market. The Downtown 3rd is every Friday, and the Downtown Summerlin is every Saturday and she's expanded to the extent that she's got a specialty baker there every week, she's got gluten-free bread, she's got caviar that's coming from Urbani Truffles, she's got a French guy who's selling cheeses, on top of the great produce that she already sells. So if I'm actually making dinner, get a day off, that's where I would go to buy my ingredients, just picked usually that morning. And also it's a cool environment, you get great house plants and local honey and all those kinds of things.