Andrew Zimmern explores Las Vegas' food scene on 'Bizarre Foods'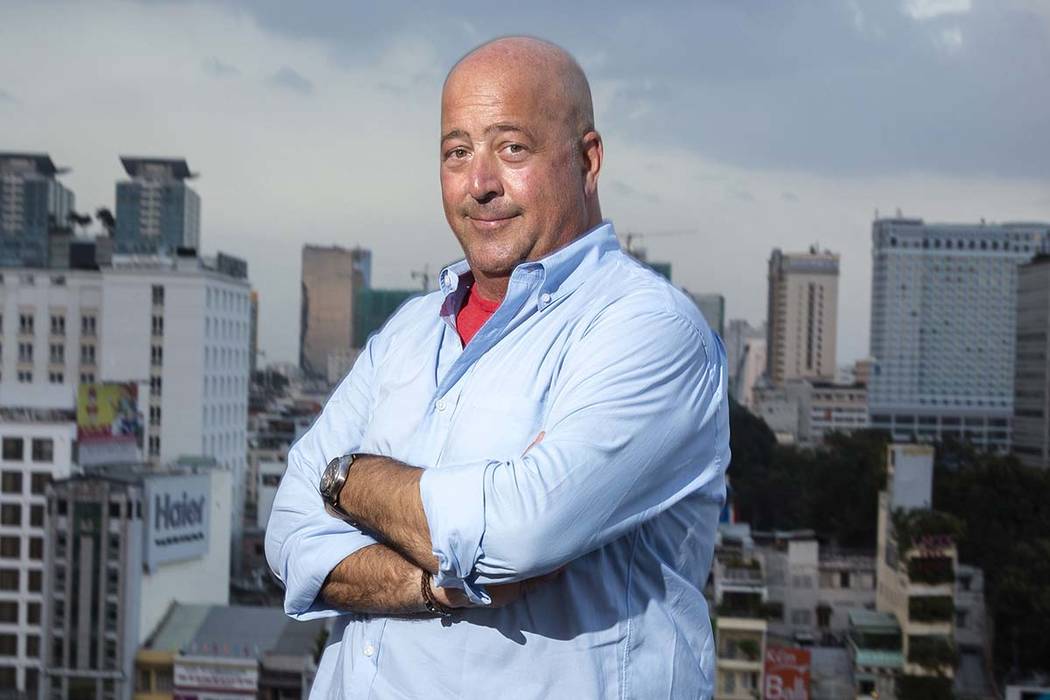 Andrew Zimmern clearly likes Las Vegas. Dining in our desert has been the topic of segments on "Bizarre Foods" and "The Zimmern List."
The Tuesday season premiere of another one of his shows, "Bizarre Foods: Delicious Destinations," is based entirely on restaurants on the Strip and in our local neighborhoods. During the first of two 30-minute episodes that evening on Travel Channel, Zimmern and his team take viewers inside six Las Vegas restaurants: The Buffet at Bellagio, L'Atelier de Joel Robuchon, Heritage Steak, Bootlegger Bistro, Lotus of Siam and Los Antojos.
"Las Vegas has become one of my favorite places to visit. I get there about three or four times a year. It's such an expansive, changing town and it has such a unique restaurant culture."
The show begins by examining the seafood offered at Bellagio's buffet. Asked whether it's challenging to cover a style of dining that's become a bit of a cliché, Zimmern says it's a necessity.
"You have to, because it's synonymous with the city," he explains. "And luckily as a storyteller, every couple of years someone tries to reinvent it."
Zimmern says it's important to dispel buffet stereotypes.
"I have friends who refused to even visit one, practicing contempt prior to investigation, because they thought that the buffet was the experience of their parents. In fact, it's a great value for a family or someone who doesn't want to leave the casino, or wants to do something quickly, or on their own schedule."
Although the show features a decadent piece of Japanese A5 wagyu beef at Heritage Steak, it also ventures off-Strip to highlight veal parmigiana at Bootlegger Bistro, khao soi at Lotus of Siam and lamb barbacoa at Los Antojos. Zimmern says restaurants such as those are among the most exciting parts of the local food scene.
"People have flocked (to Las Vegas) to work in this industry. And the result was a whole bunch of off-the-Strip restaurants that are explosively popular now."
The most timely part of the episode, however, is the inclusion of L'Atelier de Joel Robuchon in the wake of master chef Joel Robuchon's death this month. While the episode was shot beforehand, Zimmern says he's glad it will air at a time when it can explain the chef's legacy.
"When I heard that he had passed, I obviously was very sad. I knew him, and he was a great man who had an incredible impact on my life. And I was thrilled the Vegas episode was going to be airing so close to his passing so that people would really get a sense (of him)."
The camera crew goes into the kitchen with executive chef Jimmy Lisnard to watch the step-by-step creation of Robuchon's quail stuffed with foie gras, and signature pommes puree, or mashed potatoes.
"That was one of the dozen iconic Robuchon dishes that stand as a living legacy to him, like musicians have albums. That those dishes will be cooked forever for people to taste is a wonderful, wonderful thing."
The Las Vegas episode of "Bizarre Foods: Delicious Destinations" airs at 9 p.m. Tuesday, immediately followed by an episode shot on Hawaii's Big Island.
Contact Al Mancini at amancini@reviewjournal.com. Follow @AlManciniVegas on Twitter.