As Moscow Mule regains popularity, Las Vegan aims to bring back authentic copper mug
November 8, 2016 - 5:53 pm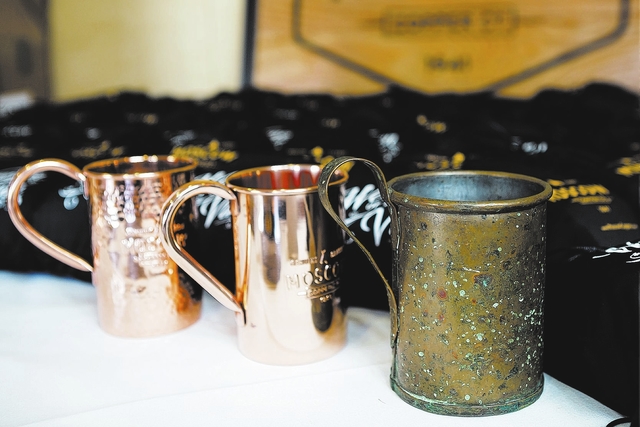 JJ Resnick wants to return the Moscow Mule mug to its solid copper roots. Not the rounded, tin-lined mugs many restaurants carry or, heaven forbid, the plastic versions from various vodka brands. The Las Vegas resident, recently transplanted from Santa Barbara, says he's the only one peddling the real thing, made of solid copper and stamped with the name "Moscow Copper Co."
It's not just about making a few bucks, he says, because for him, it's personal. The history behind the popular cocktail is intertwined with his family history.
THE MYTH BEHIND THE MULE
According to family lore, Resnick's great-grandmother, Sophie Berezinski, immigrated to the U.S. from Russia with a couple thousand copper mugs from her family's copper factory, hoping to sell them. After hauling them around for a couple of years, she walked into the Cock'n Bull restaurant in Hollywood in 1941, where she met John Martin and Jack Morgan. Martin — owner of the Smirnoff Vodka distillery — was having trouble getting the American palate to take to vodka.
Morgan, owner of the Cock'n Bull, also wasn't selling as much ginger beer as he would have liked. The three experimented that day, so the story goes, eventually coming up with the recipe for the Moscow Mule: a refreshing mix of ginger beer, vodka and lime, all served in a copper mug to maintain the temperature and enhance the flavors.
For the next 20 years, the drink's popularity achieved exactly what those three hoped. After the initial batch of copper mugs sold, however, Berezinski was no longer associated with the drink, and over time, its popularity waned.
Now, 75 years after that fateful meeting, the drink has experienced a resurgence. Tales of the Cocktail, the spirit industry's annual conference, declared 2016 "the Year of the Mule." The New York Times declared it "one of the most common drinks on the planet." Variations on the classic three-ingredient mix are ubiquitous on restaurant and bar menus.
"I would say it's got to be in the top 10 (most popular cocktails) today, and maybe even a little higher than that," says Tony Abou-Ganim, principal bartender at Libertine Social, Mandalay Bay's newest hot spot. "There's a lot of factors that contribute to that, not the least the vessel it's served from."
It was a resurgence that completely blindsided Resnick. For most of his life, the Moscow Mule was a drink consumed at holiday family gatherings as a nod to his relative's role in creating the drink. By the time he was of legal drinking age, the Moscow Mule had almost disappeared from menus.
A business trip to China with his father a couple of years ago alerted Resnick to how far the drink had traveled from its serendipitous beginnings. Walking through a hotel, he spotted a room full of kitchenware — including shelves and shelves of Moscow Mule mugs.
"We look in and it's Moscow Mule mugs on, like, every booth of every table. In China. I look at my dad, and I was like, 'Oh my God, this is nuts,'" Resnick says while sipping a freshly-made Moscow Mule.
The mugs were similar to the Moscow Mule mugs found in many restaurants and bars: barrel-shaped and tin- or nickel-lined, often weighing next to nothing. They hardly resembled the original mugs his great-grandma had brought from Russia. That inspired him last year to revive the Moscow Copper Co. that had originally manufactured the copper mugs, using pure, high-quality copper from Turkey and India.
"I'm a very passionate person in general about everything I do in life, and when I saw this it made me angry," Resnick says. "I felt like it was a hit to my family that Grandma Sophie had put out this original mug and now people are throwing out this fake BS."
His version of the original copper mugs is nearly identical to the one his great-grandmother walked into the Cock'n Bull with, although scaled down and with a more rounded handle. He sells the mugs online, and, just like his great-grandmother did decades ago in California, peddles his wares in person to Las Vegas restaurants and hotels.
THE RESURGENCE
Although craft cocktails have experienced a renaissance, the Moscow Mule's meteoric rise is largely attributed to its approachability. The three ingredients are familiar and stocked at nearly every bar, and the drink appeals to both men and women. And just as the iconic, cone-shaped glasses have become synonymous with the martinis that fill them, the Moscow Mule is practically inseparable from its shiny copper mug.
"There's no denying when you see the copper mug what it is," Abou-Ganim says. "I think people might be inspired to order one just by seeing one being served."
By year's end, Resnick plans to publish "Mulehead: The Holy Grail for Moscow Mule Lovers," a book with 75 variations on the classic recipe, such as adding pineapple juice and various liqueurs. In the two generations since his great-grandmother immigrated to the U.S., he's the first to follow up on her legacy.
"They tell me that all the time, 'Grandma Sophie would be proud,'" Resnick says of his family's reaction to his latest venture. "I think about that all the time. Even though I never met her, I have her to thank her for giving me the inspiration and the ideas. It feels like I have some of her brain inside of me."
Contact Sarah Corsa at scorsa@reviewjournal.com or 702-383-0353. Find @sarahcorsa on Twitter.