Bellagio creates life-size chocolate sculpture of Cirque's 'O' — VIDEO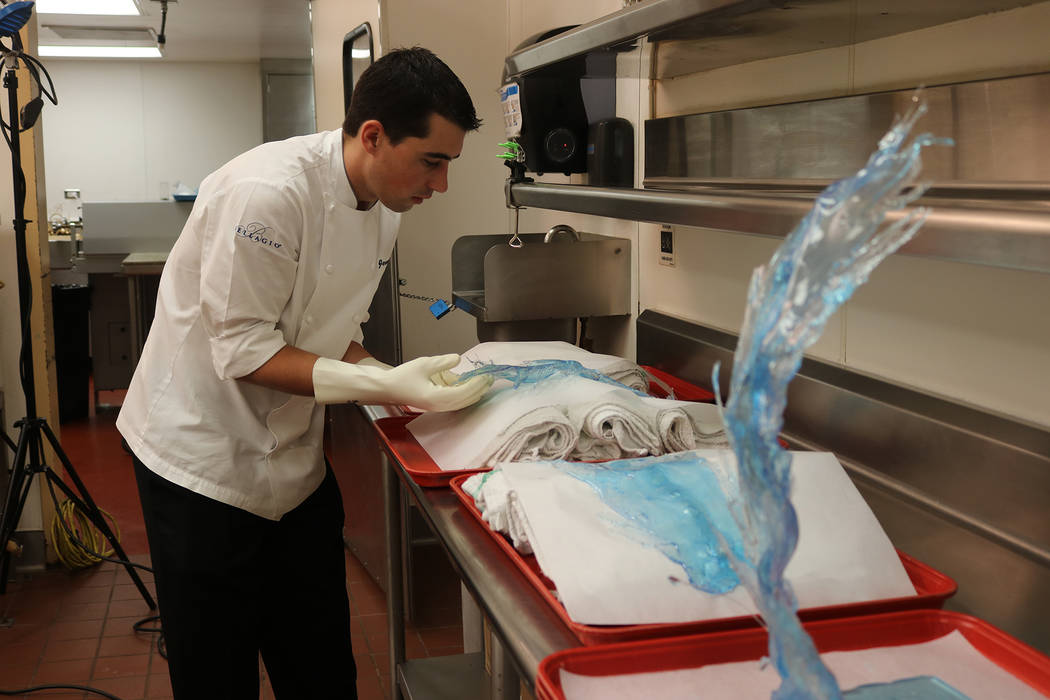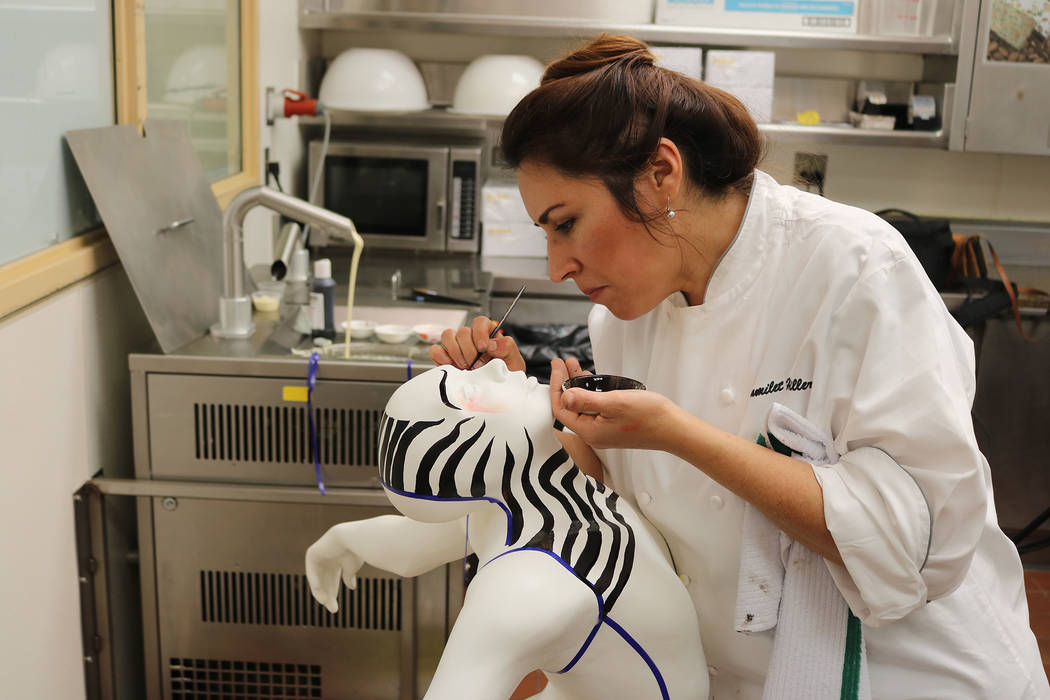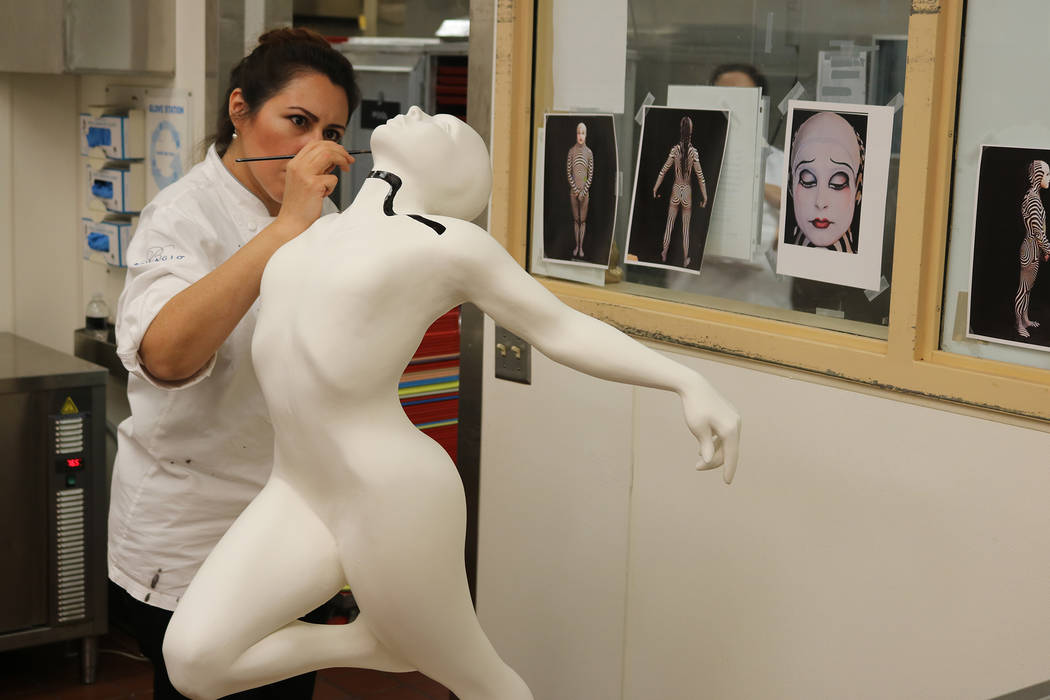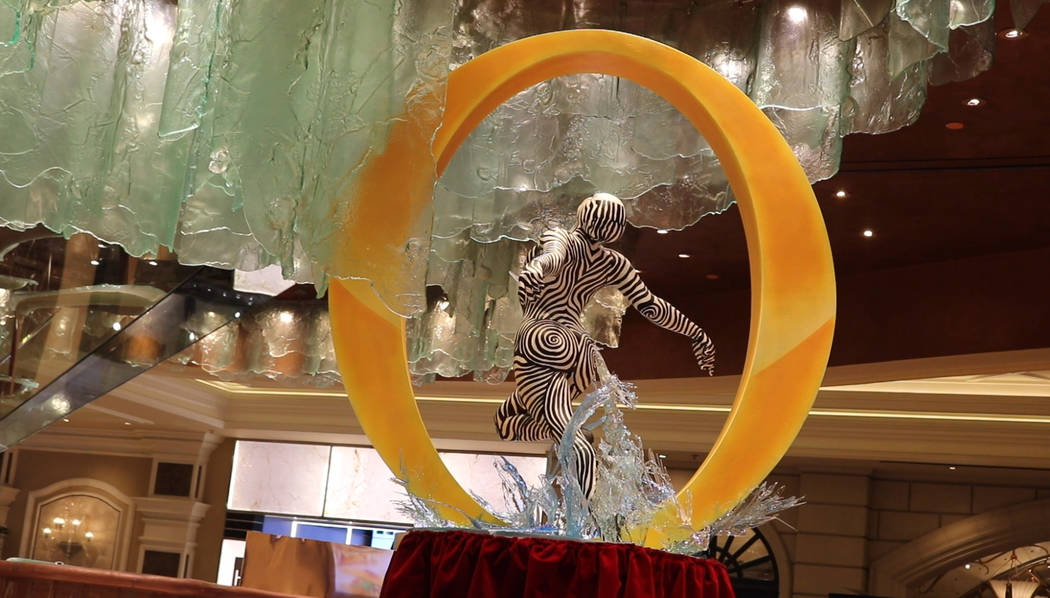 She leaps through the air, splashes through blue waves and glides through the golden "O." And she's made out of chocolate.
A two-person team at the Patisserie at Bellagio created the six-foot-tall confection in celebration of the 20th anniversary of "O."
The sculpture is based on the "O" poster that features the Cirque du Soleil production's zebras leaping out of the water and through a golden ring.
Bellagio Patisserie assistant executive pastry chefs Yamilet Hillers and Jerome Jacob worked for four weeks to complete the sculpture.
Chef Jacob constructed the "O" with crispy rice treats and dark chocolate. To accomplish the yellow shades, he mixed gold dye with cocoa butter and diligently spray painted the surface of the "O."
He took to sugar pulling to handcraft the blue waves that splash around the base of the sculpture.
"The water was the big part for me. It was difficult to make it stand up the right way and give it life," Jacob said. "It was a challenge."
The acrobat is constructed with crispy rice treats and white chocolate.
"She is the character of the zebra," Hillers said. "She's not the main character in the show but she is on the poster and very recognizable."
Hillers spent over 20 hours hand-painting the acrobat's striped zebra costume and make-up.
"It was a lot of painting upside-down," she said. "Her curves were kind of hard to work with. But it had to be done freehanded."
The chocolate "O" sculpture is on display atop the Patisserie at Bellagio through Chinese New Year in February.
"O" by Cirque du Soleil premiered Oct. 15, 1998.
This is the second confectionery creation by Hillers and Jacob. They created a chocolate sculpture of Vegas Golden Knights goalie Marc-Andre Fleury when Las Vegas' NHL team made the playoffs in April.
Contact Janna Karel at jkarel@reviewjournal.com. Follow @jannainprogress on Twitter.