Capriotti's to try vegetarian versions of famous subs for 1 day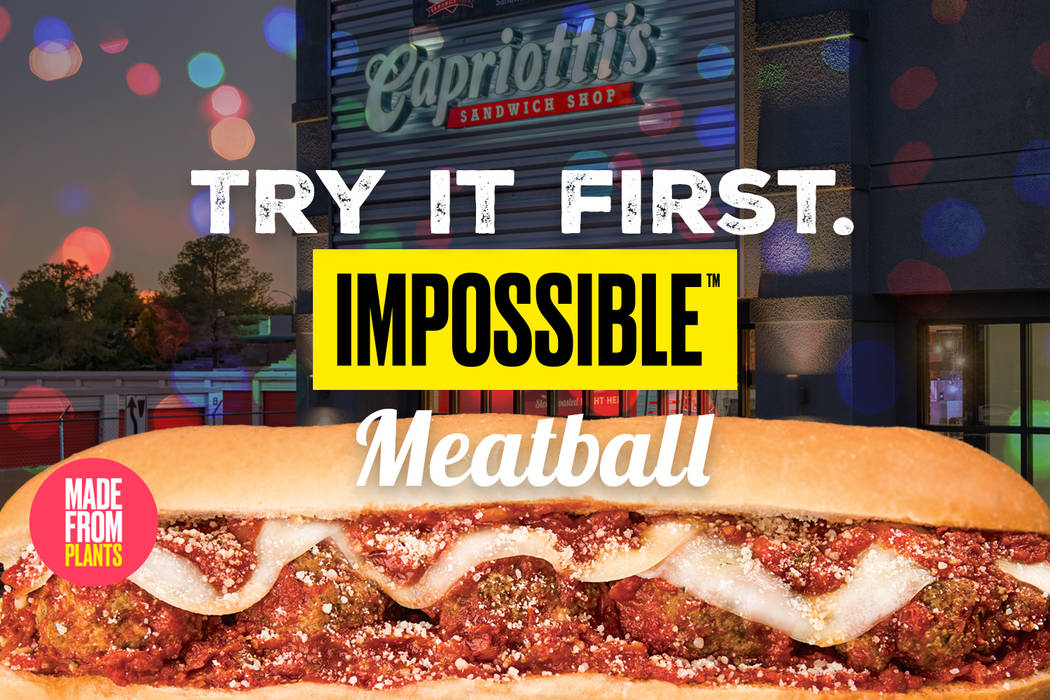 Two of Capriotti's top sandwiches are no longer forbidden fruit for vegetarians — at least not for one day, in one location.
From 11 a.m. to 8 p.m. Nov. 9, the Capriotti's at 6121 W. Lake Mead Blvd. will offer versions of its famous cheesesteak and meatball subs made with plant-based Impossible Burger products.
Those who want to try the Impossible Cheese Steak and Impossible Meatball subs need to pre-order them online at SecretBurger.com for $15 apiece. The event is being described as a "pre-market" taste of the items, and Capriotti's President Jason Smylie says that if it goes well, they'll probably do more testing in other Las Vegas locations, in the hope of rolling the sandwiches out nationwide "in the first part of 2020."
Capriotti's has long offered vegetarian "turkey" and "chicken" sandwiches, and until recently had a vegetarian burger. But Smylie says this is different.
"It's kind of a unique point in Capriotti's history," he explains. "Because I've been tasting vegetarian products for over 10 years now, and it hasn't been the highlight of my taste test days. But the moment I tried the Impossible product it was like 'Whoa, this is pretty much as good as our existing regular meat product.' And I was not expecting that."
He predicts that some customers won't be able to tell the difference between these products and the current meat versions.
"I am convinced that there will be people who are fooled, and probably angry with us. The meatball is almost impossible to tell (the difference). The cheesesteak is very close. So there's a high probability that die-hard vegetarians and vegans will definitely question it, and think they're tasting regular meat products."
It's worth noting the cheese on the items is not plant-based, so these are not vegan-friendly items. But a vegan can dream, right?
Contact Al Mancini at amancini@reviewjournal.com. Follow @AlManciniVegas on Twitter.