Distillery gives nod to Nevada with its vodka, whiskey
December 15, 2016 - 9:19 am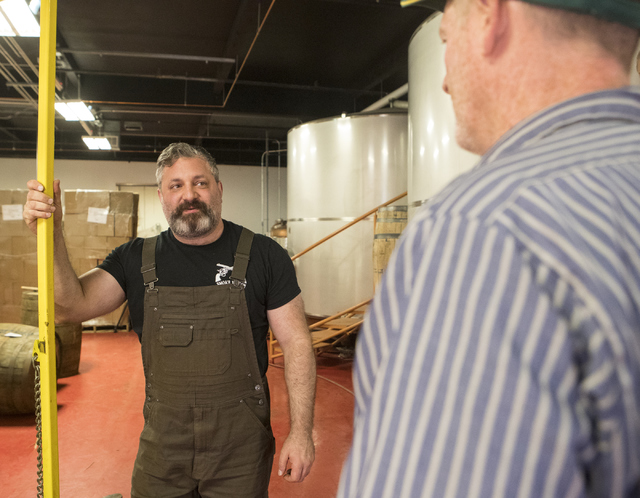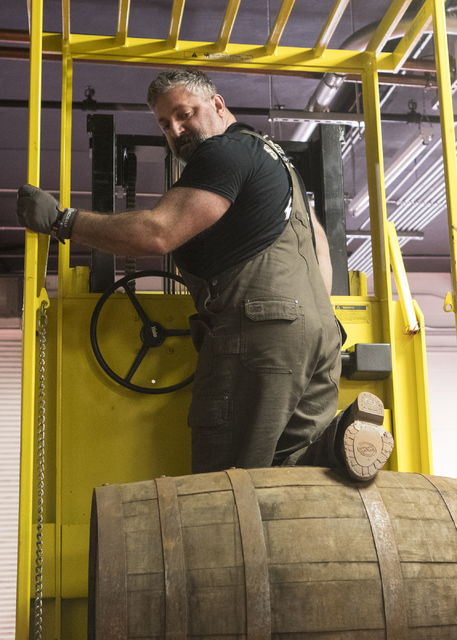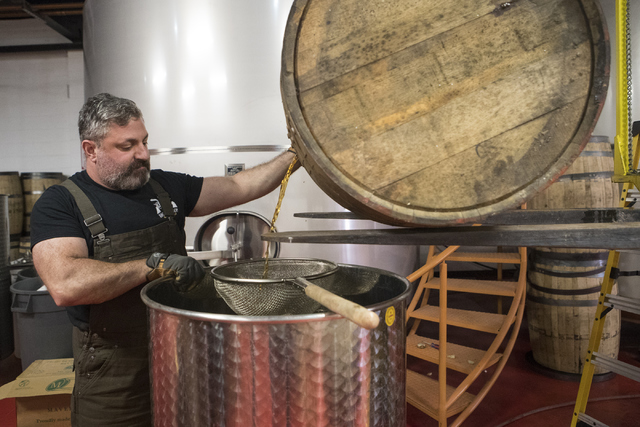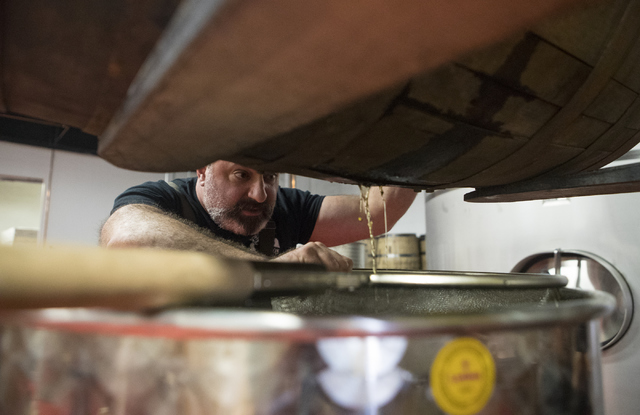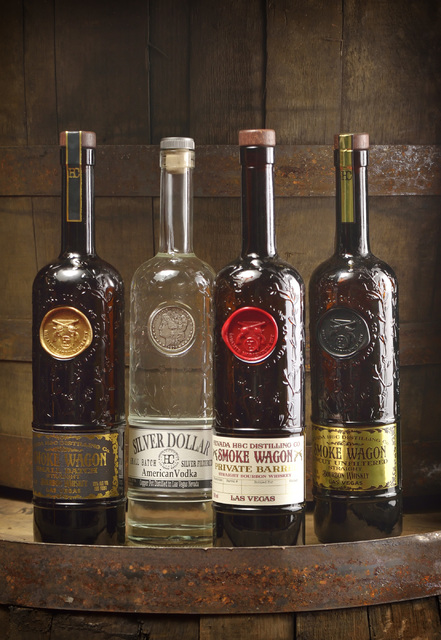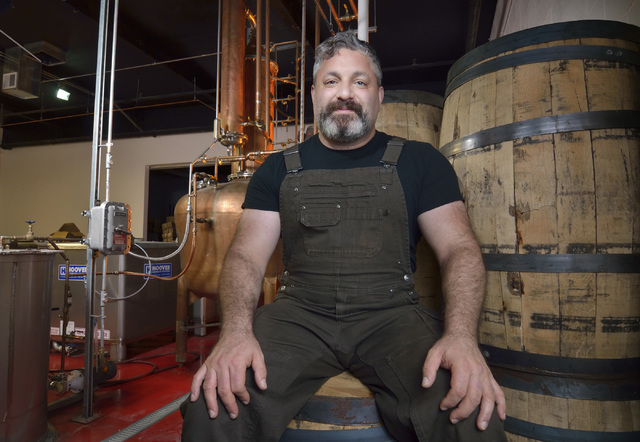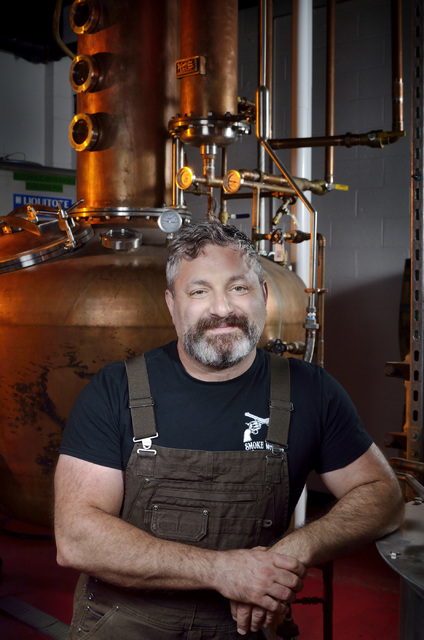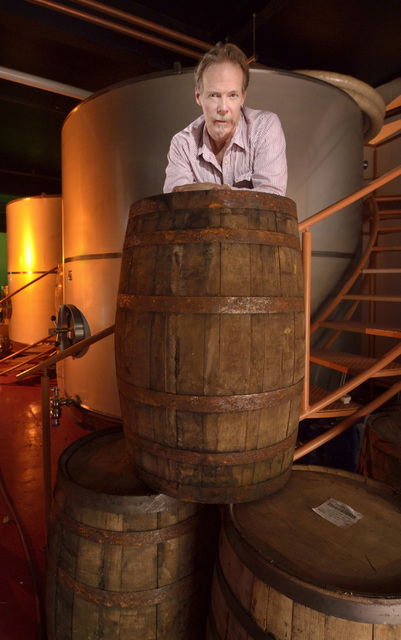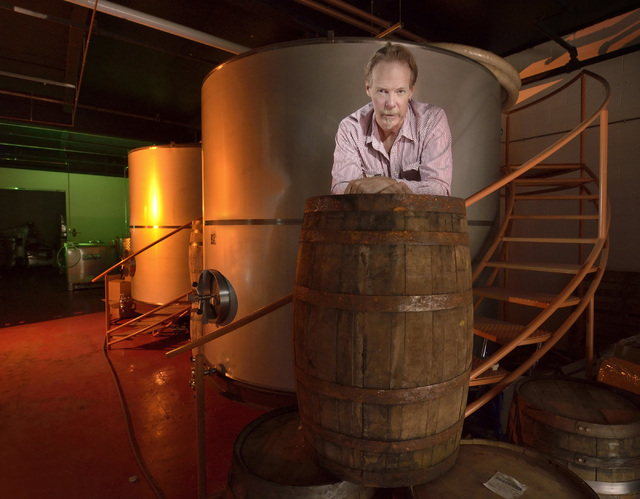 Jonathan Hensleigh, 57, spent seven years as a corporate lawyer on Wall Street before becoming an action film screenwriter in Hollywood. Aaron Chepenik, 45, studied film in college in upstate New York. He did stints in construction and truck driving before going into commercial real estate and later, the bar business in Los Angeles.
These two very winding roads converged in Las Vegas, where the unlikely business duo opened The Griffin on Fremont Street almost 10 years ago. In another cinematic plot development, the men have taken on a new role: creators of artisinal, premium vodka and whiskey. The Nevada H&C Distilling Co. was opened without fanfare in January (there's no sign outside the Mesquite Avenue warehouse where they create their small batches of Smoke Wagon Whiskey and Silver Dollar Vodka). Both spirits won accolades at this year's World Spirits Competition in San Francisco: Smoke Wagon won a gold medal, and Silver Dollar, a silver.
The bottles were carefully designed to evoke memories of the Wild West. Smoke Wagon Bourbon is named after the Colt single-action revolver, known as the "pistol that won the West," Hensleigh says. The glass has raised sagebrush detailing, a nod to Nevada's state flower.
Their Silver Dollar vodka bottle features an embedded replica of the Morgan silver dollar, which they had to seek permission from the U.S. Department of the Treasury to use. According to Chepenik, it's considered the ugliest piece of U.S. currency because of the unflattering depiction of Lady Liberty. The original coins were fashioned out of silver from the bountiful Comstock Lode near Carson City, which was mined in the late 1800s.
"We wanted Western-themed, Nevada-themed," Hensleigh said of the distillery's first two products, which can be purchased at Total Wine & More stores in the valley. "We knew we would always be here."
OFF THE BEATEN PATH
Inside the metal-sided, fluorescent-lit warehouse, the men sit among crates, vats and machinery upon folding chairs. The owners like to say the distillery is a "two-man operation," referring to themselves. Hensleigh is tall and thin and carries a cowboy look with a pearl-buttoned shirt, boots and single gold hoop earring. Chepenik, sturdily built with salt-and-pepper hair and dressed in coveralls, resembles a friendly bear.
The pair have developed a partnership based on shared interests and confidence in their work. "We're drinkers, and we're bar owners, and we like nightlife. It's not for people who aren't part of that world," Hensleigh says. Hensleigh is married to film producer Gale Anne Hurd, the former wife of James Cameron; Chepenik is a bachelor.
H&C's products are gaining attention among those who are in that world, like Adam Carmer, proprietor of the Whisky Attic in Las Vegas, who said the high rye bourbon stands out for its smoothness despite a high alcohol content. "It's 100 proof and it drinks like it's barely 80 proof. It's shockingly smooth and light."
LIFE BEFORE LAS VEGAS
Both men appreciate the serendipitous circumstances that led them to Las Vegas. Chepnik's big break came when he rented space to Michael Peter Balzary (also known as Flea and the co-founder of the Red Hot Chili Peppers) for his famed Silverlake Conservatory of Music, as well as to VICE News.
Meanwhile, Hensleigh was listening in on subway conversations on the way and from his corporate law job, retooling the dialogue to practice writing scripts, which had been a longtime dream. "After practicing law for seven years, I just snapped," Hensleigh says. He packed up and moved to Hollywood to work as an action film screenwriter, later branching into directing.
The two met in 2003 at a bar in Los Angeles called the Chalet, which Chepenik owned and Hensleigh visited often. They started talking and decided to open two new bars together — the Griffin in LA and its sister bar of the same name on Fremont Street in Las Vegas.
The leap from owning a bar to making spirits sold there may seem strange to some, but Hensleigh says it's a natural way to delve deeper into the business. H&C (H for Hensleigh, C for Chepenik) started with vodka because of its relative ease of production, but soon branched out into bourbon because they noticed more people ordering whiskeys at their bars.
"I think that it hearkens back to a pre-Prohibition state of the world that young drinkers (care about), not only in their alcohol choice, but in their clothing and their music," Hensleigh says.
Heather Greene, a whiskey expert and author of "Whiskey Distilled: A Populist Guide to the Water of Life," has also noted, and written about, the rise of the whiskey industry over the past decade.
"It's a very American spirit; we have a long tradition of whiskey distilling going back to George Washington," she said. "It's really part of the American story."
With his background in law, Hensleigh provides legal services and financial acumen to the budding company, while Chepenik is more involved with the design, construction and the operations of the company.
Their partnership runs on trust, and knowing each other's strengths and how to best use their talents. "Can I run the stills? Yeah, but not like Aaron can," Hensleigh notes. "Blending, bottling, distillation, he's much more experienced than I am." The duo have kept things relatively drama-free in their 12 years as partners. "When we do argue, nothing's ever ego-based because we're both self aware," Chepenik says. "Nothing ever escalates; everything is kind of nipped in the bud."
Although Hensleigh continues to rise in the film industry (he's currently working on an action-adventure film in China and Macau of which he is the writer, producer and director), he has no plans to ever give up the bar business. "I like the fact that I get to wear two hats that are utterly distinct from one another," he says. "It's the best of both worlds."
Contact Brooke Wanser at bwanser@reviewjournal.com. Follow @Bwanser_LVRJ on Twitter.
How do they do it?
H&C Distilling is a "two-man operation" where the owners do it all, right down to affixing the seals on the bottles of Silver Dollar and Smoke Wagon. For their vodka, they purchase grain neutral spirits from MGP Ingredients Inc., a major U.S. supplier in Atchison, Kansas. It's then distilled at the downtown Las Vegas warehouse in copper pots.
MGP also distills various bourbons and whiskeys and then supplies crafters large and small, including H&C. For Smoke Wagon, Hensleigh and Chepenik chose bourbons containing corn, barley and rye that are aged in charred oak barrels. MGP sends samples to Las Vegas, and once the owners feel they've achieved the right flavors, barrels are purchased and shipped here, where spirits from different barrels are blended to create Smoke Wagon.
Where can I get it?
Total Wine & More carries Smoke Wagon Small Batch Bourbon for $52.99 for a 750-ml bottle; Smoke Wagon Private Single Barrel for $89.99; and Silver Dollar American Vodka for $26.99.
Private barrels of Smoke Wagon will be available at bars at MGM Resorts International's properties on the Strip, including Bellagio, MGM Grand, New York-New York and Aria by the end of 2016 or early 2017.