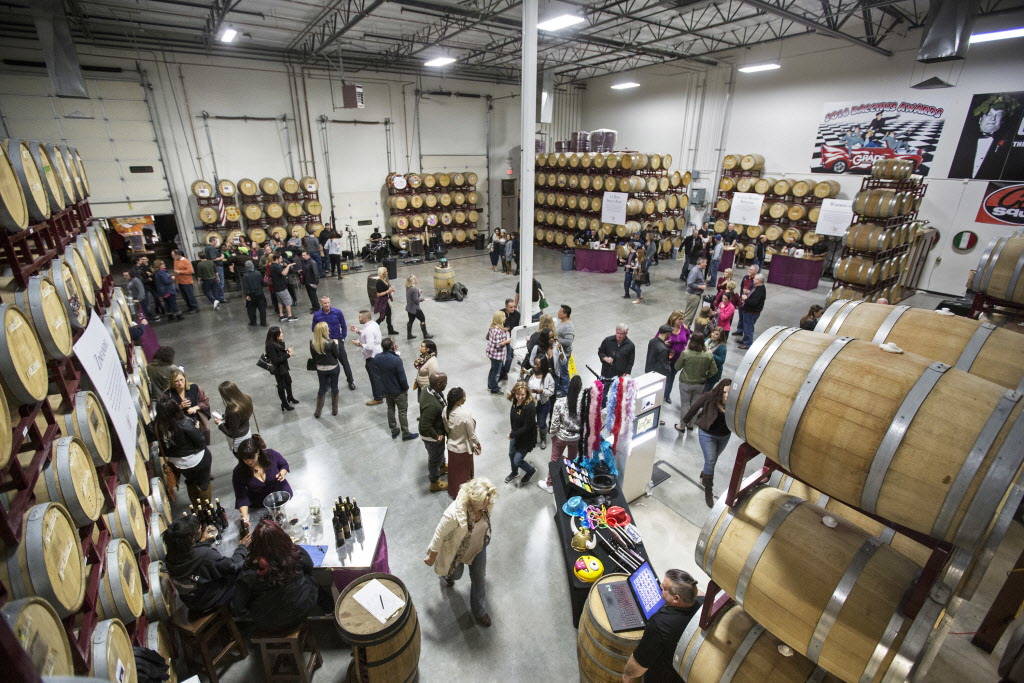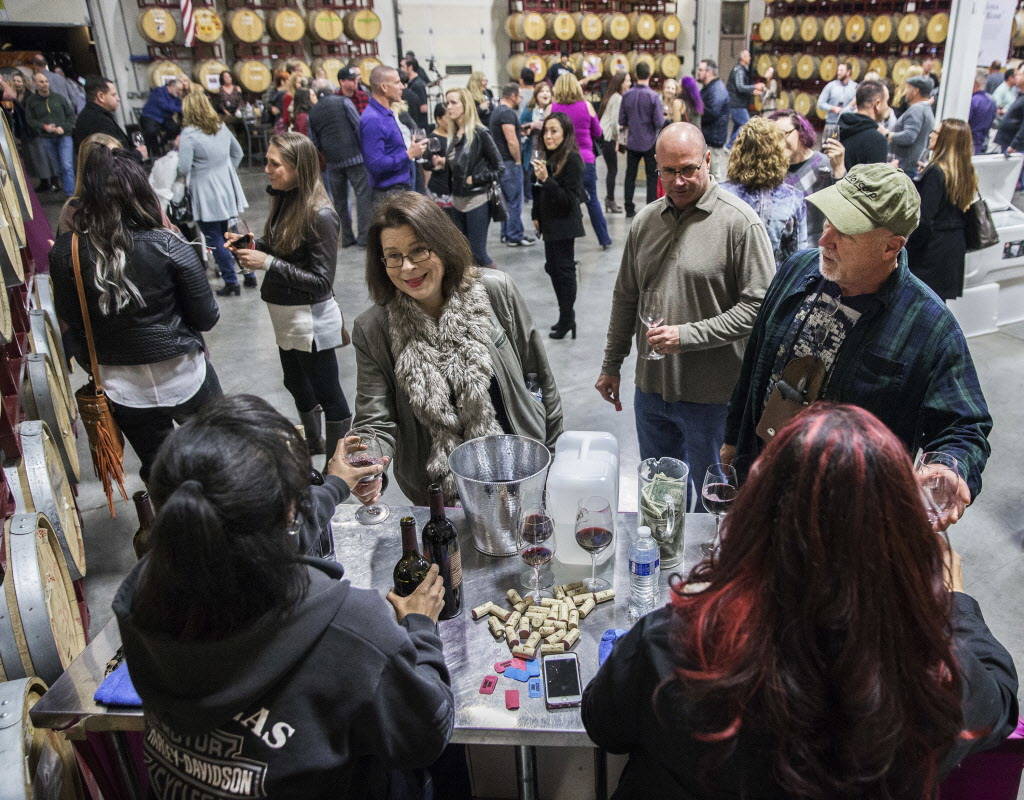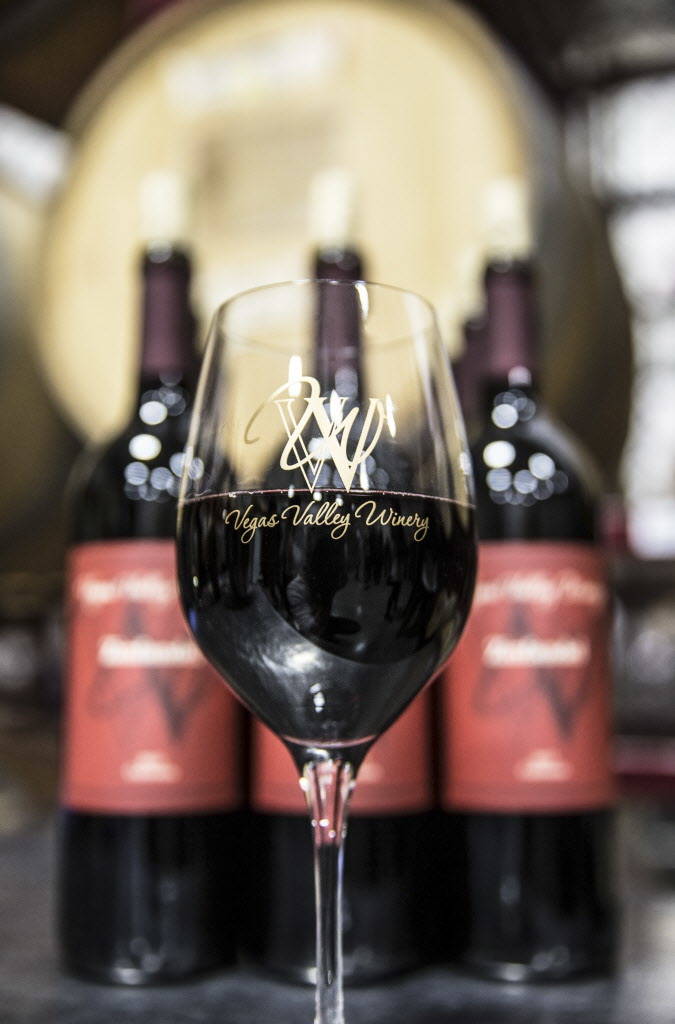 Henderson has breweries to quench the thirst of local craft beer fans. It has a distillery, for those whose tastes run toward the harder stuff. And as of last month, it has a winery — a first for Clark County.
The Vegas Valley Winery celebrated its launch on Saturday with an official grand opening party that drew hundreds of local wine enthusiasts eager to sample the five varieties it's now pouring for visitors.
Shelves of wine barrels lined several walls. A band performed a mix of mellow rock staples, as guests sorted through props to use in a photo booth. In the parking lot, a pair of food trucks offered refreshments.
But the main attractions were the five stations scattered throughout the room, where employees cheerfully poured samples of the fledgling winery's first original creations: Subtle Blond Riesling, Whimsical Dry White, La Rosa Rosé, Zinfadel and Syrah.
Henderson resident Faione Coleman described her favorites, the riesling and rosé, as "sweet, smooth, delicious," before ending her review with a satisfied "mmmm!"
The winery is in the industrial park at Warm Springs and Eastgate roads that has come to be known as the Henderson "Booze District," thanks to the neighboring Crafthaus and Bad Beat breweries and Las Vegas Distillery. It shares space with the Grape Expectations Nevada School of Winemaking, a sister operation that has offered locals the chance to try their hand at winemaking since 2007.
Just opening Grape Expectations took owner Patty Peters and her late husband Charlie about three to five years of lobbying to change local laws. So when Patty decided to bottle and sell wine under the Vegas Valley label, her team began collaborating with a California company while awaiting a Nevada license. It's the fruits of those early labors that were being poured at the party.
Starting with the 2017 vintages, however, every stage of the process from crushing grapes to filling glasses will take place in Henderson.
"From the crushing, to the pressing, to the racking, to the bottling, this is where the magic happens," explained Vegas Valley's Nicole Sharp, gesturing around the large warehouse that had been converted into a party space for the day.
This is also the only place wine aficionados can taste the product, in the small tasting room that pours it seven days a week.
"It's just a matter of production right now, there is just so much wine we have available to sell," Sharp explains. "So you cannot come in at this time and buy a bottle of wine, or three or four, and take them home to enjoy."
That limited production is the result of not only the winery's youth, but also the regulations that allow it to operate and the availability of locally grown grapes.
"The way that the law is written, we're allowed to produce 1,000 cases of wine with fruit from anywhere," explains head winemaker Mike Schoenbaechler. "But anywhere above 1,000 cases, 25 percent of the fruit has to come from the state of Nevada."
Under that formula, Schoenbaechler expects last year's production, which utilized grapes from California and Nevada's Amargosa Valley, all crushed on site, to yield between 1,200 and 1,300 cases when it's eventually released.
"Until we start getting (more) grapes grown in Nevada, we won't be able to expand on that."
He expects that supply to expand, however, with growers experimenting in different parts of Nevada to find grapes that are suited for the climate. So it may not be too long until wine lovers can enjoy a bottle of Vegas Valley Wine at home or at a restaurant.
Until then, however, the tasting room adds another delicious destination to the Booze District.
Contact Al Mancini at amancini @reviewjournal.com. Follow @AlManciniVegas on Twitter.