Flavor, health lead to pho's popularity in Las Vegas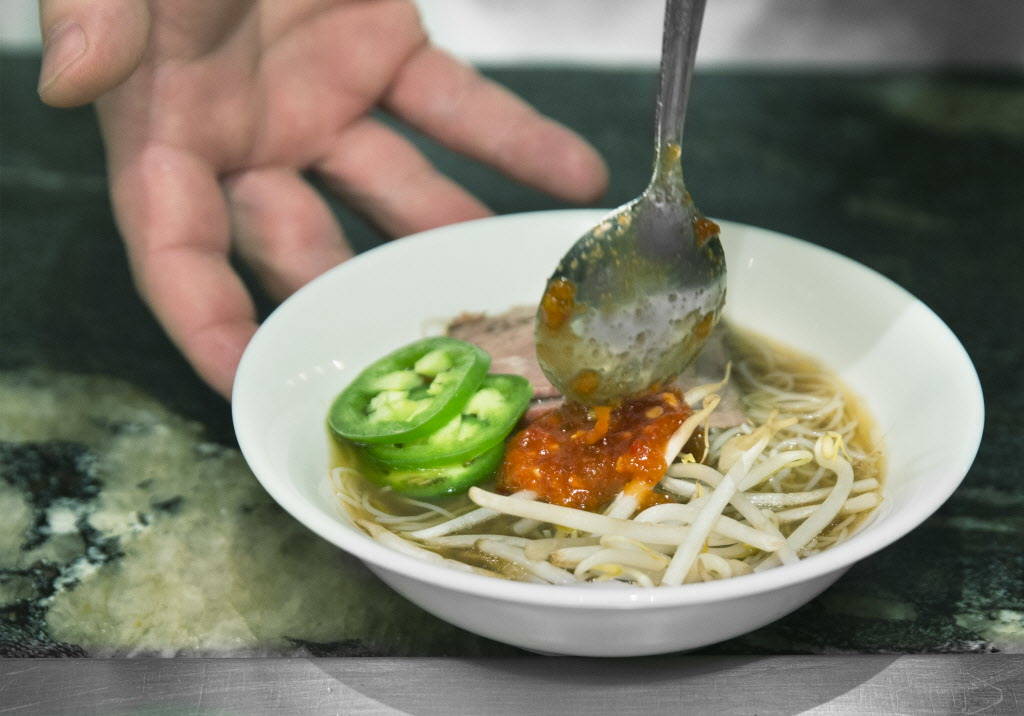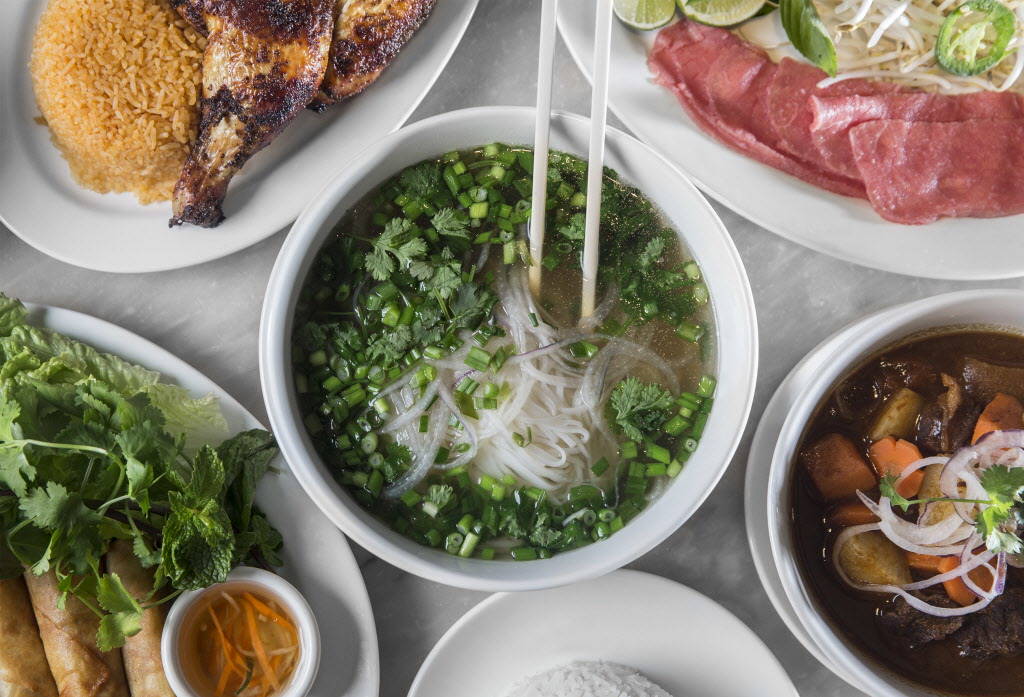 To call pho simply a Vietnamese soup is to understate its appeal and its complexity, both of which have led to it bubbling out of niche status and steaming into the mainstream.
Pho is, experts say, all about the broth. But before we get to that, let's talk about the word.
For those who aren't familiar with it,"pho" may look like it would be pronounced "foe." But it's actually more like "fuh," which is why you'll see all sorts of names that are plays on that pronunciation, some of them naughty, others bordering on the obscene, most of them memorable, which is always the point.
But back to the broth. Helen Le, whose cookbook, "Simply Pho," was published by Race Point Publishing in September, said all elements of the soup are important, but one reigns supreme.
"The thing that we treasure most is the broth," Le said from her home in Da Nang, Vietnam. "It has to be really clear, but very flavorful."
"There's no shortcut in making good pho broth; it's a process," said Eric Graham, owner of Red Lantern Pho Vietnamese Grill on South Grand Canyon Drive. "You can't use a stock, you can't use a powdered base or anything like that to get a good, true pho broth."
Le said a proper pho broth starts with a mix of bones, which are soaked, rinsed, parboiled and boiled in a process that can take hours. Next it's seasoned with a whole peeled onion, salt and rock sugar. Then the "aroma ingredients" are added: charred onion and ginger and spices such as cinnamon, star anise and black cardamom.
She said the clarity of the broth is important because it's the first thing you see, and it belies the complexity of flavor.
"It looks really clear and plain, but then you've got this smell, which makes you excited," she said. "The soup is full of flavor; that's just not what it looks like."
Her simplified version — which still is lengthy — follows. Le said pho really isn't difficult to make at home.
"When you get the hang of it, it's not that troublesome," she said. "I can spend one or two hours and it'll feed the whole family for a couple of days, so it's worth it."
Craig Taylor, executive chef at TI, said the resort opened its pho restaurant in 2006 — "back when pho was just on the cusp of becoming really popular." It was suggested by a casino host, he said, but before they could open, they sought some local knowledge.
"There were only a handful at the time, on Spring Mountain Road," Taylor said. "I learned as much as I could about it, recruited a Vietnamese chef, and we've been killing it ever since."
Taylor said the restaurant started as a three-seat section in The Coffee Shop. Popularity prompted an expansion before long to 60 seats. Today, he said, it's overtaken the coffee shop (customers get a pho menu and a coffee-shop menu) and is one of the resort's most successful dining enterprises.
He said the busiest times are around Christmas and during the Electric Daisy Carnival.
"The millennials love pho," Taylor said. "They come in groups of 15 or 20 and they slurp up pho after a night of whatever they do out there."
Santa Fe Station added a pho station to its Thursday-night buffet about eight months ago because, said executive chef Ken Torres, they were looking for a build-your-own sort of experience for guests.
"It's been really popular," he said. "They like the ability to create it the way they want it. It's as light or heavy as you want it to be."
Torres said the pho served on the Feast Buffet is beef-based, or pho tai, which chefs and restaurateurs said remains the most popular.
"Because of its simplicity," Graham said. "It's lean, rare steak in a clear, rich beef broth with some fresh veg."
Le echoed the theme of simplicity, saying she thinks the growing popularity of pho is attributable to the fact that "it's good."
"It impresses everyone who tries it for the first time," she said. "You remember it, and you want to have more of it. The second thing is it's healthy; it's good for your body. Food is not just to make you full, but it has medical effects and makes you feel good."
There are some variations — chicken-based pho and vegetarian or vegan versions, which often are made with a base of mushrooms or fruits and vegetables. Pho King Phenomenal, which is on Basic Road in Henderson, serves a Thai-style pho.
"We're not traditional," said Gary Tobin, chef and owner. "We have to let people know that up front. We start by rendering bacon to release the fats, which is a little different." A native of Thailand, he said there's a lot of culinary overlap with the neighboring Vietnam.
Tobin said the spices — he uses clove, star anise, cinnamon, turmeric and a little bit of smoked paprika — are crucial.
"If you don't have those, it's just a beef broth," he said.
"Everybody likes it," Taylor said. "It's very approachable, really fresh-tasting because you use a lot of herbs and vegetables."
Simplified pho noodle soup with beef
5 pounds beef bones (marrow and knuckle)
1 pound beef brisket or flank, kept whole
20 cups water
1 medium yellow onion, peeled
1 tablespoon salt, plus more to taste
1 thumb-sized piece rock sugar, plus more to taste
Chicken stock powder, to taste
Pho aroma:
1 medium yellow onion, unpeeled and halved
2 thumb-sized knobs ginger, cut lengthwise into 1/8-inch-thick slices
3 star anise
2 cinnamon sticks
2 or 3 black cardamom pods
1 teaspoon cloves (optional)
1 teaspoon coriander seeds (optional)
Pho bowl:
3 1/2 pounds fresh or cooked pho noodles
10 1/2 ounces beef (eye of round or sirloin), thinly sliced against the grain
1 small or medium yellow onion, sliced very thin, soaked in ice water for 15 minutes, and drained
3 to 5 scallions (green parts chopped; white parts kept whole, smashed and blanched)
3 sprigs Asian basil
3 sprigs sawtooth herb
1 pound bean sprouts, blanched (optional)
1 lime, cut into wedges
Hoisin sauce (optional)
Sriracha (optional)
To make broth: Place the beef bones in a stockpot filled with enough water to cover them. Bring to a boil and cook for 5 to 10 minutes, until the impurities rise to the top. Drain the pot and rinse the bones well under running water to wash away the impurities.
Place the bones in a large stockpot with the beef brisket and the water. (If you use the same pot as in the first step, make sure you clean it before you put the bones back in. It is crucial for a clear broth.) Add the onion, 1 tablespoon salt and a thumb-sized piece of rock sugar to the stockpot. Bring to a boil, reduce the heat to low and simmer uncovered. Occasionally skim. Depending on the cut of beef, it might take 1 to 2 hours to cook. If the broth reduces, add hot water to compensate, making sure you always have the same amount as when you started.
To make pho aroma: Heat the onion halves and ginger slices directly over an open flame on the stove until slightly charred on all sides. Peel the grilled onion, but try to keep the stem intact and not let the onion layers fall apart. Rinse the onion and ginger under warm running water and scrape off the charred bits.
Toast the star anise, cinnamon sticks, black cardamom pods, cloves (if using) and coriander seeds (if using) in a large pan over medium-low heat until fragrant, about 2 minutes. Place these spices in a spice ball or large tea or spice bag(s), or wrap in a piece of cheesecloth. Add spices and the charred onion and ginger into the stockpot 30 to 45 minutes before serving, so the aroma stays fresh and tempting.
When you pierce the meat with a chopstick and see no pink water coming out, it is cooked. Remove and soak in a large bowl of cold water for 5 minutes to prevent the beef from drying out or turning dark. Drain and thinly slice into bite-sized pieces. Set aside.
Remove the onion halves from the stockpot before they break, which will make the broth less clear. Continue to simmer the broth for at least a few more hours on very low heat if you have time. The broth should simmer for at least 2 hours from the beginning of making the recipe and up to 8 hours. If the broth reduces, add hot water to compensate, making sure you always have the same amount as when you started.
Season the broth to taste with salt, sugar and stock powder.
To assemble pho bowls: Fill each serving bowl one-third full with noodles (about a handful of noodles). Top with sliced beef (cooked and/or raw beef, your choice), onion slices, chopped scallions and blanched scallions.
Ladle the hot broth over the noodles to fill the bowl. The broth will cook the raw beef in seconds. Serve with a platter of the fresh herbs, blanched bean sprouts and lime wedges, along with the hoisin sauce and sriracha, if using these condiments.
Serves 8 to 10.
Recipe from "Simply Pho" by Helen Le.
Contact Heidi Knapp Rinella at Hrinella@reviewjournal.com or 702-383-0474. Follow @HKRinella on Twitter.