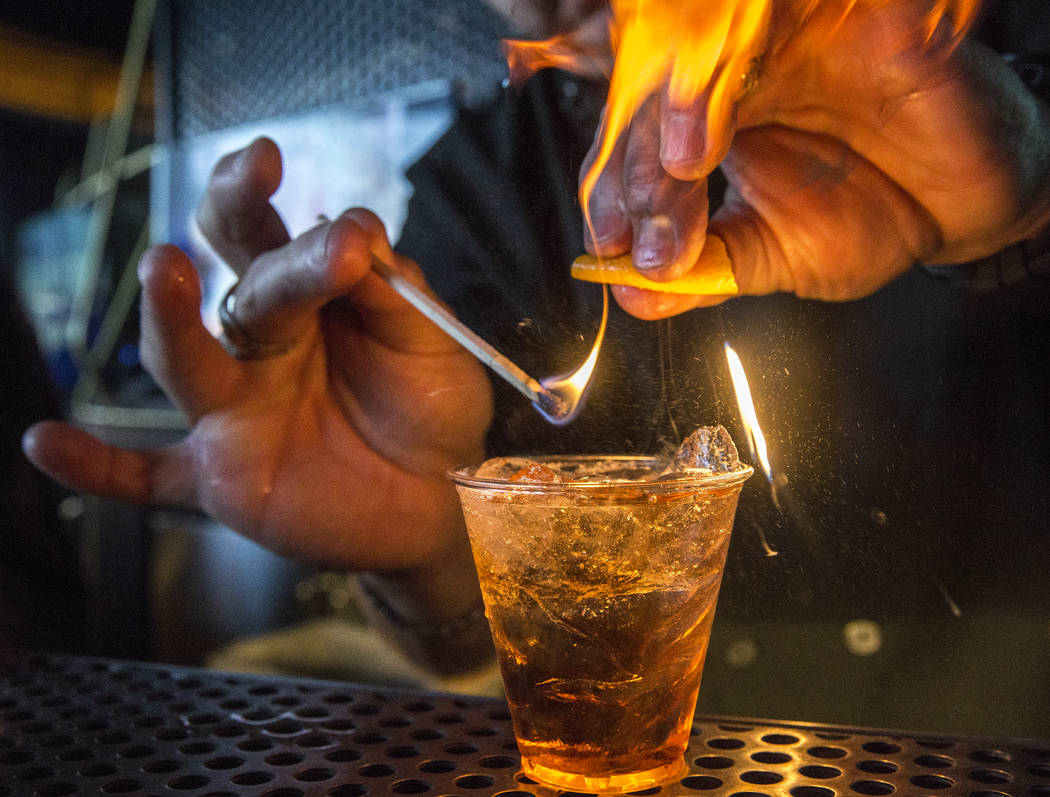 Members of the local bar and restaurant community came together Friday to support their own at a reception atop the Delano hotel. The fourth annual For the Love of Cocktails gala took place in Alain Ducasse's Rivea restaurant and the adjoining Skyfall Lounge, following a happy hour downstairs in the Delano's Franklin Lounge. Proceeds benefited the Helen David Relief Fund for bartenders affected by breast cancer.
Guests enjoyed drinks by 31 two-person teams of Las Vegas' top bartenders and mixologists, each utilizing the product of a different spirit sponsor. Some got creative with added touches, such as adorning cocktails with cotton candy, topping a Woodford Reserve bourbon concoction with whipped cream or lighting an orange slice aflame to add flavor to a drink, while others, like the representatives of Drake's Virginia Black whiskey, served straight shots. But whatever your taste in spirits, the chances were good you'd find something you liked.
Food was provided by the Rivea kitchen, while a live band performed on Skyfall's elevated stage. But the night's most popular attraction might have been the view from the two balconies, which took in the entire south Strip as the sun went down and the lights came alive.
The event was hosted by master mixologist, author and partner in Mandalay Bay's Libertine Social Tony Abou-Ganim, who created the fund seven years ago in memory of his aunt, who lost her battle with breast cancer. Taking in the crowd, he excitedly stated that he was "blown away" by the turnout.
"I had no idea when I started the Helen David Relief Fund seven years ago," Abou-Ganim said, "that one day Vegas would turn out, support our vision, and all of these wonderful bartenders from the community would come together and make For the Love of Cocktails what it is, and help bartenders coping with breast cancer. God bless!"
Celebrity chef Rick Moonen, in attendance with his wife, said of the event, "It's just another way that the hospitality industry huddles around its own and takes care."
Nine hundred people attended the event, raising more than $21,000 for the cause.
Contact Al Mancini at AMancini@reviewjournal.com or 702-387-5250. Follow @AlManciniVegas on Twitter.