Las Vegas restaurants offering special Hanukkah menus
Updated December 19, 2022 - 9:21 am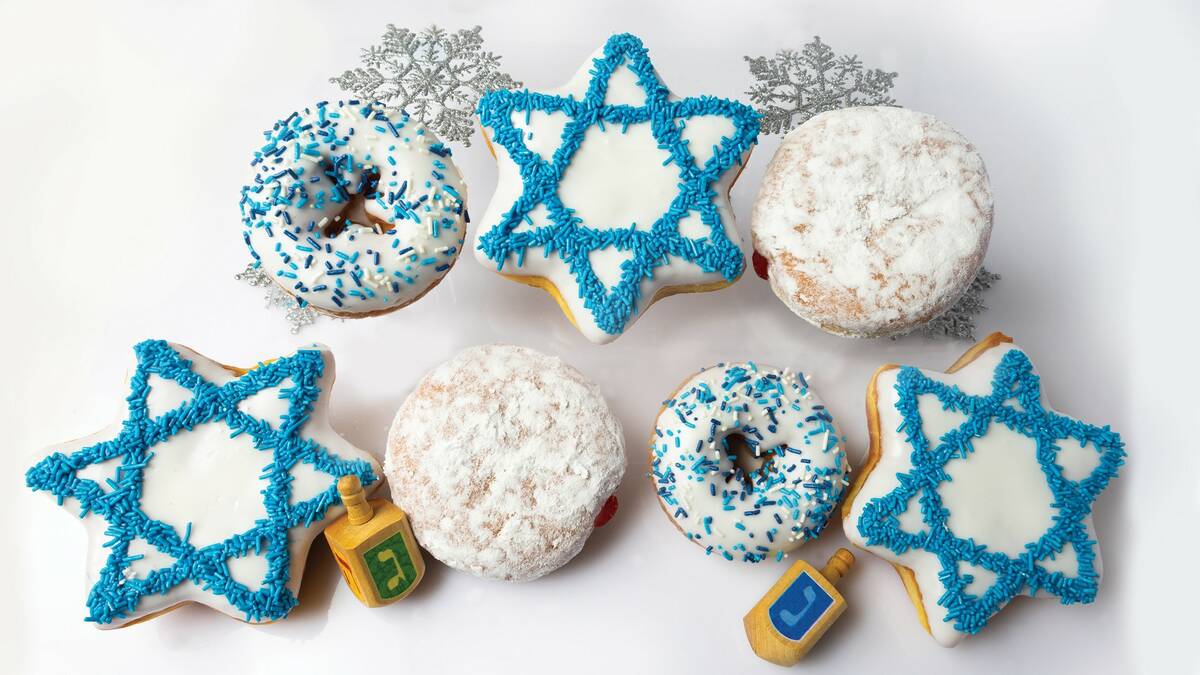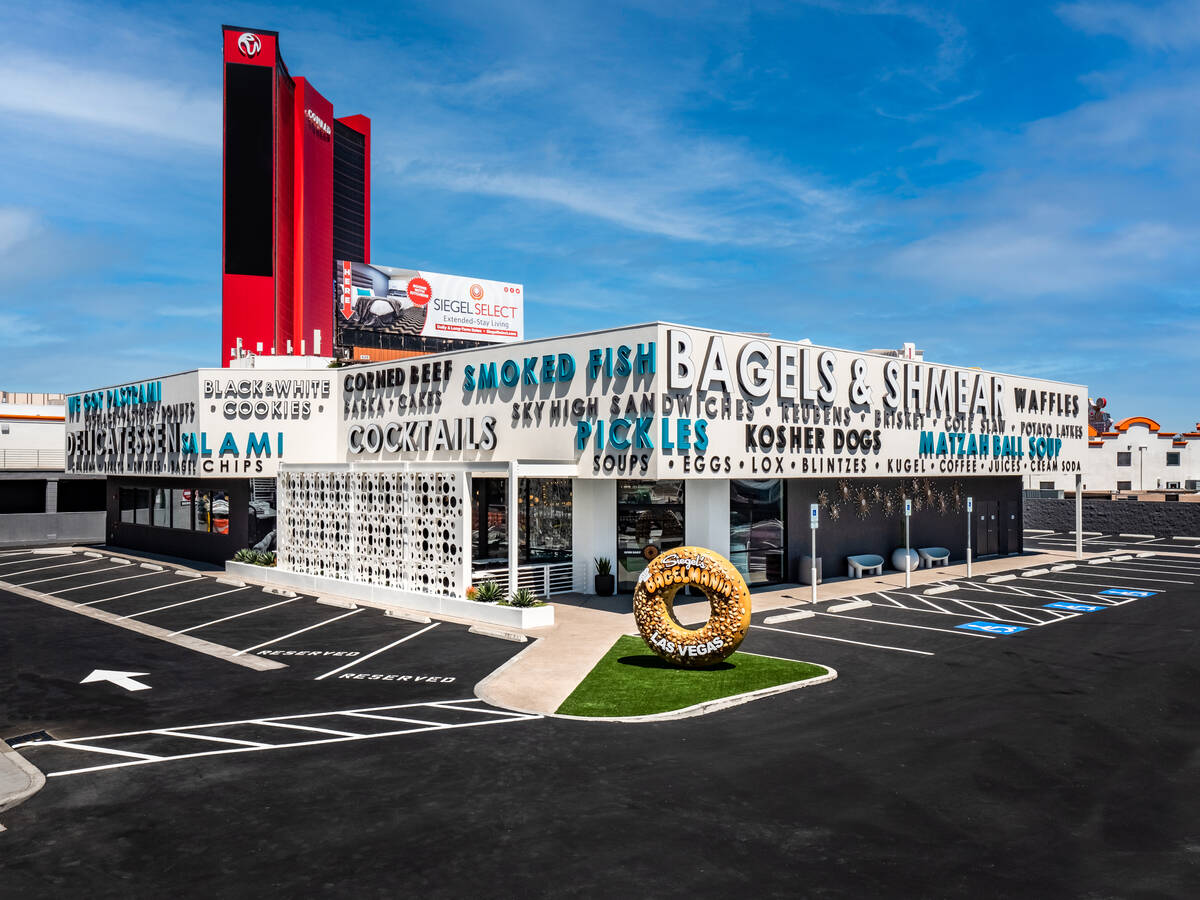 Hanukkah, the Jewish celebration commemorating the rededication of the Second Temple in Jerusalem in the second century B.C., began this year on the evening of Dec. 18 and ends on the evening of Dec. 26. Here are some options in Las Vegas for dining out or takeout to celebrate this Festival of Lights. Reservations are recommended.
The Bagel Cafe
The Bagel Cafe in Summerlin is featuring dinners to go, with matzo ball soup, choice of 1-pound brisket with gravy or whole roast chicken, two large potato pancakes with applesauce, fresh vegetables, two challah rolls and two jelly doughnuts, $54.95 for two people. À la carte applesauce, latkes, blintzes, jelly doughnuts and kugels range from $2.50-$12.95.
Order at thebagelcafelv.com/holidays by Dec. 15.
Hearthstone Kitchen & Cellar
Hearthstone Kitchen & Cellar in Red Rock Resort is offering its take on traditional dishes. Look for housemade challah served with honey butter or for potato latkes with smoked salmon, capers, dill crème fraîche and shallots.
There's also beef brisket graced with red wine demi-glace, accompanied by glazed carrots, pearl onions and sweet potato. Chocolate babka bread pudding with French vanilla ice cream and kosher chocolate caramel sauce finishes the meal.
Cost: $10-31. Dishes are available for dining in or takeout. Reservations: hearthstonelv.com/reservations or 702-797-7344. Served Dec. 18-26.
Honey Salt
Honey Salt in Summerlin is serving a three-course menu starring matzo ball soup with braised chicken and vegetables; potato latkes; roasted Jidori chicken or brisket, both with sides; and sufganiyot doughnuts with berry preserves. The dishes also are available à la carte.
Cost: $64 prix fixe or $10-34 à la carte. Reservations: honeysalt.com. Served Dec. 18-20.
Related: Christmas dinner: Special deals and menus in Las Vegas
138 Degrees
138 Degrees in Henderson is sending out (not your bubbie's) matzo ball soup with heirloom carrots and duck cracklings, potato latkes with Granny Smith fermented applesauce and cultured sour cream, brisket (from Perigo farms of eastern Nevada) with wood-grilled vegetables, and an egg noodle kugel (dark chocolate, roasted zucchini, Oaxaca cheese) that nicely riffs on the standard version. Fried doughnuts, wild berry preserves and spiced caramel drizzle mingle for dessert.
Dinner for four to six (dining in or takeout) is $199. Reserve the meal package: info@138restaurant.com or 702-272-0839. Dining reservations: 138restaurant.com or 702-272-0839. Served Dec. 18 and Dec. 20-24.
One Steakhouse
One Steakhouse in Virgin Hotels Las Vegas is featuring Long Island duck breast with crisp potato rösti, butternut squash purée and bourbon cherries for $45.
Reservations: virginhotelslv.com/dine-and-drink/one-steakhouse. Served Dec. 18-26.
Pinkbox Doughnuts
Pinkbox Doughnuts is selling decorated doughnuts at its stores and online. The white-frosted Star of David is topped with blue sprinkles. Hanukkah Jellies are dusted with confectioners' sugar and filled with housemade raspberry jelly. Hanukkah Rings are white-frosted vanilla cake doughnuts topped with Hanukkah sprinkles. The same sprinkles garnish Hanukkah Pee Weez, a glazed vanilla cake version.
Cost: $3-6. Menu: pinkboxdoughnuts.com/best-doughnuts-in-las-vegas. Served through Dec. 26.
Siegel's Bagelmania
Siegel's Bagelmania is offering options for takeout. The per-person menu offers a choice of sliced brisket with gravy or a half roast chicken, plus challah rolls, matzo ball soup, potato latkes, green beans and desserts, for $29.95. The Hanukkah Feast menu for eight to 10 offers a choice of sliced brisket with gravy or a half roast chicken, plus challah rolls, matzo ball soup, potato latkes, green beans and desserts, for $289.95
Bagelmania also is offering almost two dozen à la carte dishes for takeout, ranging from brisket by the pound to sides and sauces, from rolls and other breads to sufganiyot and other sweets.
Pick up orders from 6 a.m. to 3:30 p.m. Dec. 18-26. Order at bagelmanialv.com/hanukkah.
Siegel's 1941
Siegel's 1941 in the El Cortez is showcasing a three-course menu that begins with a choice of matzo ball soup, tossed green salad or chopped chicken livers. The menu continues with a choice of beef brisket or roasted apricot chicken, both backed by potato latkes, kasha bowties and steamed broccoli. Sweet raisin kugel or ice cream completes the meal.
Cost: $28.95. Reservations: elcortezhotelcasino.com/dining/siegels-1941. Served Dec. 18-26.
Contact Johnathan L. Wright at jwright@reviewjournal.com. Follow @ItsJLW on Twitter.