Mandarin Bar in Las Vegas has a cocktail just for your sign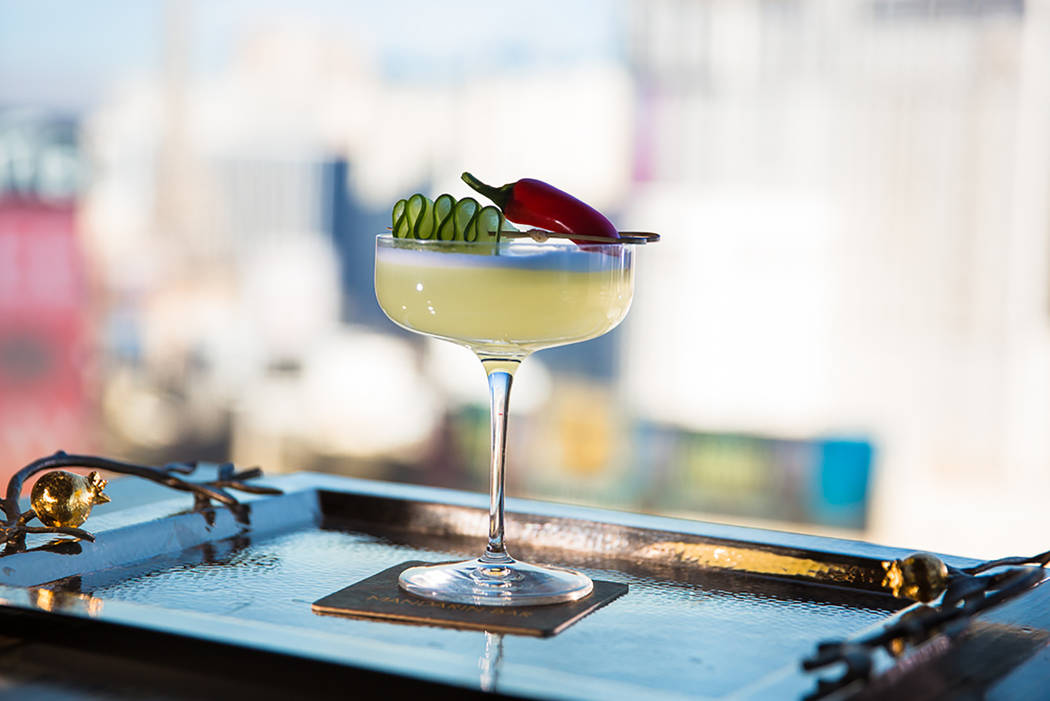 Mandarin Oriental's Mandarin Bar recently introduced a menu of 12 zodiac-themed cocktails. The El Conquistador's bold, aggressive flavor is meant to reflect an Aries' upbeat, brave and ready-for-anything character. Guests can enjoy a complimentary cocktail on their birthday, or at any time during the dates of their Zodiac sign.
Ingredients
■ 2 ounces Azunia Tequila Blanco
■ 2 dashes Scrappy's Firewater Bitters
■ 1 ounce lime juice (freshly squeezed)
■ ½ ounce Cocktail & Sons Honeysuckle and Peppercorn Syrup
■ ½ ounce cucumber juice (freshly extracted)
■ 6 mint leaves
Garnish
■ Cucumber twist
■ Half of a serrano chili
Directions
Combine the ingredients in a shaker and shake with ice for eight seconds. Double strain into coupe glass. Garnish with cucumber twist and chili.
See the descriptions for Mandarin Bar's 12 Zodiac cocktails below.
Aquarius (January 20 – February 18)
An Aquarius is known for being unique and individual. The unique Negroni Bianco uses gin, italicus, luxardo, biter bianco, dry vermouth, grapefruit and castelvtrano olive as a representation of this quirky sign.
Pisces (February 19 – March 20)
A Pisces is represented with the Palenque Old Fashioned. Playing into the sign's imaginative and creative features, this cocktail creatively combines extra anejo tequila, grilled pineapple, chili-infused mezcal, and mole bitters while being served impressively over an ice sphere and garnished with a grapefruit twist.
Aries (March 21 – April 19)
An El Conquistador fits the flavor of an Aries perfectly. With the fiery flavors of tequila, firewater bitters, fresh lime, honeysuckle and peppercorn syrup, cucumber and mint, it feeds into the fearless personality of this fire sign.
Taurus (April 20 – May 20)
Taurus signs will enjoy indulging in the tantalizing taste of a Speziato. A sweet combination of Peruvian pisco, aperol, fresh lemon juice, red bell pepper and basil makes this a passionate and provoking potion for this pleasure-seeking sign.
Gemini (May 21 – June 20)
The Curious Garden Cocktail was designed with the clever and charming Gemini signs in mind. A botanical blend of gin, fresh lime and cucumber juice, celery bitters, cynar, served with tomato powder on the rim.
Cancer (June 21 – July 22)
A sensitive, loyal loving and caring Cancer will enjoy the heart and comfort the Mandarinita El Corazon provides. A delicious combination of Tequila Reposado, fresh lime, agave, Mandarin Napoleon, and blanketed in Corazon foam.
Leo (July 23 – August 22)
Ruled by the sun and driven by fire, the expressive Leo will roar for their cocktail, Under the Oaxacan Sun. A bright blend of hibiscus-infused Mezcal, fresh lime, agave nectar, Ancho Reyes, sal de gusano and basil.
Virgo (August 23 – September 22)
Virgos are known to be uplifting, hardworking, and supportive. The impressive heights the Red Rock cocktail reaches feed right into the characteristics of a Virgo. A combination of Sotol, grilled pineapple and chili-infused Mezcal, aloe liquor, prickly pear, fresh lime and rosemary.
Libra (September 23 – October 22)
The most social of all the signs, Libras, love partnership and believe in equally in focusing on themselves while keeping in mind the needs of others. The Pearbellini is a balanced cocktail in perfect partnership with pear-infused vodka, elderflower liqueur, fresh lime, gingerbread rooibos syrup and champagne.
Scorpio (October 23 – November 21)
A deep, spicy, passionate, and mysterious sign, Scorpio is focused on transformation and bringing the hidden into light. The Spiced Penicillin stirs up the senses, bringing together in-house spiced Rum, fresh lemon and ginger juice, bourbon barrel-smoked-demerara and a touch of apple spice syrup.
Sagittarius (November 22 – December 21)
A Sagittarius is adventurous and optimistic. With this in mind, the Rubino was designed to evoke positivity with pomegranate juice, peach-infused Grand Marnier, apple bitters, champagne, cranberry and rosemary.
Capricorn (December 22 – January 19)
Slow and steady, cool and calculating, hard-working and successful are the key words of a Capricorn. Their appreciation of the classics makes the Barrel Old Fashioned the perfect cocktail for them. Whistle Pig 10-year Rye, mesquite-smoked maple syrup and homemade cherry bitters served over an ice cube with an orange twist.