Manzo at Eataly in Las Vegas to open Wednesday
Updated February 8, 2019 - 4:47 pm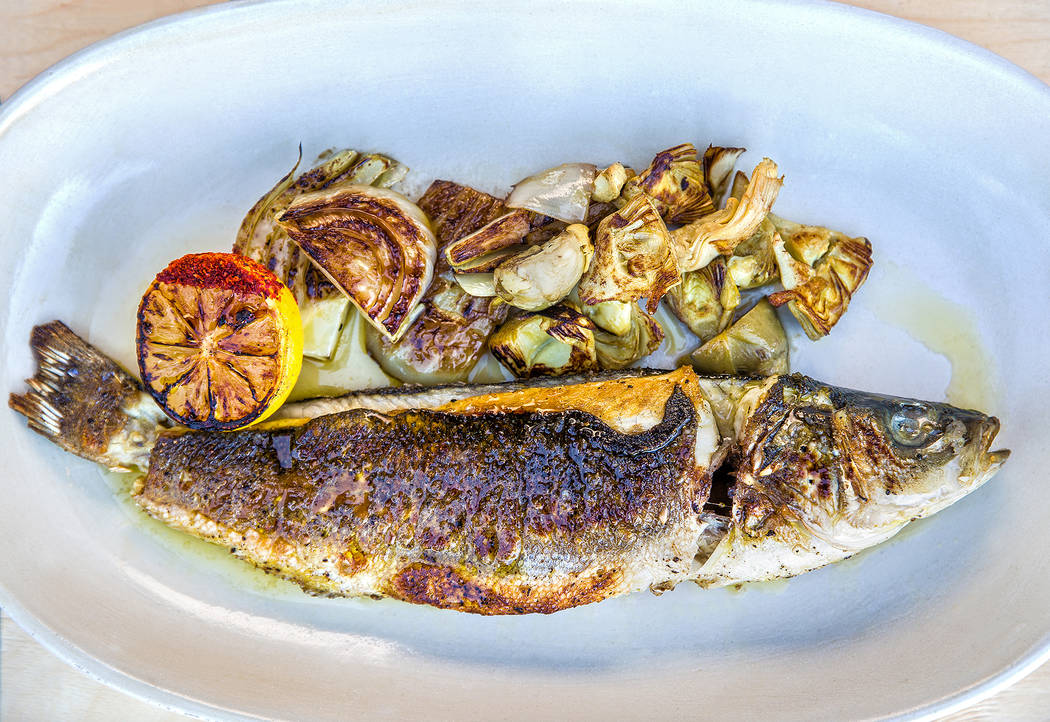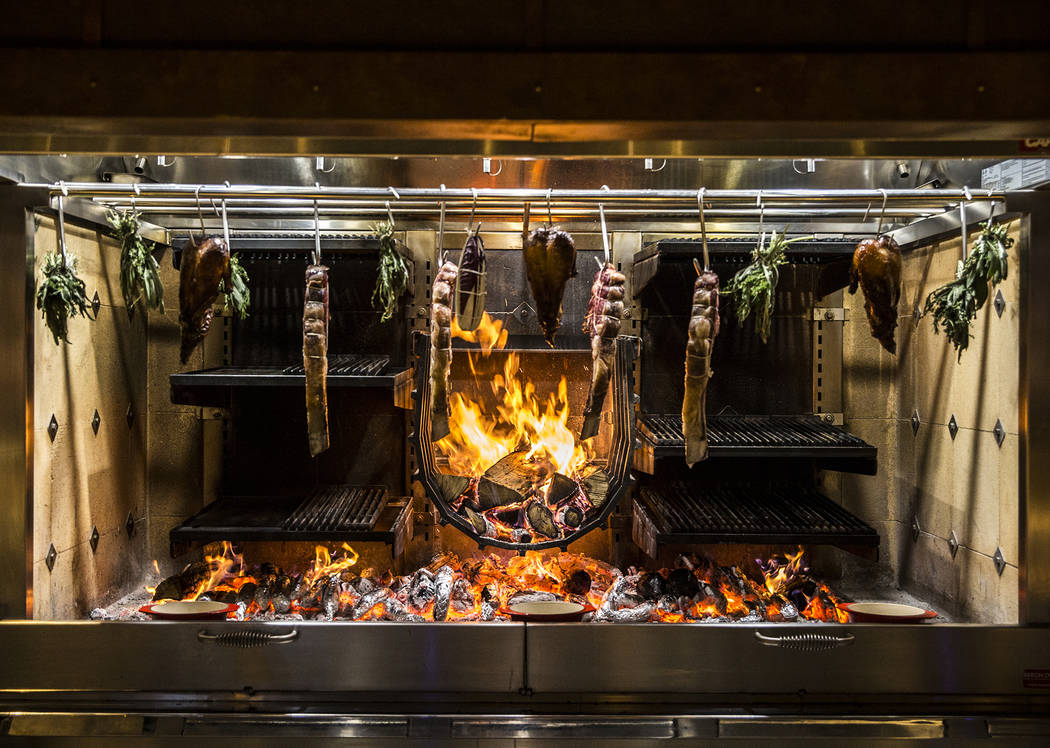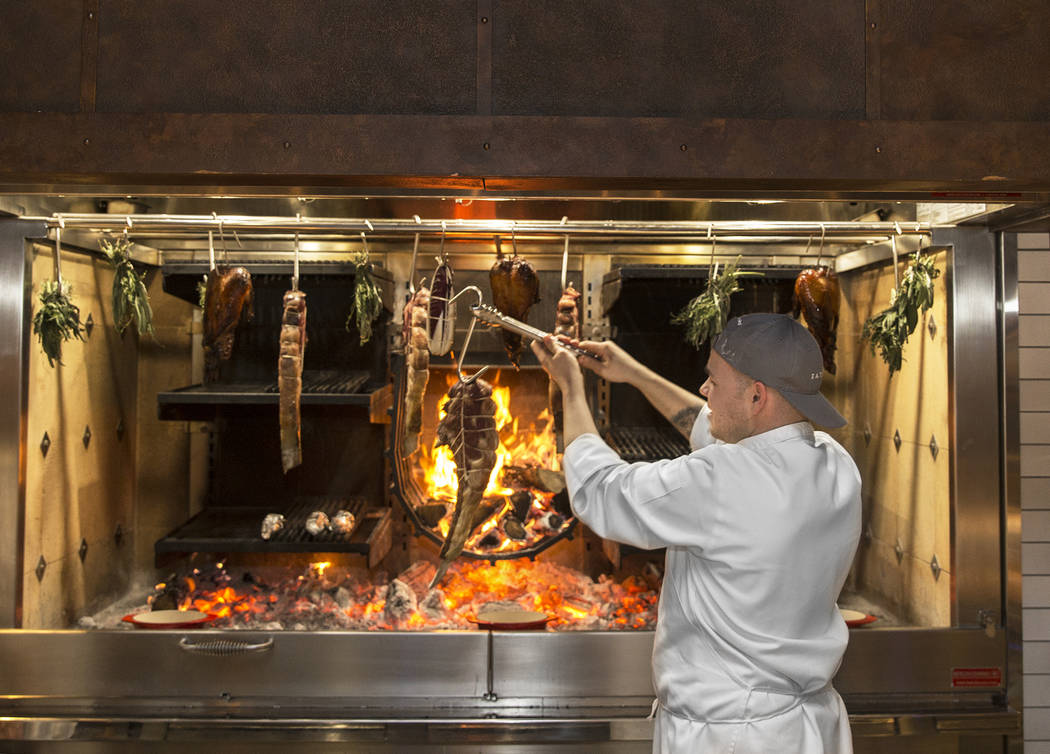 The jewel in the crown will finally be shown to the public Wednesday.
Manzo, the intimate, 70-seat restaurant that completes the sometimes raucous Eataly complex anchoring the reimagined Park MGM on the Strip, is at least outwardly a stunning contrast to its 40,000-square-foot parent, a serene spot amid the hubbub.
That they share an Italian soul is undeniable. The restaurant's name — "manzo" means "beef" in Italian — celebrates the butcher as an integral part of the culture's culinary heritage. Its centerpiece is an open hearth with fire fueled by applewood and white oak.
"It imparts flavors to our hanging ribeyes, which are going to be our signature dish," executive chef Nicole Brisson said of the effect of the fire on the 40-ounce cuts suspended above it for about 45 minutes before being seared and served. Manzo guests may also see ducks, tomatoes or other vegetables or herbs hanging there.
Brisson said Manzo's fare was conceived with the flames in mind.
"One component of every dish on the menu has some kind of grilled item in it," she said.
Manzo is one of two spots in Eataly that offer table service. The other, La Pizza e La Pasta, serves Neapolitan-style pies made in one of its towering golden conical ovens. The restaurant's pasta comes from La Pasta Fresca Market &Kitchen, where fresh pasta is prepared and sold.
The pasta shop is, in turn, one component of Eataly's Cucina del Mercato, where guests can stop at one or more of the counters for foods to be eaten at the market's tables, or for takeout. The nearby La Pizzeria offers Roman-style pizza alla pala, which has a thicker crust than its Neapolitan counterpart and is cooked more slowly, creating lots of crispy air pockets in the crust.
At La Pescheria and La Macelleria, marketgoers can select fresh fish or meat, respectively, cut to order. They can have it cooked to eat it on the premises or as takeout, or purchase it raw for preparation at home.
La Salumeria offers 100 varieties of cured meats and 200 cheeses, and La Rosticceria is a stop for prime-rib panini, rotisserie-cooked chickens, the fresh mozzarella made on the premises and side dishes. The adjacent Il Fritto specializes in Italian street food. Enoteca is a stop for wine, and Grand Caffe Milano gives the complex life 24/7, serving breakfast, lunch and dinner with coffees, other beverages and grab-and-go foods from noon to 7 a.m. daily.
On a lower tier are still more culinary delights. Along a curving wall of glass that fronts on Las Vegas Boulevard are mini-storefronts offering gelato, Nutella-enhanced treats and cannoli filled to order. There is a pastry shop and Lavazza coffee shop, plus a bakery with numerous types of breads (many served in the various food outlets) and pizza alla pala, served by the slice. The expansive wine store hosts tastings, and there's a gift shop and market, as well as a roving ambassador who advises on all things Italian.
And in the middle of it all, at the top of the steps that separate the two levels, is the L'Apertivo bar with cocktails, wine and beer, and Eataly's beating heart, the Chef's Table, offering classes, events and tastings.
For more information, visit eataly.com.
Contact Heidi Knapp Rinella at Hrinella@reviewjournal.com or 702-383-0474. Follow @HKRinella on Twitter.