Master pizza makers compete at expo in Las Vegas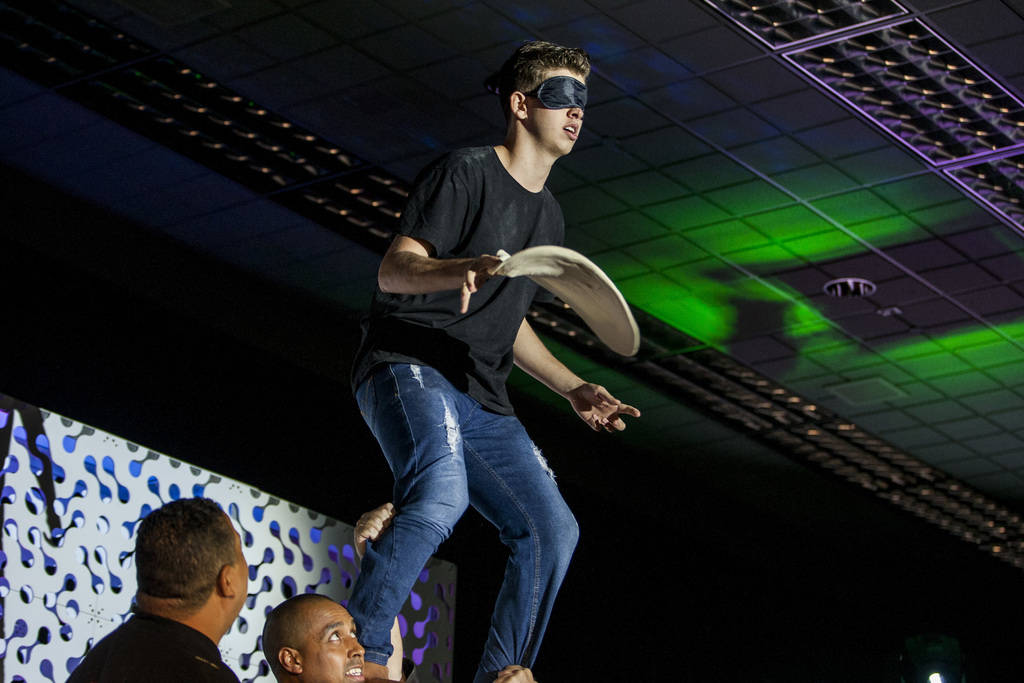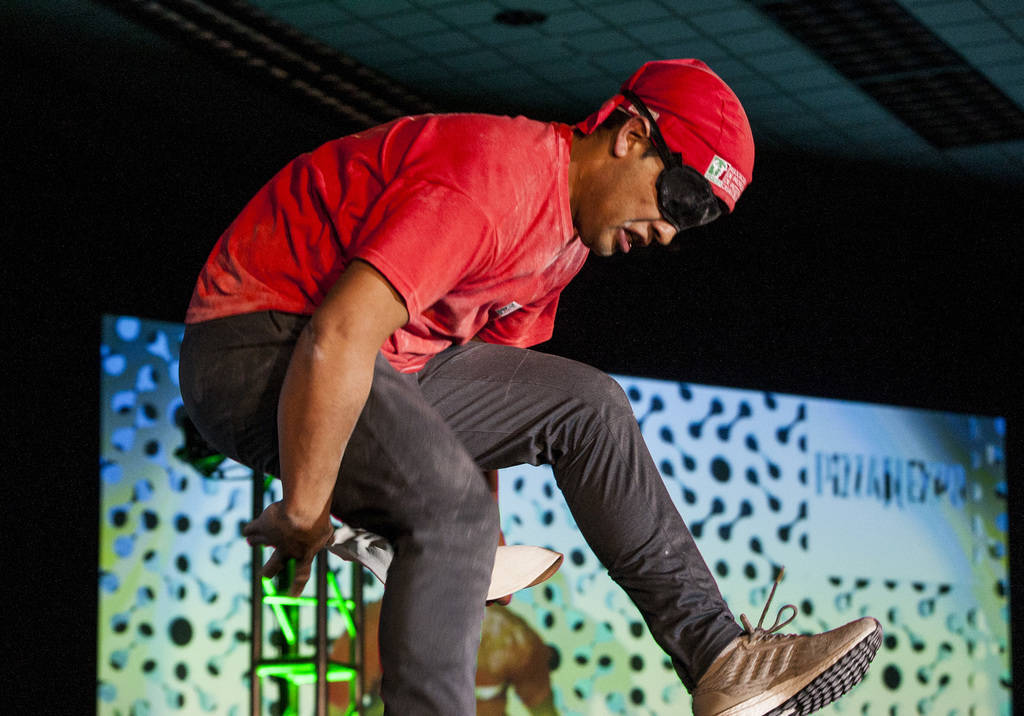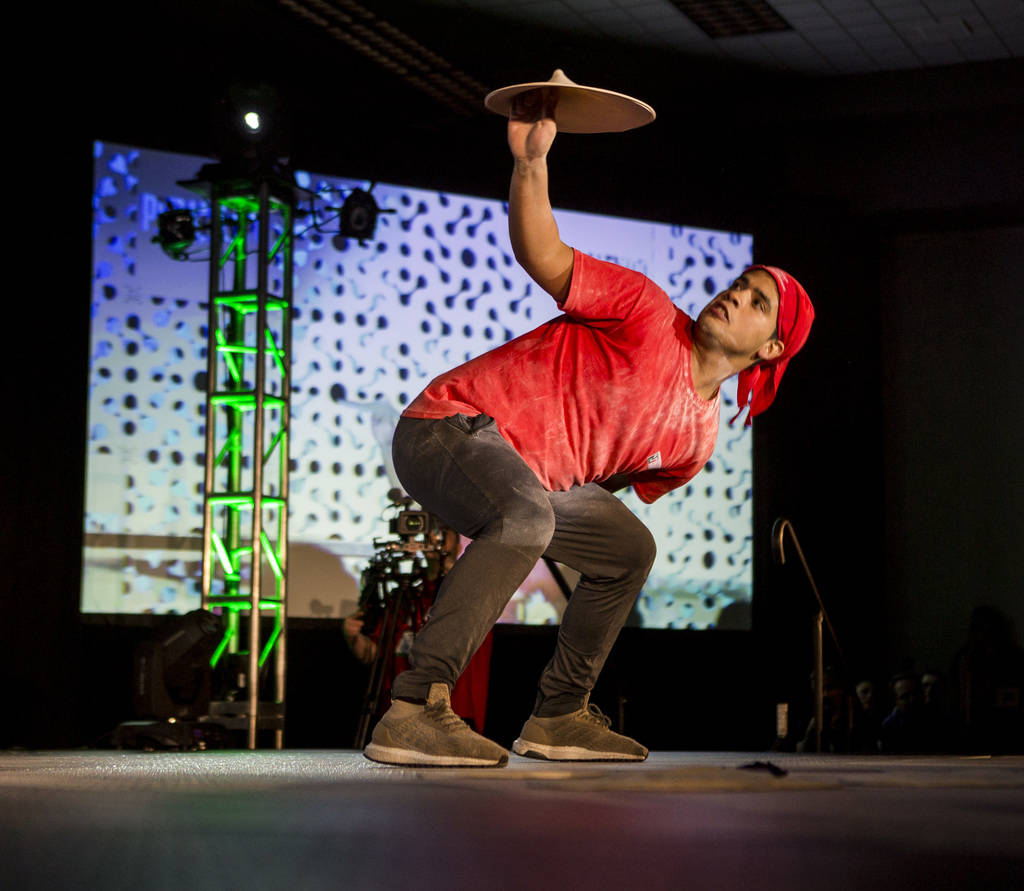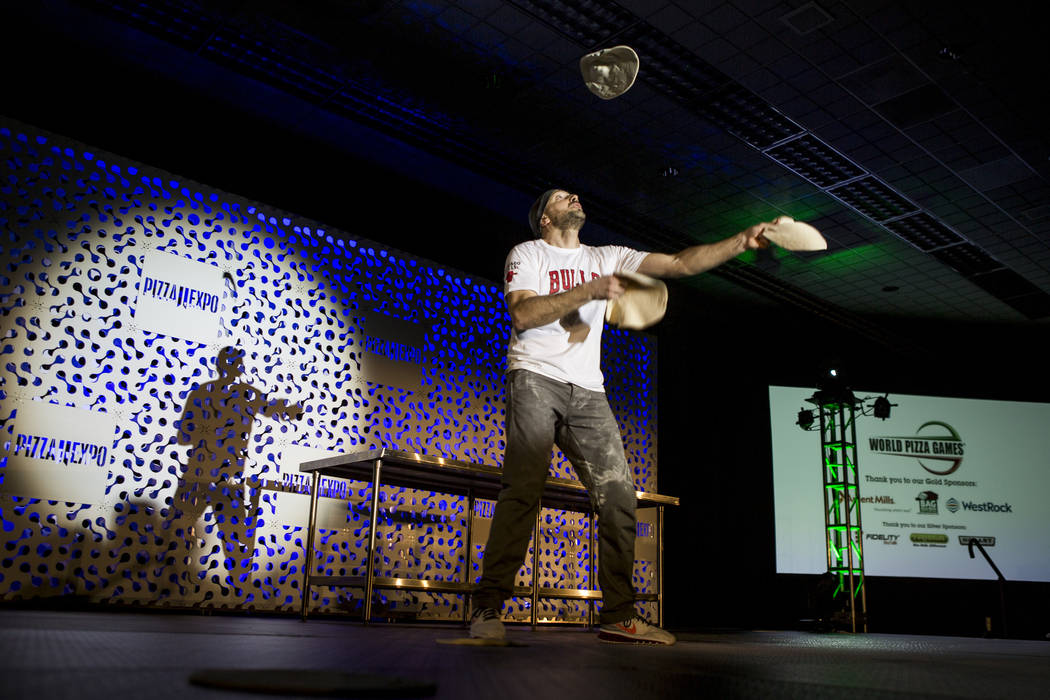 For his entry in the International Pizza Expo's Freestyle Acrobatic Dough Tossing competition, William Gazal Jr. of Brazil tossed rounds of pizza to a recording of Pharrell Williams' "Happy" while working in a few break-dancing moves, then stood on the shoulders of two members of his team, donned a blindfold and tossed some more.
And he finished last.
Gazal, 18, was the first competitor in the novice division of the dough-tossing contest, the centerpiece of the Block Party Wednesday night that was the expo's culminating social event. Other World Pizza Games events during the expo, held last week at the Las Vegas Convention Center, included fastest dough stretching, largest dough stretching, fastest pizza-box folding and a triathlon of all three.
If it seems a wacky way to recognize the skills of some of the country's premiere pizzamakers — as well as a number of the stars of the future — 12-time World Pizza Champion Tony Gemignani (who has 19 restaurants, including Pizza Rock downtown and Little Tony's at Palace Station), who revived the Las Vegas games in 2005, said they serve a definite purpose.
"There are competitions in practically everything we do in pizza," he said. "You always want to showcase your talents; so where better than at the world's largest pizza show?" Gemignani said camaraderie builds among the teams. In Italy, where there are two similar competitions, he said hometowns form teams to compete.
The Pizza Games are serious business, with 21 stated rules in the novice or "first" division of acrobatic dough tossing, 20 in the masters division.
"Over the years, the rules have gotten a lot better and cleaner," Gemignani said. "The dough they use is much more consistent. Now I feel competitors have an equal advantage, where back in the day it wasn't always like that."
The panel of judges evaluated the competitors in five categories: dexterity, difficulty level, synchronization ("How well does the speed of the music match the speed of the competitor's throwing?"), variety of tricks and creativity/entertainment value. The dough had to be continuously spun, with "seamless" transitions between tricks. Competitors would be penalized each time they dropped the dough.
They also had to work their own dough. Balls were provided, which they had a limited amount of time to roll and stretch into discs.
Glenn Cybulski, whose awards include being named World Pizza Champion in Naples, Italy, and who acted as master of ceremonies for the competitions, stressed that a great deal of preparation and up to a year of practice go into the routines.
"We've got these young kids building dreams from all over the world," Cybulski said.
Jerome Falco of France, who followed Gazal, juggled three dough rounds at once. But the division was won by Ezequiel Ortigoza of Argentina, who demonstrated an energy on stage that would rival Bruce Springsteen. He used flour as an artistic element, sprinkling it and spinning it off the dough rounds, and he added colored lights, spinning them for a disco effect when the house lights were lowered. As his finale, he tossed an exceptionally large lump of dough into a round about four feet in diameter and then let it fall and drape around him like a cape.
Ortigoza's performance earned him the first spot in the masters division, where his routine included making it "snow" with flour flying off a large dough round. His competitors included Takumi Tachikawa of Japan and Jamie C. Culliton, named 2016 dough acrobatics world champion at the competition in Parma, Italy, who competed in a shirt and tie and spun dough while performing moves including planking and pushups.
Many of the competitors flung dough into the audience, where observers could be seen working on their own skills. By the end of the masters event, while the judges' votes were tallied, people throughout the ballroom were tossing and spinning dough while Toto's "Africa" roared from the DJ's speakers. Add some sauce and cheese and there would have been enough pizza in the room to feed a small developing country.
In the end, the top three winners were separated by just one point. Second and third went to Culliton and Tachikawa; in the top spot was repeat winner Scott Volpe, whose over-the-top acrobatic routine included some old-school break dancing and one spot with his T-shirt pulled over his head. His plaque was delivered to the stage in a pizza box.
The International Pizza Expo, billed as the largest pizza industry show in the world (and which is not open to the public), is in its 34th year and this year had more than 500 exhibitors and more than 1,400 booths with wares that included flour, cheese, tomatoes, meats, vegetables, boxes, serving equipment, furniture, signs, etc. The expo included seminars and workshops on topics related to the management and other business aspects of the pizza industry.
Contact Heidi Knapp Rinella at Hrinella@reviewjournal.com or 702-383-0474. Follow @HKRinella on Twitter.