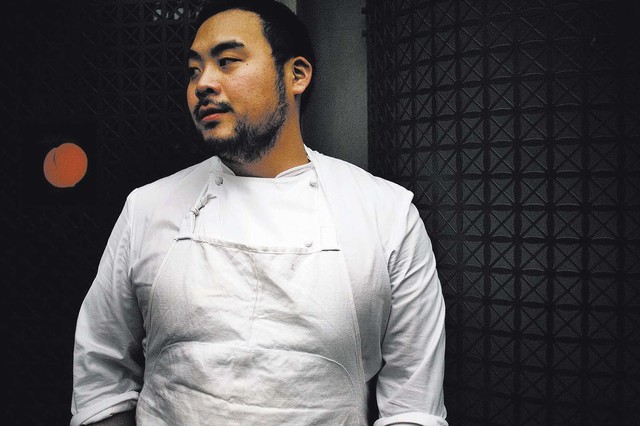 David Chang threw a party at The Cosmopolitan of Las Vegas Thursday to celebrate the grand opening of Momofuku. Before the festivities, the chef revealed he's a frequent Las Vegas visitor and loves to dine off-Strip at places such as Chada Thai, Flock 'N' Fowl, Raku (when he can get in), Lotus of Siam and his absolute favorite, The Oyster Bar at Palace Station. He also revealed that even if Momofuku hadn't opened, he would almost certainly have been in town with friends for the Super Bowl.
"It's been a tradition for 20 years now," he said. "But now I'm working. … I don't know how I feel about that."
Christina Tosi, who runs the adjacent Milk Bar, was at the party offering her famed cookies and cake truffles. She chatted about the new season of "MasterChef Junior," which premieres Thursday on Fox. The chef revealed that she and co-host Gordon Ramsay will be joined by a rotating cast of guest judges that include Michelle Obama, Julie Bowen of "Modern Family" and the Muppets. She also hinted the young contestants might offer up some surprises.
"The trajectory of their growth, of what they really grasp, happens very quickly," Tosi said. "The home cooks that make it to the top may not be the ones that come out of the gates as strong at the beginning."
News from former Border Grill chef Mike Minor: He's severed his ties with Bandito in the Hughes Center. His former partner, Kent Harman, is promising the restaurant will open as planned in late April or early May. Minor, in the meantime, promises another local project will be announced shortly, adding "Mike Minor's not going anywhere. I'm still going to be the best chef I can be, and I've got something to prove."
No date for Valentine's Day? Other Mama is offering a meal especially for you. Chef Dan Krohmer will prepare a seven-course anti-Valentine's Day tasting menu for one, available only at the counter, with each course themed for one of his ex-girlfriends. The $75 price includes one free hug.
— Al Mancini and Heidi Knapp Rinella
Have an item for Kitchen Confidante? Email hrinella@reviewjournal.com.