Veteran Strip chef Gina Marinelli to open Summerlin restaurant
Updated April 17, 2018 - 8:31 pm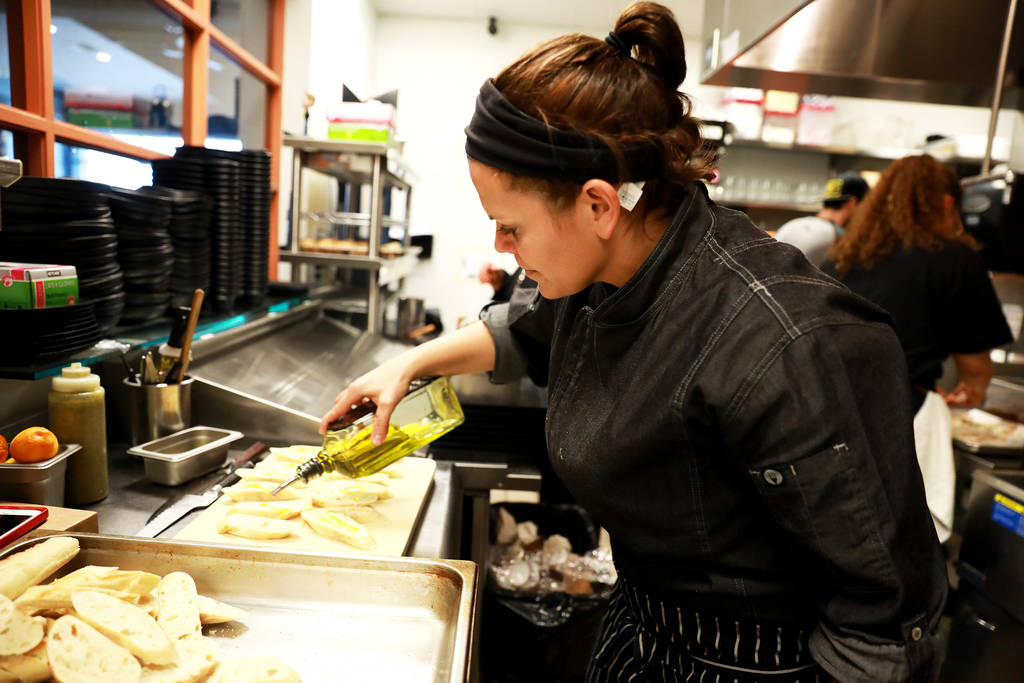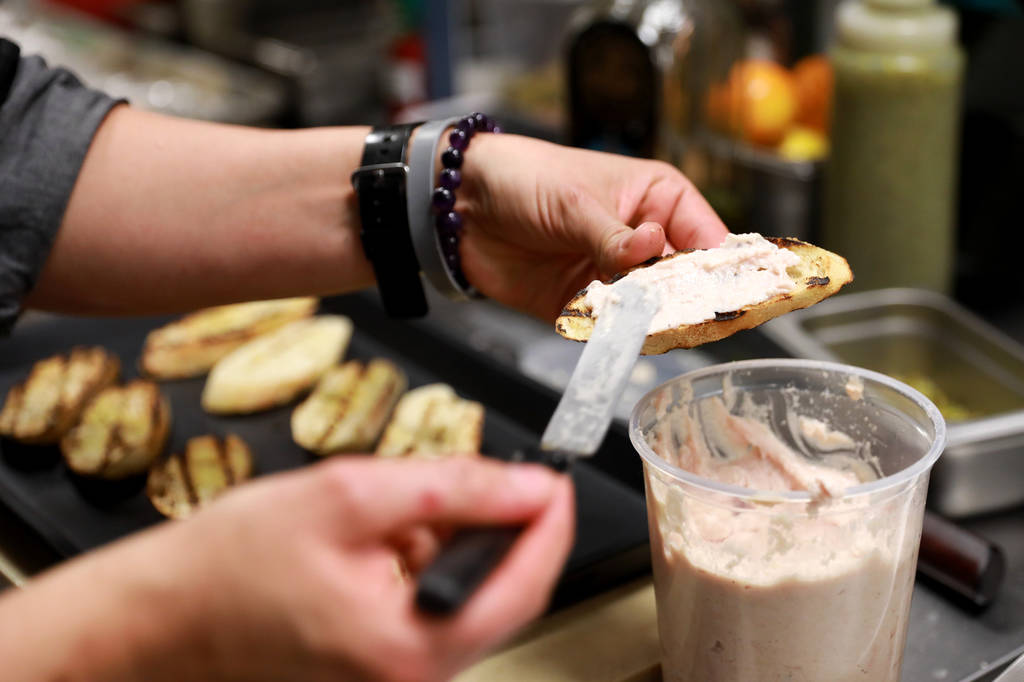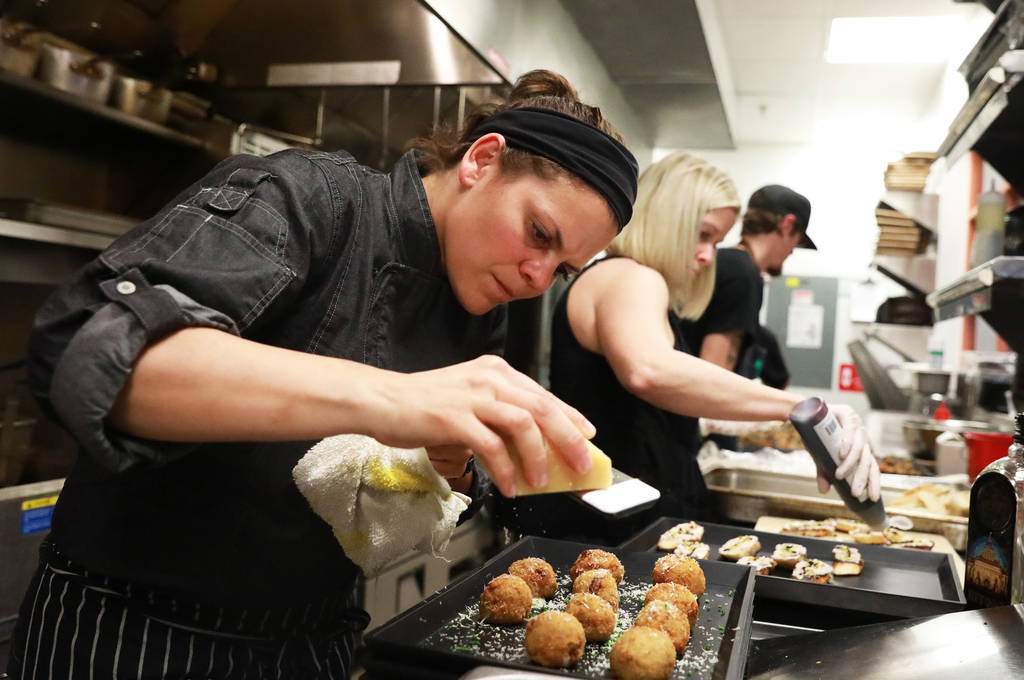 A downtown pop-up dinner this month was both a collaboration between two local chefs and a return to the spotlight for one of them — Gina Marinelli.
About 50 people attended the recent dinner, "One Night, Two Chefs, Three Courses, Fo(u)r a Good Cause," which paired Marinelli with Justin Kingsley Hall, executive chef at The Kitchen at Atomic and was a fundraiser for the nonprofit Urban Seed Foundation.
Pop-up dinners such as this, where guest chefs cook in someone else's kitchen, have become common in Las Vegas' close-knit culinary community. An appearance by Marinelli, however, has been anything but commonplace for the better part of a year, since the closure of D.O.C.G. at The Cosmopolitan of Las Vegas last summer.
"I miss Gina's food, because it's just good," says Grace Shark Park, as she prepares to enjoy her meal at the restaurant's bar. "It doesn't have that Vegas flash, it just tastes good. (And) it doesn't matter whether you know about food or not."
Park and the rest of Marinelli's fans will soon be able to enjoy her cooking more regularly. The Atomic event and her appearance at UNLVino over the weekend were warm-ups for her next restaurant, which is expected to open in Summerlin this summer.
'My menu'
Marinelli, 36, moved to Las Vegas in 2006 after graduating from culinary school in Florida. She logged time in the kitchens of Michael Mina's former restaurants Nobhill Tavern and American Fish as well as Shawn McClain's Sage before joining Scott Conant's team at D.O.C.G. There, she worked her way from sous chef to executive chef, making her one of the few women to run a kitchen in a Strip casino restaurant.
After that restaurant closed, Marinelli made her third trip to Italy, for relaxation and inspiration. Returning to Las Vegas, she briefly took the reins at Summerlin's popular Due Forni Pizza & Wine, which closed in October following a flood.
This summer, Marinelli expects to open La Strega in the space that housed Due Forni. It's a collaboration with Lev Restaurant Group, but it will be 100 percent Marinelli's vision.
"I don't have to go through anybody anymore," she says of the freedom the move off-Strip affords her. "I get to do my menu, with my food, and how I'm feeling: my story! That's exciting."
In an industry where women in leadership roles are uncommon, she's using the project to address that shortcoming.
"This is a very female-driven, restaurant," she says. "My GM is female. The woman leading the construction is female. My kitchen designer is female."
"The design of the restaurant is feminine. The place just curves, and has this softness and that feel, (with) nice colors."
That feminine energy inspired the restaurant's name: La Strega, which means "the witch" in Italian. An outdoor patio, with a planned herb wall, has been dubbed a "witch's garden."
"We always feel like all women have a little bit of witch in them," she laughs. "So we love that."
Inspired by Italy
The food will be Italian, although Marinelli stresses her interpretation of that nation's cuisine means "a lot of authentic dishes from Italy, no Italian-American."
Despite her surname, Marinelli didn't develop a true passion for Italian food until she traveled to Europe after quitting her job at American Fish and questioning her career path. She says the two weeks she spent in Italy changed her life.
"When I saw nuns, like full-on nuns, eating pizza on the street, it was just this beautiful thing that really pulled me in. The way they dined there was beautiful, there was not a care in the world."
Although her time working for Conant allowed her to further explore Italian cuisine, she says two additional trips to Italy will have an even greater influence on her menu.
"Everything on that menu is inspired by my time in Italy (and) my family, my fiancee — all that kind of stuff. It'll be educational, but not pretentious."
When asked about menu items, she rattles off dishes such as steak tartare bruschetta, hamachi crudo, truffle gnocchi and various salads, all of which are based, at least in part, on something she discovered during her journeys. She also plans to feature an old family polenta recipe, along with pizzas she describes as "neo-Neapolitan, where it does have that Neapolitan feel, but the crust will have a little more structure."
Back at the bar at Atomic, Park can't wait to try La Strega. Asked if she'll visit the new place, she smiles and answers slowly, for emphasis, "Every, single, day!" With enthusiasm like that, Marinelli seems to be off to a good start.
Contact Al Mancini at amancini @reviewjournal.com. Follow @AlManciniVegas on Twitter.