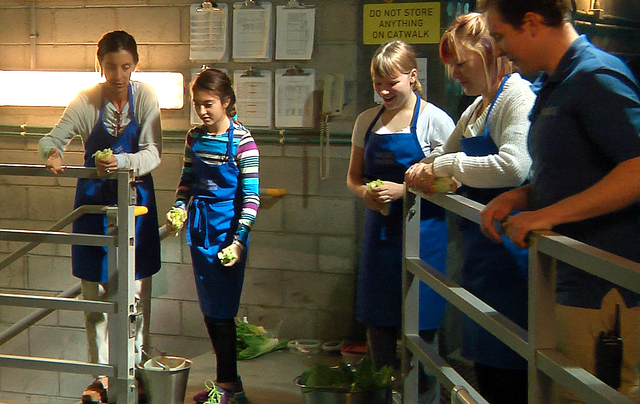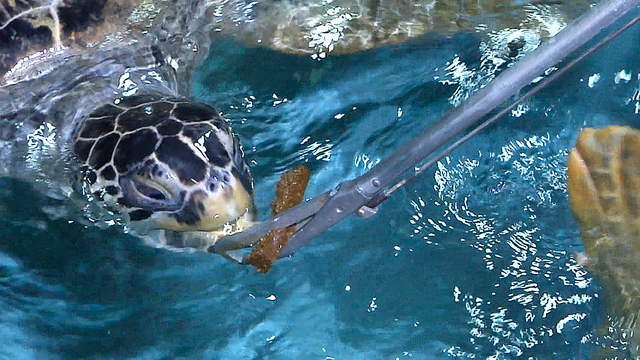 If all of those overbaked documentaries on television are anything to believe, a real shark feeding isn't something anybody would want to be anywhere near.
But as long as the entree is something other than the watcher, a shark feeding is an interesting thing to see. It's even better to participate in, and that's what makes the Animal Encounters program at Shark Reef Aquarium at Mandalay Bay so cool.
The program lets guests join staff aquarists in feeding Shark Reef's sharks, sea turtles and stingrays. And who would guess that sharks turn out to be more polite diners than many of the people you'll find at a typical Las Vegas buffet?
Adrienne Rowland, Shark Reef's director, said the Animal Encounters program was created in fall 2013 to give guests a memorable visit and to extend the aquarium's educational mission.
Previously, only a limited number of guests were invited to help aquarists feed Shark Reef's aquatic residents, and "the only way you really could do it was to be an employee," Rowland says.
But, she continues, it was so much fun for staff members to watch employees and their friends and family members feed the sharks, "it was, like, 'Why are we not sharing this experience with more people?' "
Creating a program for the general public also seemed appropriate.
"Our job is not only to create a great experience at Shark Reef, but to get people closer to the animals so they will have a better understanding of them," Rowland says. "And nothing will help you better understand a shark and its biology and its feeding behavior than actually seeing it."
Although there are public shark-feeding programs at a few other U.S. aquariums, Rowland says sea turtle feeding programs take place at only one or two other facilities around the country.
"And people love it," she says. "Nothing could be cooler than to say, 'I fed a shark,' right? But people love the sea turtles. They're charismatic animals that people are drawn to anyway."
Being able to feed animals fosters an intimacy that merely watching an animal may not.
"Getting to feed animals, something really touches people, whether it's a shark or a turtle or a giraffe," Rowland says. "We love for people to have that close-up experience, but also to have that one-on-one conversation not only about the animal and their biology or feeding behavior and, even, challenges they might have out in the wild and things like that."
A common observation among shark-feeding guests is "how calm" feeding sharks actually are, Rowland says, even if different species do tend to display different feeding behaviors.
The zebra sharks Shark Reef guests feed are fairly calm while, with a Galapagos or sandbar shark, "you'll see a little bit of fins flying and that type of thing," Rowland says. "So you see those differences in behavior, and that also plays back into why their body is shaped the way it is and why their teeth structure is the way it is. So it's a whole biology lesson on top of, 'I got to do something cool' like feed a zebra shark."
Rays are fed in Shark Reef's touch pool. Shark and green sea turtle feedings are done from a web of catwalks above the Shipwreck exhibit in which the sharks and turtles live. Guests first receive a tour of Shark Reef's backstage areas, including the food prep room where meals (fish for the sharks, leafy greens and veggie cakes for the sea turtles) are prepared.
Guests then don aprons bearing their title for the day — "Guest Aquarist" — and remove jewelry and other items that may fall into the tank during the feeding. They then walk to the catwalk and meet the sea turtles in an adjoining smaller tank and the sharks in the main tank below them.
Each species of animal is fed on specific days and at the same time on those days. Food is offered to the sharks and turtles in prongs situated at the end of long metal poles. Each shark and turtle is fed individually, and the day's entree and the amount of food each animal eats is tracked in a database. This targeted feeding system permits aquarists to see how each animal is reacting on any given day. A lack of appetite may mean that an animal needs a medical evaluation.
The process is exactly what would happen if no guests were there on a particular day, Rowland notes. The Animal Encounters program merely allows members of the public to assist staff aquarists to do what they — and the aquatic diners — would be doing anyway.
During the feedings, guests get the rare chance to view the animals in a close-up, personal way. Judee Depasquale and daughter Bella, 12, spent a recent afternoon feeding Shark Reef's green sea turtles. Judee says the sea turtle is Bella's favorite sea creature, and when they visited Las Vegas over the New Year's holiday, "we knew this was something we wanted to do."
What's the appeal of the green sea turtles? "I like the markings," Bella says. "They're very pretty."
Judee says she had expected that the feeding session "was going to be more staged," and was pleased to find that it wasn't.
"It's very original and it's very genuine," she says.
Members of the Martin family from Edmonton, Alberta, ran the table during their visit: Mom Jacquie and daughter Rae-Anne, 12, fed the sea turtles, while Dad Chris and daughter Arianna, 13, fed the zebra sharks from another portion of the catwalk.
"We don't live anywhere near an ocean," Jacquie says. "We've never seen a sea turtle up close. It was great."
Crystal Conn and Andrew Modzelewski of Oakland, Calif., spent that same afternoon feeding zebra sharks.
Why?
"There are just very few places where you can feed a shark," Crystal answers with a laugh, adding that boyfriend Andrew "absolutely loves sharks."
What surprised him most about the process? "It was interesting how, like, nonviolent they were," Andrew says.
Reservations are required to participate in the feeding sessions, and each session is limited to four people.
Stingray and horseshoe crab feedings take place daily at 9:15 a.m. and are open to kids ages 5 and older. Cost is $50 per adult and $40 per child.
Green sea turtle feedings take place Sunday through Friday at 12:45 p.m. and are open to people ages 13 and older. Cost is $80 per person.
Zebra shark feedings take place at 1:15 p.m. Monday, Wednesday and Friday. Cost is $80 per person.
Shark Reef Aquarium is at Mandalay Bay, 3950 Las Vegas Blvd. South. For more information, call 702-632-4555.
Contact reporter John Przybys at jprzybys@reviewjournal.com or 702-383-0280.