Angel wing sculpture rising in Las Vegas Healing Garden
Updated September 20, 2018 - 6:07 pm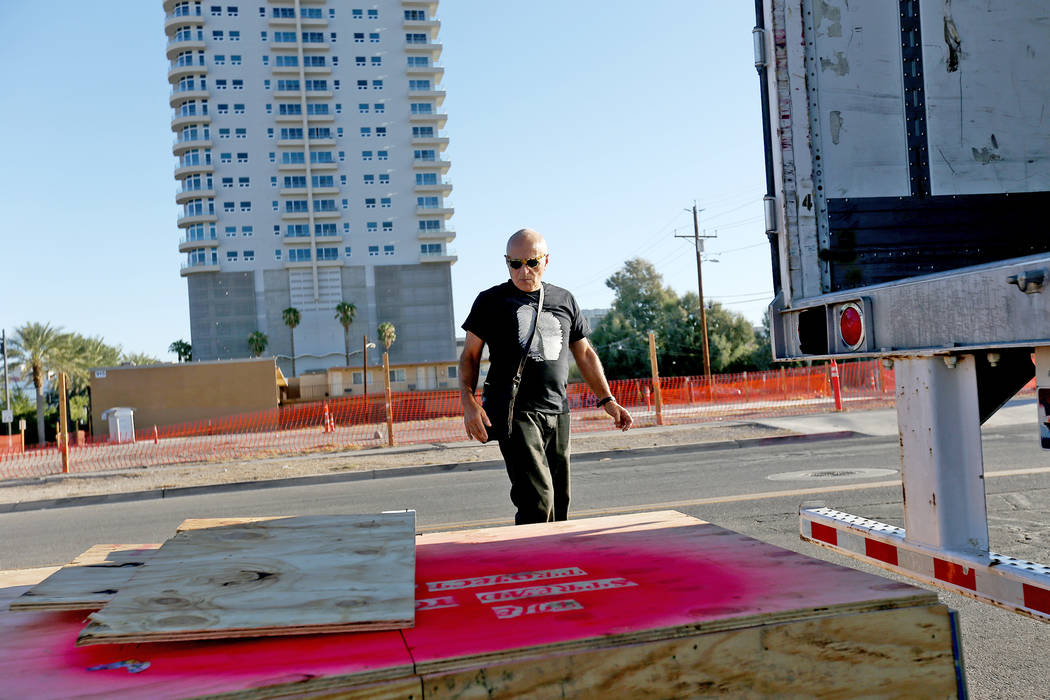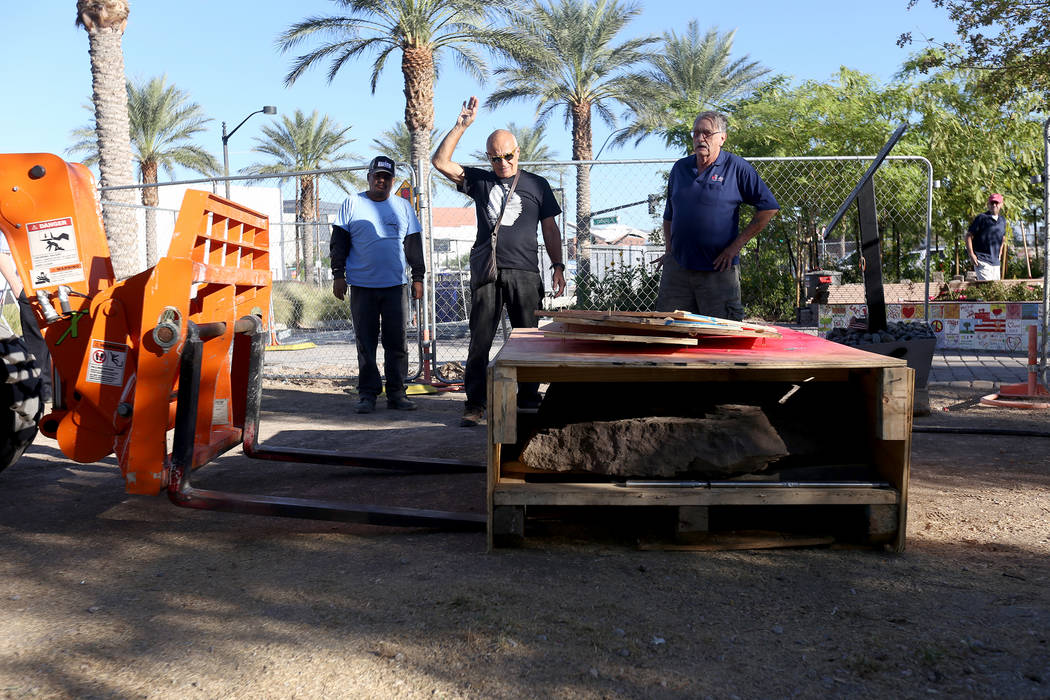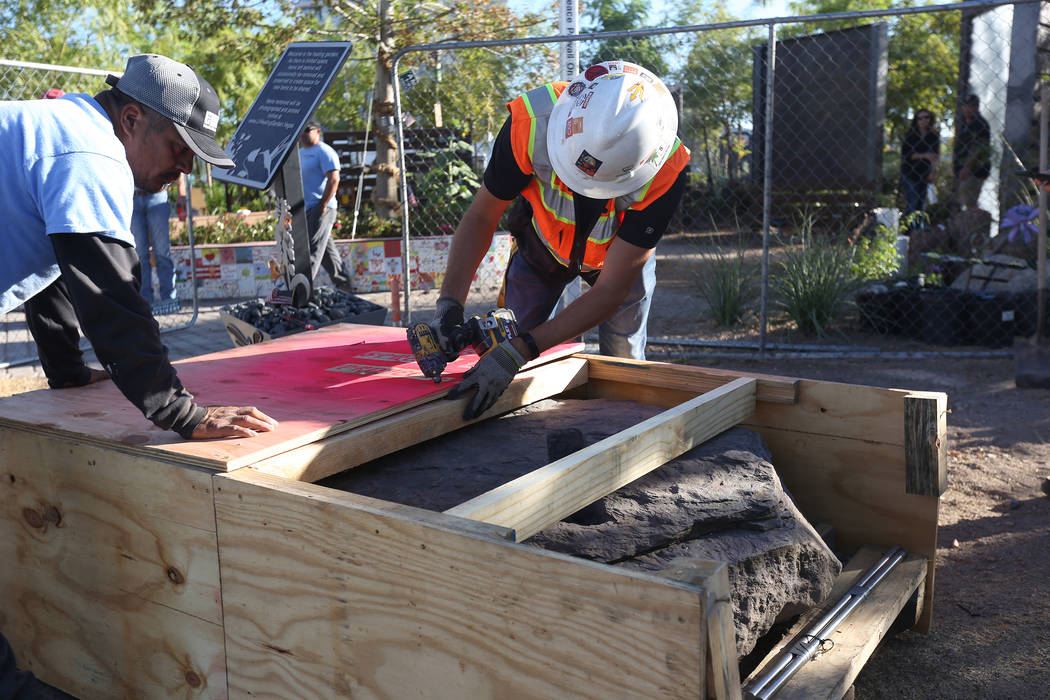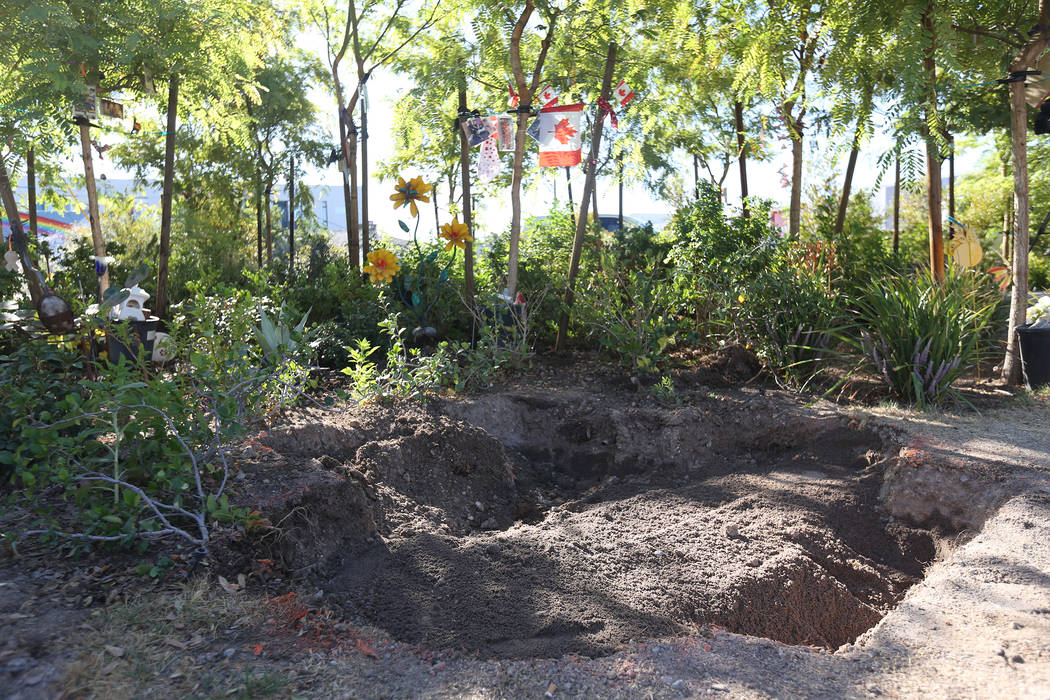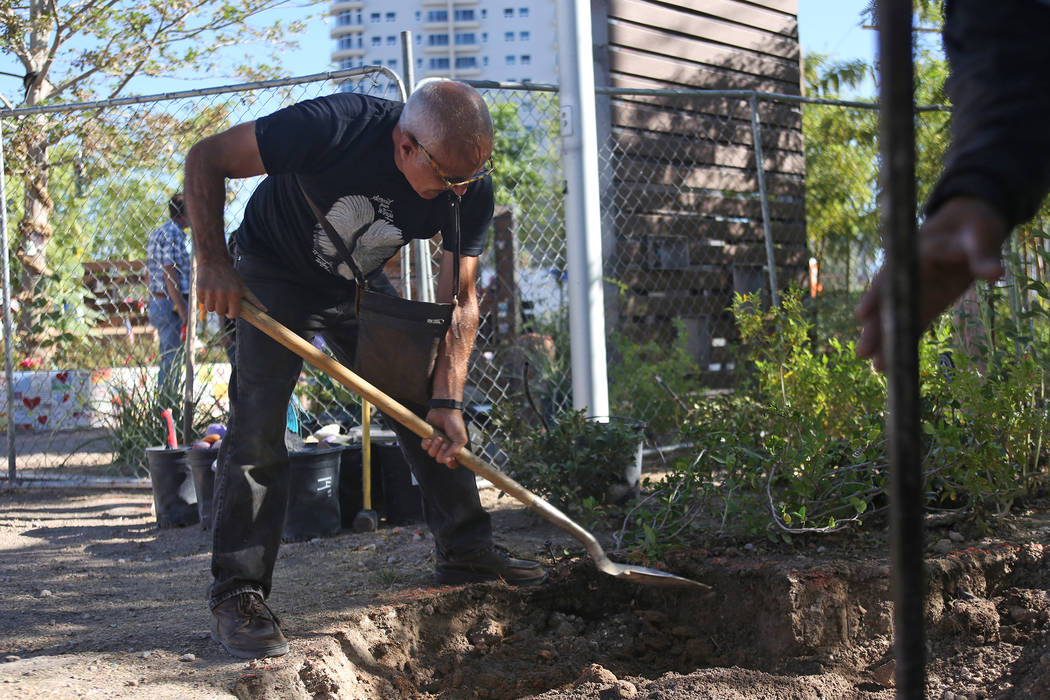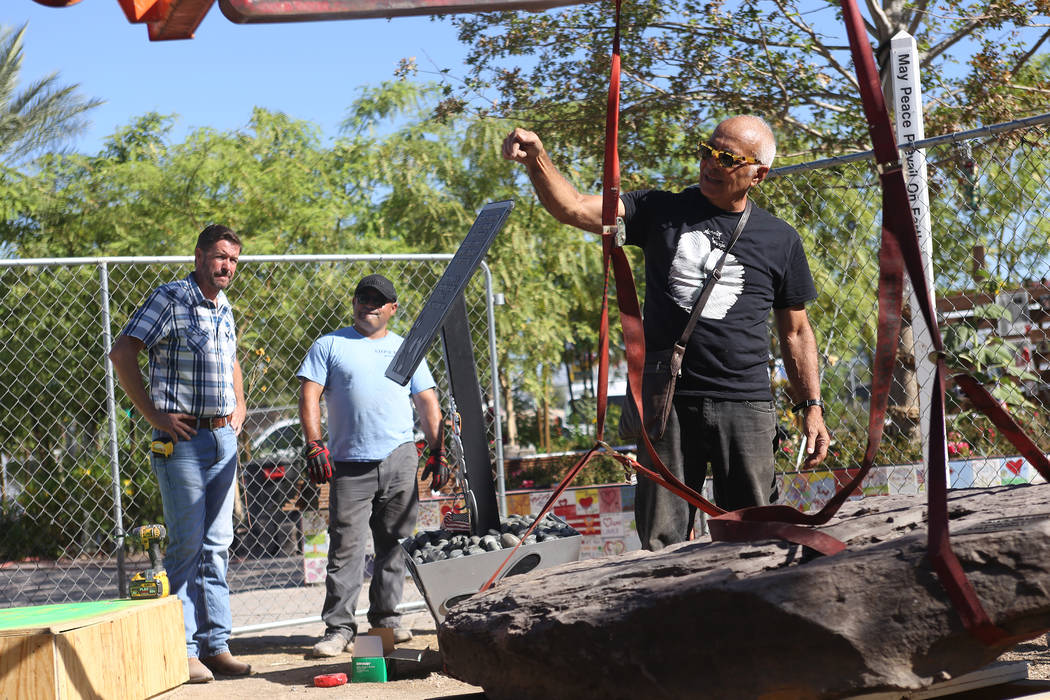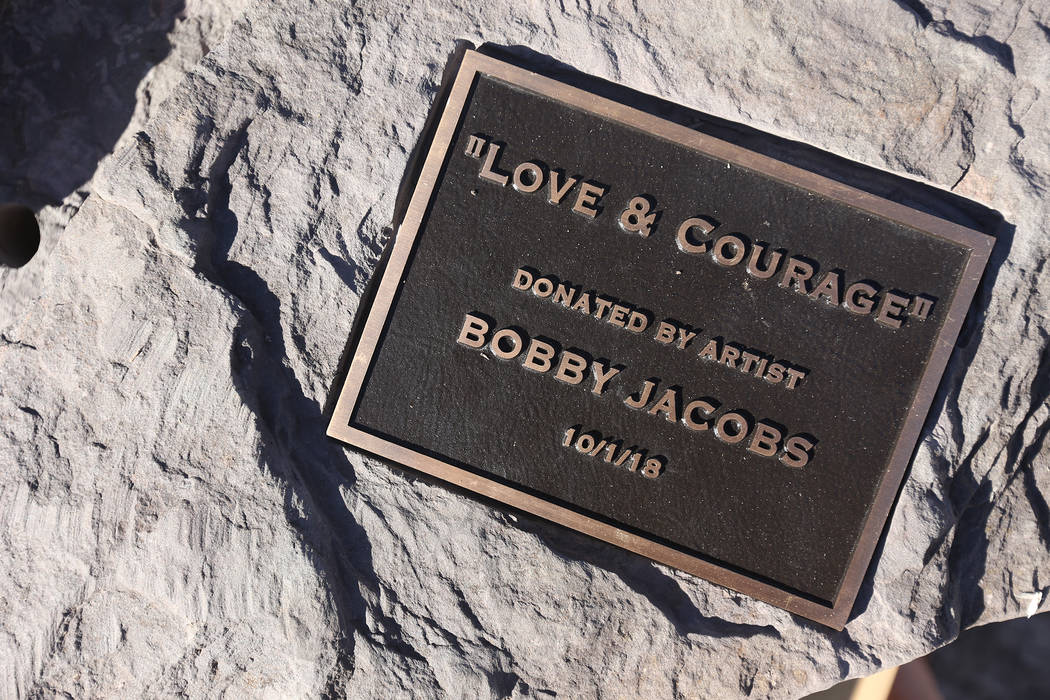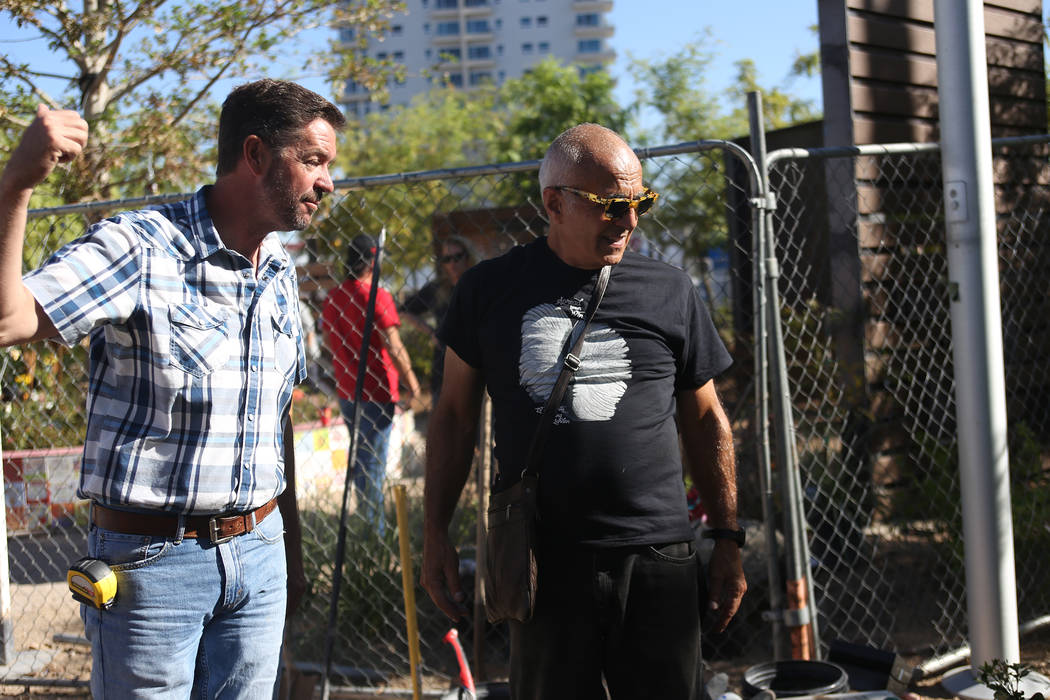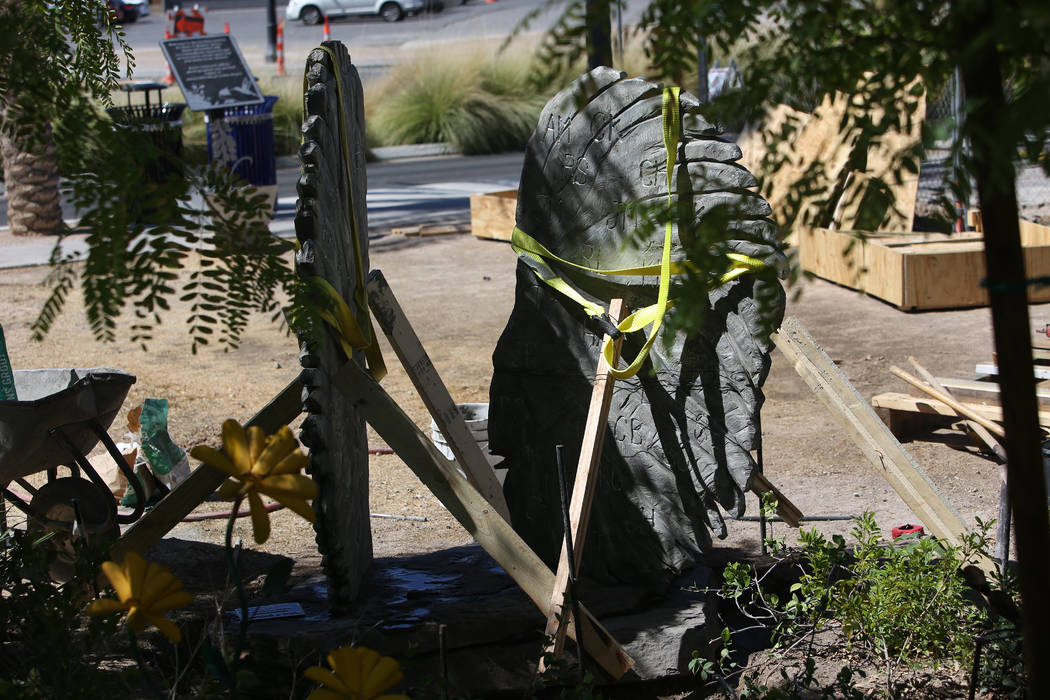 The hardest thing about creating "Love and Courage?" Not its size (more than 6 feet tall). Not its weight (almost 3,000 pounds, including its base). Not even the incalculable artistry and physical labor required to transform two massive slabs of fossilized New York bluestone into ethereal angel wings.
Rather, Bobby Jacobs said, it was the initials — 58 sets of them, each representing a victim of the Route 91 Harvest festival shooting of a year ago — carved into each wing.
"It's not that hard to cut out initials," said Jacobs, who with his wife, artist Elizabeth Bryan-Jacobs, conceived of and created the sculpture as a tribute to the Route 91
victims. "But as you do, you start to realize how many people were murdered. When you say '58,' it's a big number. But when you go through it name by name, it becomes a very big number."
The installation of "Love and Courage" began Thursday at the Las Vegas Community Healing Garden, 1015 S. Casino Center Blvd. It will be dedicated officially on Oct. 1 during ceremonies at the garden, but it is expected to be available for public viewing Friday.
Jacobs and Bryan-Jacobs, who live in upstate New York, are donating "Love and Courage" to the garden. When they learned of the shootings on the morning of Oct. 2, the news hit close to home.
"I raised my children in Summerlin," said Bryan-Jacobs, who lived in Las Vegas for about 10 years before meeting and marrying her husband, and the couple still have friends who live here. Even more frightening, her son and his wife happened to be visiting Las Vegas on the night of the shooting.
So, Jacobs said, "we wanted to do something, for a lot of reasons. We said, 'Let's see if we can do something in a very personal way.''
Bryan-Jacobs went online and discovered that Stonerose Landscapes principals Jay Pleggenkuhle and Daniel Perez were designing a memorial garden on city-owned land in downtown Las Vegas.
The New York couple — who have created angel-themed pieces for children's hospitals and other nonprofit organizations and operate a nonprofit art therapy program called the Spread Your Wings Project — offered to create a sculpture for the garden.
They visited the garden in January, "and we agreed it would be a set of angel wings," Jacobs said. Two weeks later, he began creating the sculpture by painstakingly shaping two giant pieces of bluestone.
Carving the initials of those who died was the most emotional part of the process for Jacobs.
"When you read the names and start carving the initials, it's like you know that person," Jacobs said. "Heather Alvarado was the first set of initials. It took me three days to carve an H and an A. I just couldn't finish it. I did about five a day. It was barely all I could do."
The couple envision "Love and Courage" as honoring not just the bravery of families struggling to cope with the loss of their loved ones but also the love shown by others in the wake of the tragedy.
"People from everywhere sent feelings of love," Jacobs said. "Churches on Sunday were saying prayers, and people were lighting candles all over the United States. All these people were getting together and sending their love into the air, so to speak."
Mauricia Baca, executive director Get Outdoors Nevada, which helps to manage the garden, called the couple's sculpture "a very significant donation" to the garden.
Since its volunteer-led creation days after the shooting, the garden has "inspired some incredible generosity," Baca said. "We've had such wonderful support from the community. So it's really special to see that."
Contact John Przybys at jprzybys @reviewjournal.com or 702-383-0280. Follow @JJPrzybys on Twitter.