Scottsdale offers a feast for the senses
January 25, 2015 - 11:18 pm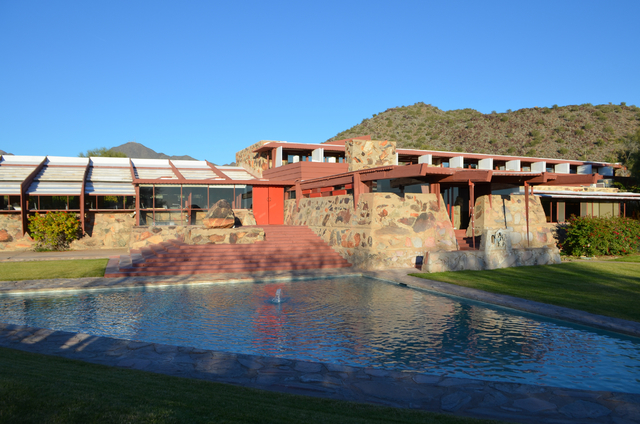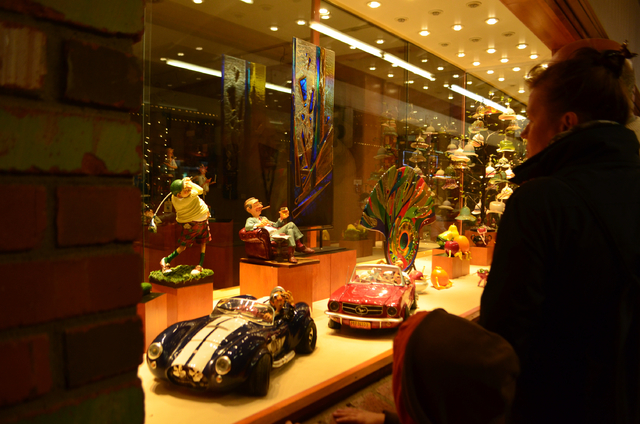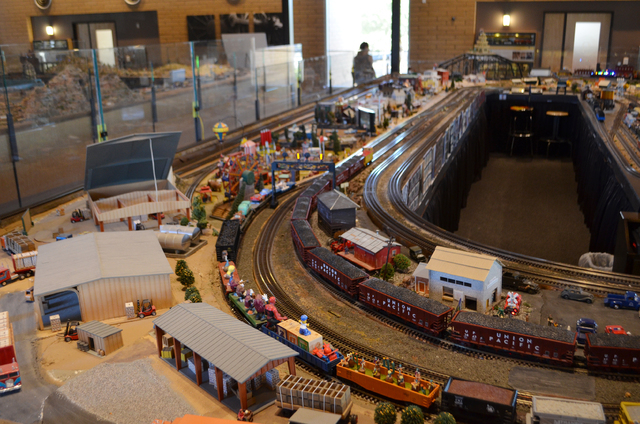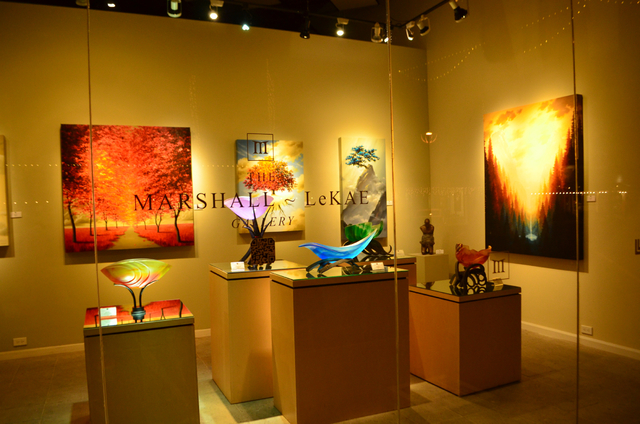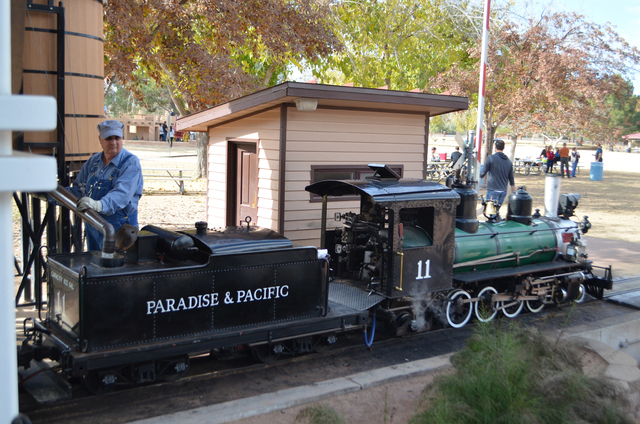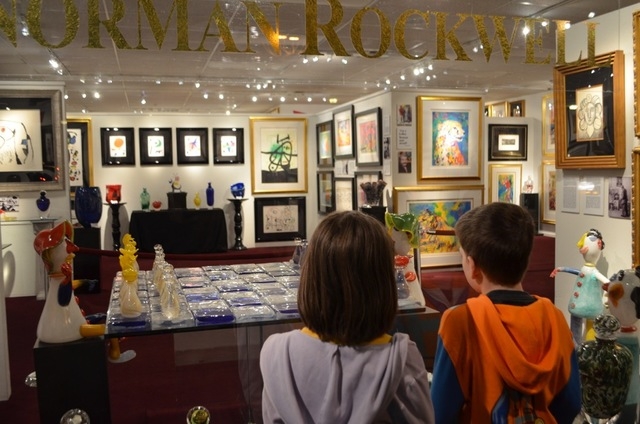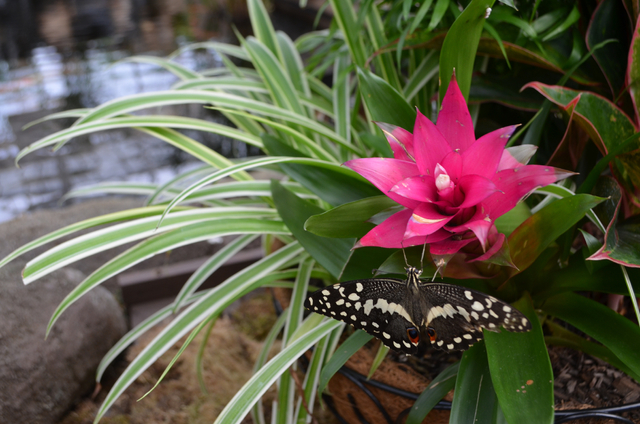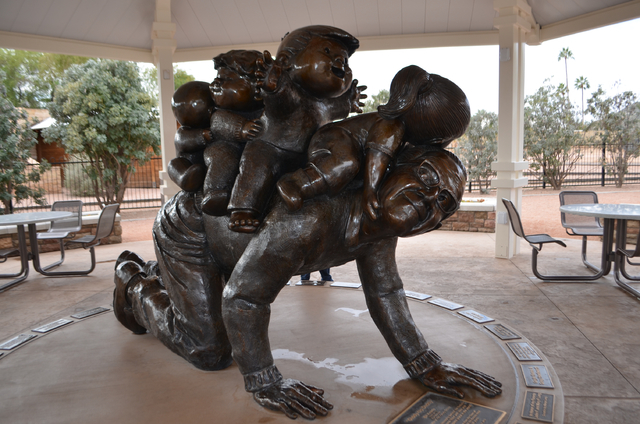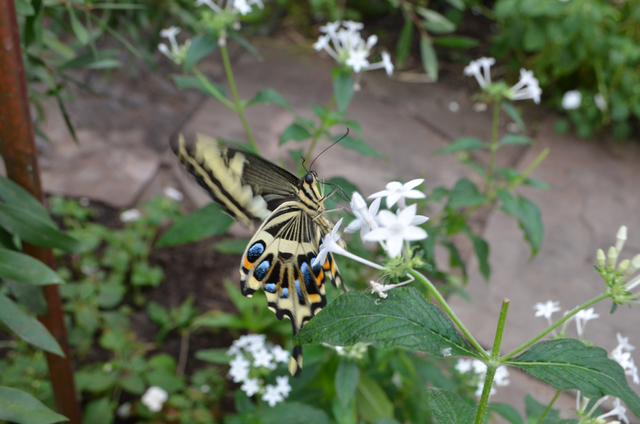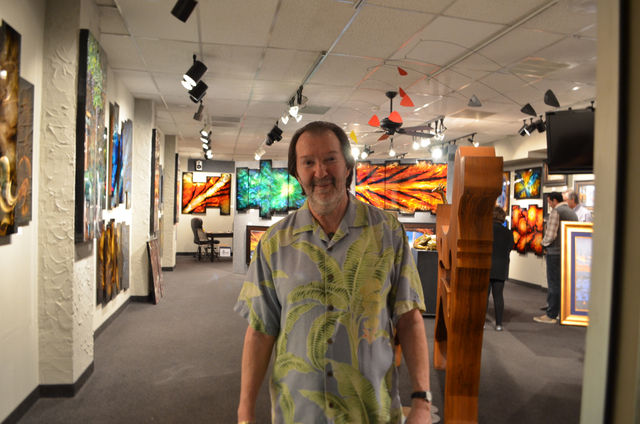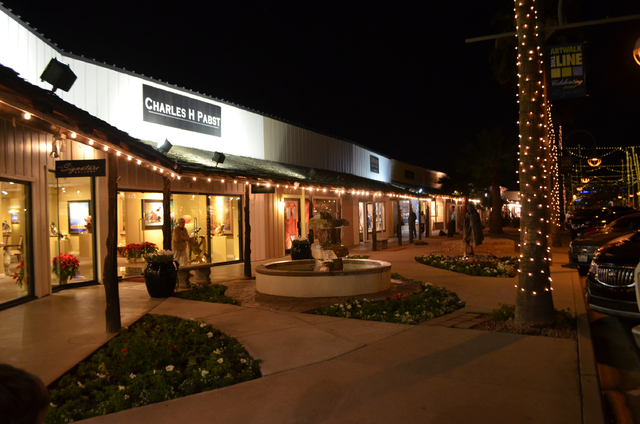 Art, nature, food, history — it could take a month, a year or even a lifetime to drink in everything Scottsdale, Ariz., has to offer. But three or four days may be enough for a memorable sip.
If you go, don't wait for the weekend. Embark in time to catch the Scottsdale ArtWalk from 5 to 9 p.m. Thursdays (except Thanksgiving) in downtown Scottsdale's arts district.
Don't expect the 40-year-old gallery stroll, billed as "America's original ArtWalk," to be a twin to Las Vegas' First Friday arts festival. First Friday smells of wet paint and hope as emergent artists linger near their work praying you'll like and buy something. ArtWalk is packed with more than 30 galleries representing nationally and internationally recognized artists. First Friday is a youth-saturated street festival where the music and monthly themed activities can seem to overshadow the art. Senior snowbirds mix with college students, collectors and families at ArtWalk.
There are no high school girls holding "free hugs" signs at ArtWalk, but that doesn't mean it's boring.
"Sometimes during the season you'll see artists painting, sculptors working. There's always something going on," said Phil Sacks, gallery director and partner at DeRubeis Fine Art of Metal.
Joining in the action is easy. Head for Main Street and Marshall Way, the heart of the walk, and follow the ArtWalk pavement decals or banners from gallery to gallery. Doors are open, and browsers are welcome. But window shopping from outside is popular, too.
Mixed among the galleries are stores selling Western apparel, Southwestern jewelry, and Native American and Mexican crafts.
Restaurants with patio and sidewalk seating tempt customers with ArtWalk specials, live music and twinkle lights. Las Vegas may be the city of Neon, but Scottsdale is
the city of year-round twinkle lights.
Beyond the lights of downtown, and the bustle of ArtWalk is Frank Lloyd Wright's Taliesin West. In 1937, Wright, 70, and his apprentices began work on his personal winter home, studio and architectural campus in the foothills of the McDowell Mountains in northeast Scottsdale.
"This was Mr. Wright's desert camp," Taliesin West tour guide Bruce Cash explained. "So don't expect it to look like anything else, not like Hollyhock or Falling Water or Grady Gammage or the Guggenheim Museum."
Cash said when it came to building the campus, Wright had Champagne tastes but a beer budget.
"These are very primitive structures," he said. "They look like they could have been here a hundred years or a thousand years ago. All the stone came from the property. All the sand for the concrete came from the washes, so these were built on the cheap."
The walls are made from quartzite stone and concrete topped with canvas that can be positioned to get the best light and ventilation. In the early days, they would roll up the canvas in the spring and leave the structures open to the summer heat, when Wright moved to Taliesin East in Wisconsin. After Wright acquired a few precious possessions, primarily pianos, they began leaving the structures covered year-round.
Tours are offered of Wright's private office, the music pavilion, his living quarters, gardens, walkways and the cabaret theater. A tour is the only way to see Wright's living space, as he never allowed it to be photographed during his lifetime, and the foundation that preserves his legacy continues to respect that wish.
Another popular historical attraction is the Scottsdale McCormick-Stillman Railroad Park. The park features a carousel and playgrounds, but the real draw are the trains. The Paradise and Pacific Railroad, a scaled reproduction, carries passengers along a 1-mile track behind diesel or steam locomotives. A little steamer train pulls children and adults on a garden-scale track through the park's Xeriscape Arboretum.
Visitors to the park's railroad museum can tour a 1928 Pullman luxury train car that was used by former presidents Hoover, Roosevelt, Truman and Eisenhower. Inside the 10,000-square-foot museum, model railroad building clubs of volunteers set up railroad sets in various gauges and themes. Children are invited to press buttons to activate trains and trainside attractions.
Almost as big a hit with kids is a visit to The Doll House &Toy Store, one of the oldest family-owned toy stores in the country. Sam and Sari Powazek opened their original Scottsdale location in 1977. What started as a business primarily for adult dollhouse enthusiasts evolved into an expanded selection of "better quality" toys for all ages from all over the world.
"Everything here is handpicked by me," Sari Powazek said.
The Powazeks specialize in helping grandparents find the perfect toy.
"They have an amazingly diverse collection of quality stuff," said frequent customer, and grandmother, Deborah Lodis.
Recently the store added Playtime Oasis, a playroom where parents and preschoolers can run, pretend and sample toys for $9 per child per day.
The only thing that could pull my kids out of the toy store and away from its resident rescue puppy, Sydney, was the promise of a visit to one of Scottsdale's newest attractions, Butterfly Wonderland. The highlight is the 10,000-square-foot butterfly- and plant-packed atrium. It approaches the size of Bellagio's more than 13,500-square-foot conservatory. Thousands of butterflies, in more than 30 varieties, fly freely through the tropical rainforestlike room landing lightly on visitors. If it were any other insect — say flies or beetles — it would be horror-film fodder. But most people are delighted to be butterfly perches.
Butterflies arrive in their chrysalis state. When they're just about to come out, they are placed in the Butterfly Emergence Gallery, a viewing window where you can watch them twitch, break free and spread their wings to dry. After a few hours, the butterflies are collected and released in the atrium two or three times a day.
"We get our chrysalids from butterfly farms all around the world," lab manager Brenna Covert said. "They do the raising of the caterpillars there."
She said the facility prevents breeding by keeping host plants butterflies would lay eggs on out of the atrium.
"We keep just the adults," she said. "Most of them live about two to three weeks on average, sometimes longer. An interesting fact is that the tiny longwing butterfly eats pollen as well as nectar, which is more nutritious, so they can live up to a month or more."
Visitors can learn more about butterflies as they follow three generations of Monarchs on their epic migration in the 3-D feature film "Flight of the Butterflies." The attraction is also home to a live ant colony, a honey bee exhibit, a stingray petting pool and tanks of fish from the Amazon.
Next door to Butterfly Wonderland, the adventurous can try out the OdySea Mirror Maze. Don't run too fast through, or you may bump into a mirror you assumed was an opening. In 2016, the maze and butterfly attractions are slated to be joined by the OdySea Aquarium, a 16-acre immersive experience.
Scottsdale's newest attraction is the $11.4 million Western Spirit: Scottsdale's Museum of the West, which opened Jan. 15. The city-owned, nonprofit-managed facility features artifacts of Western culture and rotating exhibitions of western art, including works by Georgia O'Keeffe, W. Herbert Dunton and more.
After sightseeing, you're probably hungry. My favorite dinner destination was the Old Town Tortilla Factory. Fire tickles the top of a bubbling fountain amid trees and tables bathed in antique white lights. Inside, the converted historic adobe home is brightened by a fireplace. Meals are accompanied by complimentary handmade tortillas served warm with herb-enhanced butters. The prices are moderate, with kids meals for $5 and grown-up regional favorites starting at $15.
Other restaurants worth a try include Brat Haus, a German restaurant featuring artisan sausage and pretzels; Hula's Modern Tiki, an update on the classic tiki bar serving Hawaiian-inspired food; Olive &Ivy, a Mediterranean restaurant and marketplace; Pig &Pickle, a gastropub known for growing its own herbs, using real fat and sugar, locally sourcing foods, handcrafting cocktails and baking bread daily; and Tapas Papa Frita, known for traditional Spanish tapas and live music and dancing.
Can't decide? Try a bit of everything at Food Truck Caravan's Street Food Saturdays. Every week from 6:30 to 10:30 p.m. a rotating lineup of 10 or more trucks circles a lot at Fifth Avenue and Goldwater Boulevard. Live music and lanterns set the mood, and communal picnic tables make it easy to munch and mingle. Go early, before the patrons line up. If you're lucky, Cousins Maine Lobster will be serving lobster tater tots or (if you dare) lobster ice cream. Or why not watch Yatai Ramen truck's master Mark Kondo make artisan ramen in bone broth simmered more than 20 hours. The owner of Sugar Jam Bake Shop brings personal-size tarts, pies and delicate jam-filled sugar-cookie sandwiches.
Feeling guilty? Consider a trip to Sunshine Superfood Cafe inside Modify, a downtown space that also offers yoga, art and spa services. Superfood chef Justin Simi and his mother, Elizabeth, opened in November with a mission in mind.
"I saw an opportunity for an area that doesn't have a lot of raw, organic foods," Simi said. "I'm here on a mission, actually, to provide health for everybody."
But if you're in the mood to cheat, the Sugar Bowl is the place to do it. The pink palace of ice cream goodness has been dishing up sweets, sandwiches, salads and more beneath its Tiffany-style lamps since Christmas Eve 1958.
If you're a fan of Bil Keane's "The Family Circus," you may recognize the Sugar Bowl from his depictions of it in newspaper comics. The art on the walls and gift selection at the Sugar Bowl pay tribute to the late cartoonist, who lived in neighboring Paradise Valley.
Contact reporter Ginger Meurer at gmeurer@reviewjournal.com. Find her on Twitter @gingermmm.
IF YOU GO
GETTING THERE
Scottsdale is about five hours southeast of Las Vegas. The fastest route is to take U.S. Highway 95 south, then continue onto U.S. 93 south. Turn left to merge onto Interstate 40 East toward Flagstaff and Phoenix. Then take exit 71 for U.S. 93 south toward Wickenburg/Phoenix. Turn right onto Bob Stump Memorial Parkway and then exit onto Interstate 10 East.
THINGS TO SEE
Scottsdale ArtWalk (scottsdalegalleries.com/artwalk-info)
Outdoor public art (scottsdalepublicart.org)
Scottsdale McCormick-Stillman Railroad Park (7301 E. Indian Bend Road, therailroadpark.com) Admission to the park and the model railroad building is free. Train rides and admission to the railroad museum run a couple of dollars.
The Doll House & Toy Store (13802 N. Scottsdale Road, azdollhouse.com)
Butterfly Wonderland (9500 E. Via de Ventura, butterflywonderland.com)
OdySea Mirror Maze (9500 E. Via de Ventura, odyseamirrormaze.com)
Taliesin West (12345 N. Taliesin Drive, franklloydwright.org)
Scottsdale Museum of Contemporary Art (7373 E. Second St., smoca.org)
PLACES TO EAT
Food Truck Caravan's Street Food Saturdays (Fifth Avenue and Goldwater Boulevard, foodtruckcaravan.com)
Old Town Tortilla Factory (6910 E. Main St., oldtowntortillafactory.com)
Tapas Papa Frita (7114 E. Stetson Drive, tapaspapafrita.com) Flamenco shows are scheduled from 7:30 to 10 p.m. Fridays and Saturdays, and a Cuban band plays from 6:30 to 9:30 p.m. Thursdays and Sundays.
Brat Haus (3622 N. Scottsdale Road, brathausaz.com)
Hula's Modern Tiki (7213 E. First Ave., hulasmoderntiki.com)
Pig & Pickle (2922 N. Hayden Road, pigandpickle.com)
Sugar Jam Bake Shop (7950 E. Redfield Road, Suite 100, sugarjamcookies.com)
Sunshine Superfood Cafe (4164 N. Marshall Way, modifyaz.com/organic-local-cafe-menu)
Sugar Bowl (4005 N. Scottsdale Road, sugarbowlscottsdale.com)
GETTING AROUND
Downtown parking is free on the street and in public parking garages and lots. So is public transportation. The Scottsdale Downtown Trolley, which offers free rides from 11 a.m. to 6 p.m. daily, keeps running until 9 p.m. on Thursdays for ArtWalk and connects with a free neighborhood transportation system. For route maps and schedules, visit scottsdaleaz.gov/trolley. The maps also indicate where free public restrooms can be accessed.
FUN EVENTS TO WATCH FOR
Canal Convergence (tinyurl.com/canalconv), a festival of water, art and light, is slated for Monday through March 1 along the Arizona Canal in the Scottsdale Waterfront extending from Soleri Bridge & Plaza at Scottsdale Road just south of Camelback to Goldwater Boulevard. This year's event is set to stage five large-scale art installments, performances and an educational water conservation display. Artists slated to participate include Urban Matter Inc., Jen Lewin Studio, Toby Atticus Fraley, Saskia Jorda, Karrie Hovey, Erin V. Sotak and Heidi Duckler Dance Company.
The Phoenix Open at TPC Scottsdale (17020 N. Hayden Road, wmphoenixopen.com) is one of the five oldest events on the PGA Tour schedule. This year's event is Monday-Feb. 1.
Glendale, Ariz., may be hosting the 2015 Super Bowl, but Scottsdale is billing itself as the place to stay for the big game with a week of football frenzy Monday through Feb. 2.
The 60th annual Scottsdale Arabian Horse Show is scheduled for Feb. 12-22 at WestWorld of Scottsdale, 16601 N. Pima Road. (scottsdaleshow.com)
Major league baseball spring training (cactusleague.com) is slated for March 3 through April 4. Scottsdale is the spring home of the San Francisco Giants, Colorado Rockies and Arizona Diamondbacks.
PLACES TO STAY
Fairmont Scottsdale Princess (7575 E. Princess Drive, scottsdaleprincess.com) The 65-acre resort is home to fountains, fire pits, five pools, two TPC golf courses and the Well & Being at Willow Stream Spa.
The Phoenician (6000 E. Camelback Road, thephoenician.com) features a 27-hole championship golf course and the Funicians Club, a space where kids can hang out with counselors for organized activities. The property also has seven pools and a water play area.
The Westin Kierland Resort & Spa (6902 E. Greenway Parkway, kierlandresort.com) offers pools for adults and families. One of the resort's biggest attractions is the Adventure Water Park with its a lazy river, children's play area, 110-foot-long water slide and the Kierland FlowRider, a surfing-condition simulator.
The Boulders, a Waldorf Astoria Resort (34631 N. Tom Darlington Drive, theboulders.com) is a launching pad for outdoor adventures, with rock climbing, horseback riding, fishing, bicycling, golf and hot air balloon flights on-site.
Talking Stick Resort (9800 E. Indian Bend Road, talkingstickresort.com) offers golf, gaming, entertainment and a cultural center featuring Native American art, historic photographs and cultural displays.
Four Seasons Resort, Scottsdale at Troon North (10600 East Crescent Moon Drive, fourseasons.com/scottsdale/) offers a unique cowboy-for-a-day experience that includes a boot fitting followed by training at Arizona Cowboy College.
Hyatt House Scottsdale/Old Town (4245 N. Drinkwater Boulevard, scottsdale.house.hyatt.com) offers larger suites ideal for families or friends traveling together.
Scottsdale Plaza Resort (7200 N. Scottsdale Road, scottsdaleplaza.com) features five pools and lighted tennis courts. One- and two-level suites feature private patios and green space.
Hotel Valley Ho (6850 E. Main St., hotelvalleyho.com) was built in 1956 and has been restored to mid-century-modern splendor. In its day, the hotel hosted celebrities such as Zsa Zsa Gabor, Janet Leigh, Tony Curtis and Bing Crosby.