Woman delays lung cancer surgery to walk at UNLV graduation
Updated May 16, 2017 - 4:48 pm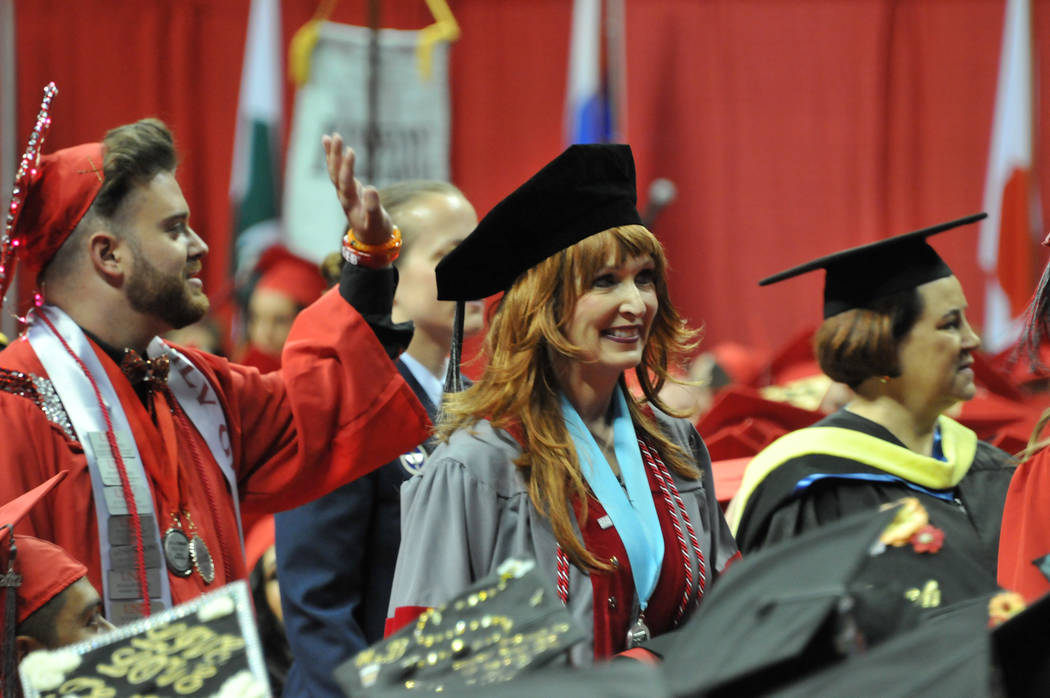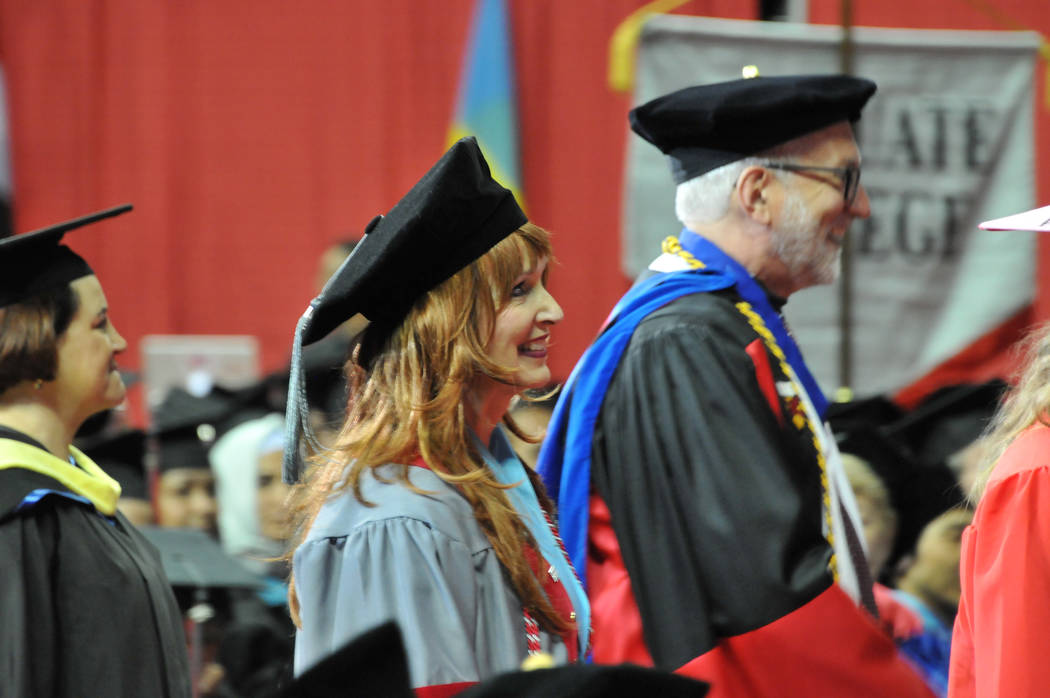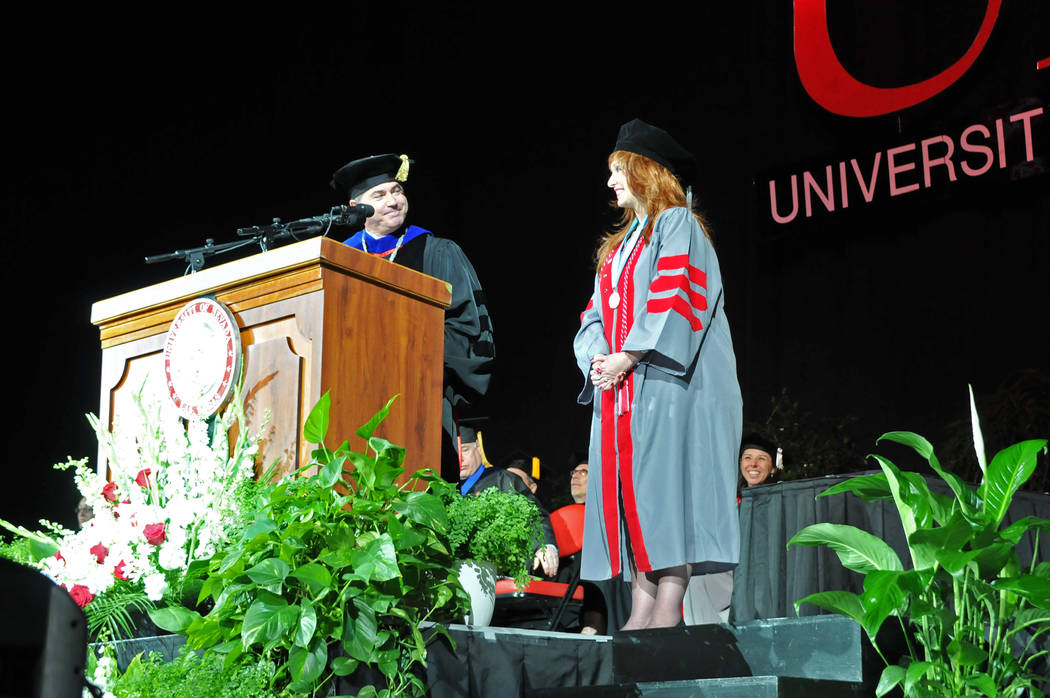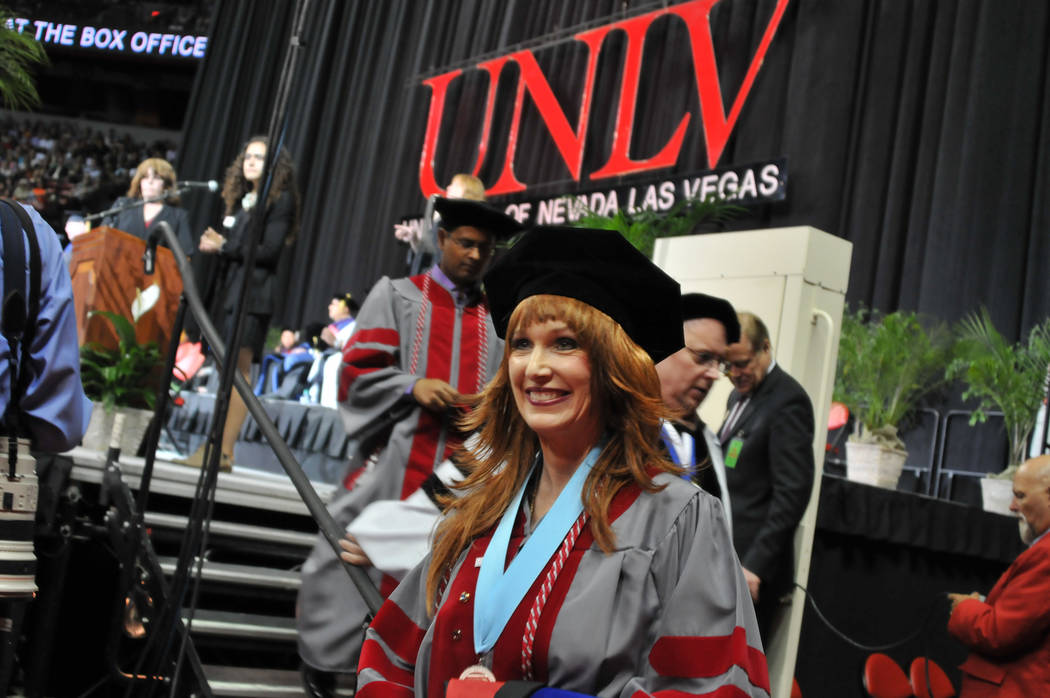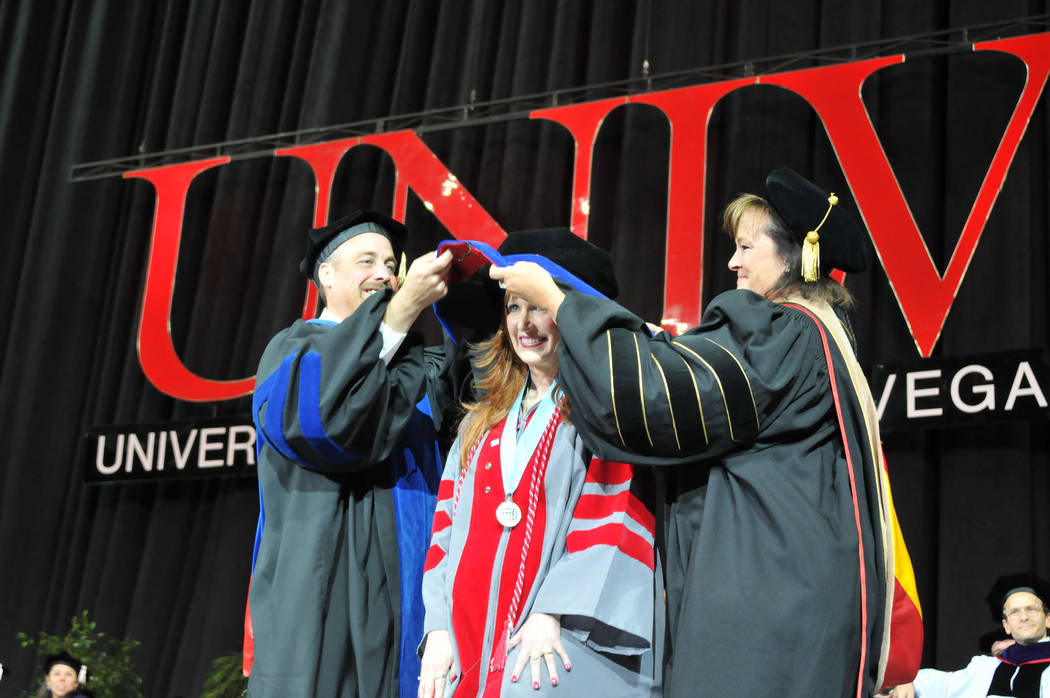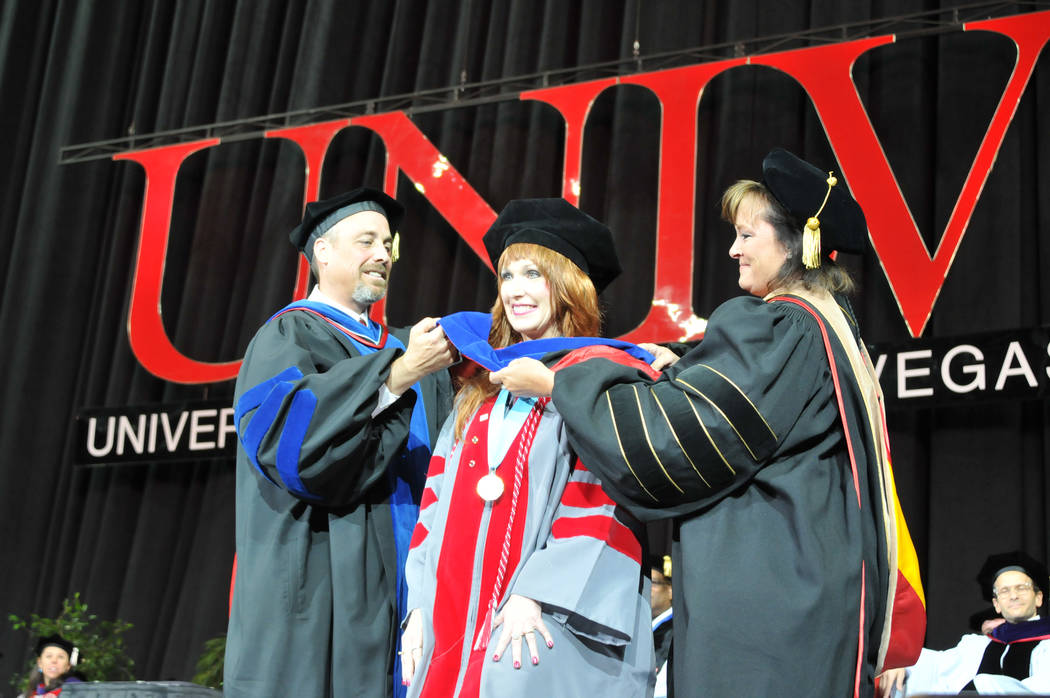 Janet King could have been wearing a hospital gown May 13. She opted for a scarlet and gray graduation gown instead.
King, a lifelong nonsmoker who has stage 3 lung cancer, postponed her second surgery so she could walk in UNLV's spring commencement ceremony at the Thomas & Mack Center.
"My fear was that if I didn't graduate in May, I might not be alive to graduate in December," King, 54, said. "I worked too long not to walk (across the stage)."
She also said her doctor in Colorado did not think slightly delaying the surgery , which now is scheduled for June, would do harm.
UNLV President Len Jessup recognized King onstage as an outstanding graduate; she earned a Ph.D. in curriculum and instruction, with a focus on educational technology. More than 2,800 students graduated, including an 85-year-old.
King grew up in Russellville, Alabama, a town of about 10,000 nearly midway between Birmingham and Memphis, Tennessee. She earned bachelor's degrees in political science — her "first love" — and sociology at the University of North Alabama in Florence in 1984. She got a master's degree in sociology from Mississippi State University in Starkville in 1986.
King thought she would go into politics and had been accepted by multiple law schools, she said. But shortly after graduating from Mississippi State, King "just didn't think that was what I was meant to be," and a friend brought up the idea of teaching.
King would spend the next 30 years working in higher education around the country. She said she enjoys working with adults. She moved to Nevada about 10 years ago and has taught or worked at Western Nevada College in Carson City, the College of Southern Nevada and UNLV.
King, an east valley resident and mother of three — ages 14, 23 and 26 — enrolled to pursue her doctorate in 2011 because she "loved educational technology" and already had taken all the professional-development courses she could. She had only her dissertation left to finish when she was diagnosed with cancer in 2015.
King was en route to UNLV on Flamingo Road when she was rear-ended by another driver, and she later went to an urgent-care center to check on the pain in her ribs.
"Thank God for that doctor who did an X-ray to check for broken ribs," King said. "She saved my life because they found a spot on my lung."
King received the troubling news about the spot on Valentine's Day that year. A few weeks later and after further tests, she was told she had cancer on the same day she received the Woman of Influence Award from the College of Southern Nevada, where she worked. The award recognizes women who have inspired or empowered others at CSN and been involved in the community, according to CSN.
Surgery to remove part of her right lung, followed by chemotherapy, radiation and drug treatments, wore on King. ("Cancer knocked me out, but chemo almost killed me," she said.) The former avid hiker could no longer walk up steps and struggled to finish her dissertation.
"I can't tell you how many times I thought about throwing in the towel and saying, 'I quit; I'm not doing this anymore; it's not worth it,'" King said of earning her doctorate. "… Part of this is, I want my children to look at me and say, 'If my mother can do this, I can do anything.'"
Several of King's friends and family members attended the May 13 ceremony. Among them was Maria Schellhase, a professor at CSN who nominated King for the Woman of Influence Award and helped King pick out wigs when chemotherapy caused her to lose her beloved long, red hair.
"The fact that she could really remain focused and complete her educational journey is a testament to her commitment to it," Schellhase said.
Another friend, Martha McBride, recalled being close to dropping out of Eastern Arizona College in Thatcher nearly 20 years ago because of a family crisis. But her sociology professor, King, encouraged her to persevere.
"She made the difference for me," McBride said. "She said, 'Don't worry; I'll help you.' I'm so grateful she did that."
McBride stayed in school, got her bachelor's degree and entered the education field. She said she has been impressed with how King has handled the past two years and how selfless she remains.
King has returned to Arizona multiple times to visit their mutual friend who has had recent neck and heart surgeries.
"She still goes to see him when she herself is struggling," McBride said. "It's not all about her; it's about everybody."
'I've had a good life'
King made a bucket list with 15 items two years ago. Getting her Ph.D. was the 14th item she has crossed off. A trip to an all-inclusive resort is all that's left.
Other items included playing in a golf tournament, riding in a long-distance motorcycle rally, traveling to all 50 states, and visiting New Orleans and Cuba.
High on her list was meeting former President Jimmy Carter.
King's "first love" of political science was obvious at a young age, when she delivered political speeches from in front of her mom's sewing machine. When Carter campaigned for president, King wrote him a letter every week with her thoughts on what he said in the news or what was happening in the country, and she sent them to his home in Plains, Georgia.
After Carter's 1976 victory, his campaign invited King, 14, to the inauguration. But her family couldn't afford to send her to Washington, D.C.
So in 2016, King flew to Atlanta, rented a car, made the 150-mile drive to Plains, where Carter still teaches Sunday school, and introduced herself.
"This was the most special bucket-list item," King said.
After her planned surgery in June to remove another part of her lung where cancer recently resurfaced, King wants to start another bucket list. She has one item already: to attend a University of Alabama football game in Tuscaloosa.
King wants to be around for the fall football season but said she's approaching it realistically.
"I've had two years to think about it, and I've had a good life," she said. "… It's wait, pray and hope, and so that's what I'm doing. Waiting, praying and hoping."
Contact Jeff Mosier at jmosier@viewnews.com or call 702-224-5524.
Stage 3 cancer
Stage 3 is a classification for larger cancers; stage 4, the worst, means it has spread to other organs. Eighty-seven percent of people with King's type of small cell lung cancer don't survive past two years. Ninety-seven percent don't survive four years.
Source: Cancer Treatment Centers of America