Las Vegas Valley students join walkouts over gun violence
Updated March 14, 2018 - 7:07 pm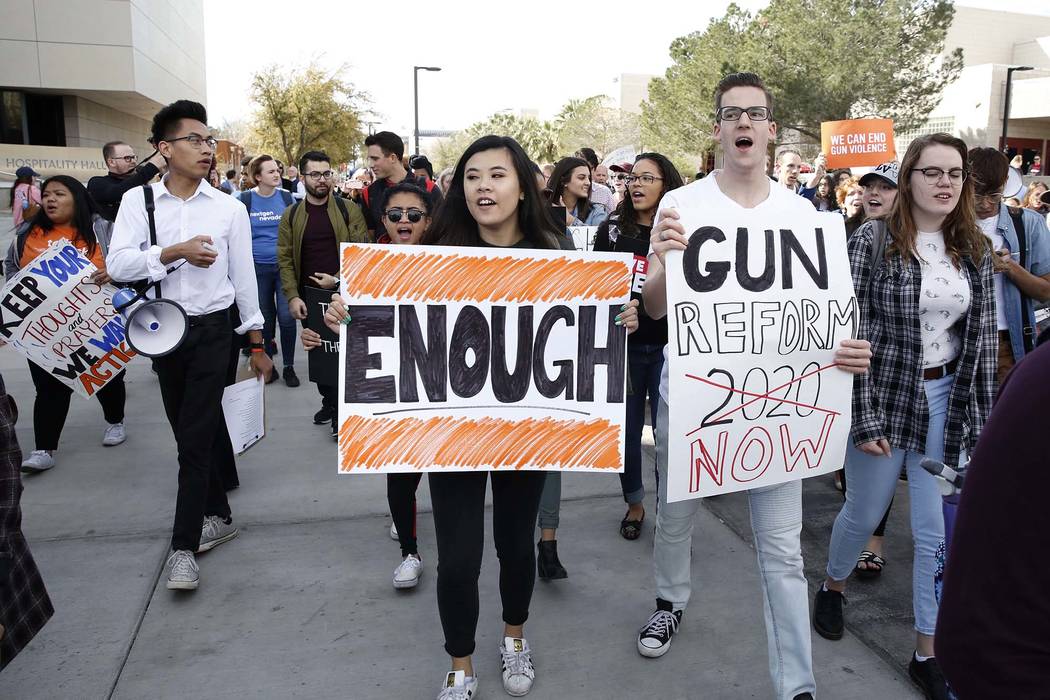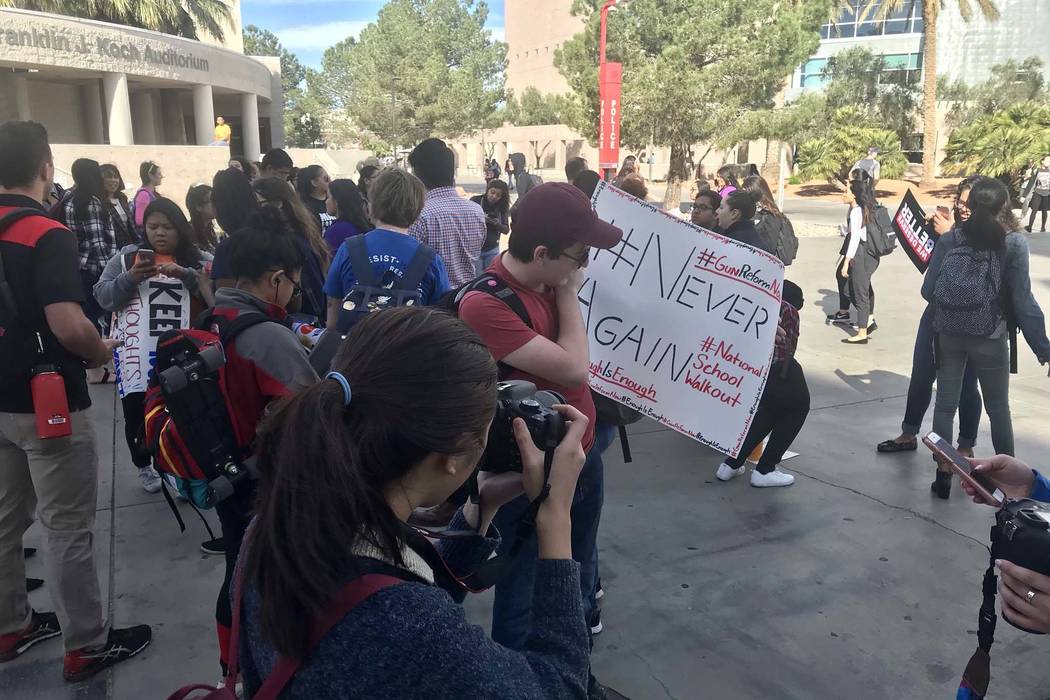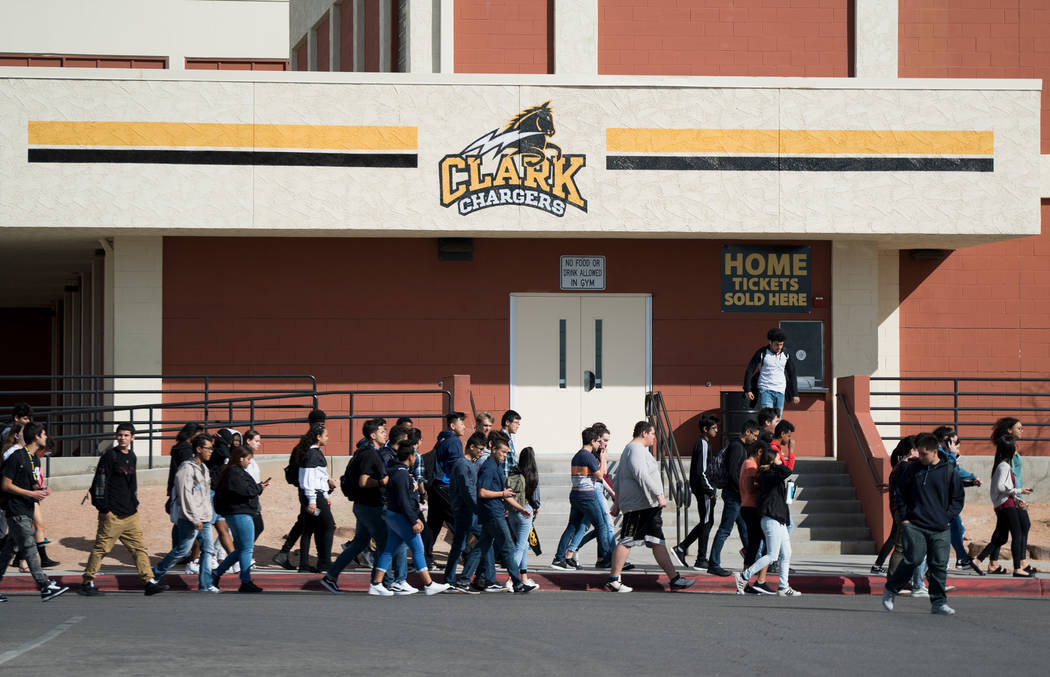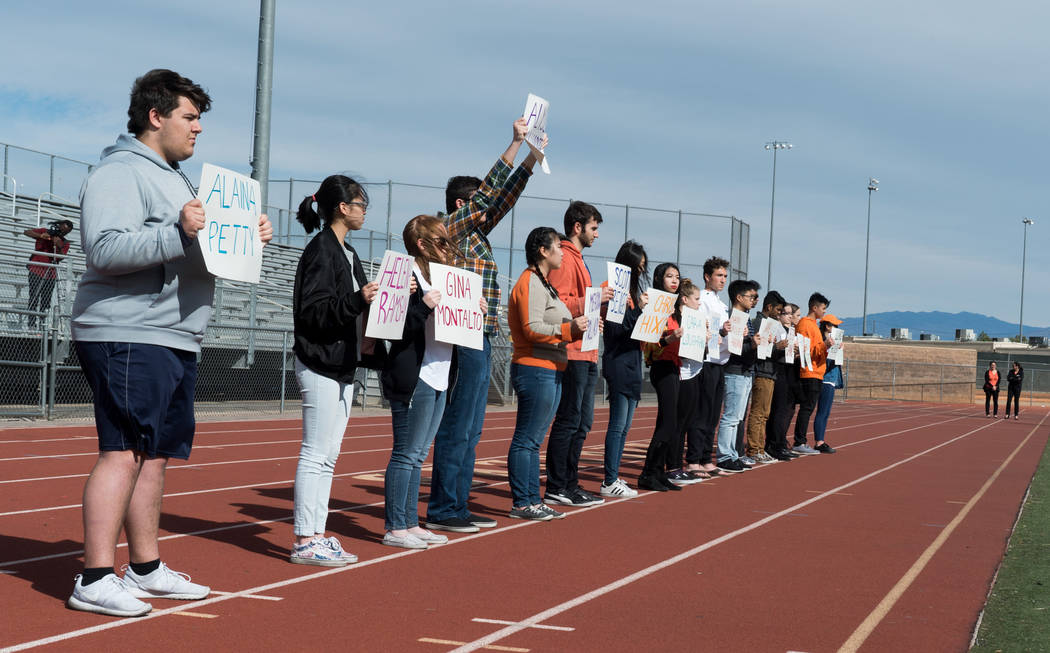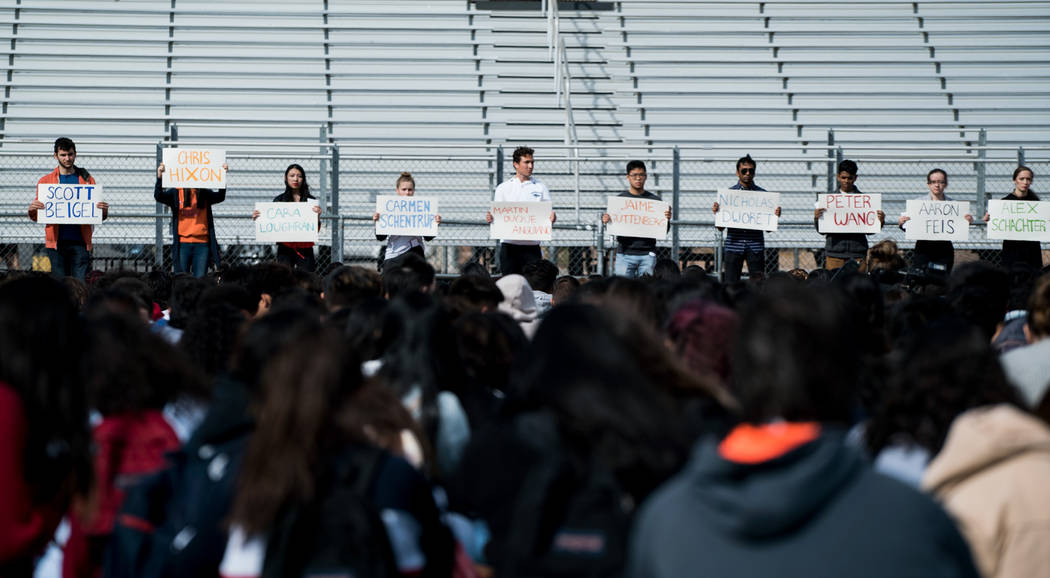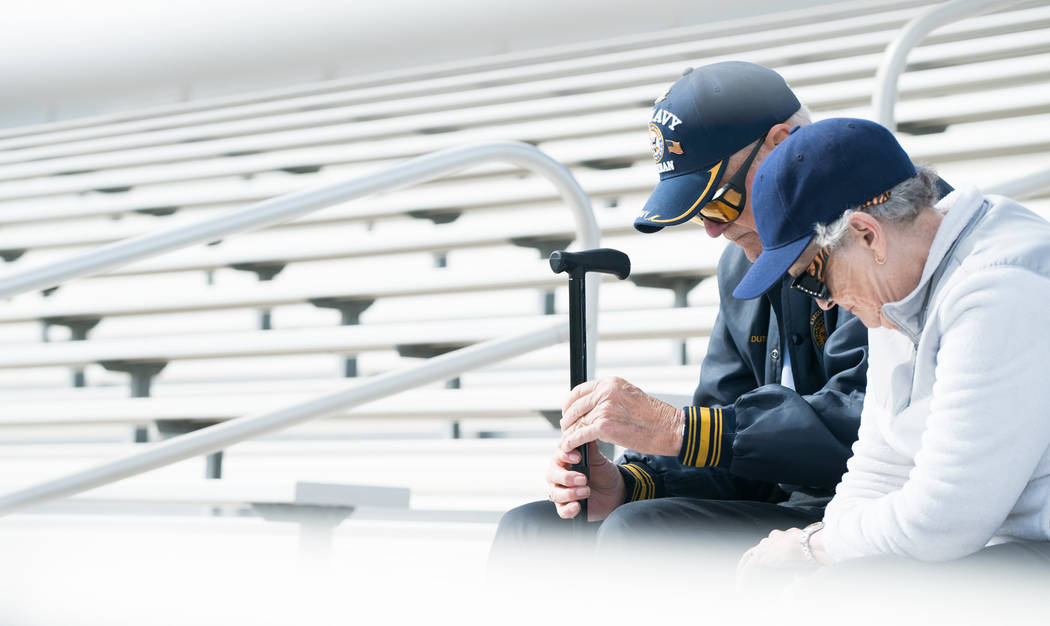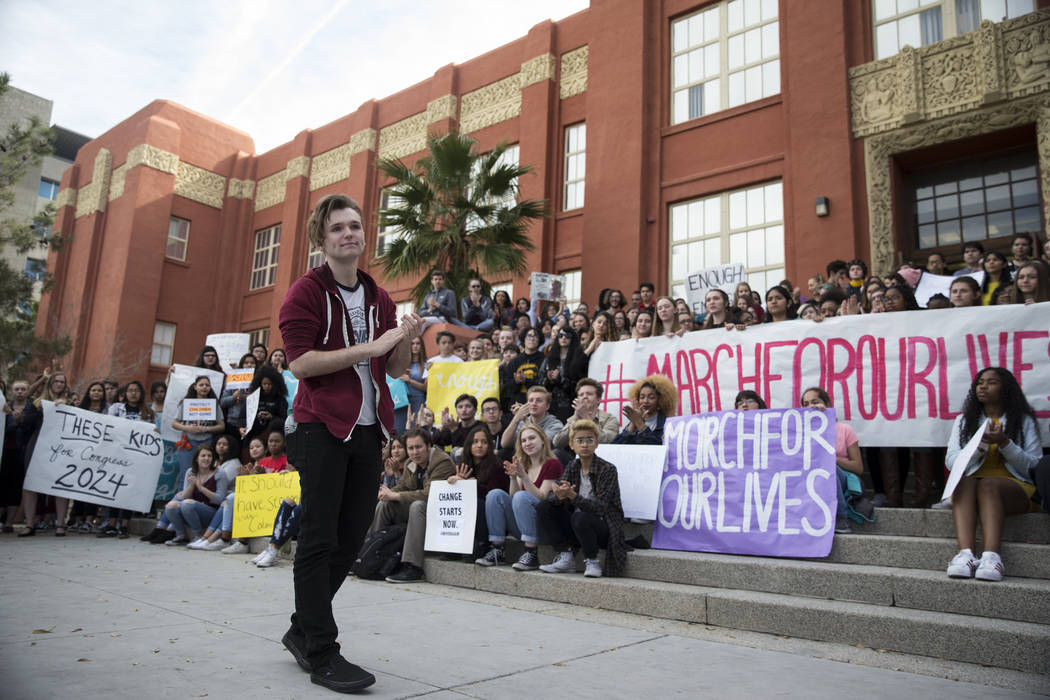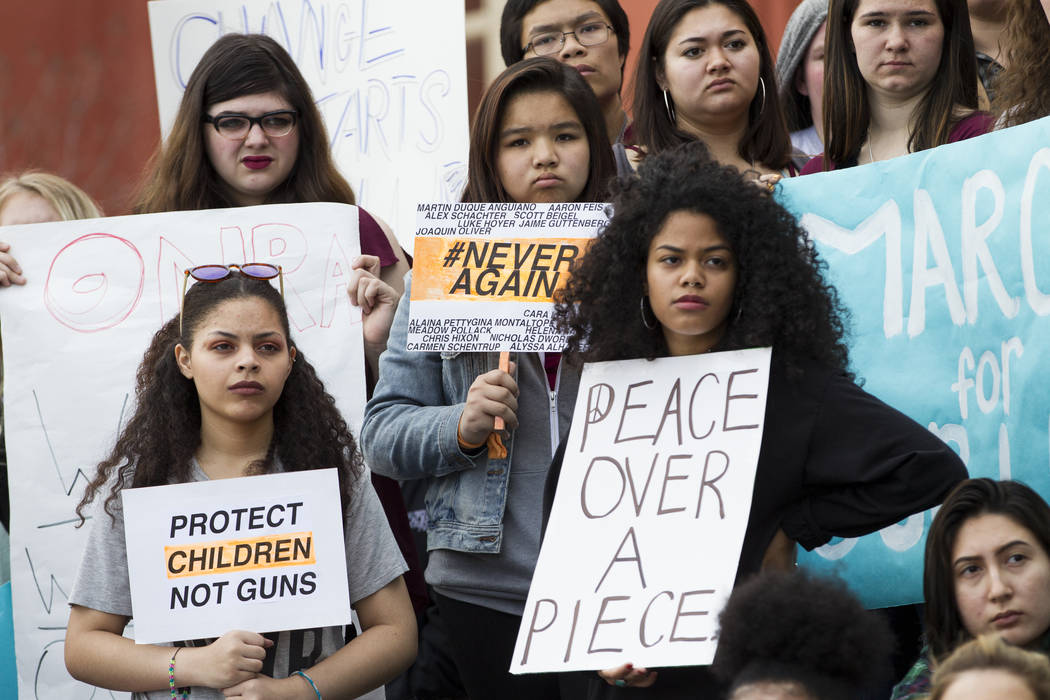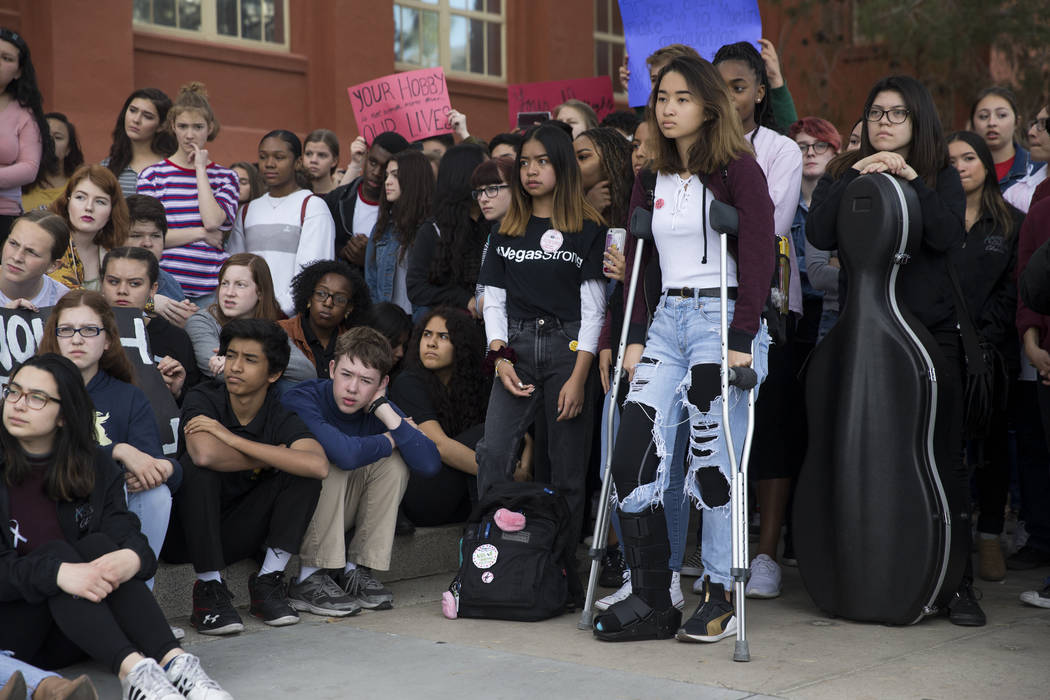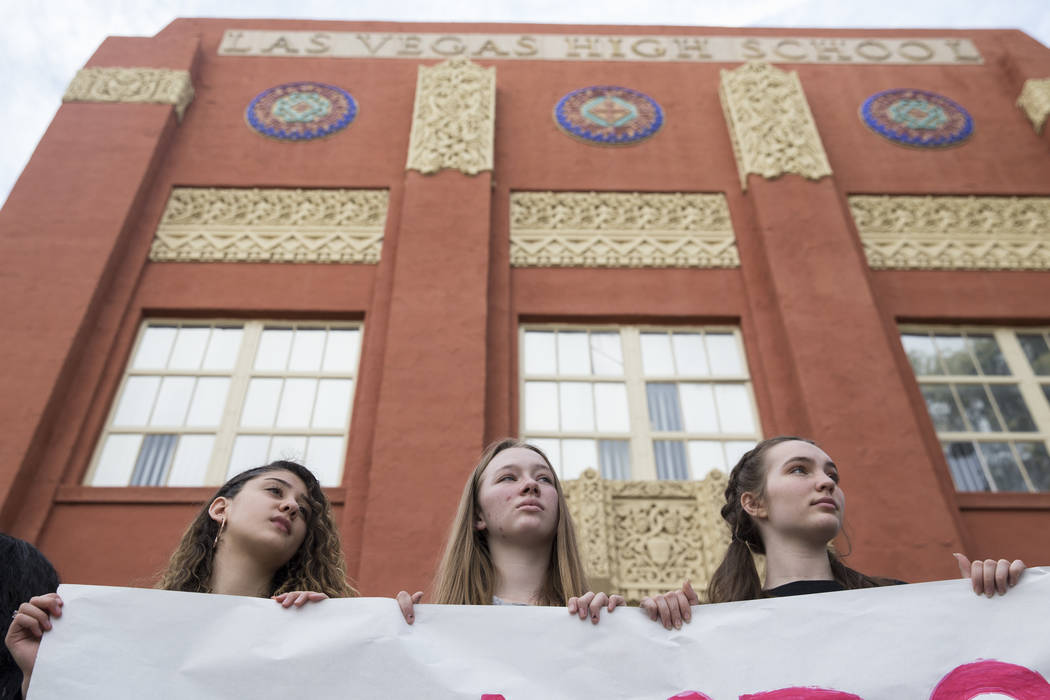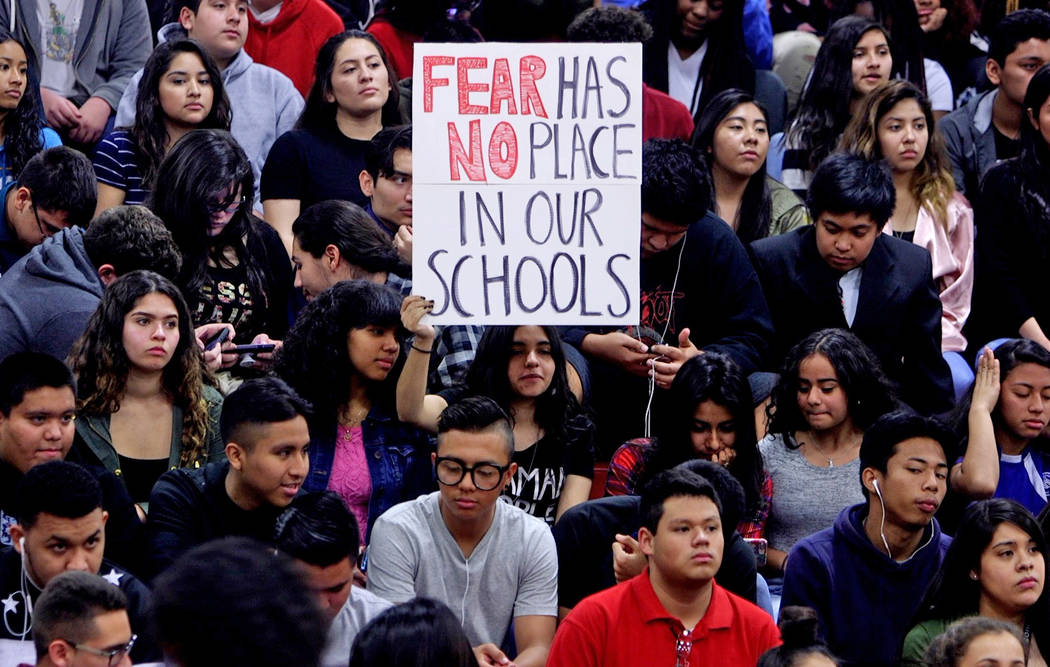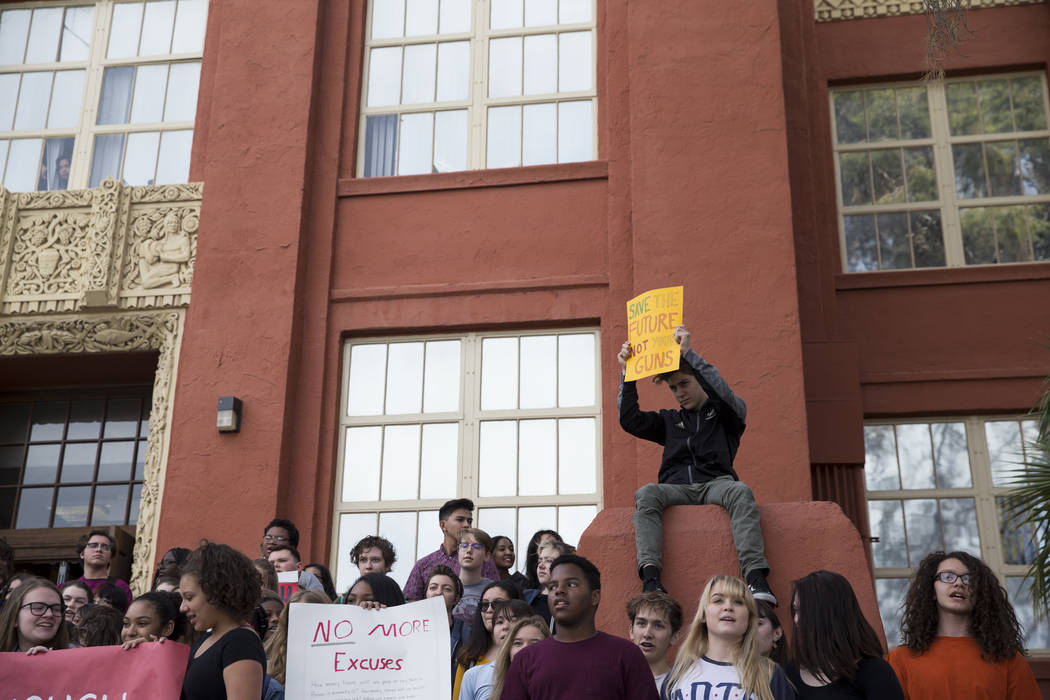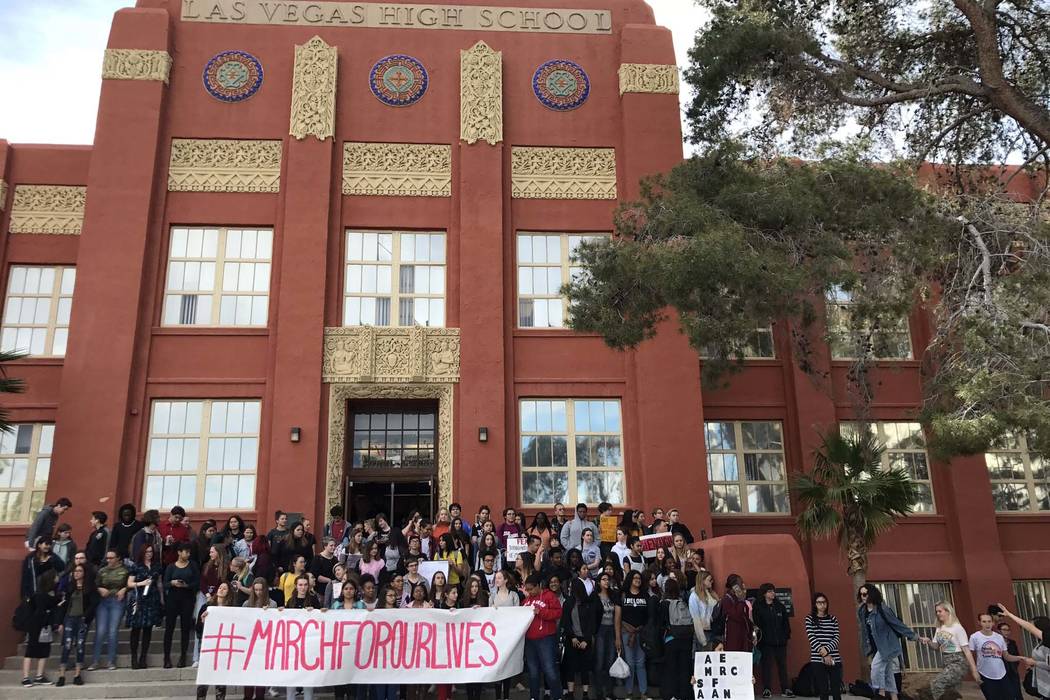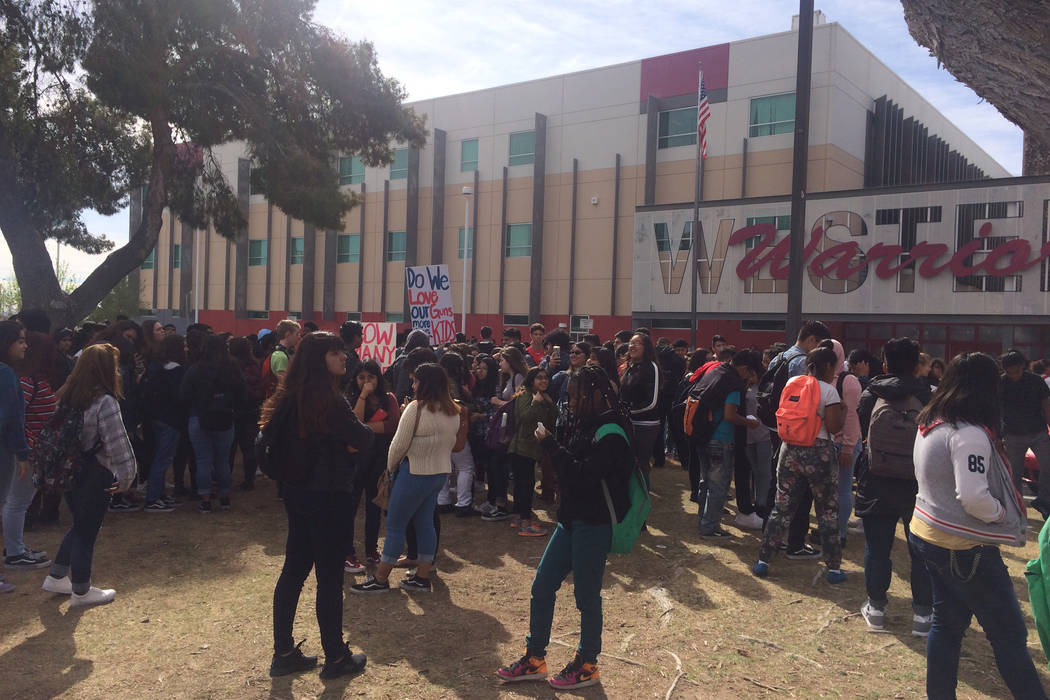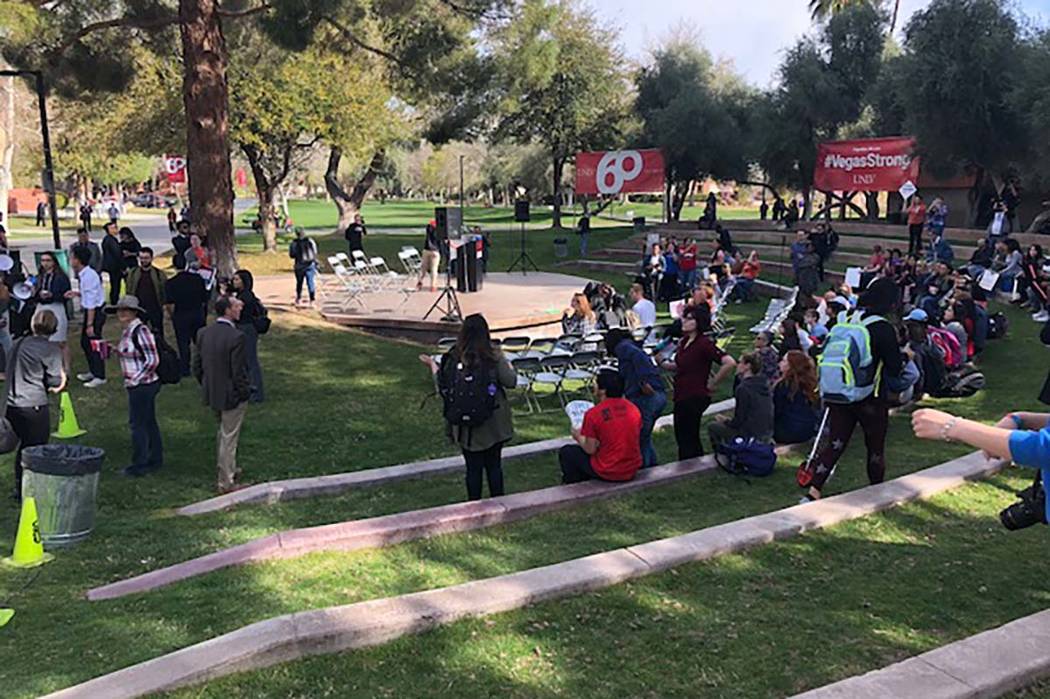 Janelle Anderson's reasons for marching in Wednesday's protest of school gun violence were twofold.
A 17-year-old senior at Las Vegas Academy, Anderson said she is concerned about school safety in the wake of last month's shooting at a high school in Parkland, Florida, that left 17 dead. But, she's also concerned about everyday gun violence. Anderson's older cousin, 20-year-old Dylan Ray Martin, was shot dead in late February in the desert area of east of Las Vegas.
"He was my cousin, but he's more like a brother to me," she said outside the school during the walkout, wearing a blue T-shirt with Dylan's name on it. "It wasn't a public, mass shooting, but he still died at the end of a gun."
Across Clark County, students at nearly two dozen schools called for change through walkouts, sit-ins and other presentations. The 10 a.m. events happened across the country one month after the Parkland shooting — with media outlets reporting tens of thousands of students participating in every corner of the country. Schools that have witnessed mass shooting, including Columbine High School, Newtown High School (where former Sandy Hook Elementary School students now attend), and Marjory Stoneman Douglas High School.
In Clark County, the demonstrations took different forms. Some lasted 17 minutes — one for each of the victims — but others were extended with speakers and presentations.
Taking a different tack
Shadow Ridge High School took a different tack altogether. Each student was given 17 Hershey's Kisses and encouraged to find a student they didn't know, give them a candy and then ask them an ice-breaker question, Principal Travis Warnick said. Students also engaged in a letter-writing campaign.
The total number of local school observances was not clear, but events occurred at Bonanza, Clark, Coronado, Desert Oasis, Desert Pines, Eldorado, Liberty, Mojave, Palo Verde, Rancho, Shadow Ridge, Silverado, Spring Valley, Sierra Vista, Valley and Western high schools; A-TECH, Las Vegas and West CTA academies; the private Meadows School prep school; and Democracy Prep and Equipo Academy charter schools. It was not immediately known if protests that weren't sanctioned by school administrators were taking place at other schools.
At least three middle schools marked the occasion, as well. Students were shown a video Sig Rogich Middle School, according to officials.
About 185 students at Mannion Middle School in Henderson exited the building and congregated around the flag pole at 10 a.m., according to a message sent home to parents. None of the students was disciplined for participating, but students that climbed onto block walls and into planters were reprimanded, Principal Todd Petersen said.
The Clark County School District initially opposed the walkouts, warning that students could face consequences if they participated. But officials later softened that stance, noting in a message to parents that it's acceptable for students to participate in activities that remain on campuses and are approved by administrators beforehand.
Clark County School District Police Capt. Ken Young said "nothing major" occurred at any of the protests.
Chanting and carrying signs
At Las Vegas Academy, students and at least one teacher poured out of the school during its lunch break, holding signs and chanting "protect kids not guns" and "NRA stay away."
Fran Curcio, a 45-year-old English teacher carried a sign reading "Arm me with social workers."
"The issue is bigger than the NRA and guns. It's about mental health," said Curcio, adding that she opposes being armed with a gun, as some politicians have proposed as a way to beef up school security.
At Valley High School, the "walkouts" consisted of three separate events at different parts of the campus that were addressed by six student organizers.
The message: stricter gun control and change driven by youth.
"A gun doesn't matter more than lives taken," said senior Mateo Beers, speaking to hundreds of students inside the main gym. "A gun doesn't matter more than you."
Beers and fellow senior Kyle Catarata read the names of the 17 victims in the Parkland shooting before encouraging students to take action.
"Everybody is going to look at you one day or another and they're going to say, 'No, you can't do that. No, no, n-o,'" Catarata said. "Flip those words and what do you get? On. Like carry on. So when they tell us no, we carry on."
While the presentations were occurring inside, a separate group of nearly 40 protesters held their own protest outside, linking arms and facing away from the school.
At UNLV, student gathered at the alumni amphitheater before marching to the campus free speech zone. Along the way, they chanted "Tell me what democracy looks like — this is what democracy looks like!" and "Hey, hey, ho, ho, gun violence has got to go."
A series of speakers addressed the gathering, including faculty member Fawn Douglas, Micajah Daniels, president of the campus chapter of Black Lives Matter, and Annette Magnus, executive director of the progressive nonprofit Battle Born Progress.
"For the first time in a long time, I feel like we are making progress on this issue," Magnus told the students. "… The pressure you all are exuding is exactly what we need."
Campus security
Speakers also remarked on the need to help make campuses physically safer. Located in downtown, Las Vegas Academy lacks thorough perimeter fencing, Principal Scott Walker. That means vagrants and homeless people often end up on campus.
For the most part, they're harmless and leave when asked, but it is a security concern, he said.
It's one shared by some students. Julia Dreitzer, an 18-year-old senior, said the random people on campus never really bothered her until last month.
"It never occurred to me they could be an active shooter," she said, carrying a sign directed at NRA members that read "We will outlive you."
Students at Clark High School in Las Vegas walked out of their school on Wednesday, joining a national protest against gun violence.(Marcus Villagran)
Contact Amelia Pak-Harvey at apak-harvey@reviewjournal.com or 702-383-4630. Follow @ameliapakharvey on Twitter. Contact Meghin Delaney at mdelaney@reviewjournal.com or 702-383-0281. Follow @MeghinDelaney on Twitter. Contact Natalie Bruzda at nbruzda@reviewjournal.com or 702-477-3897. Follow @NatalieBruzda on Twitter. Review-Journal staff writer Blake Apgar contributed to this report.
Laxalt sketches school safety plan
As students walked out of class Wednesday, Nevada Attorney General Adam Laxalt met with top law enforcement officials and educators to discuss bolstering protections at schools.
Laxalt's law enforcement summit on school safety focused on schools' existing security measures and active shooter response plans, how police and educators exchange information and how they can use analytics and background checks to prevent violence.
The attorney general commended school and law enforcement officials for working together on the issue, but said there's more work to do to "harden" schools. Some ideas floated Wednesday included putting a uniformed officer at every school, working with the FBI on active shooter plans and creating a statewide data system for officers to see if individuals suffer from mental illness.
Laxalt said his top priority will be improving the Legal 2000 process, which enables dangerous mentally ill individuals to be placed on a 72-hour medical hold. Police leaders last week told the Review-Journal that hospitals are releasing mentally ill patients too quickly.
Asked about the school walkouts, Laxalt said he "applauds" the students for being active. Laxalt, the Republican front-runner in the governor's race, said he does not support arming teachers but is open to restrictions on bump stocks. He would not say whether he supports banning assault weapons.
"I think the political response is what's Washington doing to fix this," Laxalt said. "What we learned today is that people on a local level are already working on this."
— Ramona Giwargis