Change hasn't been easy for Henderson Police Department, and chief
Updated November 24, 2018 - 5:07 pm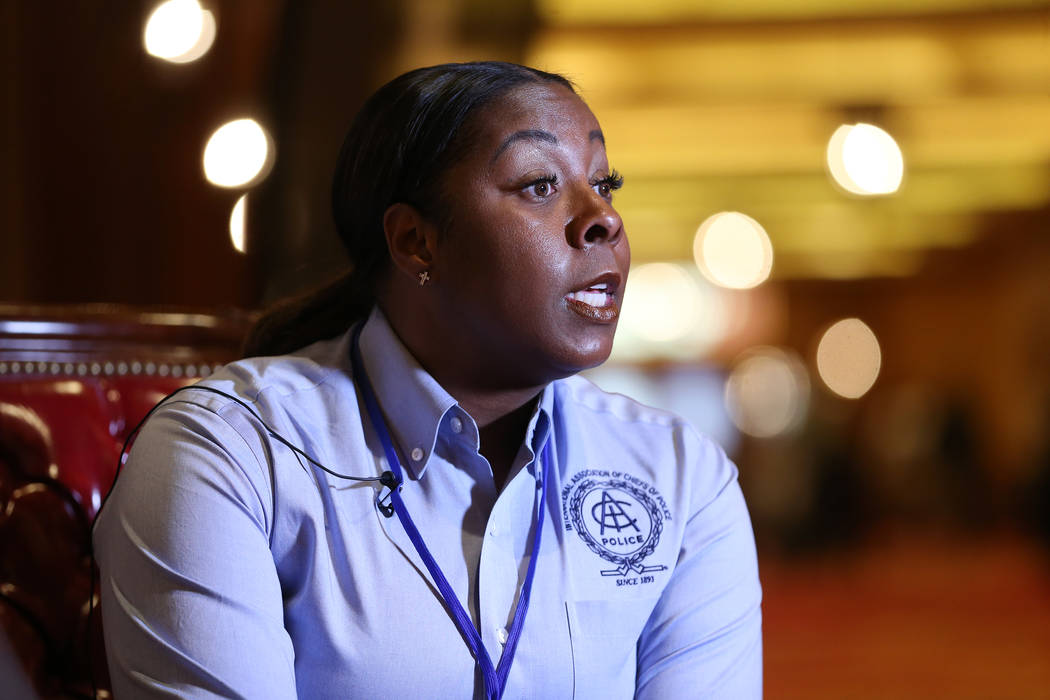 Chief LaTesha Watson of the Henderson Police Department knows change can be uncomfortable.
For her, change meant uprooting her family to move from the Dallas area to the Mojave Desert for her first role as police chief. For her police department, it meant turnover in leadership positions and a string of complaints.
"When you hold every level accountable, not just the lowest levels, but at the top beginning with me, you're going to have a lot of people complain about that," Watson said during an October interview with the Las Vegas Review-Journal. "Especially if they're not used to it."
But in the year since her Nov. 21, 2017, swearing-in, change has also meant an effort to improve the way officers connect with the people they protect — and a push to put more boots on the ground to accomplish that.
Watson came to Henderson from Arlington, Texas, as an outsider and a reformer, and she is using her lack of roots in the Las Vegas Valley to her advantage as she pushes for change.
She insists that her officers are seeing a level of fairness and consistency that the department has lacked, but feuds between several officers and her administration have brewed during her first year on the job. The latest example being a complaint filed with the state-run Local Government Employee-Management Relations Board just days before her anniversary with the department.
Rising tension
Watson, whose annual salary is $190,000, knows her decisions are not popular with everyone, but dissent within the department became apparent when the labor groups that represent the Henderson Police Department's rank-and-file officers and supervisors accused leadership of union busting.
The complaint alleges Watson and Deputy Chief Thedrick Andres — who she brought in from the Arlington Police Department — have intimidated and retaliated against officers for their roles with the unions. Watson could not be reached for comment on the complaint Friday.
The city has said many of the allegations in the complaint are in dispute, without specifying.
She has said that complaints are the product of employees resistant to change.
"You're always going to have that small segment, no matter what you do, that they're going to be disgruntled or they're not going to want to bring positive light to work," she said. "No matter where you are, you'll have that."
Watson's supervisor, Bristol Ellington, who serves as Henderson's chief operating officer and deputy city manager, said all complaints are taken seriously and investigated.
"I would say she is a change agent," he said. "And so when you bring somebody new into the organization, it does create disruption. The hope is, of course, that they're going through a storming process and that eventually it will get to norming."
Watson said this month, before the labor complaint was filed, that she felt morale within the department was doing well.
"Because of resignations, retirements, this is a time in the Police Department where people are given opportunities that they didn't think that they would get," she said.
The department has experienced significant turnover with 19 people being promoted to leadership positions, according to an internal email the chief sent employees early Thursday. Watson said this month that she has to appoint two more people to captain positions.
A challenging move
Watson came to Henderson during a turbulent stretch for the Police Department. Her swearing-in came months after Patrick Moers left the post of police chief amid controversy.
The move from Arlington, where Watson was a deputy chief, has been difficult for the chief and her family.
"I'm the youngest child of three and all of my siblings live close to my mom," she said this month. "And as the youngest child, you know, your mother is not the one who's going to be a proponent of you moving."
Her children stayed behind to finish the school year in Texas but moved to Nevada in the summer. Watson said her children especially miss their grandparents.
"Everything's different," she said. "The food, the overly friendliness that we have in the South, it's not here in the state of Nevada."
But despite the differences, Watson said she received a warm welcome to the valley.
A year of shake-ups
Watson acknowledges that change takes time.
In her first year, the chief has focused her efforts on making her patrol officers more effective by taking steps to decrease response times and increase quality of life for residents of Henderson.
She beefed up the number of officers on the streets by reallocating more than 40 positions from around the department to patrol, including a now-defunct problem solving unit.
Ellington said he has not seen a negative impact on crime by reallocating those units to patrol.
"In fact, some of the things that she's doing actually has helped improve response times," he said. "They've actually gone down."
Watson also changed the boundaries of Henderson's patrol zones in an effort to drive response times down.
"The boundaries weren't adequate to what the workload was and so, as an example, we would have an officer who is assigned to one area, but they're having to travel 20, 30, 40 minutes to get to one call," she said.
Over the summer, she implemented the practice of geographic-based policing to give officers a sense of ownership over the areas they patrol. With that came an effort to have the department connect with community members.
"And what that does for the community as well is, is that when they have a concern, instead of waiting on the chief of police to call them back, they have someone that works that area every single day of every single year, and that they understand who it is that they can call for any issues or praise," Watson said.
More changes coming
Watson said she had to quickly shift her focus this summer after several of her officers were involved in three separate shootings, two of which were fatal. The department is reviewing its officer-involved shooting policy.
The chief has offered no specifics about the shortcomings of the existing policy but has said its reform is a priority.
After spending months observing the operations of her department, Watson enlisted the help of a consulting agency called The Bowman Group. The group is run by Theron Bowman, Watson's former chief at the Arlington Police Department. Watson said she disclosed her relationship with Bowman to the city before the $45,000 contract was signed.
Watson said she hired the group because of its reputation in the consulting field.
"When you talk about policy analysis and you look at The Bowman Group and the type of experts that work in that field, it's hands down who we should utilize," she said in October.
The group is expected to finish its analysis by the end of the year and will create a list of policy change recommendations.
"We've had some gains, but we have a long way to go," Watson said. "A lot more areas need to be thoroughly looked at."
Contact Blake Apgar at bapgar@reviewjournal.com or 702-387-5298. Follow @blakeapgar on Twitter.