4 dogs back in Las Vegas Valley after scouring wildfire remains
Updated November 29, 2018 - 11:09 pm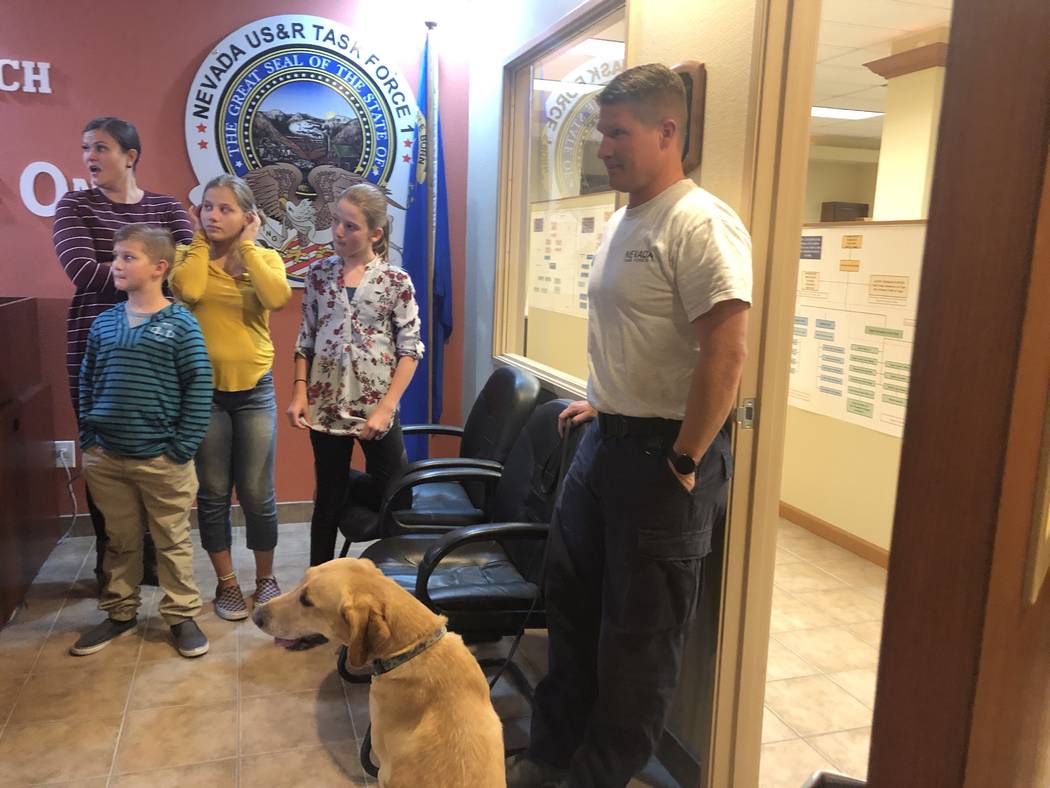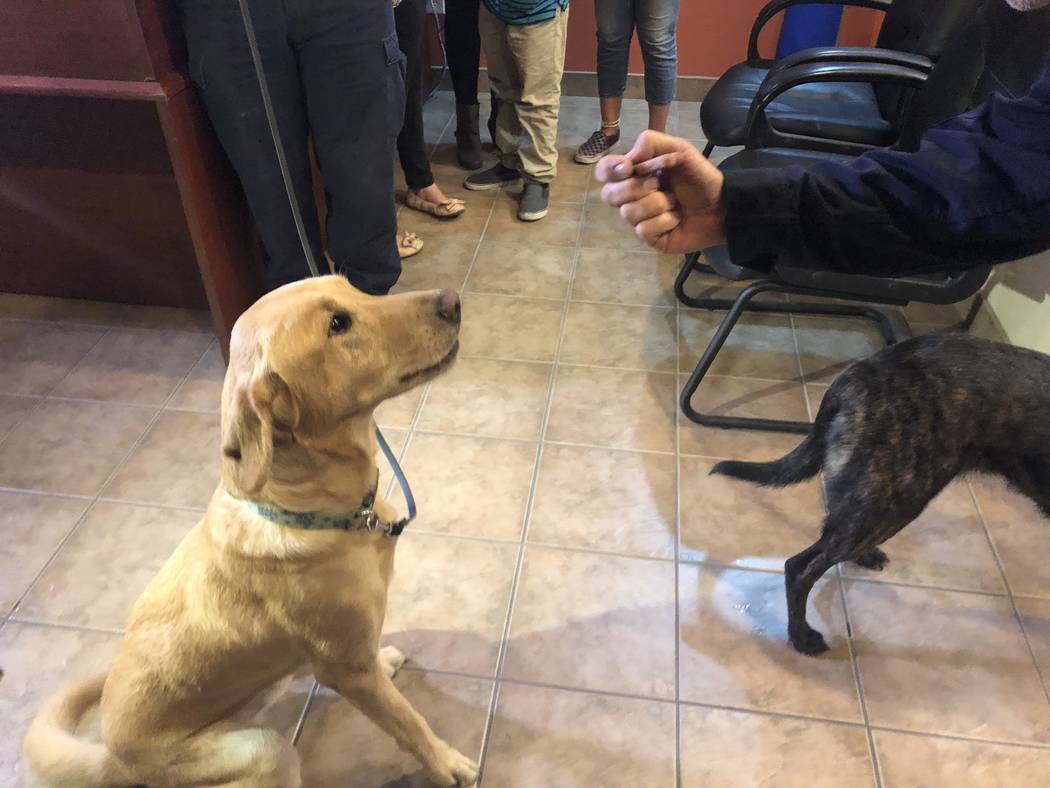 Nevada welcomed home emergency service workers sent to aid California officials battling the state's deadliest wildfire, including four searchers with wet noses and wagging tails.
Arriving home to the Las Vegas Valley on Thursday night were four dogs: Kya, a Belgian Malinois; Aldo, a pit bull mix; and two Labrador retrievers named Dexter and Roux.
The canines and their handlers are part of Nevada Task Force 1, a Federal Emergency Management Agency urban search and rescue team, headquartered in North Las Vegas.
The dogs left Las Vegas last weekend to search for human remains among the destruction caused by the Camp Fire in Northern California. The blaze burned more than 13,000 homes in Butte County and killed at least 88 people. About 125 people were still missing as of Thursday night, according to the Butte County Sheriff's Office website.
Nevada Task Force 1 program manager Paul Bailey said the dogs used their noses to pinpoint human muscle tissue, fatty tissue and bone fragments hidden in mobile home parks razed by the fire. They worked 12-hour shifts.
"What they're looking for is where the burn area is so intense there are very little remains to find," Bailey said. "Their ability to smell is about 10,000 times greater than ours."
The team arrived in California on Sunday, and Dexter found someone during the first search. It was Dexter's first time deployed for a human remains search.
"He alerted and found somebody in a house that was completely destroyed down to ashes," said Dexter's handler, Chris Burr.
No other bodies were found during the search, said John Bernstein, a dog handler from the North Las Vegas Fire Department. His dog, Kya, injured her paw even while wearing dog booties during a search. But the injury hasn't bothered Kya, he said.
"All the structures were filled with sharp metal and wire," Bernstein said. "She managed to catch something on her pad right above where the boot was, and it just sliced open."
The dogs don't know the gravity of their job — they think they were playing a game, Bernstein said.
"For them it's a big game of hide-and-seek," he said. "They think every time they find what they're looking for, they're going to get their toy."
Others pitched in
The dog teams weren't the only ones assisting in the search for the fire's victims.
Four forensic anthropologists from Clark County sent to help identify human remains came back Nov. 17, according to county Coroner John Fudenberg. Fudenberg said the anthropologists, three of whom are UNLV graduate students, faced danger trying to find bodies
"You're basically sifting through piles of burnt homes," he said.
Fudenberg said it was gratifying to be able to help Nevada's neighbor after other states sent resources and experts to assist his office following the Oct. 1 mass shooting on the Strip.
"For us to turn around and assist another agency that is having a very difficult time with resource capacity, it means a lot to all of our staff because we relied so much on outside help," he said. "Until you go through an incident like that, you have no idea how difficult it is."
Workers and equipment deployed to California by the Nevada Division of Forestry are also home, spokesman Eric Antle said.
Close to 90 firefighters, five state corrections officers and other Division of Forestry staff worked 13 shifts fighting the Camp Fire. They were back in Nevada on Nov. 20.
Antle said no one from the team was injured by the blaze.
Contact Michael Scott Davidson at sdavidson@reviewjournal.com or 702-477-3861. Follow @davidsonlvrj on Twitter. Contact Katelyn Newberg at knewberg@reviewjournal.com or 702-383-0240. Follow @k_newberg on Twitter.