After getting a break from a judge, a violent young Las Vegas man now faces a murder charge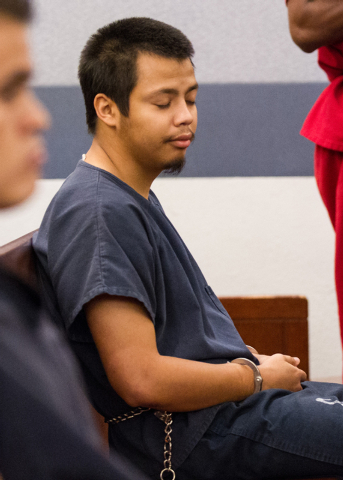 Robert Garrison should probably be dead.
Many people don't survive being shot just once, especially at point-blank range. Garrison, just a teenager in 2009 and a few blocks from his high school, was shot five times — in the chest, stomach and back — from less than 2 feet away.
His shooter, Jonathan Perez, should probably be in prison.
Only a skilled surgeon and some luck prevented Perez from becoming a murderer. In 2011, Perez pleaded guilty to attempted murder and carrying a concealed weapon. And he'd continue to get lucky.
Veteran District Judge Ken Cory ignored prosecutors' recommendation for a 20-year maximum prison sentence. In a decision that shocked officials, Cory gave Perez probation.
"I don't want to have to worry about you doing some dumb thing again," Cory said in court, "and winding up back in front of me."
Just a few years later, Perez, now 22, is again accused of shooting someone. This time, neither Perez nor the man who was shot were as fortunate: Perez faces a murder charge.
Cory told the Review-Journal he doesn't "feel good" about his decision, in light of Perez's new charges.
"I don't lay claim to always being happy with the sentencings I do," the judge said. "I recognize we are humans trying to effect justice in a very imperfect system. We do the best we can with the tools and knowledge we have."
But some people — including Garrison, who may never completely recover from the shooting — are questioning whether Cory's leniency did anything but keep a violent criminal on the streets.
BRIEF ENCOUNTER, PERMANENT SCARS
Perez and Garrison hadn't met before a chance encounter the afternoon of July 25, 2009, near Desert Pines High School, where Garrison was a student.
Garrison, who had just turned 17, was with his 15-year-old girlfriend. She was pushing the couple's 6-month-old daughter in a stroller on Bonanza Road when Perez and his brother, Kevin Fuentes, approached.
Somebody looked at somebody wrong. Words were exchanged. Punches were thrown.
That's when Perez, then 18, pulled a gun.
It took about a month for Metro's gang unit to find Perez, who had a record of graffiti and drug possession as a juvenile and went by the street name "Chino." Perez and Fuentes were planning to flee to Mexico, their family told police.
Fuentes, then 16, quickly took a deal from prosecutors and in 2010 pleaded guilty to conspiracy to commit murder and battery with a deadly weapon. District Judge Valorie Vega sentenced him to two to six years in prison.
It stood to reason that Perez, as the shooter, would get a longer sentence than his brother.
Defense attorney Bret Whipple expected prison for Perez, too, but at sentencing on April 25, 2011, he asked for minimal punishment.
"Is this court going to give probation? It's unlikely. Is it appropriate for me to ask the court for probation? I truly believe it is," Whipple argued.
Instead of accepting responsibility and appealing for mercy, Perez and his lawyer took the opposite approach.
Garrison, who was unarmed, was the "bad person" who attacked Perez's brother, Whipple said, adding that Garrison provoked Perez to shoot in self-defense.
"(Perez) just didn't realize, adrenaline flowing, when he's trying to stop that person from hurting his brother, that he'd pulled the trigger so many times," he told Cory.
Perez also said it was an accident.
"I didn't intend to shoot him," he told Cory. "I flinched. And before I realized what I was doing, it was too late to take anything back."
NOT A THREAT TO SOCIETY
The judge initially seemed skeptical.
"You mean, if a guy starts a fight with your brother, it's OK to pull a gun out and shoot him?" Cory said. "How else could I conclude anything but that (Perez) accomplished what he set out to do? May have been spur of the moment, for sure, but he pulls out the gun and plugs him five times."
Whipple said Garrison's absence from court was meaningful.
"I can tell you why that person's not here — it's because he's the instigator," Whipple said. "(Perez is) not a bad person. He's in a bad neighborhood and a bad person starts a fight with his brother, and he's suffering the consequences."
Whipple acknowledged Perez's lengthy juvenile record, but said his client had a spotless record as an adult — aside from the shooting.
No one questioned that argument. But no one did the math: The shooting happened about a month after Perez turned 18.
Cory offered Perez his sympathy, and said he "took him at his word" that the shooting was accidental. He scolded Perez for carrying a gun without receiving any firearms training.
"If anything, in this case the carrying the concealed weapon (charge) is the thing that really got you into trouble," he said.
The judge considered a minimum two-year prison term, but then decided the 600 days in jail Perez already logged was enough. He settled on probation.
The sentence came with a stipulation: If Perez violated probation, he'd get a minimum of three years in prison, instead of the two years initially considered.
"There are more egregious instances of attempted murder that come before me, where a maximum sentence is really warranted," he said.
Several officials with knowledge of the case said they were stunned by Cory's decision.
"This kind of sentence, for a crime as violent as this, just doesn't happen," said a court official close to the case who asked not to be named.
Clark County prosecutor Nell Christensen said her office asked for the maximum penalty.
"We argued for a substantial prison sentence and instead the judge gave him probation," she said, declining to speak more about the sentence.
Dayle Carlson, a 43-year veteran probation officer in California and a nationally known expert on sentencing guidelines, said Cory's decision was a "mystery to me."
"That is an outlier, in my experience. It's hard to fathom that kind of a decision on a case like that," Carlson said. "You need to factor in if a sentence tends to diminish the seriousness of the conduct. One could easily argue that, in this case, it did."
Cory said he didn't buy the prosecution's argument that Perez deserved a maximum penalty — he wasn't dealing drugs or robbing people before the shooting, and it looked like self-defense.
"I didn't consider this guy to be in the class of people that I see, where they are a known threat to society," he said. "From the facts I saw, I concluded (the crime) was most likely a one-time deal."
Perez had thanked Cory for the opportunity as his family smiled and cried in the near-empty courtroom behind him.
"I know I can do better, you know, stay off the streets. Because I really want to," he said.
"Well, thank you. You're welcome," Cory said, "and I hope it all works out for you."
Cory knows now that it didn't.
"If we had 20-20 vision, we'd know which ones to lock up and throw away the key," he said recently.
UNTOLD STORY
Garrison said he is not "the bad person" and he resents the way Whipple portrayed him in court.
He said he would have been in court to defend himself, but he was never informed of the hearing. He only recently learned that Perez was on the street.
"I thought he got a 25-year sentence," a shocked Garrison told the Review-Journal in a recent interview. "They told me not to come back to court, that he took a deal and got 25 years. I thought it was done. … I don't get how you get probation for attempted murder. He shot me in broad daylight on a main street."
He called himself a family man who never picked a fight with Fuentes or Perez.
"My girlfriend was with me. My 6-month-old daughter was with me," he said.
Garrison said police told him Perez picked him at random for a gang initiation.
"He got put on a gang. I don't know what it's called, but you got to kill somebody to be (initiated)," he said. "He chose me."
Garrison said the shooting nearly ruined his life. He was briefly paralyzed by three bullets lodged in his spine, and doctors warned that he might not walk again.
He proved his doctors wrong, he said, although he still has problems with one leg. But his high school track career was destroyed, and he was deeply depressed after the shooting, he said.
"I was scared to be in society. I still am afraid," he said.
Despite those fears, Garrison had testified at Perez's preliminary hearing, and he and his aunt both spoke at Kevin Fuentes' sentencing.
He would have spoken out again, even though Perez's friends and family tried to intimidate him into not testifying, Garrison said.
But his story wasn't a factor for Cory's decision.
Cory said those details would have made a difference.
"If I would have thought this guy (Perez) was doing anything like that, I would have never given as light of a sentence in the first place," he said.
Garrison will celebrate his 22nd birthday in a couple of months and treasures his second chance at life. He knows his daughter is lucky to have a father.
BLOWN CHANCES
Perez blew his second chance in just a few months.
After being caught with "Spice," a synthetic marijuana, and refusing to get a job, Perez was arrested for violating probation in September 2011.
In court both the prosecutor, Christensen, and District Judge Joe Bonaventure seemed bewildered at Cory's original sentence.
"Unbelievably, even though he has juvenile history and the facts of this case are extremely violent, and the co-conspirator who didn't pull the trigger got prison time, the defendant somehow gets probation," Christensen told Bonaventure.
"Somehow? A judge must have gave (probation), right?" Bonaventure asked. "Who was the judge?"
Perez's parole officer told Bonaventure that Perez was "angry and confrontational," and had to be handcuffed while in his office.
"I deal with a lot of gang members, and he had that serious confrontational look like he was going to take action," the officer testified.
Bonaventure quickly revoked Perez's probation, sending him to prison for the first time.
"How could a guy that got a break like that, 20 years in prison, and … Judge Cory sees something in him, I guess, and gives him probation," Bonaventure said from the bench, his voice rising. "If I was on probation after a 20-year recommendation, I'd be saying, 'Sir, yes sir! Sir, yes sir! Whatever you need, sir!' "
But Bonaventure reduced Cory's sentence from three years to two years, for reasons he didn't say in court.
Perez spent a little more than a year at High Desert State Prison in Indian Springs before he was released on Nov. 24, 2012. It wasn't long before he fell back into his old habits.
On April 21, Jason Puckett, 28, was looking to buy some marijuana. His longtime friend, Dominic Carter, said he knew a dealer with some dope.
But Carter's dealer was a young man with a short fuse and a fondness for using guns to settle his disputes. Carter later told police that he watched as the deal went south and Perez shot his friend several times.
'THAT ISN'T JUSTICE'
Perez is being held without bail at Clark County Detention Center on a murder charge. His case is assigned to Justice of the Peace Ann Zimmerman.
"How is he not in prison for an attempted murder conviction in 2011? That's pretty recent," Zimmerman said at a May 9 court appearance. After being told Perez got probation, the judge tilted her head slightly in surprise but said nothing.
Perez appeared bored in court, often yawning or grinning. He heckled a newspaper photographer who took his picture and smiled and blew a kiss at a young woman sitting with his family.
Puckett's girlfriend and other friends attended the hearing, and later told the Review-Journal that Puckett had a California medical marijuana card and normally didn't buy drugs on the street.
Carter told the newspaper that Perez fired for no reason. Puckett had his cellphone in his hand when Perez fired several shots, striking Puckett three times from close range, Carter said.
Perez didn't take anything, but Carter believes the motive was money, he said.
"My best guess is, he was trying to stick us," Carter said. "Perez is known for sticking people up."
After being told of Perez's prior conviction and sentence, Carter gaped. He said he knew Perez well about eight years ago, but only recently bumped into him again.
"I had no idea. That's crazy," Carter said. "How do you get probation for something like that? That isn't justice."
Carlson, the sentencing expert, said there are hundreds of nuances in a case that can influence a judge's sentence, and the reasons aren't always clear.
"It's hard to figure out what goes on in between the ears of a judge," he said. "You believe they act in good faith."
Cory said he understands why people question his sentence.
"People see that this guy got probation for this? What in the world," he said. "But if I had given him five to 20 (years), my guess is he would have been out, anyway.
"The only way out of it, that I can see or I know, is if you (increase) all the penalties and you slam every single one of them. That's the only way to get the safety, the security that could prevent this kind of a situation."
Cory faces re-election this year. He's unopposed.
Contact reporter Mike Blasky at mblasky@reviewjournal.com. Follow @blasky on Twitter.