Card counter sues Planet Hollywood over detention, confiscated casino chips
January 8, 2015 - 3:57 pm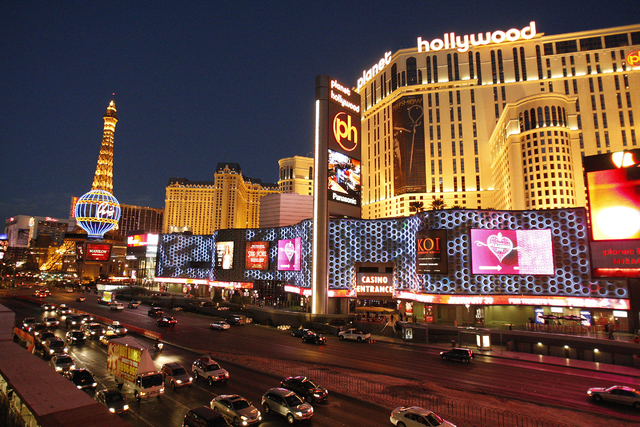 A professional gambler from New Jersey claims employees at Planet Hollywood Resort illegally detained him and stole nearly $5,000 in casino chips after they noticed him counting cards in June 2013.
The gambler, Ross Miller, filed a lawsuit against the Las Vegas resort in Clark County District Court on Monday, the same day he filed a case against the resort's owner, Caesars Entertainment Corp., in New Jersey Superior Court.
In the New Jersey case, Miller also claims he was illegally detained at three Caesars properties in Atlantic City in 2013.
"The casinos in general have this negative stigma," Miller said in a telephone interview Thursday. "They dislike professional advantage players."
Miller, 28, said card counters and other advantage players are not cheaters, but casinos often treat them as such. Card counting is simply a "playing strategy," he said.
Caesars spokesman Gary Thompson said the company does not comment on pending litigation.
Las Vegas attorney Robert Nersesian is representing Miller in the Nevada case, but the plaintiff is representing himself in the New Jersey case.
Miller first was detained on May 24, 2013, at Caesars Atlantic City, and he was acquitted of disorderly conduct a year later, the New Jersey complaint says. Miller believes that details of that incident, including his identity, were shared throughout the company.
The Nevada lawsuit indicates that Miller was card counting at blackjack on June 20, 2013, when he saw that he was being watched and decided to leave. He approached the Planet Hollywood casino cage to cash his $4,975 in chips.
According to the lawsuit, cage personnel took the chips and requested Miller's identification. Miller refused.
When the personnel wouldn't cash Miller's chips, he tried to contact the Nevada Gaming Control board, but he lacked cell service at that location.
The lawsuit claims Planet Hollywood employees had a duty at that point to contact the board themselves. Instead, a security officer demanded Miller's identification, and Miller again refused to provide it.
According to the lawsuit, the officer then told Miller to leave or face charges for trespassing. As Miller began to depart, he stopped to take a picture of his chips.
Miller then "was grabbed and handcuffed by Planet Hollywood personnel," the lawsuit alleges.
Casino employees summoned Las Vegas police, who then initiated a criminal case against Miller, according to the lawsuit. The criminal case ended in Miller's favor, the document states, but he has yet to get his money back.
The lawsuit's claims include theft, false imprisonment, defamation, battery and malicious prosecution. Miller suffered cuts and bruises when he was detained, according to the document.
According to the New Jersey lawsuit, Miller also was assaulted and detained in July 2013 at Harrah's Atlantic City and in November 2013 at the Showboat in Atlantic City. Both times, Miller was charged with disorderly conduct, but the charges later were withdrawn.
"In these particular cases, the stuff they did, it really hurt me," Miller told the Las Vegas Review-Journal.
Miller, who lives in Howell, N.J., said he spent thousands of dollars defending himself against the criminal charges.
Contact reporter Carri Geer Thevenot at cgeer@reviewjournal.com or 702-384-8710. Find her on Twitter: @CarriGeer.