Domestic violence call ends in police shooting
August 11, 2014 - 8:04 pm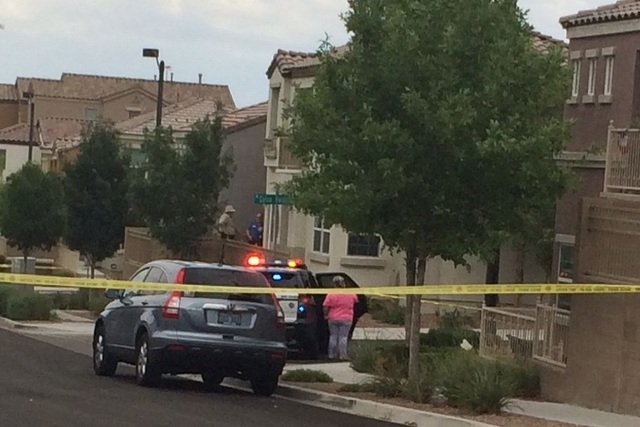 Las Vegas police were investigating an officer-involved shooting Monday afternoon that stemmed from a domestic violence call.
The shooting was reported just before 2 p.m. in the 7600 block of Calico Fields Street, near Farm and Fort Apache roads.
Officers initially responded to the house just after 1 p.m. after receiving several disturbance and family violence calls, according to police. Callers told dispatch that a man was armed with a knife.
Arriving units positioned themselves around the house, thinking people were inside, Metro Capt. Matt McCarthy said. They tried to communicate with whoever was in the residence but received no response.
Officers then noticed a man standing by a vehicle nearby, McCarthy said. He was wearing a mask and seemed to match the description of the man they were seeking.
The man advanced toward the officers with the knife, and they used what McCarthy called "lethal and less lethal" force to stop him. He didn't elaborate on what that meant, but said the man was being treated at University Medical Center for gunshot wounds.
Metro spokesman Larry Hadfield said no officers were injured in the incident.
Police have not confirmed the identity of the man who was shot, but the Review-Journal has learned that Kyle Kuhn, 31, initiated the incident. Kuhn is married, according to his father, who on Monday was driving to Las Vegas from Winnemucca. He learned his son had been shot from Kuhn's wife, who was texting him throughout the ordeal.
Hadfield said this incident was fairly straightforward compared to a pair of recent police shootings that came after chaotic chases.
Neighbors say Calico Fields Street has seen an unusual amount of trouble recently.
Resident Brian Norton said a house near the one involved in this shooting has had domestic disputes before. An unidentified neighbor said a car recently had its windows smashed in on the street. Other neighbors agreed that the neighborhood is not as nice as its curb appeal makes it seem.
Kuhn has a criminal record in Clark County, with burglary, forgery and theft charges dating back to 2002.
This is the 14th police shooting in Metro's jurisdiction in 2014.
Reporter Wesley Juhl contributed to this report.
Contact reporter Annalise Little at alittle@reviewjournal.com or 702-383-0391. Find her on Twitter: @annalisemlittle.