65-foot-tall mural graces downtown Las Vegas church
Updated October 23, 2018 - 2:05 pm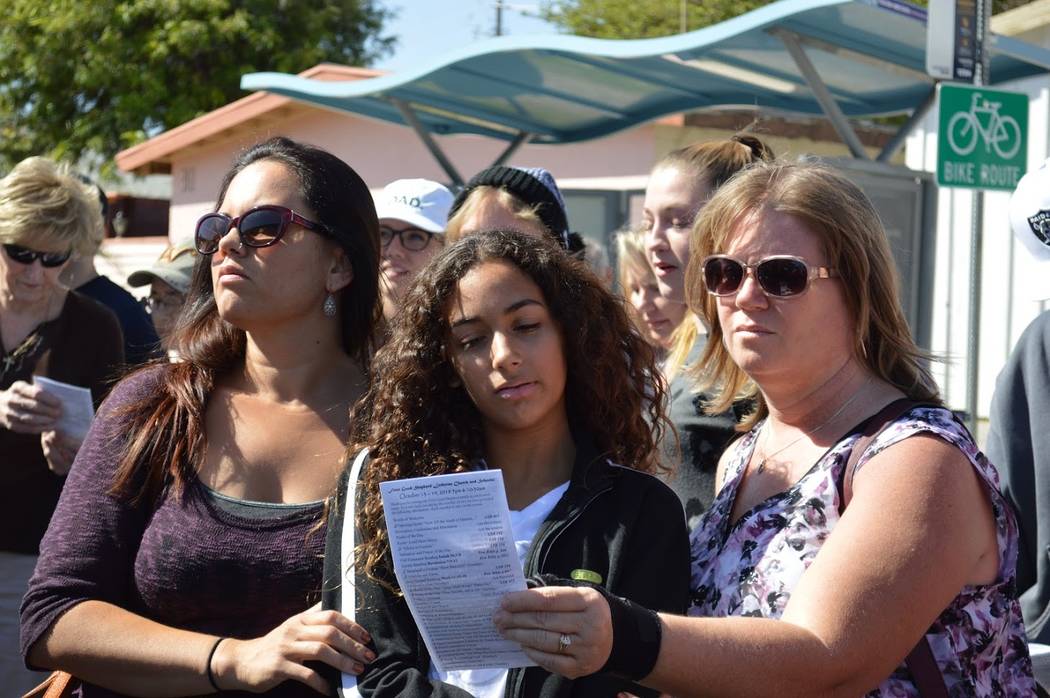 The children's gaze is fixed on the large, open palm reaching out to them.
When you walk by the massive, newly revealed mural in downtown Las Vegas, you can't help but join their gaze .
"It's an inviting mural," said Brad Beckman, pastor of First Good Shepherd Lutheran Church, on a recent Sunday morning. "Jesus is reaching out his hands to all people of ethnic backgrounds."
The church is on the northeast corner of Bridger Avenue and Maryland Parkway — an intersection occupied only by white and tan buildings until about five months ago, when Beckman entrusted local artist Heather Toledo with the project.
At its highest point, the mural is 65 feet tall.
The church debuted the mural, titled "All Nations," on Oct. 14 with a dedication that briefly shut down a chunk of Maryland Parkway.
"This mural symbolizes to us and our community that Jesus loves everyone and that he wants people from all nations to put their faith and trust in him," Beckman said during the dedication outside the church. He stood before at least 100 members of his congregation as they joined him in prayer.
Thanking the artist for her work, Beckman handed Toledo the microphone.
"Art is a big thing in my family," the 31-year-old muralist said to the congregation as she stood in front of her work. "My dad painted a mural in a church, so I wanted to follow in his footsteps. I'm glad Brad put his faith in me and trusted me to do it."
Toledo said she completed the project on her own, working through the unforgiving summer heat. It was the largest project she's done in her career — and one of the most rewarding, she said.
"It was just me all by myself," Toledo recalled, "so the entire thing was such a process and learning experience, but it was special."
Beckman agreed, noting that he had pushed for an outdoor mural when he pitched the idea to church officials.
"Through the 'All Nations' mural, we also want to show people in downtown Las Vegas what heaven will look like," he said.
Contact Rio Lacanlale at rlacanlale@reviewjournal.com or 702-383-0381. Follow @riolacanlale on Twitter.