UNLV grad to open Nevada's first cat cafe in Las Vegas
February 10, 2018 - 10:20 pm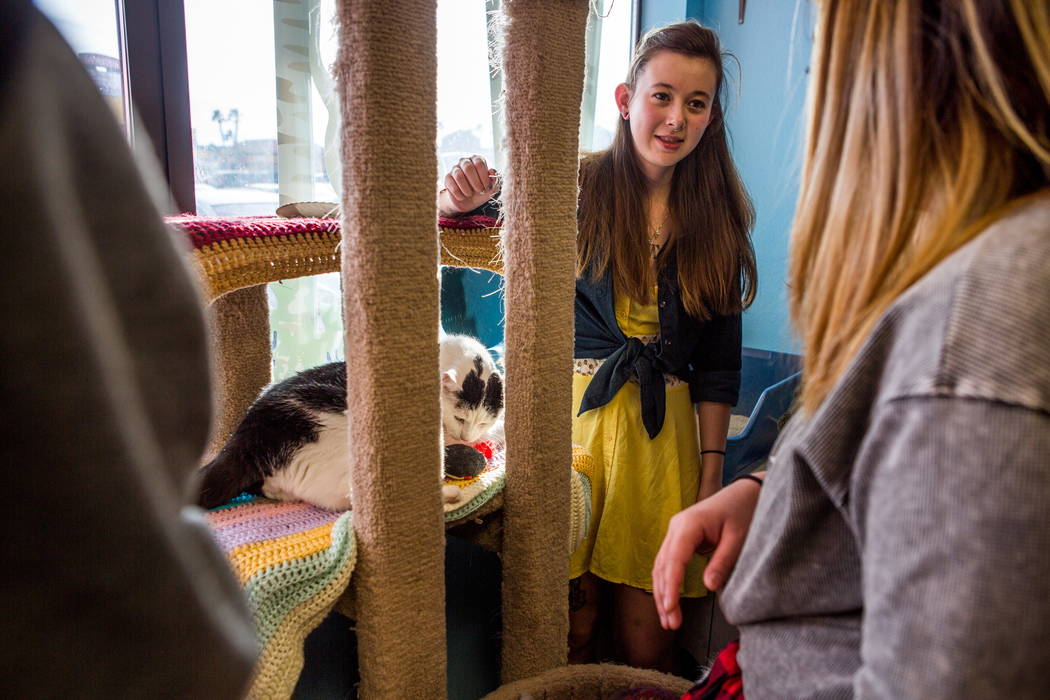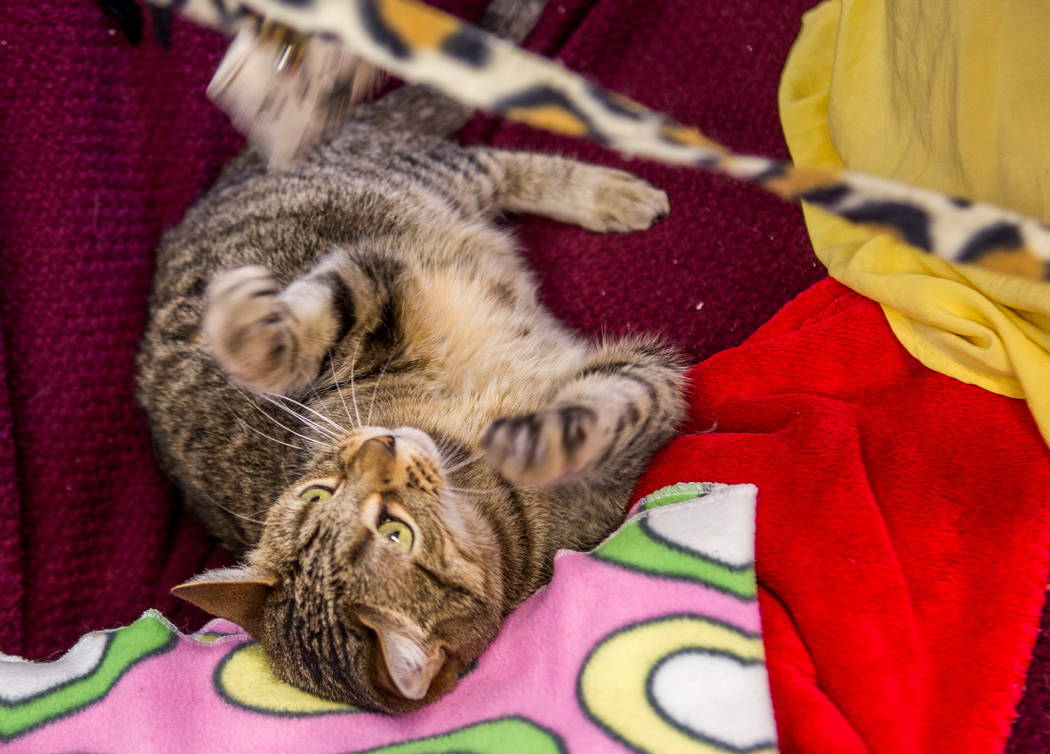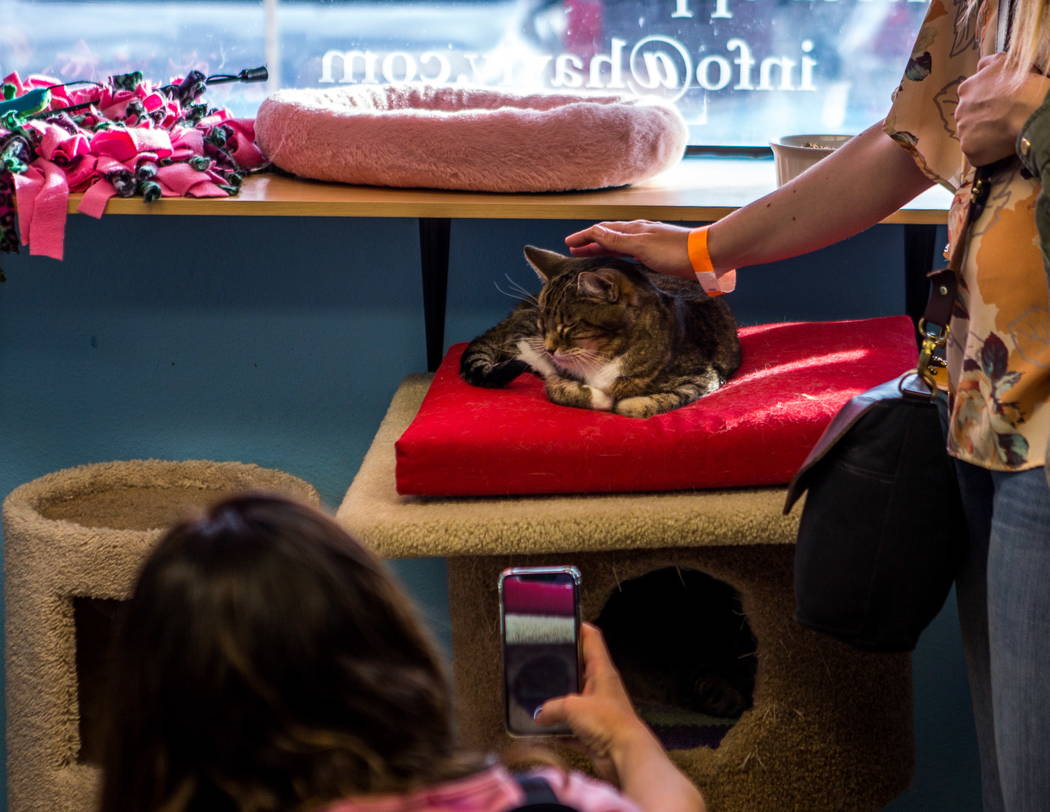 Downtown Las Vegas is getting Nevada's first cat cafe.
Cat lovers will be able to sip coffee and adopt furry felines once Meow or Never Cafe opens in April on East California Avenue, around the corner from Makers & Finders and Hop Nuts Brewing.
More than 30 cat cafes have opened around the country in the past four years, from Seattle to Minneapolis to Washington, D.C. At most of them, guests can purchase coffee or food and then consume them in the company of cats.
At a pop-up adoption event at Hearts Alive Village on Saturday, founder Rhiannon Gladney announced she had secured a lease for a 1,500-square-foot space on East California Avenue.
Gladney had been planning to open her cafe in the southwest valley later this year, but she ended up finding affordable space downtown that fit the needs of her business.
The cafe will be split into two rooms: one for pastries and coffee, and another a playroom for the cats. It also will include an additional enclosed patio outside for interaction between cats and customers.
Cat lovers, including Janet Chati, were excited.
"I kept thinking, we have everything else (in Las Vegas), why not this, too?" Chati said. "When it opens I'm definitely going to go."
A 2016 economics graduate of UNLV, Gladney said she started out as a pre-veterinary student and then switched majors when she realized she had a knack for business.
Halfway through college, she visited her first cat cafe, Purringtons Cat Lounge in Portland, Oregon. Employees told her an average of seven cats were adopted each month from the cafe. In the three years Purringtons has been open, 479 cats have been adopted, according to the cafe's website.
The Las Vegas Valley Humane Society estimates Clark County is home to more than 200,000 undomesticated cats.
"Around the 2008 housing crash, a lot of people just left their cats and left them unfixed, and then one cat turned into a lot more cats very quickly," Gladney said.
Visitors got a chance Saturday to see how the concept would work, purchasing their food and drinks in one room and then entering another space, where the cats — Axel, Jade, Mia, Zazz, Sadie, Pepe, Night, Lucky, Zena and Charlie — lounged.
People took pictures, tossed toys and tried to coax a few felines from their hiding places.
Volunteer Lindsay Fiske watched over the cat room to ensure none of the animals got stressed. She was also there to help process any adoptions. She said she hoped some of the older cats would find forever homes.
"People want kittens," Fiske said. "That's why Mia has been here a while. Because she's 10 and people think that's old. But they live another seven to 10 years."
Gladney said she expects to start with 15-20 adoptable cats at the cafe. Pastries will be purchased from outside vendors and shipped in, and coffee will include pour over and cold brew.
"It's a bit lower key than a normal coffee shop would be," Gladney said. "But that's OK, because our main goal is to get the cats adopted."
Contact Madelyn Reese at mreese@reviewjournal.com or 702-383-0497. Follow @MadelynGReese on Twitter.
Meow or Never Cafe
Social media: facebook.com/meowornevercafe
Indiegogo fundraiser: bit.ly/2yLKikU
Meow or Never volunteer Facebook group: bit.ly/2ArRBMK