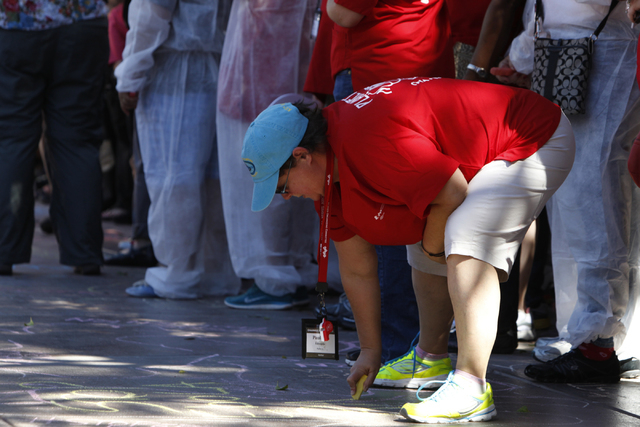 Nurses, in town for a convention, staged a demonstration on the Strip two weeks ago to draw attention to what they called the U.S. health care system's lack of preparedness for the Ebola virus.
That same week, a patient in Dallas who had recently traveled from Liberia was sent home from an emergency room with symptoms of Ebola infection, illustrating the concerns of the protesting nurses.
The Dallas patient remains the only Ebola case diagnosed in the United States, but preparations have been in the works for months about the possibility of Ebola arriving in Southern Nevada.
A protocol for emergency medical personnel and other health care workers was distributed weeks ago, and additional guidelines were approved last week for nonmedical businesses such as casinos, said Dr. Joseph Iser, chief health officer of the Southern Nevada Health District.
"We are as prepared as any major city," Iser said.
The protocol includes simple steps workers should follow when encountering someone who is ill:
■ Has the person traveled from Guinea, Liberia, Nigeria, Senegal or Sierra Leone in the past 21 days?
■ Does the person have a fever?
■ Consider Ebola.
The challenge with Ebola is the symptoms are similar to other illnesses: fever, fatigue, muscle pain, headache and sore throat. The only other red flag to indicate Ebola would be recent travel from one of the West African countries.
A blood test is required to confirm an infection, and Iser said results from the Centers for Disease Control and Prevention for a suspected patient in Southern Nevada could be received in two to three days.
State Epidemiologist Ihsan Azzam said the guidelines for handling a possible Ebola patient are similar to those for other diseases transmitted through bodily fluids. Protections against hepatitis C or the human immunodeficiency virus are part of a health care worker's standard precautions.
Ebola only can be transmitted through contact with the bodily fluids of an infected person who is experiencing symptoms. Southern Nevadans face greater risks from tuberculosis or hepatitis C, Azzam said.
The Ebola outbreak has killed more than 3,400 people in West Africa, and the number of suspected, probable or confirmed cases is about 7,500, according to the CDC. The fatality rate in the current outbreak is about 50 percent, according to the World Health Organization.
The CDC released another health alert on Friday reminding health care workers to increase vigilance about a history of travel to West Africa; to isolate patients with such a travel history who are exhibiting Ebola symptoms and use gowns, face masks, eye protection and gloves; and notify health officials.
National Nurses United, the union that organized the protest on the Strip, continues to criticize hospitals for what union officials say is a flawed response to the deadly virus. Bonnie Castillo, coordinator of the union's Ebola response, said hospitals need to upgrade their preparedness, including planning, communications, hands-on training and availability of proper protective equipment, including hazmat suits.
Union officials want to ensure patient screening is performed by registered nurses, not less-qualified medical staff relying on computer models classifying symptoms into diagnoses.
"Computers fail all the time," Castillo said. "This is not the time to be relying on computers."
HCA, the company that owns Mountain­View, Southern Hills and Sunrise hospitals in the Las Vegas Valley, has educated its staff on best practices for handling the Ebola virus, said Mountain­View spokeswoman Jennifer Mc­Donnell. Directors have been educating staff in team huddles, and information about the virus has been shared with staff, McDonnell said.
Scott Lamprecht, president of the Nevada Nurses Association, has not heard from his membership about efforts being made by hospitals or public health officials, but he knows how Ebola has created a heightened sense of vigilance.
"For all health care workers, there's always a concern, not just for us, but for our patients, too," Lamprecht said.
Iser said he will continue to keep the people informed about the latest protocols concerning Ebola without causing unnecessary alarm.
"It is a fine balancing act," Iser said. "I'm not so worried about Ebola, and I don't want to worry the public."
Azzam also expressed confidence that Nevada hospitals were well-equipped and prepared for any patients fitting the Ebola profile. All Nevada hospitals have isolation capacity and procedures for handling contaminated wastes.
"We can handle it," he said. "Our hospitals have proven to do that very well."
Contact Steven Moore at smoore@reviewjournal.com or 702-380-4563.