Faith Lutheran student dies in crash, a week before graduation
Updated May 20, 2023 - 6:10 pm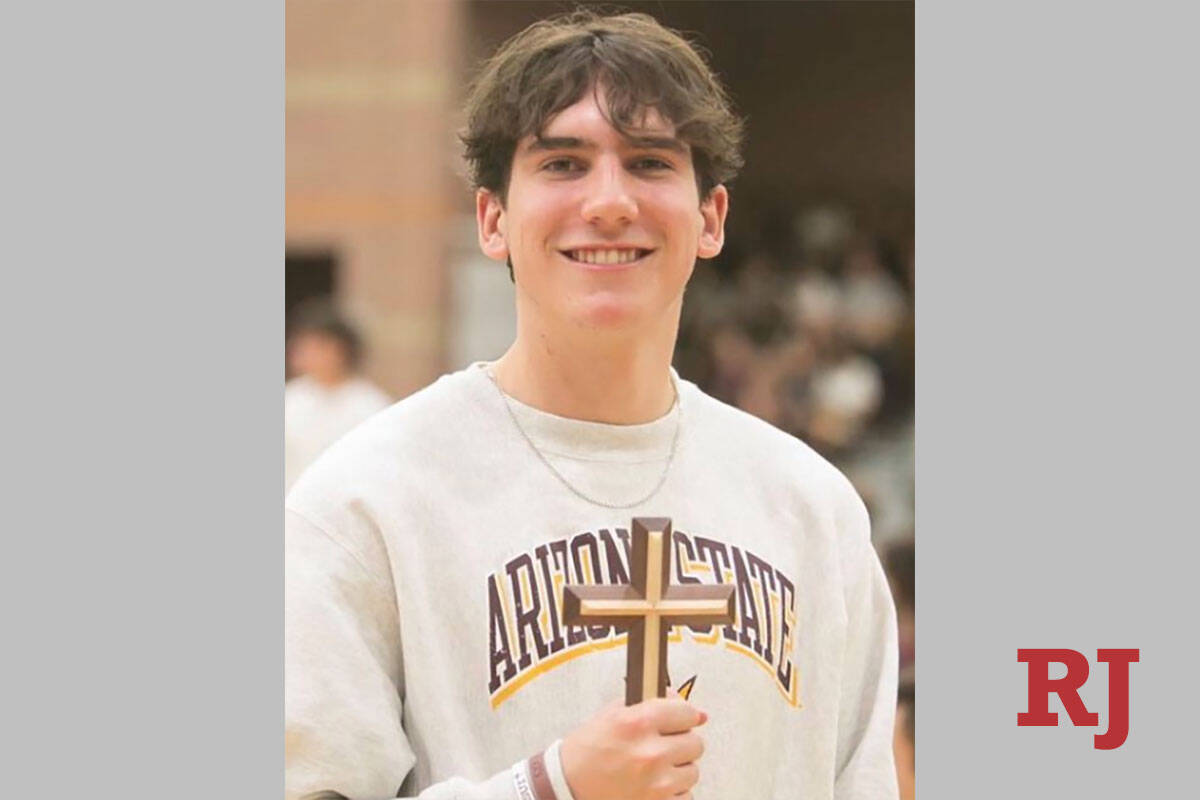 A smile that gave you hope.
That's what Nalu Shimizu remembers most about Donavyn Propst from their time together on the football team at Faith Lutheran High School.
And it's how Shimizu said he would continue to remember Propst, after learning that the 17-year-old senior had died Friday in a motorcycle crash in the northwest valley, one week before he was set to graduate.
"In that short two-year period that I knew him, he had a real big impact on my life," Shimizu said.
Las Vegas police said Friday that a 17-year-old had died at University Medical Center after losing control of his motorcycle near Grand Montecito Parkway and Deer Springs Way.
Hours later, Faith Lutheran Principal Kat Stokes emailed members of the school community to inform them that Propst was in a traffic accident and had died.
Propst had planned to attend Arizona State University in the fall, Stokes said.
She described him as the quintessential high school senior, with many friends on campus, and brimming with excitement to graduate and start the next chapter of his life.
"You can't prepare for things like this," Stokes said.
Sunday night vigil planned
"Dear Faith Family."
It's how Stokes starts her emails to the Faith Lutheran community, and how she addressed them on Friday night when she shared the news that Propst had died just hours earlier.
The tight-knit community, which typically sees around 300 students in a graduating class, is like a family, and losing Propst feels like losing a family member, Shimizu said.
It's why several cars filled the parking lot of Faith Lutheran on Saturday morning, as parents and students trickled out of campus following grief sessions that the school organized with counselors.
The school will host another grief session next week — in addition to sessions over the summer — for the school community to be together and talk about Donavyn, Stokes said.
"Our seniors aren't coming back to campus next year," she said. "How do we support them when they're not with us every day anymore?"
The school is also set to host a vigil in honor of Propst on Sunday night.
"Students, please know that you are not alone. Whether you knew Donavyn well, just a little, or not at all our entire Faith family has suffered a loss," the school said in an email Saturday to the Faith Lutheran community. "This is a time to come together."
Despite the fact that Propst had only wrestled for one year, the school's wrestling team described his impact on the team in a post Friday night.
"From encouraging his other teammates to work harder to giving them a good laugh, he would always be doing something to benefit the team," the school wrote in its post.
It's a sentiment Shimizu echoed as he recalled their years together on the football team, looking to Propst in the thick of the Vegas heat and seeing the younger boy's smile.
"He'd always be smiling and always just bring the morale up," he said. "I would always remember that, this scrawny little kid giving me the extra boost that I needed to keep going."
"That's just something you remember even after all these years," he said.
Contact Lorraine Longhi at 702-387-5298 or llonghi@reviewjournal.com. Follow her at @lolonghi on Twitter.