Fire damages 6 businesses early Friday at Las Vegas shopping center
September 23, 2016 - 5:11 pm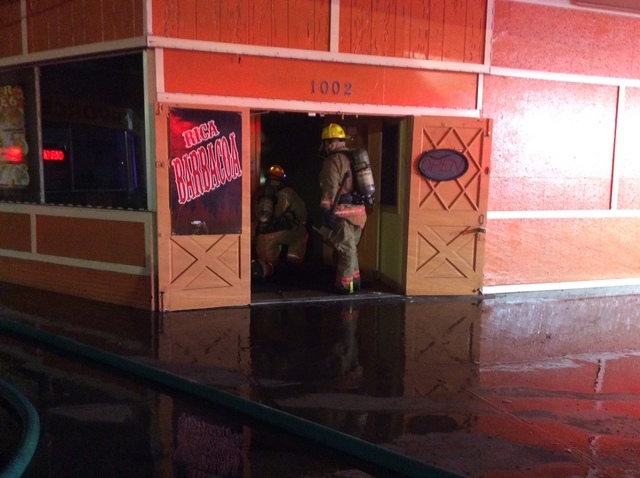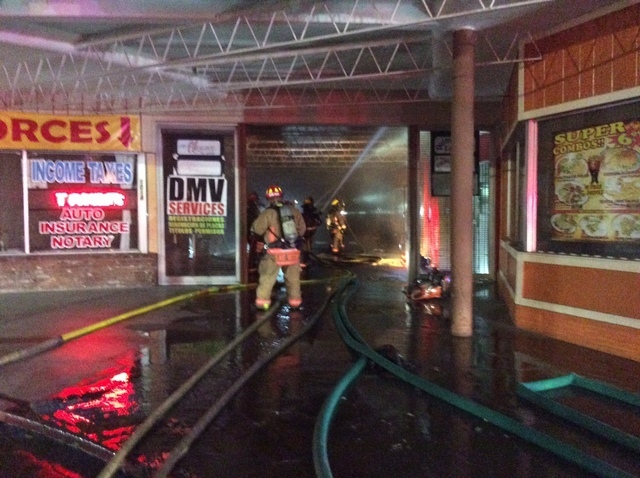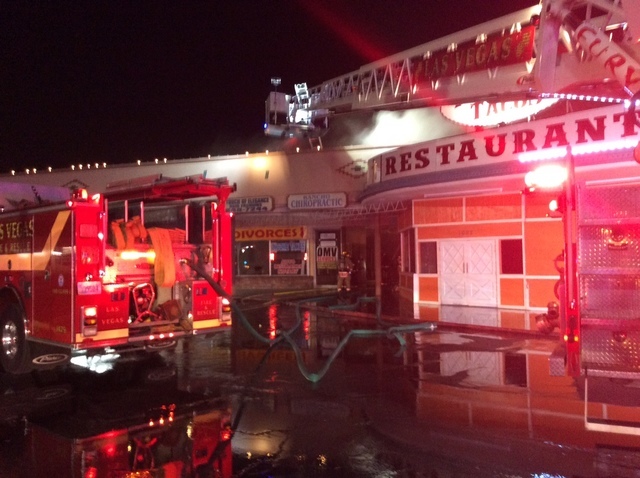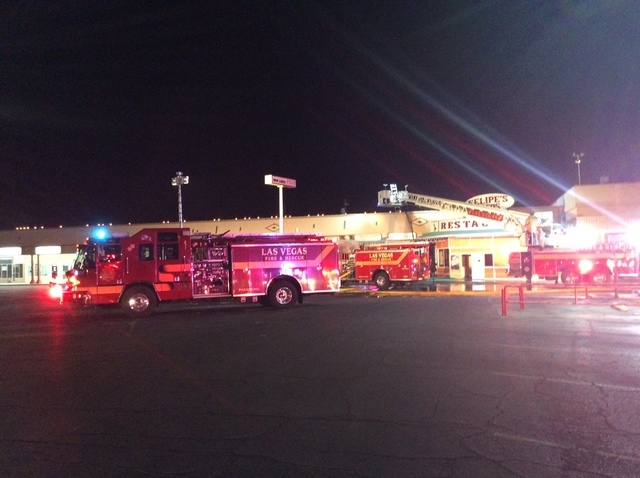 A fire fanned by strong winds kept Las Vegas Fire Department crews busy early Friday morning at Twin Lakes Plaza in the central valley.
The fire, called in at 2:48 a.m., was mostly in the breezeway between businesses at 1000 N. Rancho Drive, near Washington Avenue. The shopping center is across the street from a fire station, and firefighters saw heavy smoke as they were leaving the station.
Fire Department spokesman Tim Szymanski said the blaze caused $500,000 in damage to six businesses in the breezeway.
"The breezeway is toast," Szymanski said.
Just saw a few flames on the roof of Felipe's. Smoke continues to billow. pic.twitter.com/9gZ68zyPfF

— Mike Shoro (@mike_shoro) September 23, 2016
What originally was a two-alarm fire was escalated to a three-alarm fire about 4 a.m. when three additional engines were requested, Szymanski said. The extra crews were needed because the wind acted as an accelerant, feeding oxygen to the fire.
Szymanski said crews were pulling out as investigators inspected the aftermath. Their preliminary look indicated the fire burned longest toward the back of the breezeway.
By about 4:30 a.m., the fire had been knocked down and firefighters were looking for hot spots, Szymanski said.
Crews fought the fire defensively. The blaze was burning between two roofs, and firefighters were trying to tear out one roof to gain access to the fire.
"You couldn't see a thing," Szymanski said. "It was all smoke."
No injuries were reported, and the fire's cause was not known. A total of 76 firefighters responded.
A 21-year-old woman walking nearby saw smoke and flames coming from the buildings and said she reported the fire.
Alexis Johnson, who said she had eaten at Felipe's Tacos Restaurant earlier in the day, reported seeing tall orange and red flames coming from near the restaurant a little before 3 a.m.
Contact Mike Shoro at mshoro@reviewjournal.com. Follow @mike_shoro on Twitter.