Hundreds attend vigil for Las Vegas teens killed in California
Updated March 31, 2018 - 12:35 am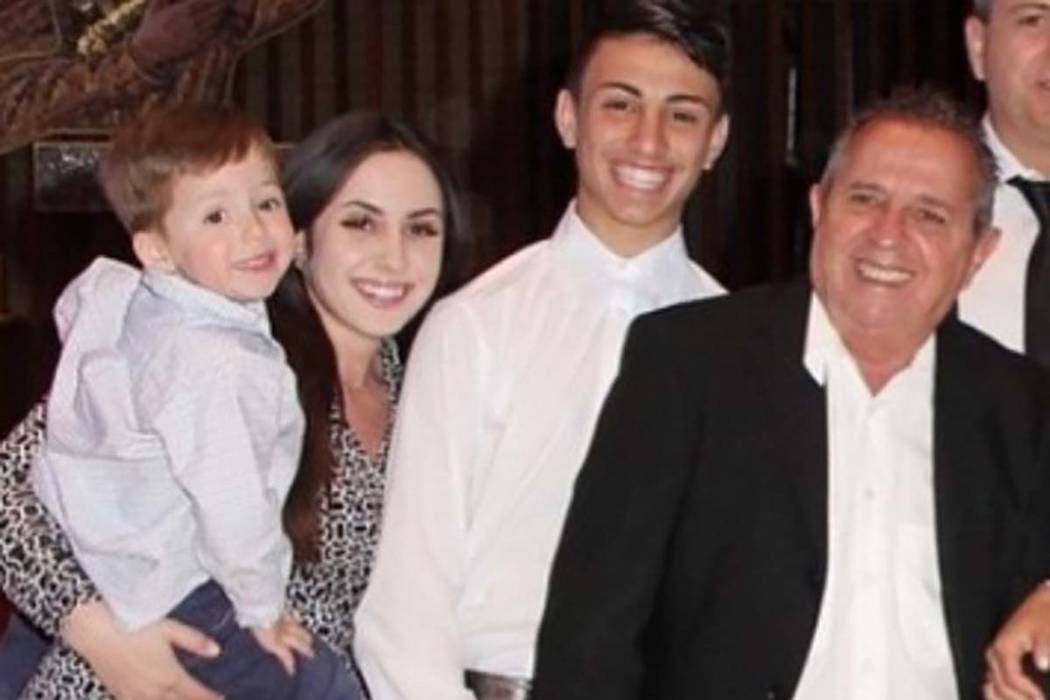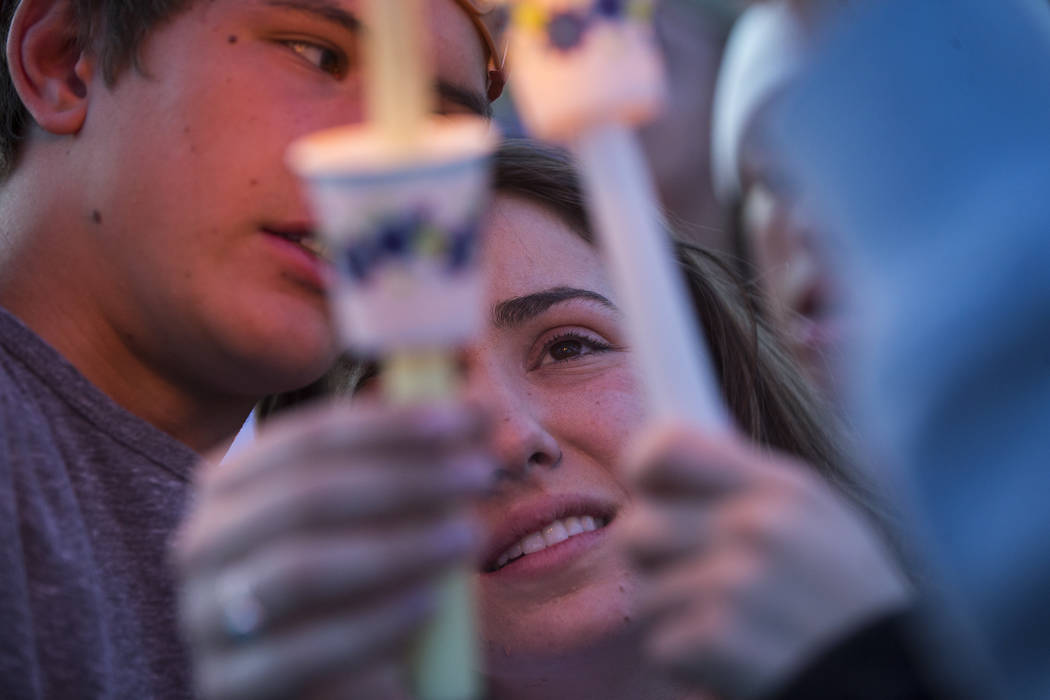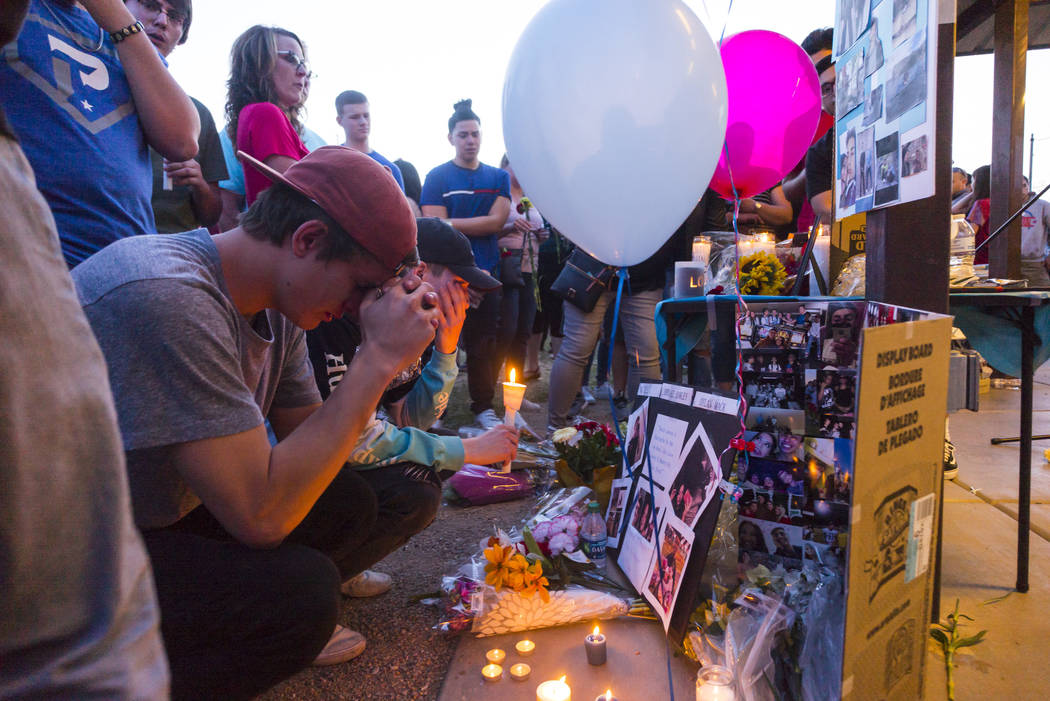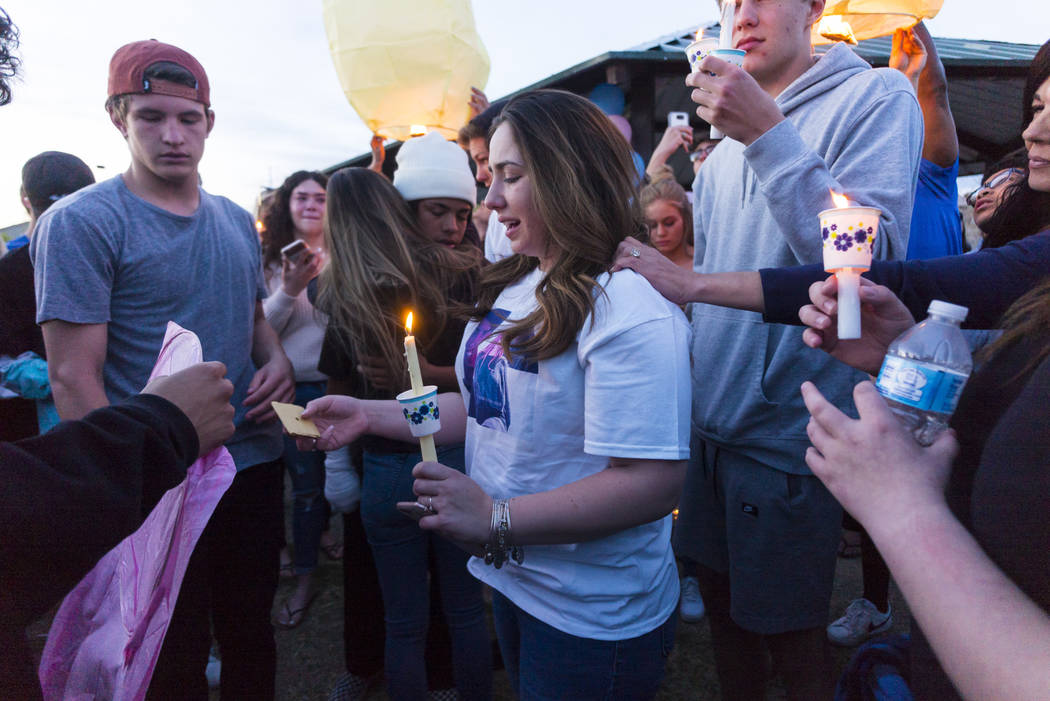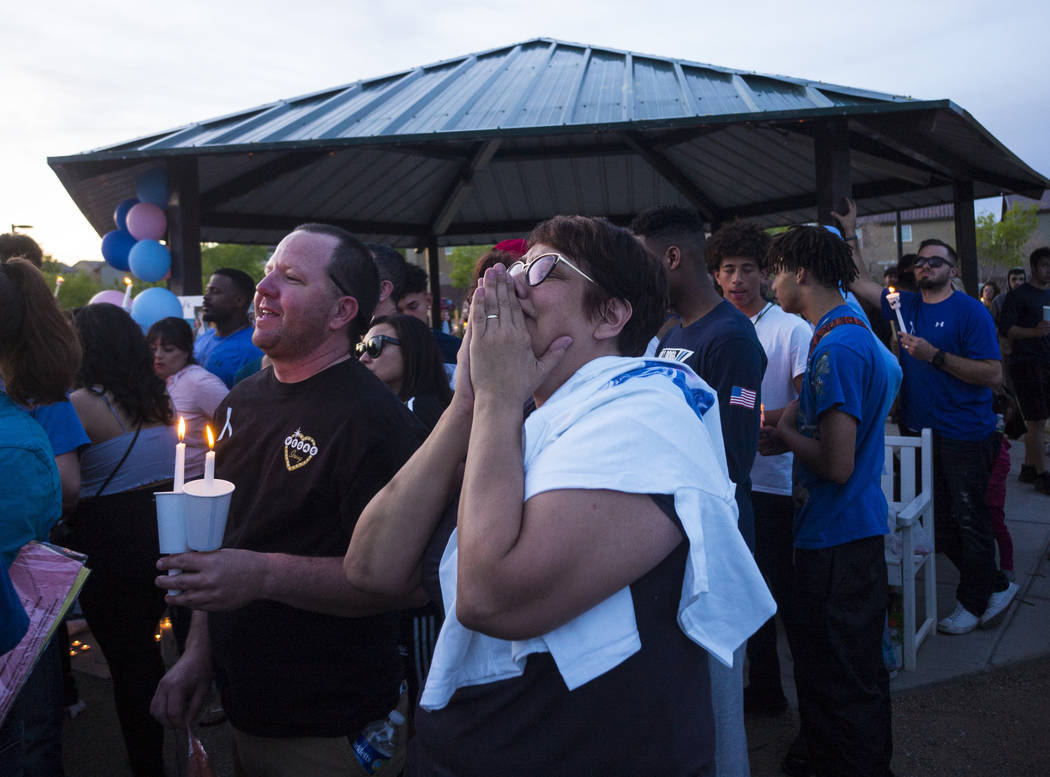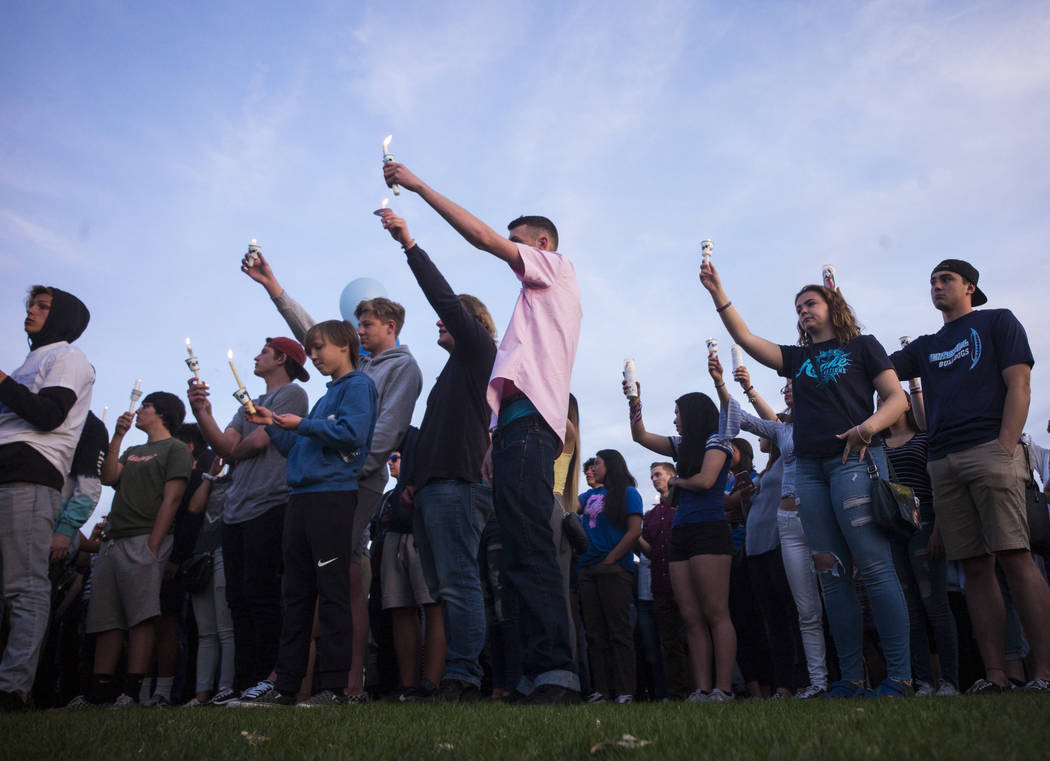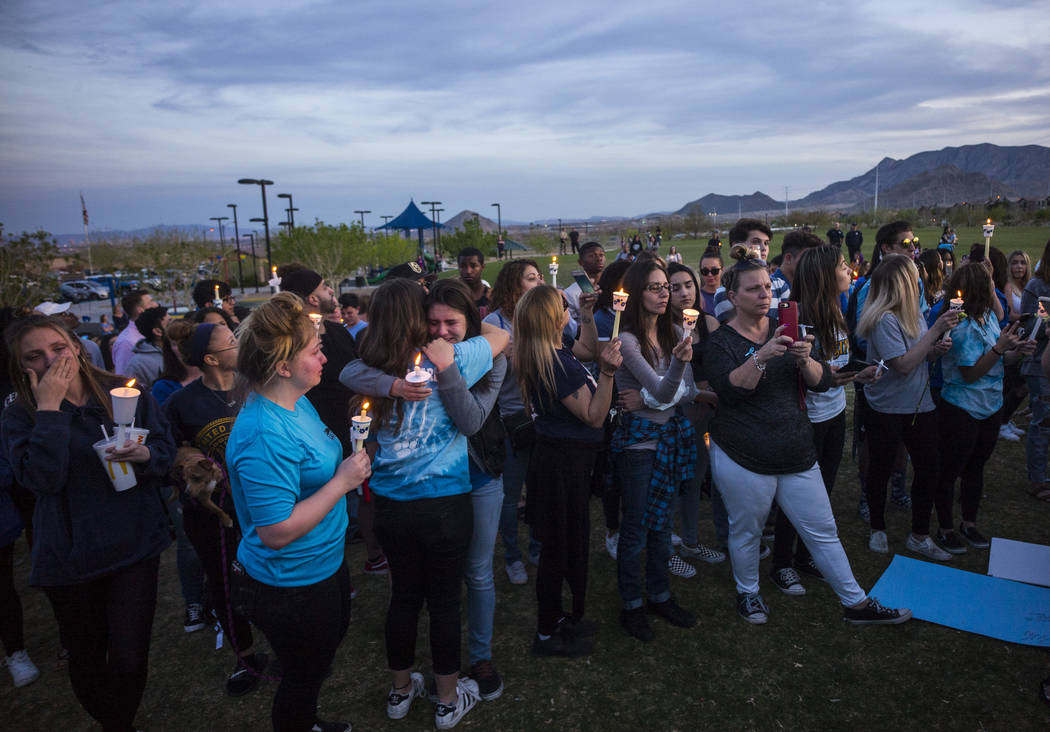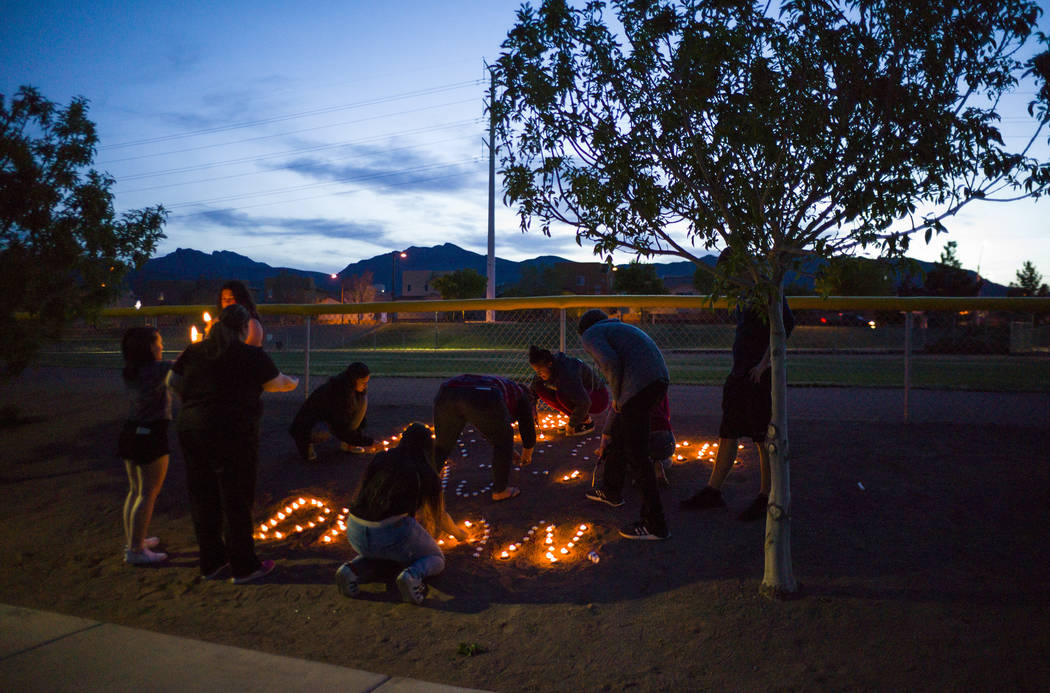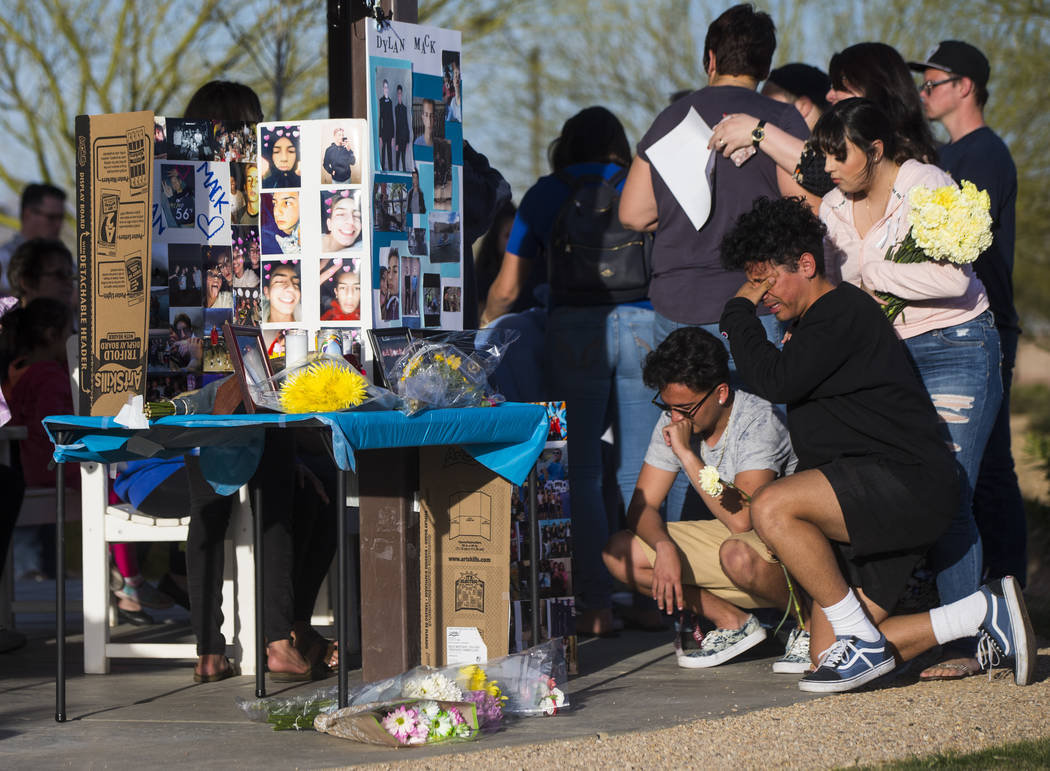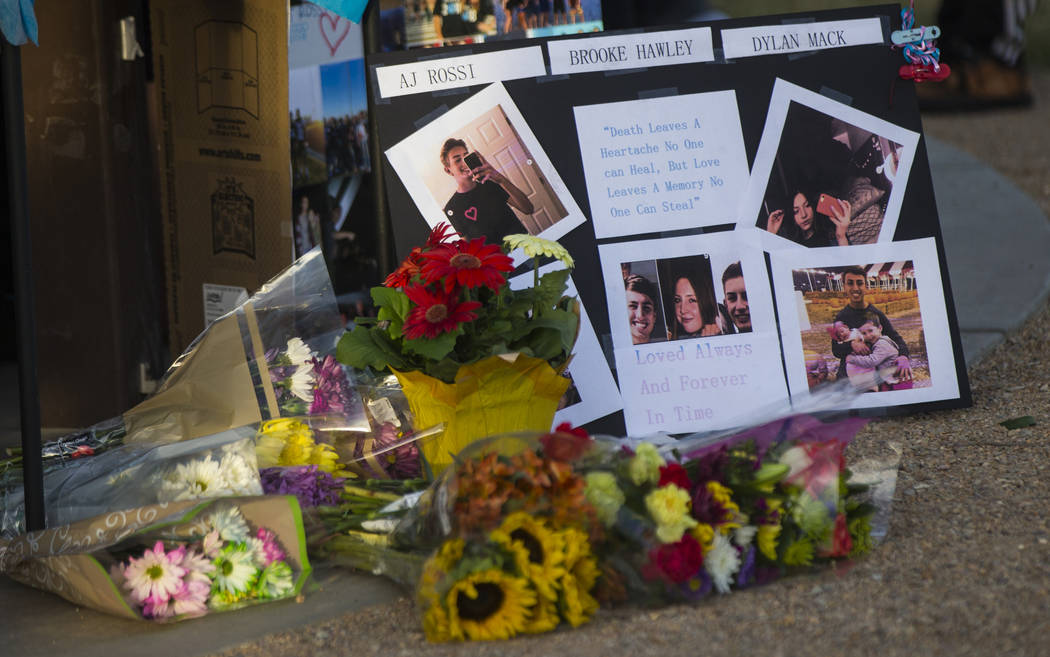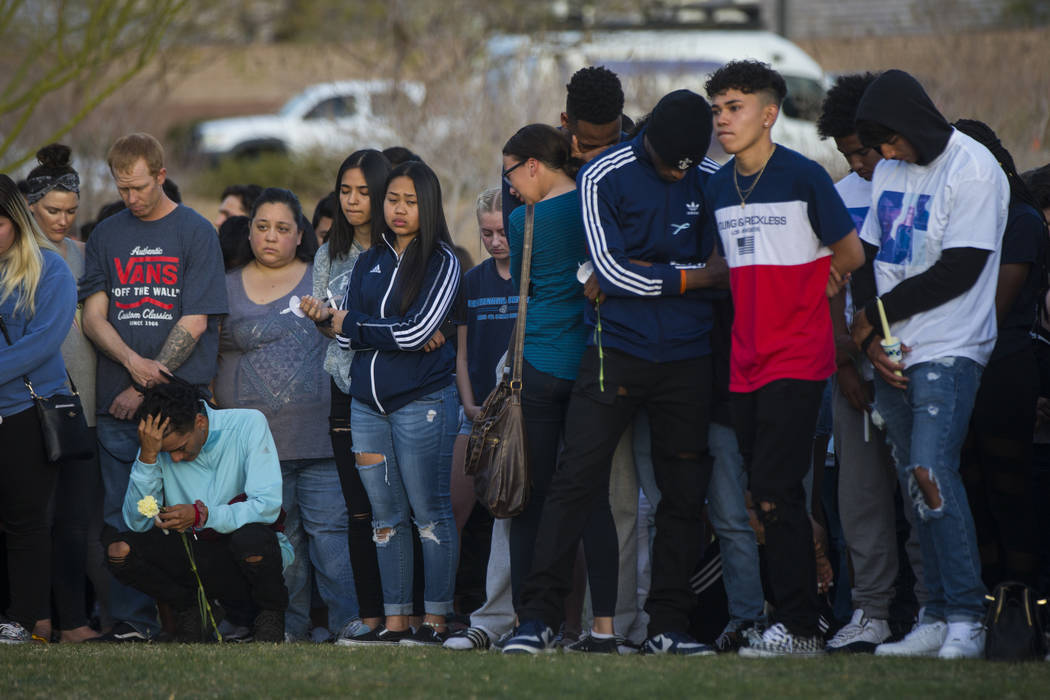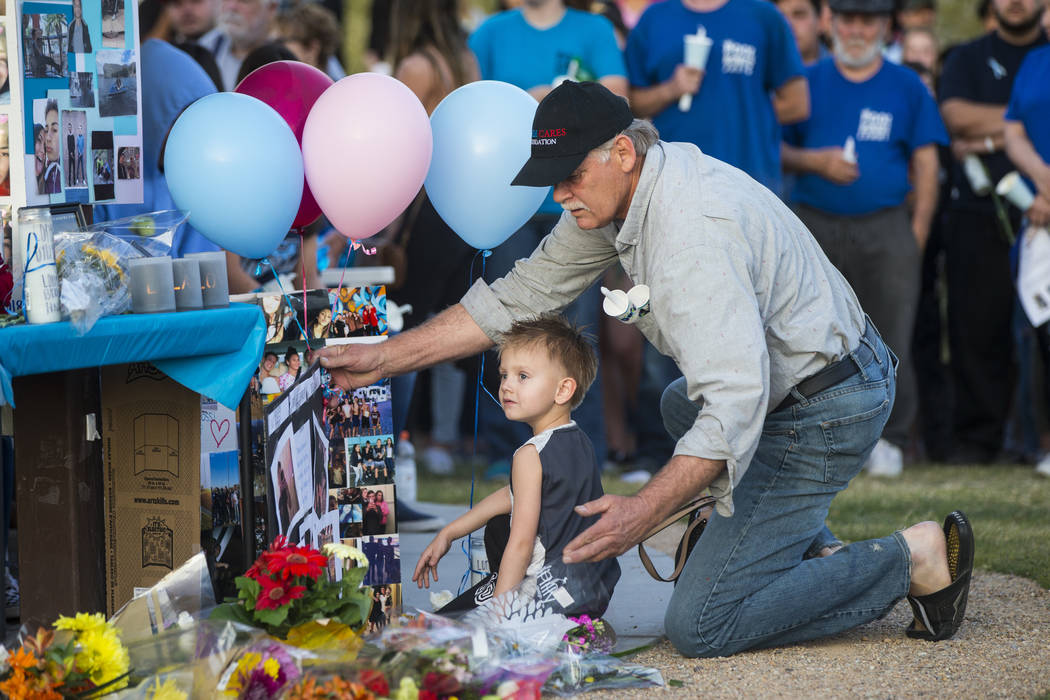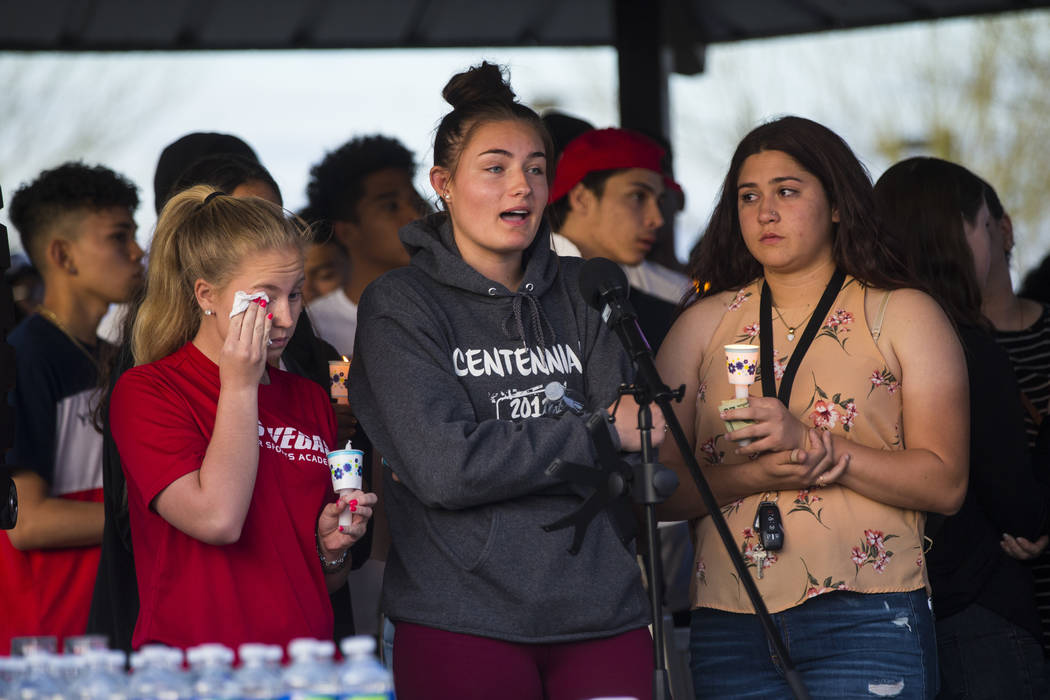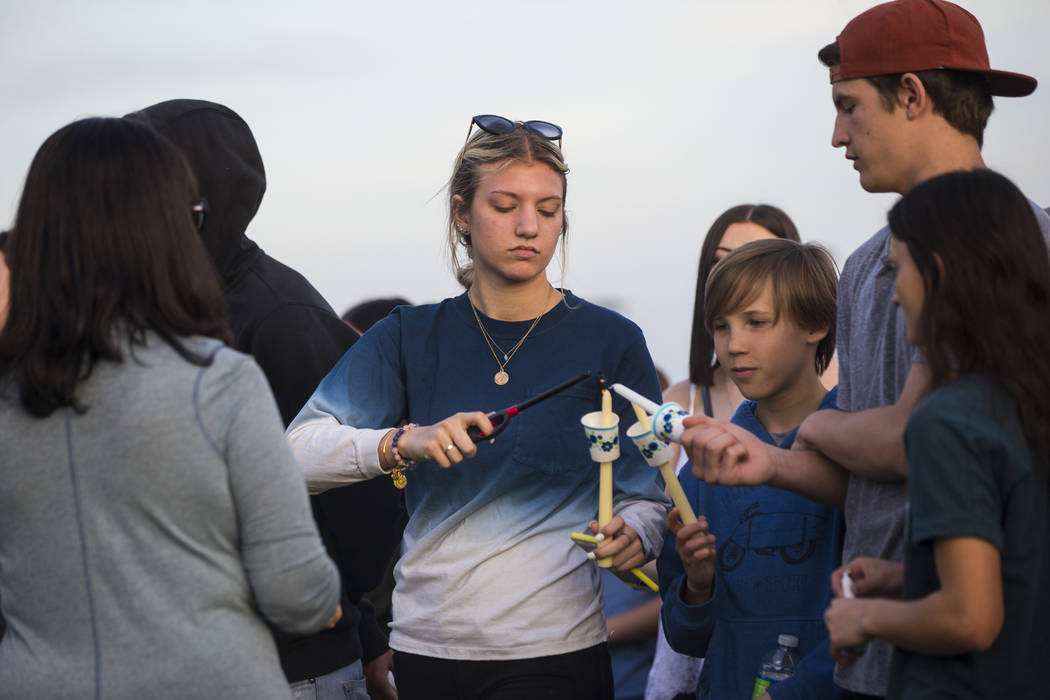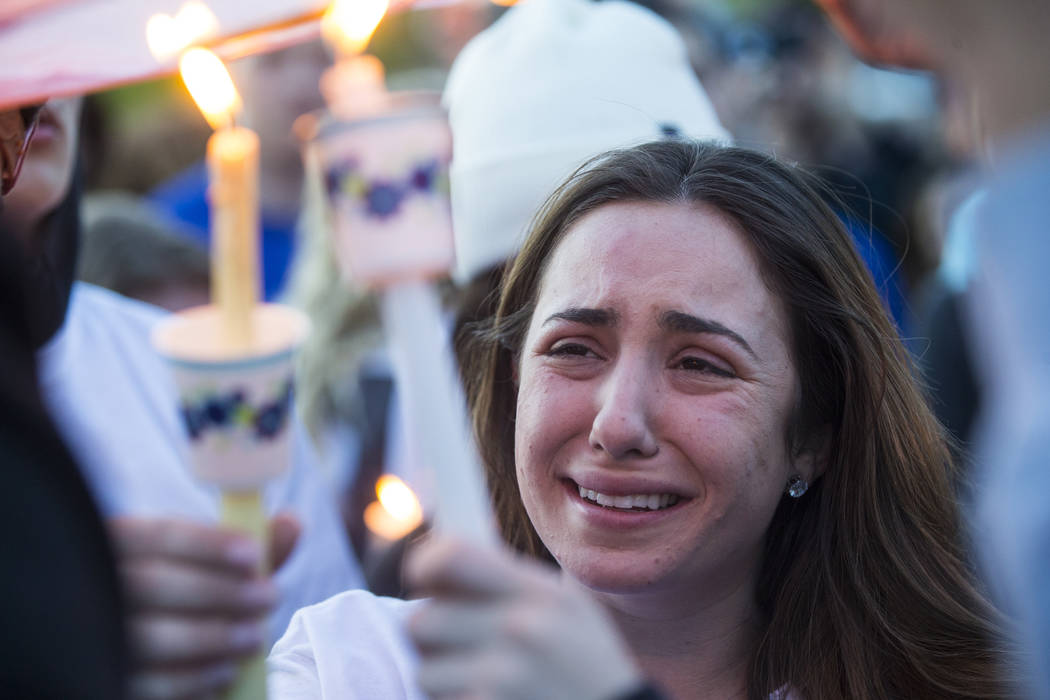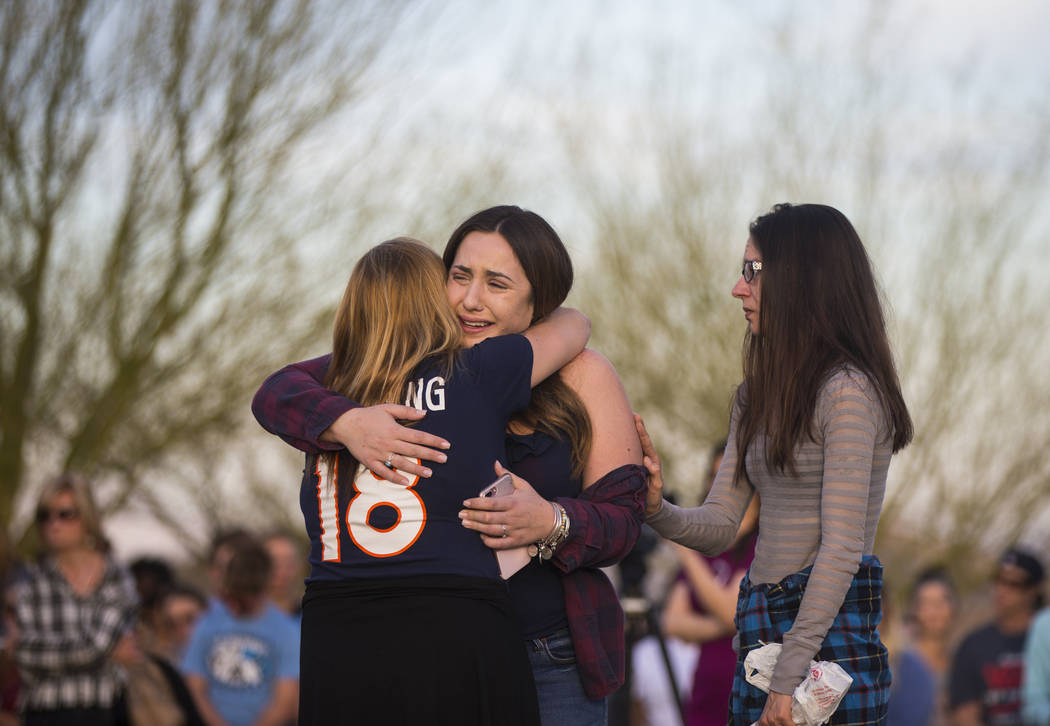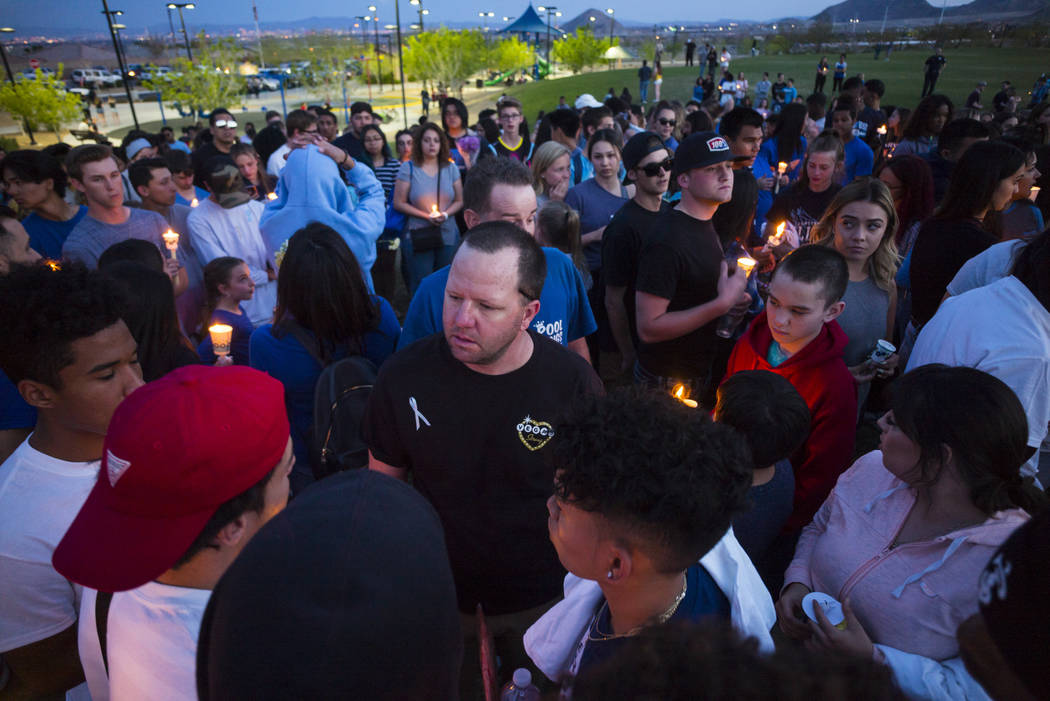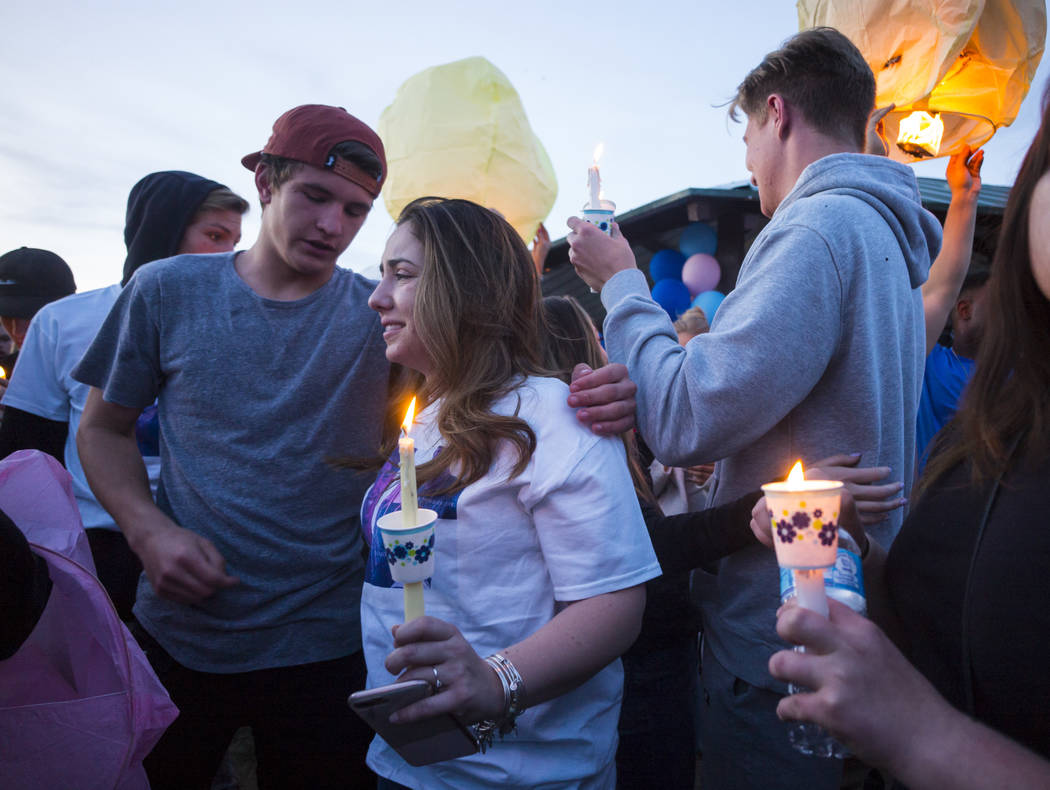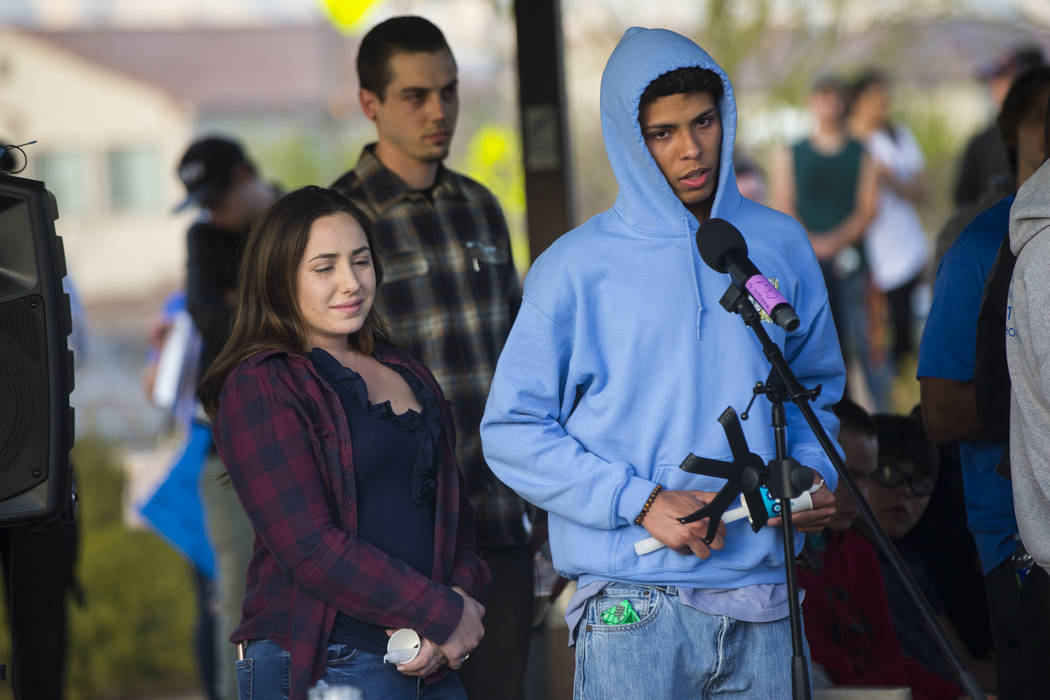 One by one, friends and family of the three Las Vegas teens killed in a fiery crash early Thursday in Southern California stepped to the microphone.
Call a friend. Hail a cab. Ride the bus. Use a ride-hailing app. Do anything but get behind the wheel of a car while intoxicated, they said.
Hundreds gathered Friday night at Knickerbocker Park in northwest Las Vegas to remember Dylan Mack, A.J. Rossi and Brooke Hawley, the three Centennial High School students killed when a suspected drunken driver rear-ended Dylan's red Toyota.
"Dylan did not die in vain. A.J. did not die in vain. And Brooke did not die in vain, because there will be justice for them," said Renee Mack, Dylan's mother.
The deadly crash happened shortly before 1:10 a.m. Thursday on the Pacific Coast Highway in Huntington Beach, California. Police said Bani Duarte, of San Clemente, California, rear-ended the Toyota while it was stopped at a light, killing three of the four students in the car. The impact pushed the Toyota through the intersection, causing it to run up onto a sidewalk and hit a pole, police said.
Only Alexis Vargas survived the crash. He attended the vigil, but his family said he was too shaken up to discuss his experience.
Duarte, 27, was arrested and charged with vehicular manslaughter while intoxicated and causing injury while driving under the influence.
At the park Friday, several people stood before the crowd of classmates, friends and family and shared their memories and encouraged others to avoid drunken driving.
A.J.'s sister, Allie Rossi, said she had helped raise him since he was a boy after his mother died at a young age.
The Centennial students were visiting Southern California for spring break, she said. The trip was Dylan's first with the car he had recently bought. They were just months from graduating.
"They deserved to be walking across that stage in 2.5 months," Allie Rossi told the crowd.
Friends remembered the 17-year-old for his big, goofy smile, a grin that earned him the "best smile" accolade from his senior classmates. Those big, white teeth, the gums and the mole on his upper lip, his friend Brennan Mecke recalled. Mecke was one of several wearing T-shirts with photos of one or more of the three killed.
"That kid always smiled, and it's the saddest thing to see him go," Mecke said.
A.J. wanted to join the Marine Corps like his father, Albert Rossi, had, but his father wouldn't let him. He was pushing his son to further his education and pursue a career. If his family stays in their current house, they plan to leave A.J.'s room untouched.
"I never thought that I would outlive my son," Albert Rossi said.
Brooke was comfortable with herself despite what others thought or said about her, said her soccer teammate Addison Riddle. She was always the life of the party.
She would make nice with opposing players on the field and then come back to her teammates and talk smack about them, Riddle said.
She was typically late to practice and games, Riddle said. But there was never any doubt she had her teammates' backs.
"God, she was such a pain in the butt," she said laughing through the tears.
Brooke was supposed to go to the prom, high school graduation and college, Mecke said. Same with A.J. and Dylan, he added.
"They didn't even get to experience life," Mecke said.
"Not even a little bit of it," said Allie Rossi, holding and leaning into Mecke.
Dylan wanted to be a firefighter, said his best friend, Tyler McAdams. He made everybody laugh and wasn't afraid to say something "dumb" to do it, he said.
"If you were with Dylan, you were laughing," McAdams said.
He was a kid through and through.
On his 18th birthday, Dylan sat down in his laundry room and cried because he said he wasn't ready to grow up, McAdams said.
Dylan taught him how to let loose and spent more time at McAdams' house than he did his own. The two were practically brothers, he said.
Loved ones held candles above their heads and released floating lanterns. They floated into the sky toward Lone Mountain as the sun disappeared behind the Spring Mountains to the west.
McAdams, as did several others who loved and cared for Brooke, Dylan and A.J., offered rides home to those considering driving under the influence.
"I can't afford to lose another friend," McAdams said.
Contact Mike Shoro at mshoro@reviewjournal.com or 702-387-5290. Follow @mike_shoro on Twitter.
Vigils in Las Vegas and Huntington Beach
— Las Vegas: 7 p.m. Saturday at Mountain Crest Park, Lone Mountain Road and Durango Drive.
— Huntington Beach: 6 p.m. on April 7 at the Huntington Beach Pier, 1 Main St.