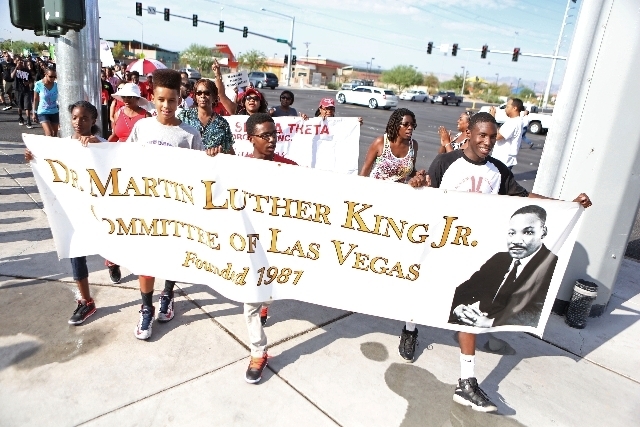 On a hot and muggy day in 1963, a downtrodden community converged on the nation's capital to not only demonstrate it was ready for change but also to hear the dream of transformation.
On Saturday, almost 50 years later, a similar community in Las Vegas honored the legacy of the March on Washington and discussed the progress that still needs to be made.
"This wasn't a promise of our past but a blessing for our future," said Assembly­woman Dina Neal, D-North Las Vegas. "It doesn't matter what era you are in."
Las Vegas joined cities nationwide to celebrate the 50th anniversary of the march, which was deemed one of the largest of its time with more than 250,000 people and featured the iconic words of civil rights leader Martin Luther King Jr.
"I have a dream," King proclaimed over and over again from the steps of the Lincoln Memorial on Aug. 28, 1963.
The refrain of that line — also the title of the speech — echoed through the nation, calling for justice.
"And those words and ideas have imprinted on our spirit," Neal said.
Centering around jobs and freedom, the March on Washington ushered in a long list of demands: comprehensive civil rights, desegregation of schools, enforcement of the 14th and 15th amendments of the Constitution to ensure the right to vote, banning discrimination in all housing supported by federal funds, barring employment discrimination and increasing the minimum wage so it was a livable wage.
"We came together to fight for freedom," Clark County Commissioner Lawrence Weekly said. "Fighting unemployment was related to fighting for freedom."
Progress was made through laws such as the Civil Rights Act of 1964 and the Voting Rights Act of 1965.
But the dream isn't fulfilled, many of the speakers said Saturday.
Neal said the number of African-Americans unemployed and black men incarcerated are too high. She said minorities are still facing disparities in education and economic opportunities and that it's up to today's generation to continue the fight.
"This wasn't someone else's fight," Neal said. "You have to believe this is your fight."
Saturday's march began at Doolittle Park with about 70 people who bellowed chants and songs.
"We Shall Overcome," one man began to sing, stirring the crowd to join in.
As they walked along Martin Luther King Boulevard, people carried signs exclaiming "honk for justice," and motorists slowed down to read the signs, honk and clap at the traveling brigade.
"The people united shall never be defeated," the walkers cried out as they converged into the crowd waiting next to the Martin Luther King statue, at the intersection with Carey Avenue.
Nearly 300 people swarmed the area to listen to activists, politicians, pastors and poets deliver invocations of praise and calls for action.
This wasn't the first time Janice Grant found herself rallying for freedom. She made the journey from Pittsburgh to Washington, D.C., 50 years ago to take part in the march.
Grant remembers sitting on the hillside and listening as King spoke.
"His words reached down to the pit of your stomach," she said. "He was speaking to something inside all of us. It was amazing to be a part of."
She has seen progress, but still yearns for the day those immortal words she heard in 1963 are fully manifested.
"We have come a long ways, but we still have more to go," Grant said. "This event (today) revitalizes that hope. I wish we had more young people to take part of it though."
Celebrating the speech and the march was just the first step to carrying out justice, the event's organizer said.
"I think we are starting to see another big shift in the movement," Rodney Smith said. "It might take awhile, but we can put the work in."
One change he hopes for is better incorporating of African-American history into education curriculum.
The civil rights discussion is scheduled to continue through community meetings.
On Wednesday , the Clark County Black Caucus will host a forum at Ebenezer Church of God in Christ, 1072 W. Bartlett Ave., to talk about civil rights concerns in Nevada.
Those include the Metropolitan Police Department's use of force policy and Nevada's "Stand Your Ground" laws giving people the right to use deadly force, a topic sparked by the acquittal of George Zimmerman in the shooting death of Trayvon Martin, a black teenager, in Florida.
Like the march, the forum is aimed at addressing issues within the African-American community and how to continue to strive for King's dream.
"We have to believe fighting for justice is longer than a moment," Neal said. "We have to believe a man's word 50 years ago can transform your spirit today."
Contact reporter Michael Lyle at mlyle@viewnews.com or 702-387-5201.