Las Vegas OB-GYN accused of sexual misconduct will have chaperone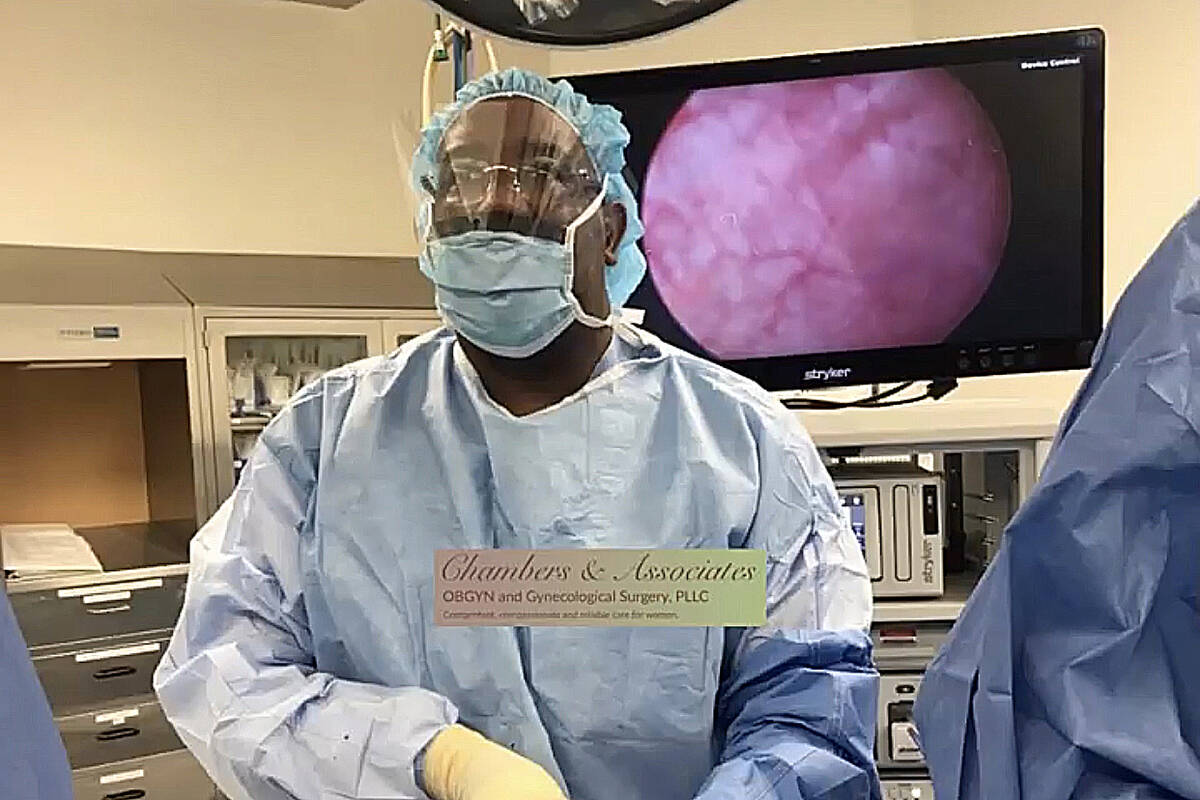 A Las Vegas OB-GYN accused of sexual misconduct with patients has agreed to have a trained chaperone or a nurse present when he sees patients.
Dr. George Chambers also has agreed to refrain from taking photos and videos of patients until resolution of a complaint against him before a state medical licensing board, according to a stipulation filed last week.
The complaint filed by an investigative committee of the Nevada State Board of Medical Examiners accuses Chambers of inappropriately touching one patient and offering two others $1,000 each to pose nude for photographs to advertise his specialty of cosmetic gynecological surgery.
Chambers, 52, has denied the allegations.
In the stipulation, Chambers has agreed to have a specially trained medical chaperone present during all patient interactions in nonhospital settings.
The investigative committee's attorney or the hearing officer must approve his selection of a chaperone.
The stipulation also allows medical board personnel and/or a private monitoring company to review any patient records and interact with medical chaperones without giving Chambers prior notice.
In hospital settings, the doctor "will ensure the presence of a nurse during all patient examinations (including but not limited to pelvic examinations) and deliveries" of babies, with the nurse's presence recorded in the notes of such encounters, according to the stipulation.
Asked if the chaperone requirement alleviated her concerns, a former patient referenced in the complaint said, "Absolutely not."
"I don't see why the chaperone would make any difference because he supposedly had a chaperone before," said Angela, who agreed to speak with the Las Vegas Review-Journal on the condition that only her first name be used.
Chambers said during a status conference on the complaint that he had a chaperone present at all times when he was with patients. He did not respond Monday to an email requesting comment.
Angela and other former patients said the doctor had been alone with them in the exam room. Angela said the two were alone when he suggested that he photograph her nude. The complaint alleges that the doctor made a similar offer to a second patient whom the Review-Journal has not interviewed and whose identity it does not know.
A woman referred to in the complaint as Patient A told the Review-Journal that she was alone with the doctor during an exam in which he touched her inappropriately. The patient also filed a complaint with Las Vegas police, who in consultation with representatives of the district attorney's office determined that there was no probable cause for an arrest and that a medical malpractice investigation was more appropriate, according to documents obtained from the Metropolitan Police Department through a public records request.
During an interview with police, Chambers said he had left the door open to the exam room and that his office manager stood outside. However, the office manager told police that she had not monitored the exam, according to the documents.
'Where is the protection for women?'
The complaint states that Chambers "repeatedly exploited his relationships with patients and violated patients' trust by engaging in sexual improprieties that constitute sexual misconduct."
In a formal statement to the Review-Journal, Chambers has denied allegations that he engaged in "disruptive, deceitful or self-serving behavior," referencing accusations in the complaint. He also has said that the complaint has "decimated" his practice and finances.
In addition to two of the women in the complaint, the newspaper has spoken with three other women who have filed complaints against Chambers with the medical board, including one who alleges sexual assault.
Hearing officer Nancy Moss Ghusn said in an email that the hearing, originally scheduled to begin Feb. 15, would be rescheduled for sometime in May. The hearing was delayed after Chambers' counsel withdrew from the case and the doctor said he needed two more months to see if his malpractice insurance carrier would pay for new counsel.
An attorney for the investigative committee argued that the doctor had had plenty of time to find counsel.
Angela and Patient A said Chambers was being given too much leeway.
"Where is the protection for women?" Patient A asked.
Angela said she believes Chambers is trying to stall the process.
"I absolutely believe that Dr. Chambers is playing games," she said.
During the status hearing this month, Chambers said, "It's not a matter of playing a game" but of being able to afford the right legal counsel.
Chambers has privileges at Desert Springs Hospital Medical Center and has taken a leave of absence from Centennial Hills Hospital Medical Center, a spokeswoman for Valley Health System hospitals said in an email.
A motion filed by Chambers' previous attorneys claiming he has been denied due process states that he has "had to defend his hospital medical staff membership and clinical privileges, has lost patient referrals and payor contracts, and had to give up his office space and close his outpatient practice."
A bankruptcy court filing in 2021 said that in addition to his practice, he earned income from Safe and Sound for Women clinic, which provides family planning and abortion services.
Contact Mary Hynes at mhynes@reviewjournal.com or 702-383-0336. Follow @MaryHynes1 on Twitter. Investigations editor Art Kane contributed to this report.