Local laws don't require AC in most Southern Nevada homes
Updated June 27, 2017 - 7:13 pm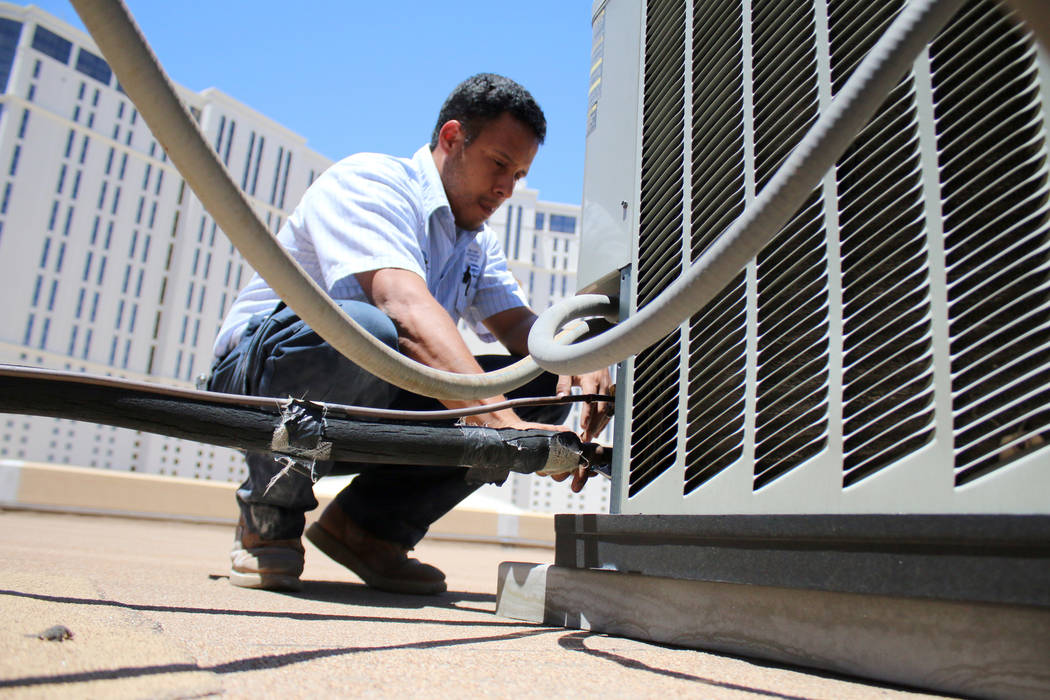 Before last week's record heat wave drove them out of their rental home, Laquenta Evans' family tried to live with their broken air conditioner.
They bought electric fans, dunked their feet in buckets of water and draped wet towels across their necks.
Nothing seemed to help, so the Evans family — two parents, five children and their great grandmother — retreated to a nearby hotel until their landlord paid for a replacement air conditioner.
"There's no place in the house that's comfortable," Laquenta Evans, 39, recalled of the experience. "It's uncomfortable to even have clothes on."
But while the summer heat makes air conditioning indispensable for many, a survey of local county and city building codes showed that almost none guarantee a home will have air conditioning.
North Las Vegas is the only local government in Clark County that requires residences to have air conditioning to be deemed habitable.
Since 1995, the city's code has stipulated that homes be able to be kept at 70 degrees Fahrenheit or cooler.
"We know that if a person doesn't have the ability to cool themselves it can lead to health and safety issues," said Alfredo Melesio Jr., North Las Vegas director of land development and community services. "The settings you prefer are your own personal business."
Building codes for the county and the cities of Las Vegas, Henderson, Mesquite and Boulder City require heating but not air conditioning.
County Commissioner Chris Giunchigliani said she's working with her building department and the district attorney's office to implement a county law similar to the one in North Las Vegas.
"There should be some minimum standards of expectations for people to live in," she said.
'Like a furnace'
In a typical year, there will be nearly 70 days in the Las Vegas Valley on which temperatures will exceed 100 degrees Fahrenheit, the National Weather Service said.
It's common for a home with no air conditioning to be hotter than outside, said Stephen Gamst, a manager with Goettl Air Conditioning.
"Some can literally be like a furnace. You'll just sit in there and bake," he said. "In your attic, it gets up to 150 degrees. And you've got a thin barrier between your attic and your house."
That heat can kill.
On average, 10 people die in Clark County each year because of the heat, according to the Centers for Disease Control and Prevention. That's five times the national rate.
"We'll see people with temperatures of 102 or 103 (degrees Fahrenheit), their heart rate will be over 100 (beats per minute)," said Dr. Dale Carrison, an emergency physician at University Medical Center of Southern Nevada. "If you lose your thermoregulation, you can risk heat stroke, and that can easily lead to death."
There have been at least 12 heat-related deaths this year, the county coroner's office said.
In one recent case, a 69-year-old Henderson woman died after her air conditioner broke and temperatures inside her home soared to 140 degrees, according to her daughter.
Homes without AC rare
How many local homes lack air conditioning remains a mystery. City and county officials said they don't keep track, but the number is likely low.
Chris Knight, the city of Las Vegas' top building and safety official, said it's unheard of for new homes to be built without air conditioning.
Patty Kelley, a local Realtor for the past 28 years, added that she's never encountered one for sale.
"I can honestly say I've never seen a house that didn't have air conditioning in Las Vegas," she said. "I don't think anyone would buy a house without air conditioning unless they planned on putting it in themselves."
Contact Michael Scott Davidson at sdavidson@reviewjournal.com or 702-477-3861. Follow @davidsonlvrj on Twitter.
Related
Number of heat-related deaths in Clark County climbs to 12
Renters, know your rights
For renters who are guaranteed air conditioning in their leases there is some legal reprieve if their system breaks.
Because air conditioning is considered an essential service, Nevada state law requires landlords to fix it or face consequences.
Dawn Miller, a staff attorney at the Nevada Legal Services nonprofit legal aid office, said the clock starts ticking once a landlord is provided written notice that the air conditioner is broken.
"If the landlord doesn't make any repairs or doesn't make a good faith effort to repair in 48 hours, then you can either withhold your rent, you can have it repaired yourself and deduct the cost from your next month's rent, you can obtain substitute housing or you can sue your landlord for damages," Miller said.
The Southern Nevada Health District will also help tenants document losses of essential services. Its hotline can be reached at 702-759-0697.